Actors spend a whole lot of time stuffing their minds with questions. We question how our characters think. We question our own ability. And, we question our choice to embark on a career path that has no pre-paved trail or a definite destination.
In fact, sometimes… "It is freaky," shares actress Jess Weixler, "especially when it is what you do for a living."
Jess Weixler understands the upsides and the challenges of acting. Best known to date as the lead in the comedy-horror film TEETH and the comedy THE BIG BAD SWIM, she recently appeared in LUMPY alongside Justin Long, which recently played at The Hamptons International Film Festival.
In LUMPY, Scott (played by Justin Long) and Kristin (Jess Weixler) travel to an Arizona destination wedding. Lumpy (Labine) is the life of the party, until a long, indulgent night leads to his untimely death. Forced to cancel their honeymoon and fly back to Minneapolis to arrange for his funeral, Scott and Kristin meet Ramsey (Timlin) and learn that Lumpy isn't quite who they thought he was.
Learning that life isn't what you think, is a constant truth for actors. But there are undeniable blessings. Without question, actors get the chance to turn dreams into reality – and for that fact alone, we can all be grateful.
Here are 5 more aspects of the acting world, that we can all say 'thanks' for…
1. Belonging to a community
"We are a community," Jess shares. "It's really just a constantly rotating community. You always end up running into the same people at auditions, and it's nice to see the people who are still around because it is such a long haul."
"You stick around long enough, you will eventually get to know your fellow actors. You just have to keep doing it."
2. Learning to be raw and honest
"Auditioning is so awkward," Jess admits. "It is an awkward, awkward experience because acting is being in the scene with the people you are working with, and being a part of that world in a really honest way. And, in an audition you are walking into a white room, and the nerves are high."
To help actors appreciate auditions…
"The advice I would give is to just go easy on yourself for a while in the beginning. Don't beat yourself up too much. It can be a waste of your time and energy. Just keep doing it, and it will sink in more and more. I have a "time heals all wounds" philosophy."
3. Endless opportunities to improve!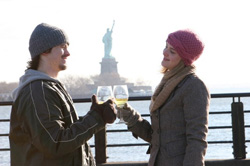 "I still train. I have a coach that I work with. I think it is good to always be checking and balancing what you are doing and not just start resting on your habits, the things you are known for."
"Learn something that helps you play other parts. Put the work in. A lot of people think you should be able to just snap your fingers and do it. But I think really putting the work in, and doing lots of research on the world that you are supposed to be a part of – what your characters passions and desires are, where you are coming form, what your moments before are for each scene are so you are not just walking into it – creates a real life that is happening. You think about it. You read books pertaining to the work."
"For this movie I just did, LUMPY," says Jess, my character "is an eager bride to be. It was kind of a fun job to research in that I watched a bunch of SAY YES TO THE DRESS and read bride magazines to see what the energy is of these girls who are bride fanatics."
"I usually don't have as much time to do this for auditions, so I do a crash course on getting a feel for who the person is before I walk in. I rehearse with a coach or get together with a friend to feel it."
"I am also a big advocate of being off book. I think you should be off book, if you can. It makes it a lot easier. You hold the sides so you know they are there in case you have a panic brain fart, which happens all the time."
4. Truly living in the moment
"Even at this part of my career, I have a very hard time figuring out what is going to happen," Jess shares. "I don't think you can predict your career path. You have to really be in the moment about it. Find something that you are attracted to, and then be as honest with yourself and the material as you can."
"Love what you are doing in the moment, and it will start moving things forward. Any sort of imagining the future is so completely impossible. Just being involved in the moment, is the only advice that I have."
Even once you start to book roles…
"It is the same feeling where you have no idea what is next. It is freaky, especially when it is what you do for a living. For me, the only sane way to approach it is to say 'I am just going to love this right now, and appreciate this right now. And hopefully whatever this is – is good enough that someone will want to work with me again.'"
5. The chance to learn new tricks!
If you get antsy in between gigs, learn to appreciate the time.
"The in between time is super tricky. I suggest picking up accents," says Jess. "You never know when you are going to have an audition with accents. I also write and surf. There are chunks of work and chunks of not work. You need to have stuff that still makes you feel like you are part of the artistic process."
"I am about to do that with a British accent. I want to get a good British accent so it is possible for me to do a play one day in London."
– THANKS JESS – for your helpful views of the acting world.
And, Happy Thanksgiving to all actors and NYCastings members!