…
…
Communicating with Talent

When Talent Submissions come in from a Casting Notice, you have various ways to sort & communicate with them. Assign them to Groups to Email or Call for live Auditions, or request for them to make Self-Taped Auditions.
 ….
Need help coordinating Self-Taped Auditions, Scripts or Call Sheets? We have a Casting Assistant Program that assigns our casting interns to your project for help.
Read more about it here
.
…
…
…
____________________
……
…
…
…


…
Messaging & File Sharing w/ Talent
Our Messaging feature also lets Casting Directors share files with the talent to coordinate things like sharing Scripts & Sides, Contracts & Call Sheets. It's great for getting Self-Tapes from talent, and sending other documents to complete to job.
…
…
…
_____________________
…
….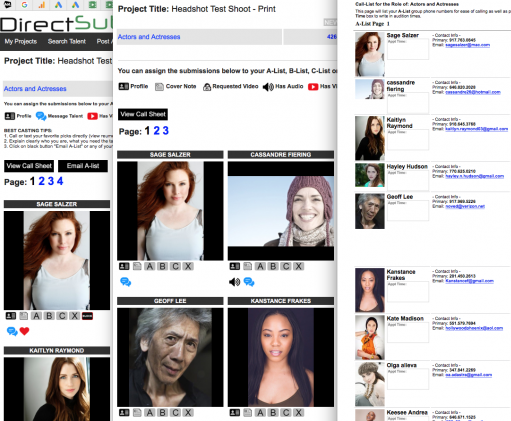 …

Sharing Submissions & Auditions with The Casting Team
Share Talent Submissions and Selects with your Directors, Producers & anyone else involved with Talent Selection on the project. In fact all parties can makes selections at the same time, and the Casting Director can then contact the talent to oversee all communications and file sharing. Print our Contact Sheets & Full Resumes formatted for printing.
Works Great on Phones & Pads
…
____________________________