How & When to Join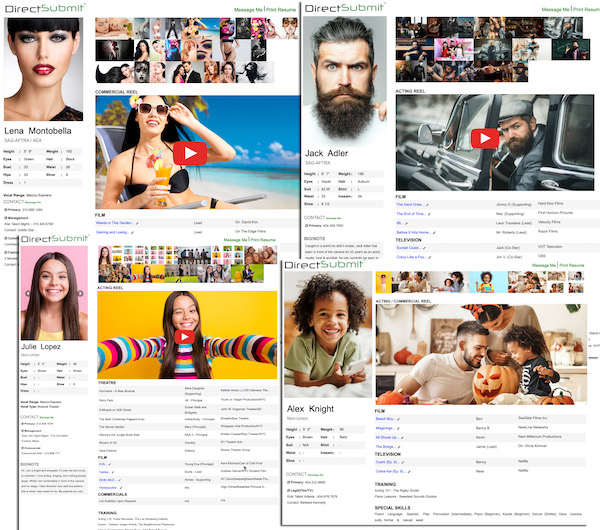 NYCastings / DirectSubmit lets Actors, Models, Singers & Dancers (Kids to Seniors) 'DirectSubmit' themselves to Film, TV, Theatre, Commercial, Print Casting Calls & Talent Agencies nationwide.

We've been in business for 21 years, and have had over 96,000 projects work with us. 
To do this, the Talent submits their Resume through this website and communicates directly with the Casting Director or Agency in order to be considered for an audition.
Union & Non-Union talent of All Ages welcome.
When you join – Fill out all pages to create your Resume, and set up Role Alerts so you get our Text/Email Alerts when a Role comes in that you may be a good fit for.
To keep up with everything that's casting, you can also join our free Public Email List here. We send out our new list of projects (called The Daily Sheet) that come in every weekday and Rush Calls for important projects on tight deadlines.
If you have Questions call us: 212.812.1441
How it works for Talent:
When you register as talent, you create your online Resume which lets you become Searchable (by things like: Type, Location and Skills) and when Activated can then start DirectSubmitting to the Casting Notices and Agency Listings.
Your Multi-Media Resume lets our clients see and hear everything they need to know about you to call you in for an audition. It lets the Casting Directors & Agents: Search for You, Contact You For Auditions, send you Scripts & Sides, Contracts & Call Sheets. You are notified by email when these things happen.
– DirectSubmit© to Casting Notices *
As an Active Subscriber, you can DirectSubmit© to the Casting Notices to get the Auditions from the Casting Directors that have posted.

– DirectSubmit© to an Agency or Manager to Represent you *
Another tool for Talent is the Agents Directory. This is an accurate listing of  Talent Agents, Model Agents, Casting Directors & Personal Managers. Each listing will show you everything you need to know to determine if this is a good company for you to contact, as well as how to contact them. Active Subscribers can view these listings and often DirectSubmit© to the contacts.
Submitting to most Castings Notices often require that you be an *Active Subscriber. It's Cheap, ($7.50/mo to $14/mo.) and it's proven Profitable for Working Talent for 20 years! It also helps us keep getting you Work & Agents!
How an Audition occurs when Talent Direct Submits to a Casting Notice…

A. Our Talent DirectSubmits© to a Casting Notice.
…
B. The Casting Director sees the Talent's complete Resume (Photos, Video, Audio & Credits) in their list of Submissions for each Role being Cast.
..
C. The Casting Director may start Considering the Talent by looking at all of the Photos. Next they may look at all the Talents Reels, Credits, Bio, Skills, Training & Cover note.
…
D. They will look over your Self-Taped Audition if it was requested.
If the Talent looks like they are worth a Live or Taped Audition, the Casting Director will likely Add the Talent to the their A, B, C or D list to Contact & Schedule for the Auditions.

The Casting Director may also send Scripts, Contracts & Call Sheets though our Messaging System.
The Casting Director may also add this Talent to their Favorites List for consideration on all projects they work on. This is the Casting Directors Permanent Personal Database of their Go-to Talent.
Presentation Counts! 
In a DirectSubmission that the Talent makes, the buttons under the talent's Headshot tell the Casting Director many things about the Talents Submission and the Talents Experience. When the talent has their Reels (Video & Audio), Cover Note and Self-Taped Auditions made for the job, the Casting Directors see these appropriate icons under your photo and are more likely they are to look at your complete resume.

Please take great care in your pages information and media. Quality Counts when trying to get professional work and representation.
________________________________

History
NYCastings / DirectSubmit has been a staple in the production community for the last 20 years, working on hundreds of productions a month, with thousands of talent submissions being made to projects like: The Wolf of Wall Street, Saturday Night Live, The Devil Wears Prada, Vogue Magazine, Gotham, Hamilton, Kinky Boots and thousand more. Our clients are Production Companies, Casting Directors, Ad Agencies, Talent Agents & Managers.