Finding Talent for your Project is a breeze!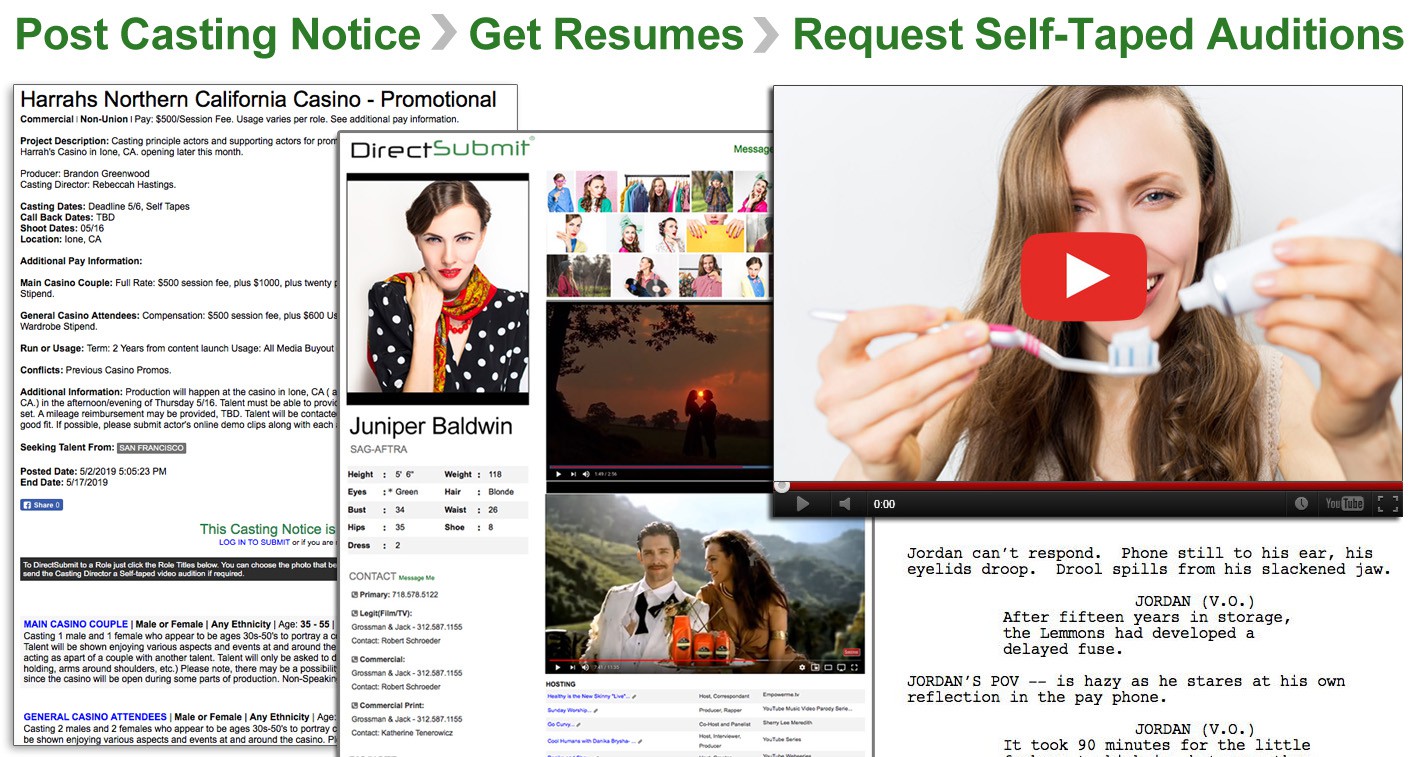 How to send a Casting Notice to us:
Email Casting Notice to: Casting@DirectSubmit.com
..
We'll review it, and if all looks good, we will post it to the site. If we have questions about anything that's unclear we will call you and go over the details. We want it to be perfect for the talent so everything goes just right for you..This is a FREE service.
…
We post all types of calls – DirectSubmit (Photo Submissions and Self-Taped Reads), Open Calls, Requests for New Faces, Experts & Real People Searches.
…
As a Client, you have a dashboard created for you that will show you all your Projects and Submissions made, plus a Search function that allows you to search our database for the talent you're looking for. Additionally we can post to our Email Lists & Social Media Networks – Instagram, Facebook, Twitter & LinkedIn. Watch this video for a quick tutorial on how the Casting Dashboard works.
…

Messaging & File Sharing w/ Talent
Our Messaging feature also lets Casting Directors share files with the talent to coordinate things like sharing Scripts & Sides, Contracts & Call Sheets. It's great for getting Self-Tapes from talent, and sending other documents to complete to job.
…
…
_____________________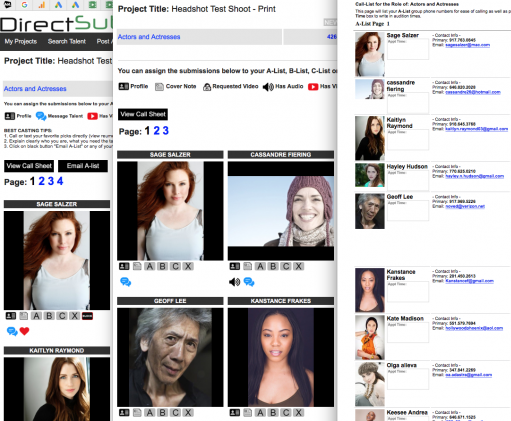 …
….
….
Sharing Submissions & Auditions with the Casting Team
Share Talent Submissions and Selects with your Directors, Producers & anyone else involved with Talent Selection on the project. In fact all parties can makes selections at the same time, and the Casting Director can then contact the talent to oversee all communications and file sharing. Print our Contact Sheets & Full Resumes formatted for printing. Video Tutorial
Works Great on Phones & Pads
…
_____________________

The Talent Resumes
NYCastings / DirectSubmit has one of the largest databases of talent in the industry. The resumes our talent have entered for you contain everything you need to see and hear from them to decide if they are right for the part.
They can list Photos, Videos and Audio Reels with their Size Cards, Credits, Special Skills & Training.
…
…..
……
….
____________________________

Get a Bigger Reach with IMDb Pro
NYCastings / DirectSubmit is partnered with IMDb PRO to provide casting notices for on-camera talent to submit to. Go to the jobs page and see our casting notices.

____________________________

…
Casting Directors & Content Creators, If you have questions and you would like to talk to an expert about how NYCastings / DirectSubmit can work for you call: 212.812.1441 x1
…..
……

For the last 22 years, DirectSubmit / NYCastings has been a staple in the Production Community helping Casting Directors & Content Creators in Casting Talent on thousands of Films, TV shows, Theatre, Commercials & Print productions a year.
We serve NY, LA, San Francisco, San Diego, Atlanta, Chicago, Miami, Orlando, Washington DC, Las Vegas, Boston, Tennessee, Philadelphia, Seattle, Detroit, and all other areas.
Our clients are: Casting Directors, Production Companies, Film Makers, Ad Agencies, Photographers, Theatre Companies, Magazines, Talent Agents & Managers.
_________________________
Notable Projects Include
Film: The Wolf of Wall Street, The Secret Life of Walter Mitty, Hammy the Bear, Dolphin Tales 2, Men in Black 3, Transformers 3, Smurfs, Friends with Kids, Step Up 3D, Mr. Poppers Penguins, Tower Heist, New Year's Eve, For Colored Girls, Salt, Fame, Jack Goes Boating, Solitary Man, Girlfriend Experience, Warrior, The Winning Season, Sorcerer's Apprentice, Paper Man, Living Will, Baby Mama, Brooklyn's Finest, 27 Dresses, City Island, Confessions of a Shopaholic, Jonas Brothers Project, Julie and Julia, Jumper, I Am Legend, Old Dogs, Revolutionary Road, Sex and the City: The Movie, Sex and the City 2, The Devil Wears Prada, The Good Guy, The Good Shepherd, The True Confessions of Charlotte Doyle, What Happens in Vegas, When in Rome, Accidental Husband, American Pie IV, Amityville Horror, August Rush, Awake, Beautiful Ohio, Bikini Bandits, Birth, Cadillac Records, Carlito's Way, Definitely, Maybe, Doubt, Duplicity, Fur: An Imaginary Portrait of Diane Arbus, Ghost Town, Gridiron Gang, Hitch, I Hate Valentines Day, I Now Pronounce You Chuck & Larry, Kinsey, Mammoth, Fighting, Margaret, Miracle at St. Anna, Music and Lyrics, My Brother, My Super Ex-Girlfriend, Notorious B.I.G., Pinkville, Prime, Push, Spiderman II, Starship Dave, The Adventures of Shark Boy & Lava Girl, The Departed, The Grasslands, The Grudge II, The Hoax, The Hungry Ghosts, The Interpreter, The Messenger, The Omen 666, The Producers, The Rebound, The Stepford Wives, Uncertainty, Wackness, War of the Worlds, Watching the Detectives
TV Series: Jimmy Kimmel, My Dirty Little Secret, Smash, Scorned: Love Kills, Monumental Mysteries, Hostages, Michael J. Fox Show, PBS Nova, Funny or Die, Stalked, Friendemies, Brain Games, Are We There Yet, Daily Show with Jon Stewart, Louie, White Collar, CSI New York, Royal Pains, The Good Wife, Running Wild, Comedy Central's Onion Sports, NBC Nightly News, Minute to Win It, Blue Bloods, Boardwalk Empire, Cupid, Fugitive Chronicles, Nurse Jackie, Curb Your Enthusiasm, The Hills, Headcase, Cougars, Late Night with Jimmy Fallon, Z Rock TV, College Humor, QVC, All My Children, As the World Turns, Damages, Gossip Girl, Guiding Light, HBO True Blood, Law & Order: Criminal Intent, Last of the Ninth, Law & Order: SVU, Law & Order, Life on Mars, Lipstick Jungle, 30 Rock, Fringe, Rescue Me, Ugly Betty, 10 Years Younger, A Current Affair, ABC's Fix My Husband, Amazing Babies, Ambush Makeover, American Idol, America's Got Talent 3, America's Most Wanted, America's Next Top Model, Anything for Love, Beauty and the Geek, Big Brother 9, Big Gay Sketch Comedy Show, Body Doubles: International Twin Search, Boiling Points, Cashmere Mafia, Casino Cinema, Castle (pilot), Change of Heart, Chappelle's Show, Clean Sweep, CMT's Can You Duet, Conviction, Dance War: Bruno V. Carrie Ann, Dangerman, Date My Mom, Date Patrol, Diary of an Affair, Discovery Health Body Challenge, Don't Forget the Lyrics, ElimiDATE, Extreme Makeover, Fake Out, Faking It, Fear Factor, Flavor of Love, Flight of the Conchords, For Love or Money, Forensic Files, Gastineau Girls, Home Made Simple, Home Shopping Network, I Want a Famous Face, JAG, Johnny Zero, Kings, Kitchen Nightmares, Last Comic Standing, Late Night with Conan O'Brien, Late Night with David Letterman, Lifetime's Club Gastronomique, Love Monkey, Love Thy Neighbor, Mad TV, Made, Making the Band: Season 1 and 3, Meet My Folks, Miami Ink Motormouth, MTV TR3's Sucker Free Latino, MTV True Life, MTV's America Moves, MTV's Fashion High, MTV's Military Veterans, MTV's Spring Break 2005, MTV's The Hookup, MTV's TRL, My Name is Earl, Naked Brothers Band, Nanny 911, Neighbors 911, New Amsterdam, Next Telenovela Star, Nothing But the Truth, One Life to Live, Overhaulin', Party Planner with David Tutera, Phenomenon, Play or Be Played, Primp Me and My Pooch, Psychic Detective, Queer Eye for the Straight Girl, Queer Eye for the Straight Guy, Rachel Ray Show, Ricki Lake, Road Rules, Room Raiders, Saturday Night Live, Searching for Bobby De Niro, Secret Lives, Sesame Street, Sex and the City, She's Got the Look, Showtime Promo, Split Ends, Style Court, Survivor, Taildaters, The Amazing Race, The Apprentice, The Bachelor, The Bachelorette, The Benefactor, The Contender, The Jane Pauley Show, The Joe Schmo Show, The Maury Show, The Mole, The Onion Network, The Rap Olympics, The Real Housewives of NYC, The Real World, The Restaurant, The Sopranos, The Swan, The Tattoo Crew, The Tony Danza Show, The Tyra Banks Show, The View, Third Watch, True Life, Ultimate Fuse Gig: VJ search, Uranium, Vacation Challenge, Wa$ted, Watching the Detectives, WB11 Morning News, Wendy Williams, What Not to Wear, What Would You Do? Who Wants to Be a Superhero, Who Wants to Marry My Dad, Whose Wedding is it Anyway?, Wife Swap
Broadway / NYC Theatre: Newsies, Matilda, Kinky Boots, Spiderman: The Musical, Sister Act, White Noise, Equus, In the Heights, Dreamgirls, Platanos and Collard Greens, Hell's Kitchen Musical, Curious George, The Adam's Family, Quartermaine, Finding the Rooster, Puccical: The Musical, Quartermaine, Two Gentleman of Verona, Blithe Spirit, 42nd Street, A Chorus Line, Aladdin, All Shook Up, An American in Paris, Animal Tales, Band Wagon, Beauty and the Beast, Brooklyn: The Musical, Cabaret, Catch Me If You Can, Cats, Chicago, Cinderella, Dirty Rotten Scoundrels, Dr. Seuss, Drowsy Chaperone, Jersey Boys, Evita, Fiddler on the Roof, Footloose, Gigi, Grease, Gypsy, Hair, Hairspray, Happy Days, Hello Dolly, I love Piano, Jesus Christ Superstar, Kiss Me Kate, Leap of Faith, Legally Blonde, Light in the Pizza, Little Shop of Horrors, Matt & Ben, Miss Saigon, Movin' Out, My Fair Lady, My Way, Naked Boys Singing, Oklahoma, Oliver, Pieces (of Ass), Pinocchio, Reasons to be Pretty, Rent, Rock of Ages, Sleeping Beauty, South Pacific, Spider Man: The Musical, Sweeney Todd, Sweet Charity, Tarzan, The Buddy Holly Story, The Color Purple, The King and I, The Lion King, The Music Man, The Pajama Game, The Sound of Music, Tommy, White Christmas, Wicked, Wizard of Oz, Wondrettes
Commercials: Lancome, Red Legend Wine, Genie Bra, Gad Dairies, Ciroc Peach, Colgate, Foursquare, Nestea, Aeropostale, Men's Health, Twizzlers, History Channel, The Today Show, Purina, Fresh Direct, Advil, Lipitor, Connecticut Lottery, Nintendo/Wii, Sony Eric, American Airlines, TD Ameritrade, Sterling Bank, Kraft, Dodge, Amica, Cartoon Network, Spike TV, Wazoo, Optimum Online, Alvesco, HBO Sports Promo, Late Night Dateline, Adam and Eve Server, A&E Biography Promo, All State, AT&T, Avaya, AXE body spray, Baby Gap, Bacardi, Banana Republic, Bed, Bath and Beyond, Berlitz Language, BET, Big Lots, Blockbuster, Bristol Myers, Bud Light, Burger King, Cablevision, Campbell's, CanonCaptain Morgan, Chevy,Chili's, Chrysler, Clairol, Clear Blue Easy, Coke Zero, Comcast, Comedy Central/Dr. Pepper Promo, Commerce Bank,ConAIR, Conde Nast, Dell, Dentaburst, Diesel, Discover Card, Dove Body Wash, Dukes of Hazzard promo, DuPont, Ecko Footwear, E-Diets, Emergen-C, Emerson Electronics, ESPN, Exubera, Exxon Mobile, FedEx, Fireman's Fund PSA, Fisher Price, Foot Locker, Fosamax, Garnier Shampoo, Go Daddy, Godiva Chocolate, Grey Goose Vodka, Gucci, Hasbro, Hewlett Packard, Honda, Iceland Health Omega 3, Interboro College, Island Health, Jackson Hewitt, JC Penney, Joe Fresh, JVC, K Mart, KIA, Kodak, Kohl's, Kojak promo, Kraftmaid, Levitz Furniture, LG Electronics, Liberty Natural Gas, Lindt, Lucille Roberts, Lufthansa Airlines, Macy's, Make me a Supermodel, March of Dimes PSA, MasterCard, Maybelline, McDonald's, Merck, MetLife, Miller Light, Miracle Whip, Modell's, Monster.com,Motorola, National Wholesale Liquidators, NBA, Neulasta, Neopets, New York Sports Club, Nike (featuring Michael Jordan), Nokia, Novartis, Nutrasilk, NY Lottery, NYC Public Schools, Old Spice, Ortho-Tricyclen, Oxygen, Panasonic, Pepsi, Pillsbury, Pizza Hut, Plavix, Propel, Prudential, Reader's Digest, Rembrandt Toothpaste, Rheingold Beer, Ricola, Rockband 2, Rogaine, Ruby Tuesdays, Samsung, Sears, Silk Soymilk, Six Flags, Skittles, Skype, Smirnoff/Parrot Bay Rum, Somerset Mortgage, Sony Walkman, Spanish Acuvue, Spike TV PSA, Sprint, St. Francis Hospital, Sunglass Hut, Taco Bell, Target, Thomas the Tank, Timberland, Time Warner, Topamax, Toyota, Trident, Trojan, TV Land, Tylenol, Unisys, US Air Force, V8 Juice, Verizon DSL, Verizon Wireless, Verizon,Viagra, Vitamin Water, Vytorin, Wachovia, Wal-Mart, Web MD, Wella, Wendy's, Wii Rockband, Wrigley Gum, Xenadrine, Yellow Book, Zostavax
Magazines: Vice, O Magazine, All You, Best Life Magazine, Body, Cargo, City Magazine, Cosmopolitan, Details, Don Diva Magazine, Essence, First for Woman, Fitness magazine, Fitness RX, For Me Magazine, GQ, Hers Magazine, Italian Vogue, Jane, Jest, Jolie Magazine, Marie Claire, Maxim, Men's Health, New Jersey Bride, Parade, Parents, Picture Magazine, Poker Life, Quick & Simple, Seventeen, Stuff, The Fader, The Source, Trace Magazine, Vibe, Weekend Magazine, Woman's Day, XXL, YRB
Music Videos: Leona Lewis, Jadakiss, Nickelback, Kids in the Hall, Melanie Fiona, Ronny Morris, Jim Jones/Redman & Eric Sermon, Ryan Leslie, Robyn, J. Holiday, Bette Midler, Beyond Belief, Bob Dylan, Bon Jovi, Brandon Sheer, Chris Cornell, Chris Daughtry, Common Dose, Madelyn, Estelle, Fall Out Boy, Gavin Degraw, Gnarls Barkley, Headcrack, Jamie Kennedy, Jay Z, Jigsaw Soul, Joss Stone, Killers featuring Lou Reed, Krispy, Lenny Kravitz, LL Cool J, Lumidee, Mario, Martian Big Block, Matchbox 20, Razah, Sarah Atereth, Travis, TVOTR, Whore's Mascara, Willie Nelson, Womack, Wyclef Jean
Print: Bydureon, Zestra, Barnes & Noble, UNICEF, AT&T, Three Olives, Trimwater, 77 Kids by American Eagle, Urban Fashion House, 191 Unlimited, Absolut Vodka, Akademics, American Eagle Outfitters, American Express, Bank of America, Casual Male, Cheerios, Citibank, COOGI, Crayola, Doritos, Febreze, FreshPair.com, Fubu, GAP, GNC, Hallmark, Hewlett Packard, Intel, International Male, Loreal, Macy's catalogue, Mastercard, Modell's, Nautilus, NYU, Patty LaBelle Album Cover, Phat Farm Clothing, Plus White Toothpaste, Rocawear, Rubies Costume Catalogue, Russell Athletic, Sean John, Target, Under Armour, Verizon DSL, Wrangler
Live: Symbicort, Crestor, Brilinta, AXE Promo, NYC Marathon, NY Auto Show, Night at the Museum 1 & 2 Promo, Chicago: The Musical Promo, Coors, Kidz Bop, Lamborghini Promo, NY Titans, Godiva, BMW, Bush Gardens Tampa, Cirque du Soleil, Disney Cruise lines, Disneyland Resorts, Hawaiian Tropics, Knicks City Kids Dance Team, Magic trade show, Manhattan Monologue Slam, Metro Girls dance team (for Metro Stars soccer team), Paul Mitchell Beauty/Hair Show, Pureology Beauty/Hair Show, Redken Beauty/Hair Show, Six Flags Great Adventure New England, Six Flags Great Adventure NJ, Target, Universal Studios Japan, Universal Studios Orlando, Verizon, VH1 Hip Hop Honors, VH1 Save the Music
Comedy Venues: Caroline's on Broadway, Comic Strip Live, Gotham Comedy Club, New York Comedy Club, Stand-Up NY, The Boston Comedy Club, The Broadway Comedy Club, The Comedy Cellar, The Laugh Factory, The Village Lantern, Tribeca Comedy Basement, Upright Citizen's Brigade