When we look at our favorite stars on the silver screen or bask in the glamour of Oscar night or other red carpet events from the comfort of our living rooms, it's easy to forget that acting wasn't always like this. It didn't start out under massive lights and instantaneously streaming across thousands of miles to our  wide-screen television. The art of acting goes back to the ancient Greeks close to 3000 years ago. Simple sets, simple costumes and masks, and of course words spoken by talented actors–that's all it took to entertain Greek theater-goers.
My, how times have changed! These days most actors are working to get themselves into on-camera acting in television, commercials and film–if not on the red carpet, at least making a living acting on camera. But how to get started? We've put together a bunch of great resources for you all in one place that will outline everything you need to take your career to the next level!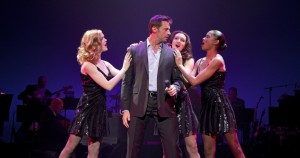 So you've studied acting; maybe you've gone to theater program or at least you've acted in some plays and done your learning on the ground. Perhaps you've gotten a few roles in student films, or been part of a creative team making a YouTube short or series. But making the jump to a professional level, on-camera production, whether it's a commercial or a film, especially coming from a background of stage work is a whole 'nuther ball of wax. But take heart: what you've learned of the craft performing on stage is vital in terms of knowing how to go for an objective, understanding a character's arc, and learning how to do scenework. Now you've got to learn how to apply those skills to working in a much smaller space: a camera's lens and a body mic! A great place to start is actually not in front of a camera, but in the library. These six essential books will give you all the preparation you need so you'll be ready to step in front of the camera when you do book a role. From Tony Barr's bible of on-camera acting tips "Acting for the Camera," to Michael Caine's brilliant and sharp-witted book, these titles will give you a fantastic head start in working toward your on-camera career acting in film and television. You could also benefit from checking out this awesome interview with Melendez Studio chief Joseph Melendez on some of the subtle differences you should be aware of when making the transition.
2. Booking a Role on Television or in a Film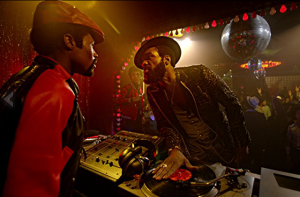 Okay, we've taken the first step and laid the groundwork for making the switch from stage to screen. Now all you have to do is sit back and wait for the offers to roll in, right? Well…it would be untrue to say that NEVER happens, but let's just say that it's an unlikely career path for most people. And anyway, why wait around for lightning to strike when you could actually be doing something to further your career?  Here are a few basic steps you can take to position yourself to get cast in television and film roles. And let's not forget commercials! There are so many channels out there that prices to air commercials have fallen. For you, the good news is that more and more companies are salivating to produce commercial spots–and they need actors! For an actor getting started in on-camera work, commercials are a great first step that can also be quite lucrative. And don't forget, it takes fortitude and stamina to carve out a career in television and film. Here's a great interview with young actor Kendra Leigh Timmins on booking a series lead on Nickelodeon's show "Ride" and how the experience has been for her. Let's just say that working with horses isn't all a bed of roses! But whoa there, booking a lead role in a series is hardly the first step out of the gate, is it? Another valuable lesson is that even between jobs you've got to take the initiative and keep your actor's toolkit in tip-top condition, so that you'll be ready to shine when that big audition for an on-camera role in television or film does come along. "Grey's Anatomy" star Jason George took the time to lay out some of his personal tips for actors trying to break into television and film work in this interview.
3. On set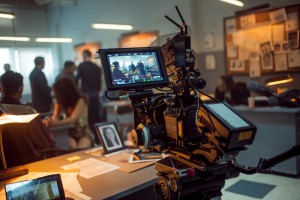 So you've built yourself a foundation, and you've got a realistic understanding of what directors are looking for from on-camera actors. Now it's time to talk about what it's like once you've actually booked a role in a television series, a commercial or a film. First of all, congratulations! But now to the nitty-gritty: what's it really like on set! The truth is it can be intimidating when you walk onto a film or television show set for the first time. There are dozens and dozens of busy people are walking around very quickly doing important things and looking like they're perpetually irritated, or else they're carrying heavy things and moving equipment. But don't worry! Relax and understand that NOBODY knows where to go the first time they step onto a set. For starters, you can grab someone who is wearing a headset–most if not all of the people working on a production crew are wired in to a radio network so they can communicate no matter where they are–and ask! Tell them your name and your role, they'll talk to whoever needs to know you're there, and they will likely point you toward the make-up trailer. This and wardrobe are usually the places you start your day on set. Once you're in the make-up chair you can breathe easy and concentrate on the job you're here to do–act! They'll know where to find you to take you where you need to be. Another thing newer on-screen actors worry about is chemistry–when you've rehearsed a play for weeks and weeks, you've had time to develop a rapport with your scene partners. You don't have that luxury of time working in television and film. Here's some great tips for quickly kindling that on-screen fire we all seek as actors and audience members alike when you're working on-camera in television and film. But guess what? Your first roles in television, commercials and films are not likely to be very big ones. So it's good to know how to make the most of the background roles you're likely to land at first. Remember, there are no small roles!
4. You Have Much to Learn, Grasshopper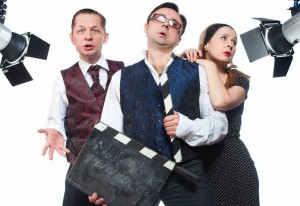 While this list can help get you started, never forget the old adage about acting: your education never ends. Actors as legendary as Ian McKellan and Patrick Stewart constantly talk about how much they learn every time they act in a film. Plus, there are tremendous resources out there–and also right here at NYCastings that can really give you the extra boost you need to get you on camera working in television or film. From classes specifically geared toward getting you into a commercial, to voiceover classes that will give you not only the tools you need but also your first voiceover demo reel for future auditions, this page is a fantastic launching pad from which to begin your new career in television, commercials and in film!
And don't forget to break a leg!