Actress Tamara Bass wants women to know that they should stop asking for permission to create – and to make opportunities when none exist.
Tamara Bass stars in the film, If Not Now, When? set to release in select theaters on January 8th, as well as Video On Demand. She also wrote the screenplay, and co-directed and co-produced the film with fellow star Meagan Good.
This marks the first time two Black women have co-directed a feature film that one of them wrote, and both of them produced and starred in. If Not Now, When? premiered at the American Black Film Festival, and was nominated for the Jury Award for Best Narrative feature, Best Screenplay, and Best Director.
In this exclusive clip, Tyra's (Meagan Good) friends encourage her to continue with rehab, even as Jillian is skeptical that her mother truly understands the ramifications of what she's done.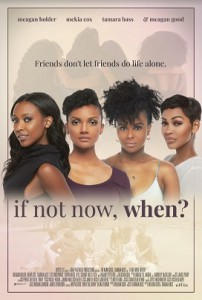 You wrote the screenplay, co-directed and co-produced your new film If Not Now, When? with fellow friend and business partner Meagan Good. This marks the first time two Black women have co-directed a feature film that one of them wrote, and both of them produced and starred in. How will your endeavor empower Black women in the future?
My hope is that by doing this, we will empower other women to take control and stop asking for permission to create. We hear a lot of "no's" in this industry, so my hope is that eventually we learn to say "yes" to ourselves.
How come you decided to release the film in January instead of February during Black History Month?
In all honesty, it was the distribution company's decision to release it during January. But our belief is that it's still an opportune time, with everyone still in lockdown.
You and Meagan Good started Krazy Actress Productions so you could work in the field you love most — entertainment, due to lack of work available to women of color. Recently, things are starting to change. According to the Center for the Study of Women in Television & Film, "For the second consecutive year, the percentages of women directing top grossing films increased, reaching recent historic highs…" However, this study does not break down the race and culture of the Directors. Being a woman AND being Black — what more can you do to help women of color enter the entertainment field?
I think it's about reaching out and taking chances on new talent. While we understand it's a business first, there is this notion that something can't be made or won't make money if there isn't a "name" attached. But that narrow thinking prevents more talent from getting a shot, which in turn limits the opportunities for others. Personally, I have to usually create ensemble pieces to give opportunities for more Black women to shine. It's no fun to get into the door, if you're in the room by yourself.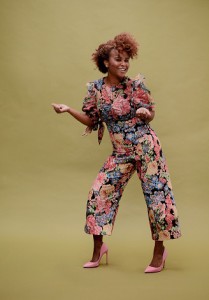 You graduated from Loyola Marymount University which is a top-ranked Catholic university rooted in the Jesuit and Marymount traditions. Are you currently religious? Tell us about your childhood religious beliefs (if any) and how your upbringing has shaped you into the person you are today.
I am not religious at all. I have a firm belief in God, but I don't believe in organized religion. I allow my own relationship with God dictate my moves and how I live my life, versus a prescribed belief system. I chose to attend LMU because it was a small school with an excellent film school and theater program and surprisingly their religious beliefs were not thrust upon you.
You grew up in Syracuse, NY, which means you're tough enough to endure cold weather and NY attitudes. You stayed in Los Angeles after college. Has living on the West Coast changed you regarding the way people view you? Or are you still perceived as a New Yorker?
I am still a New Yorker. I don't think I have ever gotten mistaken for an LA native. I am not relaxed and chill enough to pull that off. I actually left Los Angeles for a period and lived in Brooklyn for six years and it was great. I endeavor to be bi-coastal.
You don't use any fillers, like Botox. What's your stance on cosmetic surgery and beauty enhancement?
I personally don't use any nor do I believe in surgery for myself. I recognize, finally, I look young and that is all God and genetics. I drink a lot of water, but I don't do anything crazy nor use any expensive serums. But I am also not a judgmental person, so if that is what someone chooses for themselves, who am I to say anything? It's just not for me.
People tend to interchange complaining with sharing thoughts. When you talk about things that annoy you, are you complaining or sharing your thoughts? Has anyone ever told you to stop whining? Give an example.
There is a distinct difference, in my opinion. I also believe that it comes down to context and circumstance. With my friends I get to do both: complain and share my thoughts. With complaining, we usually give each other the space to get it off our chest, then follow it with: what are you going to do to change the situation? I think that is where the difference lies. When you are just complaining and piling that up with negative thoughts, without anything productive steps to fix whatever is wrong, then it leaves sharing your thoughts territory. I don't think I have been told to stop whining since I was a child being scolded.
You have some films in development. Gives us a little sneak peak into your next steps with these films. How are these development films different from your previous work?
I have a television show I am currently pitching that would star myself and Deborah Joy Winans from Greenleaf and it's different because it's more on the slice of life / dramedy spectrum, which I never have ventured to write before. I also have a TV movie script circulating. That was my first time writing a romantic drama and it was a nice teaching moment. Not using curse words, navigating the formula and delivering a solid story within the limitations of television.
You and Meagan also produced the successful web series All That Matters that launched on World Star Hip Hop. Teach us about the business end of how you made the web series, how you approached World Star Hip Hop and what went into the making of the series.
World Star Hip Hop approached us about possibly doing something else for them and when they saw the first episode of All That Matters, they wanted that instead. We used SAG-AFTRA actors under one of their new media contracts. Everyone was excited and on board.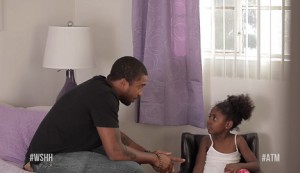 What was it like working with a child on the set of All That Matters?
Child actors come with their own set of rules. We had them both on All That Matters and "If Not Now, When?". For All That Matters, she wasn't in school yet, but we had to adhere to the hours set up by SAG-AFTRA. For If Not Now, When?, the set teachers / monitors were very strict on the hours and we had to get creative with the schedule to make sure we maximized those hours and made sure they were out in time.
What advice do you have for young women of color about pursuing their dreams?
Go for it! If the dream was placed on you and you can't imagine yourself doing anything else, you owe it to yourself to pursue it. Ignore the naysayers and people telling you it's impossible and run full steam ahead.
TAMARA BASS SOCIALS:
CREDITS:
Photographer: Sheri Angeles @sheriangeles
Hair: DaRico Jackson
Makeup: Shannon Pezzetta
Stylist – Lisa Marie Cameron
Asst stylist – Anna Lownes