People recognize Disney's child actor Ava Kolker from shows such as Girl Meets World and most recently Sydney To The Max. You may remember her from Scary Movie 5 and Insidious: The Last Key as well as lots of other big and small screen shows. Now, Ava is transitioning into pop music and fashion designing.
We got a little one-on-one with Ava in which she discusses a bunch of things that child actors may find of interest.
You started in show business at such a young age — four years old. Did you understand, at that time, that you were "working" and earning money?
Yes, I started working at age four and just remembered that I loved it. On American Horror Story, I only had one line and it was really early in the morning, outside, and I had the sun in my eyes and we did many takes even though I was sleepy and uncomfortable; I didn't want to leave at the end of the day. I asked if I could come back and couldn't wait till the next time I could be on a set. I definitely didn't understand that it was "work" or that I was "making money". To me, it was just my favorite activity.
How did you meet your talent agents and manager? What does your agent and manager do for you?
I met my first talent manager through an introduction as he was going to manage my two older sisters and he asked me, "Do you want to do this, too?" I said YES for sure, and so he signed all four of us [Ava also has a younger sister].
Then I met my talent agents when I was five years old after I filmed The Trials of Cate McCall. The director Karen Moncrieff said I was a great actor and she was going to make calls to help get me the best agent possible who would watch over me not only as an actor but as a human being. I then signed on with Meredith Fine and the team at Coast to Coast Talent and have been with them ever since.
My agents help to get me auditions and get me into the best rooms possible to have a shot at great roles. They help pitch me as the right person for the role. My manager, Margot Menzel, takes on a broader role and helps manage my career, with building the best team around me, finding me opportunities, helping me with introductions — even for my music — and thinks outside the box beyond auditions. She's amazing.
What was your audition like for Sydney to the Max?
I first auditioned with the casting directors Sally Stein and Barbie Block on a first call along with hundreds of girls, I hear. I thought I was too short for the part to play a 7th grader when I was the shortest person in my 5th grade class. I wasn't nervous — I just went in and had fun with them.
Barbie and Sally had also cast me in Girl Meets World so I was happy to see them again, and I even asked them to think of me for the next role. LOL. But then, they called me in to meet producers on the 21st floor of the Disney building. I was excited but was still trying not to get my hopes up. But when I went to producers, I remember Mark Reisman laughing so hard he was putting his head back and I just really felt like I nailed it. I was trying to contain my excitement walking back through the building, but when I got to the car, I screamed! I said, "Mom, I really feel this one, I'm Olive. I really think I'm getting this one!"
The next morning, I heard that I was "pinned" for the role. I was so beyond excited and hopeful. The next step was to "test" with the producers and Disney Executives so I went in and tested with Ruth Righi who had already been cast and other potential "Olives". After the test, I still felt amazing because Ruthie and I had an immediate connection and had so much fun doing our scenes together. They told me it would take 10 business days to find out which felt like an eternity. But I got the great news on day four and they told me the decision was unanimous, I got the job, I was going to be Olive. I remember immediately bursting into tears and felt so grateful and so full of joy. I will never forget that moment.
Do you take acting and singing lessons?
I have actually never taken acting lessons. I did musical theatre at Class Act Theatre when I was little and that made me love the stage. I study by watching and mimicking other actors I admire and seeing how they deliver the truth in their performances. I do take singing lessons. I work with Ameet Kanon who really helps me find the inner artist. We practice on a stage so that I can learn about performing live as well as singing. We do a lot of improv and she helps me to do song writing as well. which I love. So I feel like she helps me as much to find my voice as well as improve my vocal.
You've just released your first music single "The Good Ones". Was it your idea to dabble in music?
I've always been interested in music. When I was doing musical theatre, I would sing around the house all day, every day and couldn't get enough. I love how music and singing makes the environment so much happier and joyful. I am grateful that I finally met two incredible songwriters, Peter Zizzo and Francis Galluccio, who were willing to work with me and bring my vision of "The Good Ones" to life. They helped me realize I love doing my own music even more than I could have imagined.
How did you choose "The Good Ones" as your first single?
I wrote it with Francis and Peter. I came up with the title, and the concept and knew I wanted to write a song about the good ones in my life and the people who always have my back. I feel like they are my biggest gift and I felt that there would be no better way to start my singing career than to write a song for them and about them.
What are the steps you took to make "The Good Ones?"
I met with Francis and Peter in Peter's Studio and we discussed my idea of writing a song about "the good ones". They loved the idea and we wrote down a bunch of lyrics about how I felt about the people in my life. Then Francis came up with a beat and an idea of the music on his guitar. Peter added to it, and came up with other brilliant ideas. Then, the three of us spent a few hours in the studio a couple times fine tuning the music and the lyrics and trying different things until we all loved the final version we all agreed to. Once we came up with the final, Peter and Francis produced it and Miklos Malek mixed it. When I heard the final mixed version, I was so excited and couldn't wait to share it with the world.
What is your favorite music genre? With "The Good Ones" being pop, do you have plans to release more pop songs / make an album or are you also interested in making different types of music?
I love pop, so I think for now, I will probably stick to pop, and would love to do an album. I just recorded a second song I am hoping to release by the end of the year, so hopefully that will be a great start. I would love for my third song to be a ballad but I am open to whatever comes to mind that feels right in the moment.
We heard you released a new fashion line. Can you tell us the name of your collection and where we can find it? Where is it being sold?
Yes, my new line is called Ava by Pol Atteu in partnership with the incredible designer to the stars Pol Atteu and Patrick Simpson. I have created a new Instagram account @avabypolatteu where all of the details and places it will be sold will be announced. We are in discussions with many stores and will be announcing pre-orders online soon as well. I am starting with luxury 3-D T-shirts and designer jeans and I hope you all love it.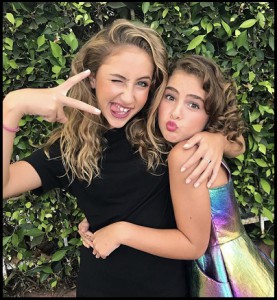 Ava Kolker and her sister, Lexy Kolker.
What made you decide to dabble in designing t-shirts?
Well, I feel like everyone wears T-shirts and there aren't a lot of affordable glamorous T-shirts you can be comfortable in but also make a statement of style and luxury. They also have great positive messages for girls, which is always a good thing.
Will you he releasing more items? If so, what?
Yes, we are going to be releasing designer jeans, and after that, the sky's the limit. We have discussed other clothing items, accessories, purses, shoes, sunglasses, cosmetics etc. But we want to do one thing right before we move in to the next, so taking our time perfecting our T-Shirt and jeans line first.
Tell us about school, especially when you're on set.
I attend a public home school program that is phenomenal for actors. My school teacher comes on set once a week to follow my progress and I have a full time set teacher on set who only works with Ruthie and me so it's like getting a private tutor. I feel very grateful for the great education we are getting on set. Education is a very high priority for me and for Disney so most of the time I am ahead, and that's how I like to keep it.
Have you ever had to travel outside of the California area for work?
Yes, I filmed in Ohio and Miami and both times my dad took me. We stayed in nice hotels and I absolutely loved the adventure. I hope to travel more in the future but most of my projects so far have been in LA so that's been convenient, too.
What's your favorite and least favorite things about being in the entertainment field?
Well, the entertainment field happens to be my passion and what I love to do the most so my favorite thing is that I get to do what I love and call it "work", which it never feels like it is. Someone once told me to do what I love and I won't ever work a day in my life, so I feel blessed to have found what I love to do early in life. What I like least is the rejection, and the judgement and the unstable nature of it. I feel like you can be on a hit show, and get great reviews and have a lot of fans, and it can still take months or years to get your next job. That can definitely be discouraging if you let yourself be affected by the rejection. So my biggest focus is to always stay grounded and stay busy so that I can be less affected between jobs.
Do you have any advice for young performers?
Yes, I would let them know to work on their skill sets all the time, learn what you're good at, and become excellent at it. What makes you different and unique? What's your talent? Embrace your differences, work hard, make contacts, take every opportunity to learn and perform and most of all, stay enthusiastic and positive no matter how many "no's" you get.
Anything else you'd like to say?
I just want to thank all of my fans and all of the people who support me and have been so good and loyal to me. I appreciate and love every one of you.
Where can we find you on social media?
You can find me on Instagram at @avakolker and on twitter at @realavakolker. I also have a YouTube Channel Ava Kolker for my music videos.