Some of the creepiest, scariest movies have child actors in them. i.e. Poltergeist (Heather O'Rourke, Oliver Robins), The Exorcist (Linda Blair), Pet Sematary ( Blaze Berdahl / Jeté Laurence) … and oh, we can't forget Danny Lloyd, Lisa & Louise Burns as the Grady sisters in The Shining!
Which brings us to year 2019 and 12 year-old child actor Chloe Perrin.
Chloe has two horror films being released this year. Mary, which is about "A family sailing in isolated waters discovers the ship they bought holds terrifying secrets" and Itsy Bitsy in which "An ancient mysterious relic unleashes a giant prehistoric spider that terrorizes a single mother and her two children in their new house."
Just how does a child actor so young handle show business, let alone horror films? Let's find out.
You're 12 years old and already have an arm's length worth of acting credits. How did you get into the entertainment business?
My Mom and my Dad recognized my talent at an early age. By the time I was three years old, I was invited to audition for the role of Ella in an industrial with The American Heart Association in Dallas, TX. My father was an acting coach, and prepped me for the role. I booked it, and it all took off from there. The whole experience of auditioning and working on set was so much fun, I wanted to do it again. So, my parents continued to take me to auditions and I continued to book. By the age of five I had garnered my first starring role in a movie out of Los Angeles playing Haley, the daughter of Ali Larter in The Diabolical. My whole family flew to Los Angeles for the shoot. We had a wonderful time together as a family during the filming.
You're from Texas but a majority of your jobs are in Los Angeles or on location. Who accompanies you on your shoots? Who pays for your guardian's airline tickets, hotel, food, etc?
My mom always goes with me! My sister comes too, sometimes. If we shoot outside of the Los Angeles area, the production company provides our transportation. For Mary, a driver picked us up from our apartment and drove us to the airport. We flew to Alabama and production was there to greet us. Then they took us to our hotel. We ate on the set, plus we were given a per diem to spend on food. We were also provided a rental car so that we could drive to and from the set. We had the opportunity to visit Alligator Alley. We observed baby alligators to full grown, huge adult alligators in their natural environment. I even got to hold one of the baby alligators!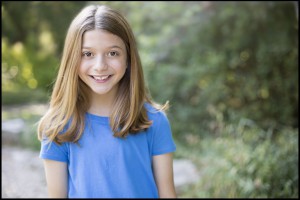 Chloe Perrin.
 Photo by Jerilyn Perrin.
 Who helps you negotiate your contracts? Tell us about your team and how you chose them.
My team involves my mom and sister, my agents, my publicist, and my acting coaches. Together, we all make choices for my career. I am represented by Abrams Artists Agency…it was actually love at first site when I first met Pamela and Domina. They loved me, and I loved them! Abrams has an entire team of dedicated agents and assistants that help to consistently bring me wonderful opportunities. I am so blessed to be represented by a top Los Angeles agency! When I'm offered a role, my agents negotiate the contracts. Pamela and Domina, introduced me to my publicist, Anthony Turk. We have so much fun working with him.
Tell us about your best audition and your worst audition.
My best audition was for my very first starring role in the horror/thriller movie, The Diabolical! It was a big step in my career, and I was so young. Many of my memories are of the stories I've heard from my family since then because I was so young, but I do remember my dad very clearly…these are some of the most cherished memories I have of him. When he put me on tape for the audition of The Diabolical, he told me I was perfect for the role. When I booked, my dad was as excited about it as I was! He took my sister, mom and me for ice cream to celebrate! I ate two scoops of cotton candy ice cream on a sugar cone! As for my worst audition? Hmmmmmm….I don't remember one, but that doesn't mean I didn't have a bad one. I just try to forget negative things and focus on positive ones.
You have two back to back films: Mary, starring Oscar Winner Gary Oldman, and Itsy Bitsy, starring Bruce Davison. They're being released within two weeks of each other. Does that mean you shot them both at the same time?
I actually did not shoot them at the same time. I began shooting Itsy Bitsy in 2016, and I shot the movie Mary in 2017. I am so excited that both movies are being released at the same time — this Halloween season 2019! …my birthday is October 12th so I have a lot to celebrate this year!
Exclusive photo to NYCastings.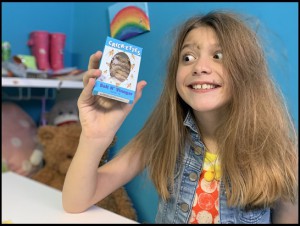 Chloe Perrin. 
As a child actor, you have restrictions on how long you can work. Who arranges your schedule?
There is a school teacher who oversees everything I do on set. The teacher looks out for me to be sure I get my school work done and to be sure that I work only the hours allowed during a day on set. Production puts together my call sheet with my schedule for school and other regulations in mind.
Both Mary and Itsy Bitsy are horror films. As you may know, the horror genre has a huge following and the fans love to hear behind the scenes stories, so here are some questions:
a) When you were filming Mary and Itsy Bitsy, were you actually scared (as if you were an audience member watching) or were the scary parts put in later?
I wasn't scared at all! I know it's all just REALLY COOL special effects and makeup. It doesn't scare me because I know it's all make-believe. There were special effects added later in Itsy Bitsy, including sound. The editing also adds to how scary the movie turned out to be. As far as Mary, we will all have to see…I haven't seen the movie yet either!
b) Did anyone pull you aside to discuss with you that these are horror films and what you should expect? What did they say?
Growing up in entertainment, I've always understood how movies are made. When I book a role, whether horror or not, I read the entire script (if I haven't already) and discuss in detail with my mom before the first day of the shoot, so I know exactly what to expect. I've had a lot of fun learning about what goes into making a horror movie. In Itsy Bitsy, the giant spider was actually a puppet, so I got to learn about puppetry. I named the spider 'Tickles'. There are so many cool people who work on projects like this, and it's really fun meeting them and learning from them. I got to meet the puppeteer on set and learn how 'Tickles' moved.
c) What's the wackiest story you have from working on horror films?
The wackiest story I have from working on horror films is all the fun I have with my sister behind the scenes. We laugh and giggle all the time when we're together, and I love it when she comes with us on set. I made up the best joke ever after a shoot one day while on set of Itsy Bitsy…"Photographers are violent people… They frame you, they shoot you, and they hang you on a wall!" We laughed so hard our tummies hurt!
 In Mary, you worked opposite Oscar Winner Gary Oldman. When was   the first time you met him?
 Gary Oldman is one of the best actors I've ever worked with. I was     absolutely STAR-STRUCK when I learned I would be in a movie with Gary   Oldman! I met him the first day on set, and was impressed with his i   incredible acting ability and the way he interacted with the rest of us on   the set of Mary. He joked with people and made us all feel at ease. He   even played fun games with me between shooting scenes – just don't   mess with his hair, lol…he is so much fun to work with!
In Itsy Bitsy, you worked for several weeks with Oscar Nominee Bruce Davison. What type of advice did he give you?
The best advice Bruce Davison ever could have given me was the way he conducted himself on set. His example of professionalism – he knew his lines and was always prepared…I could tell he practiced, practiced, practiced. He also followed direction, was on time, and had a great attitude with everyone on set, including me!
What do your non-actor friends think about your career?
My non-actor friends think my career as an actress is crazy – in a good way. I've even helped some friends get involved with acting!
What type of school do you attend? When you're on set, what's the protocol for school?
I attend homeschool! My homeschool is very flexible, and allows me to go on location to film. My mom says the protocol for school is straight A's, so I always do my best on AND off the set. I have always made straight A's, plus I'm two years ahead in school. I plan to start college early, just like my sister did.
What advice do you have for young performers?
If I were to give advice to other young performers, I'd tell them to stay positive, and practice, practice, practice. I would tell them to try not to overwork themselves practicing on a script, but to practice steadily — three to four times a day every day up until the audition / shoot, and then again on your way to the audition or set, run your lines a couple more times. Most importantly, have fun!
Anything else you want to say?
I would love to connect on social media with you all! Follow me on Instagram! I post about my roles in movies and on TV. I also post about all the things I love, like spiders and turtles. I would like to see what you post too!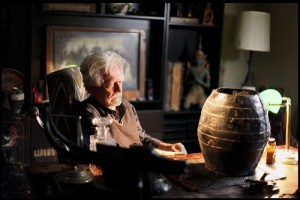 More about Chloe Perrin: When not working in Los Angeles or on location, Perrin resides in Dallas with her mother, a photographer and acting coach and her older sister, also an actress. This talented little gal loves art, reading, science, playing chess and snuggling with her dog.
Bruce Davison in Itsy Bitsy.