Actor Chase Tang can be seen in the upcoming Netflix series Jupiter's Legacy.
Being an actor is a grueling job and can take a lot out of you. It's important to maintain a healthy mind, especially when there are tight deadlines, people on edge due to lack of sleep and just dealing with everyday life which may interfere with your work.
26 year old Chase Tang is an Advocate with Canadian Mental Health Association and Hong Fook Mental Health Association. Chase gives us a positive outlook on how he deals with mental health as well as what it's like to portray a supervillain in Jupiter's Legacy.
Jupiter's Legacy is an upcoming American superhero streaming television series created by Steven S. DeKnight, based on the eponymous comic series by Mark Millar and Frank Quitely, that is set to premiere on Netflix in 2021.
You play Baryon in Netflix's Jupiter's Legacy. Tell us about your audition.
The audition was just like every other audition until I booked the role then I realized how much more had gone into my character development and planning. From regular rehearsals and fight training to being flown to Los Angeles for fitting and wardrobe. It was my agent who got me the audition and I was totally 100% off book for both the audition and call backs. There was no chemistry test, however, a few months after we were done filming when I was in LA, a few of my friends told me they had also auditioned for the same role so then I realized the casting net was actually extended quite broad across Canada and USA.
Is playing a supervillain more fun than non-villain roles?
100% playing a supervillain is way more fun than a non villain. From Tom Hiddleston as Loki in Thor, to Michael Fassbender as Magneto in X-Men, to Joaquin Phoenix as The Joker, the list goes on. I think usually villains have more depth to their story and it is a result of the way society has treated or mistreated them previously which makes their character arch extremely fascinating.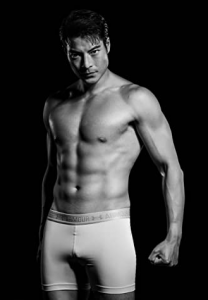 I often hear actors saying how important it is to maintain their bodies as it's part of their job. Is this true? Tell us about your workout routine? What's your diet? Does this include mental health?
I work out and exercise rigorously because as an actor without a theater background and being relatively new to the entertainment industry I felt by standing out and being different "aesthetically" it gave me the best chance to be successful in both the short and long term. I don't think actors need to abide by a certain look or appearance; whatever works for them and makes them unique in their own way. Typically, shooting schedules and auditions take place from Monday – Thursday so during those days my diet is strict and consists of a lot of water, vegetables, lean protein, very little carbs and next to no sugar. Usually Friday or Saturday I will have a cheat meal and let loose with my fiancé. I work out 10 – 14 times per week consisting of weight training, cardio and intense stretching. Regarding mental health I am a professional at blocking out negative thoughts and bad influences from my life. I've personally experienced and suffered from mental health struggles twice in my life. I believe the steps I took to overcome my own mental health struggles are easily applicable for others facing the same challenges. I am very passionate about this cause because I know how dark of a place one can be at when they are experiencing depression. I am an advocate for mental health from both a monetary stand point and also sharing my own stories hoping others can draw from it a form of inspiration. Anyone can become a mental health advocate as long as you have the ability to make a difference and impact someone else life in a passionate and positive way.
You earned a Bachelor's degree in Business from the University of Guelph in Ontario and was a successful corporate executive before you changed careers to acting. Did your family try to talk you out of your decision or were they supportive?
I've been on my own since I was 19 years old so I didn't necessarily need to get the okay financially from someone else to make this career change. I think many of my friends and family were surprised as I was reaching late twenties and they did feel it was an industry that very few succeeded in and struggled to pay the bills as an entertainer. However the past year and a half they have been extremely supportive and big cheerleaders for me personally and professionally.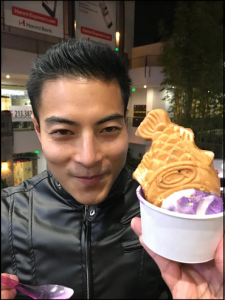 You were born in Taipei, Taiwan but grew up in Halifax, Nova Scotia, Canada. Why did your family move to Canada? How old were you and your brothers at the time? Do you maintain your birth roots?
We immigrated to Canada in 1994 and at that time, moving and settling in Halifax, Nova Scotia was much easier to eventually get Canadian citizenship, versus say a major city like Vancouver or Toronto. I was six years old at that time and since then I have very much maintained my birth roots as I've gone back and visited Taiwan over a dozen times the past two decades.
In the entertainment world, we're hearing more about diversity — and that some characters are not labeled as having to be a certain ethnicity or race. For Jupiter's Legacy, was your character labeled as Asian?
Definitely the past few years, since 2016, there has been a massive push towards diversity on screen. I think this is amazing and the entertainment industry is moving towards the right direction. My character in Netflix is of Asian ethnicity, thankfully, because if it were another ethnic background maybe I would never get the opportunity to audition or even be in the radar to get considered for this role. I believe no matter what color your skin is, what ethnicity you are, the more we can see diversity represented in various roles, the better. As an example seeing a black actor in both a jock and nerd role and seeing the same jock and nerd character represented by an Asian actor.
There are some really big egos in Hollywood. Being newer to the industry, have you encountered anyone who has been difficult to work with?
Coming from the corporate world I assumed there would be big egos within the entertainment industry and Hollywood itself. I try and stay clear of these people because the opportunities and benefits they can offer is often dwarfed compared to the potential headache and emotional stress these individuals can bring to you. I would consider myself an easy actor to work with because, one, I am very easy going, second, because of the hardships I've encountered through out my personal and professional life I am quite empathetic towards others and their emotions.
What goals, as an actor and life in general, do you want to achieve?
As an actor I want to be as big as Dwayne The Rock Johnson… in life, I just want to feel I am making progress everyday and better off today than I was yesterday.
Since you're in Canada, are you authorized to work in the U.S.?
You need a 0-1 Visa and I'm in the process of applying for my work Visa. You can either apply for it with a strong profile or if you happen to book a job that is filming in the USA sometimes production can sponsor and get this paper work done for you. Thankfully there are a lot of movies and TV series shooting in Canada between Toronto and Vancouver.
What advice do you have for actors who are just starting out?
Don't get discouraged ever, do your own homework and be more prepared than anyone you know. Never let someone else tell you what's possible for you, they don't know you, nobody else knows you better than you. The pen is in your hands, go write your story.
CHASE TANG BIO:
Born in Taipei, Taiwan, Chase Tang's family immigrated to Halifax, Nova Scotia, Canada where he grew up playing hockey. He is the youngest of 3 boys, his mother was a stay at home mom & his father an entrepreneur. Earning a Bachelor's degree in Business from the University of Guelph in Ontario. Chase was a successful corporate executive before deciding to leave it behind so he can follow his passion for the movie industry.