What's it like when your child lands a starring or recurring role on a TV series? Lives change.
The decision to just pick up and move across the country or even out of the country is not a decision that should be made lightly. If your child is a young performer, you may want to have the relocation talk way before it ever happens – if it ever happens.
Auditions and bookings sometimes come so fast that you will have a hard time keeping a clear head. By having the discussion in advance with your family, you're able to make a snap decision when your agent and/or manager calls and tells you to be at an audition in an hour.
The below young performers have earned their way into fantastic roles on TV series and movies. We take a look at how this has affected their family life, friends, school and privacy.
One thing you'll note is that they all continue to train with a coach or at an acting studio.
Stage Stars Studios recently relocated to Somerville in Central New Jersey. This is a great opportunity for tri-state area residents to train. We talk to Jamie Hannigan, the Owner and Director, later in this article, about what's offered at Stage Stars Studios and why her passion continues to fuel actors and dancers of all ages.
Now, let's see what these down to earth kids have to say about their acting careers! Julian Feder of Wiener Dog Nationals, Julia Sarah Stone of AMC's The Killing, Jackson Brundage of See Dad Run, Cameron Ocasio of Nickelodeon's Sam & Cat, Laine MacNeil of Diary of a Wimpy Kid and J.J. Totah of Disney Channel's Jessie.
JULIAN FEDER is known for his role of Danny in the recently released Wiener Dog Nationals.
Do you currently live in the United States or overseas?
I live in Singapore most of the year. I do work in Singapore, for instance, that is where I filmed the TV series "Serangoon Road" which comes out this fall. However, most work is in the States so I also go there a lot. It is great as I get to work in both places. As far as travel those things are negotiated by agents in contracts and it differs all the time.
What was your audition like for Wiener Dog Nationals?
I taped the audition for Wiener Dog Nationals. The director contacted us and I went to Los Angeles to meet him, then I got the part. I was sent the sides [parts of a script] a couple of day before I taped it. I always memorize the sides before an audition.
It was lots of fun working with dogs. There were a number of dogs that played the same role. It was great being on set with them. The dogs were adorable, but sometimes heavy to hold. I loved it!
Modeling or Acting?
I like both, but I really like acting because I get to play somebody else. I love figuring out who the character is. Also, I love being on set and learning what everyone does.
Do you get bored or is there always something going on?
In film there is always something going on. I've never gotten bored. Sometimes you have to wait, but you can watch what other people are doing in their jobs and that is lots of fun. Also, I love to watch how other actors play their scenes; you can learn a lot from them. I also like to draw so I bring a sketchpad and pencils to work.
Are your parents allowed on set with you or do they just hang back?
Usually, it's just my mother and I that are on set. She's always with me, but when I am filming she stays behind the crew and I work.
How do you get an education while working on set?
I am home schooled using K12's program. It's lots of fun especially history. My mother teaches me when I'm not working. I also have another teacher, Mrs. Wikoff, from K12 who I meet with online every two weeks and she is so nice. If I am working there is a set teacher there and she will help me do my school work that I am supposed to do. If it is a holiday or summer time and I work, there is still a set teacher there to make sure I am okay, but I don't have to do school work. Sometimes they will bring games to play.
Do kids and adults who know you're an actor treat you differently than others?
No, they don't. They just treat me like who I am, Julian.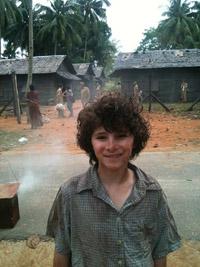 Julian is also set to star in Serangoon Road produced by HBO Asia. Julian plays the lead role of 'Sam' when he is a child told in a series of flashbacks.
Tell us about your role in the new TV series you're working on "Serangoon Road" produced by HBO Asia.
Serangoon Road is a drama/detective series set in Singapore in the 1960s. The lead character is Sam Callaghan (Don Hany). He spent most of his childhood in POW camps during World War II. I play Sam in flashback scenes during the war. My character helps to explain why Sam is so sad and troubled.
Did your agent get you an audition for this?
Actually, a casting director from Singapore contacted us about it. I was in Los Angeles at the time, but when we got back to Singapore I auditioned for it.
Where is it shot?
Most of it was shot in Batam, Indonesia. There is an amazing studio there with a sound stages and a great backlot. They recreated Singapore in the 1960s. Most of my scenes were shot in a village in Batam where they created a POW camp. The people from the village were so nice it was a great to be there. I also shot a scene at a black and white house in Singapore and met the kid that actually lives in the house. His name is Raphael and we are great friends now.
Trailer/dressing room?
The studio in Batam is not so far from the village so there is a very nice room to hang out in there or to dress in. On location in the village, which is very small, everything is provided for us, but it is a location and there is a house to change in, but not trailers.
How do you learn your lines?
I read a paper script. My mother runs lines with me, then I read them to myself. Once I am comfortable with them my mother runs lines with me again. Once I know them I work with my acting coach, Marnie Cooper.
How did you choose your acting coach, Marnie Cooper?
My agents suggested Marnie as soon as I met them.
When I am in Los Angeles I go to Marnie's acting class once a week. I also coach with her before auditions. When I am in Singapaore and I have to tape an audition I work with Marnie on FaceTime or Skype.
I've learned lots of things from Marnie. She taught me how to be in character, to put feelings in my character and how to make it natural. Marnie also taught me about "substitution". That is if it is the happiest moment of my character's life, say his 10th birthday…I think of something happy from my own life and substitute it for the character's life.
How did you receive your representation?
I auditioned for a movie and the casting director from that movie called Paradigm and said they should meet me. So that is how I met my agents.
Anything else you'd like to add?
You've got to really want to act. If you love acting you should do it but it takes a lot of work, effort and energy. If you don't love it you shouldn't do it.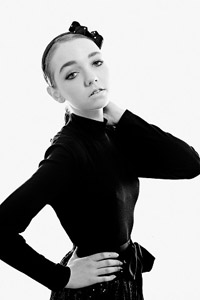 JULIA SARAH STONE plays teen prostitute 'Lyric' in AMC's The Killing.

Photo by Kyla Hemmelgarn
Having been interested in show business from a young age, did anyone ever come up to you or your family and say, "Why don't you let Julia have a normal childhood?"
I didn't start acting until I was eleven, and even then I began slowly with acting classes. So far, we haven't had anybody approach us with negative assumptions. Our friends know that it was all my choice to go into acting, and that it's my passion. They also know that it has helped me grow as a person, to really come out of my shell. I genuinely love what I do, and I put my heart into my work. I'm a major introvert, though, and that might lead people to think that I'm not that interested in what I'm doing. In reality, I'm just concentrating – in my introverted kind of way!
How is school handled when working on a show?
The days that I wasn't on set, I did go to regular school. On average, I missed around two or three days of school per week. Fortunately, my teachers this year were all very supportive, and they knew that school was really important to me. They helped me to catch up on the work I missed while I was on set. If I missed three or more days of school in a row, there would be a tutor on set to help me with the schoolwork I would be missing, and there would be a certain amount of hours set aside for school on those three days. I kept up with school thanks to the support of the tutors and my teachers! It was another great school year finished off with provincial exams, which I did at the same time as the rest of my grade.
What was the worst audition you ever had?
My worst audition was probably my first; I had two lines, Mom and Dad, and I couldn't manage to get either of them out! After the first audition, though, they started to go a lot more smoothly as I got more practice. There was another audition, though, that was probably a close second. I was so nervous that I dropped my script several times. Eventually, the casting director actually took it away from me!
Every audition is a learning experience, but what I learned from that one is that I prefer not to bring my script into the audition with me. Every actor is different, but I personally find that I have more freedom to express the character when I'm not holding paper in my hand.
When character Kallie in "The Killing" is smoking next to you — is that real or fake cigarettes? What's it like to be around that type of smoke?
Actually, all of us street kids had to learn how to smoke! We were given herbal cigarettes. I practiced in the alley behind my house so that it would look natural when I got on set. Practicing outside, exposed, in sometimes bad weather helped because I was able to experience what Lyric would be feeling. My neighbors actually seemed upset and concerned that I had started smoking, but my mom explained it to them!
Your character, Lyric, in "The Killing," took a turn where you kissed another girl, Bex Taylor-Klaus, who plays Bullet. Were you aware, when you got the part, that a same-sex kiss / relationship might develop?
Yes, I was aware that the relationship would develop because it was one of the first audition scenes. Production was always great with asking whether I was okay with scenes that involved any kind of physical intimacy. I also reviewed and talked about the scripts with my parents, who only wanted to know whether I was comfortable with the material.
From the very first audition, I was okay with Lyric and Bullet's relationship. I support relationships based on love and connection – as an actor, the most important thing to me is whether the intimacy fits with the characters and the story, and is conveyed truthfully. I believe that the events of that scene are true to the characters and where they are emotionally. The writing is fantastic!
Bex and I didn't talk much about the scene beforehand, mainly because we wanted to preserve the innocence and surprise of the kiss. We wanted it to be organic.
I was scared only because Lyric was scared! In that scene, she had been abandoned and was craving some kind of connection.
Julia's Twitter: @JuliaSarahStone. Julia likes snow skiing, surfing and martial arts.
Photo by Kyla Hemmelgarn
Do you have your own trailer or dressing room?
I had a 1/3 trailer and I loved it! It was big enough for me to do my schoolwork and for my mom to do her work. I could plug in my music and relax on the comfy couch. They always had it warmed up on cold days, and cool on hot days. It felt a lot like a second home to me.
Do you have a significant other?
Honestly, I don't really have time for a significant other right now! My primary interests right now are school, acting and karate. At the moment I'm not interested in starting that kind of relationship with anyone. I think that when the time comes, and the right person comes along, it will just happen. The right person will probably have a primary interest which excites them, and they'll have to love movies and food!
Do you have an acting coach?
I study with a few different coaches; I take classes at Shoreline Actors Academy with Kirsten Clarkson and at Leap Studios with Andrew McIlroy. I pay for the classes with the money I make from acting!
The Killing taught me a lot, but I think the biggest thing I learned was deepening my access to emotional availability and vulnerability, which I want to continue to develop. In class, I'm also working on going into more depth in script and character analysis.
Do adult actors ever give you advice because you're a "kid?
I absolutely LOVE getting advice from others, no matter whether they're older, younger, more experienced or less experienced than I am! I think that we all have something to learn from each other and advice usually comes from a place of support for the other actor and respect for the craft. I even value advice given by people who aren't actors – because acting is about human nature and the essence of human connection.
Is there a different director on set of The Killing each time?
Yes, we had a different director for each episode. Personally, I found that each director had something unique and different to offer, which was a really neat experience for me. Each one taught me something valuable, and gave me more tools to work with in the future.
The most memorable director I've worked with so far with respect to getting into a character's head and learning how to build them from a psychological point of view is Tara Johns, who directed The Year Dolly Parton Was My Mom (my first feature film). This is because before filming, we worked closely on the character Elizabeth and on the individual scenes for several months. She gave me lots of strategies and helped me start to build a process for exploring characters. One of these included writing as Elizabeth by making a journal of her daily thoughts, feelings, and experiences. She also suggested that I make a purse of special items to help me access the character's mindset by using physical objects that would mean something to her. This was extremely helpful, and I've used these strategies with more my characters since then!
Do you have advice for young performers or young people who want to get into show business?
The best advice I can give to young actors is simply to never stop doing what you love as long as it's helping you grow as a person as well. It's a lot of work, and it takes time and dedication, and there are going to be moments when you don't think you can do it, but don't give up. Remember that at such a young age, booking a job isn't the most important thing; it's a means of expression, and it's about exploring who you are and other characters' points of view. Keep learning about the craft and about human nature. Observe people. Live a full, real, diverse life outside of acting – interact people, read books, and participate in life.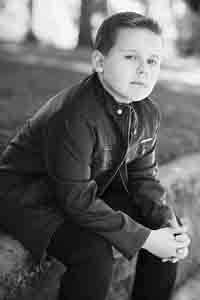 JACKSON BRUNDAGE plays 'Joe Hobbs' on See Dad Run and is also known for his character 'James Lucas Scott' on One Tree Hill.
Photo by Ross Ferguson
How did you get involved in an acting career?
I began acting at the age of five years old in an indie film that I got to do through a friend's mom. I had to memorize about 15 lines and I did it and it was great. I kept asking my mom when I would see myself on TV, but she never really thought much of that. Until one day a friend of my mom's whose son is in entertainment gave my photo to his manager and basically the rest is history. I booked an agent within a week of meeting my now manager. I guess my first official paying job would have been an episode of Las Vegas, and then shortly thereafter I booked One Tree Hill where I spent the next nearly 4 ½ years.
Do you have an acting coach?
I do utilize acting coaches when I am preparing for a BIG audition. Like when I was
preparing for See Dad Run. I spent time with that coach discussing the best approach to the character and working out the specifics within the scenes. The biggest lesson I have learned is that you need to let your own personality shine through the character you are portraying. You can still pretend to be a different person, but there is always a little personal style in each character we all play.
What's it like being on set with other kids?
I don't attend a regular school, but my new home school program is through the public school district I live in. So I am able to be a part of the school district and attend school functions, but my educational programming is not the same. On See Dad Run I share a teacher with my co-star Ryan Newman and we all get along VERY WELL!!! Being on set with other kids is great and tons of fun. But let's face it, on One Tree Hill I was pretty much the only kid, but that gave all the adults a good reason to act like kids, which was awesome.
When did you decide to hire a publicist and how'd you make your choice?
Finding a publicist was a collaboration between my manager and agents and who my mom thought would have my best interest at the forefront. I think I began utilizing a publicist primarily during the hiatus periods of One Tree Hill because it was a way to keep me in front of the public and to also prepare for the upcoming season. It gave me a chance to attend events, mingle with fans and promote the next year of the show.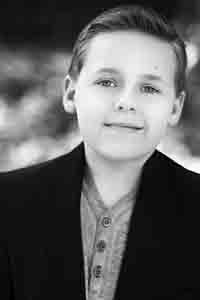 Jackson's friends treat him as they would any other kid.
Photo by Ross Ferguson
Do your friends treat you differently because you're on TV?
NOT AT ALL!! My friends watch See Dad Run and some watched parts of One Tree Hill but they don't look at me as an actor first. We are just buddies and enjoy hanging out like all kids do. NEVER any special treatment!!!
You have siblings. Are they in show business?
Yes, I have siblings and neither of them are in show business. I'm sure there have been moments when they may have felt that I get more attention, but they get to participate in things with me. So it is important that they get included as much as possible. They come to set all the time and hang out. They have attended numerous events with me. We make it a family affair for sure.
When you were filming "One Tree Hill" in North Carolina, how did that work with you being away from home?
When I was filming in NC we spent the greater part of the filming season back east during production time. I would get breaks in my shooting schedule and when that happened we would fly home for a visit…usually at least a week at a time. I built up a lot of frequent flyer miles!!! My mom is my primary work guardian, so she did all the traveling with me. My siblings spent quite a bit of time with us back east on and off as well.
Are you aware of any danger because you're an actor?
I'm not aware of any danger, but that is one reason why my mom doesn't allow me to be on social media yet. Nobody follows me or hangs out in front of my house. People have always been nice if they recognize me out somewhere and ask for a photo or autograph. I am happy to do that for them. No one has ever been creepy.
Anything else you'd like to add.
I would just say that if acting is what you would like to do then go for it!!! It is a lot of hard work and dedication, but well worth all the effort. I have met some extremely amazing people thus far and look forward to meeting so many more.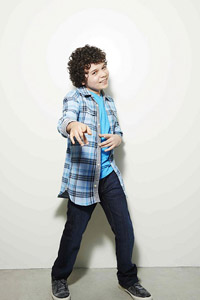 CAMERON OCASIO plays 'Dice' on Nickelodeon's Sam & Cat.
Photo by Sierra Prescott
How did you get involved in an acting career?
I started when I was nine years old when I appeared on a Palm Centro commercial. I got stopped to audition for IMTA in New York and my parents asked if I wanted to try it and I said yes.
Do you have an acting coach?
I have had several acting coaches but Joan Stephens from New York is where this all began. Joan taught me how to feel and become the character that I was auditioning for instead of just reading lines.
Why do you find it necessary to have a legal representative?
They will look out for your best interest especially when negotiating a contract.
Do you have a manager AND an agent or just a manager?
I have a manager who was highly recommended and works with several agents. My manager is well known in the industry, which is why we decided to go in that direction.
When did you decide to hire a publicist and how'd you make your choice?
My manager recommended a publicist once I was picked to star in the Sam & Cat show. My manager has always guided me correctly so there was never a doubt when picking my current publicist who has worked with Nickelodeon before.
Do your friends treat you differently because you're on TV? How are you schooled?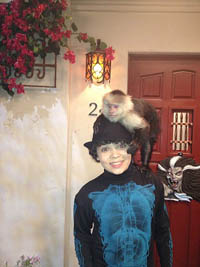 Cameron lives in the tri-state area but stays in California when working on Sam & Cat.
No, my friends do not treat me any differently but I can't answer any school related questions since I am schooled on set through a virtual academy program.
When you're filming "Sam & Cat," how does that work with you being away from home?
My entire family including my dogs are with me with the exception of my older brother Paul and my dad who is back in New York because he has a business to run. He does come out to see us every chance he can. Production paid for air flight and hotel once they were interested in me after my initial audition. We do have a hiatus week every so often but we have not gone back home yet. There is so much food offered from production during the pilot and the season, which includes whoever was with me.
What was your audition like for "Sam & Cat?"
The initial audition was a videotape sent to Nickelodeon by my manager. When they showed interest, they invited me to audition in person. I had to fly to California for the audition and received three callbacks. Every callback had different sides [pieces of script] and playing different types of character roles.
Are you aware of any danger because you're an actor?
I have been told about this but have not experienced this at all and hopefully never will.
Anything else you'd like to add.
For all the young performers, work hard, love what you do and never give up. Hire a good agent or a manager who sends you out on auditions frequently and listen to them. For all the parents who want to get into the business, make sure that your kid really wants this and do your homework by asking lots of questions like my parents did.
LAINE MacNEIL plays 'Patty Farrell' in Diary of a Wimpy Kid and 'Angie Gower' in AMC's The Killing. Laine's Twitter: @TheLaineMacNeil
How did you get involved in an acting career?
My brother and I were doing a lot school plays in elementary school, my mum thought we were pretty good. She asked if we were interested in trying out professional acting.
Do you have an acting coach?
I always try to train year round. I take classes and do private coaching as required with Kate Twa at Railtown Actors Studio in Vancouver. I have been training at Railtown for a couple years. When I am in LA I work with Holly Gagnier from Playhouse West. The most valuable lesson I've learned from my coaches is that I can't control my emotions during a scene; I have to let go of my emotions and see where they take me. Sometimes the end result is surprising.
What's it like being on set with other kids?
I was lucky enough to work with a huge cast of other kids for a lot of my films, and each day felt like summer camp; I have made lifelong friends with my costars. Even though we live far away from one another, we still manage to get together a couple times a year! Most of the time we shared the same set teacher, although we are all working on different subjects and grades. When I'm not working, I attend public school. I like working with a set teacher because when I come back to school, I'm usually ahead of my class. I tend to get along with all of my coworkers, although there is the occasional person that I become closer to; like my good friend Peyton List!
When did you decide to hire a publicist and how'd you make your choice?
So far, I have not hired a publicist. When the time comes, I'll probably get a referral from my agent or friend.
Do your friends treat you differently because you're on TV?
I try to keep it low key at school, but Diary of a Wimpy Kid outed me! My friends don't really treat me differently, although they do make the occasional joke about their friend "the movie star". My teachers have been very understanding of my career, and they relax my due dates for assignments.
Do you currently still live in Canada or did you make the move to the USA?
I currently live in Vancouver, Canada, but I visit LA often. So far all my work has been filmed in Canada, but if I were to film in the States or any other location, production would provide hotel and airfare. As a minor, my parent is required to come with me and be on set. When I audition for the US, I usually make an audition tape to send to the casting director via my agent.
What differences are there on set between a show shot in Canada and one in the USA?

Since I've only working in Canada, I can't really compare Canadian vs American sets; but I can only assume that when there's a big production, everything is bigger compared to smaller productions. I've worked on both kinds, and it doesn't change the experience!
Did you have any discussions with adults when you took the role on "The Killing" which has many adult themes.
I always discuss mature content with my parents before deciding to audition. Once I decide the material is something I'm comfortable with, I work the scenes with my acting coach. For "The Killing", we weren't given a lot of material because they are secretive with the storyline. Luckily I was familiar with the show, and I used my imagination to come up with a backstory for my character that made sense with the sides [pieces of script]. The audition sides ended up being in the actual episode. I heard I booked the part while I was in French class, and I read the text from my mom, and I made a very embarrassing squeal during my teacher's lesson. I still get teased about that!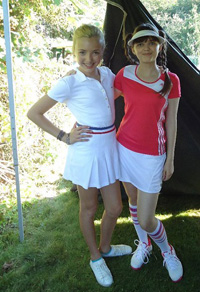 Laine with costar and friend, Peyton List, from Diary of a Wimpy Kid. Laine was also recently seen in Falling Skies and just finished working on Horns starring Daniel Radcliffe.
Do you have any privacy issues because you're an actor?
Privacy Issues would probably would be a bigger problem in LA, but in Vancouver, it's way more laid back. I used to get recognized a lot for Wimpy Kid, but my latest projects colored my hair so I look a little different! I still get the occasional request for an autograph at school or when I'm out and about.
Was it weird working with your brother Donnie MacNeil in the first Diary of a Wimpy Kid movie?
It was fun working with my brother on the first Wimpy Kid movie, and convenient for my mum! My brother and I have worked together before, and we take acting classes together. We also rehearse together and help each other out with auditions.
How did you choose your agencies?
My American agent Joanne Wiles took her kids to see the first Wimpy Kid film, and noticed me. She approached my Canadian agent Shannon Richardson about representing me in the US. Now I have two agents: my American agent Joanne Wiles of ICM, and my Canadian agent Shannon Richardson or Premiere Talent Management working together for me.
Anything else you'd like to add.
I had to sign a confidentiality agreement for Horns, so I am limited on what I can say. Although I am not in any scenes with Daniel Radcliffe, he was really friendly and spent time with us! After seeing a few clips of the film so far, I can't wait for the movie to come out in October! A piece of advice I can give to actors starting out: TRAIN TRAIN TRAIN! It's like any other activity, you need to train the "acting muscle" the same way you train for a sport.
Thank you so much for asking my to do this, its always a pleasure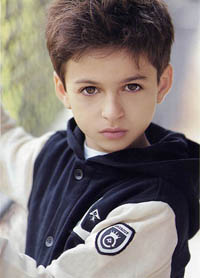 J.J. TOTAH plays 'Stuart' in Disney Channel's Jessie J.J.'s Twitter: @JJTotah & Instagram: TheJJTotah
Do you have an acting coach?
Early on, I worked with Joey Paul Jensen and then I studied with John D'Aquino. But I have worked with other coaches, too. It really depends on what your audition is for. Comedy or drama, sitcom or Disney. They all have different styles and you need to discover for yourself who you work best with. When I got the audition for Back in the Game, I was really busy filming Jessie and I didn't have time to get coached. So I went in on my own and used my own instincts and I think it really paid off. Being over coached is never good either.
How did you get involved in standup comedy and book a gig at Hollywood Improv Standing Tall?
I got involved in stand-up when I got introduced to the creators of Standing Tall when I was visiting Los Angeles a couple of summers ago. They worked with me and gave me the opportunity to do stand-up at the Hollywood Improv. One time Chris Rock showed up to our show. Best night ever!! I love being in front of a live audience. It is more exciting because you get to see the audience reaction immediately and that gets you going.
What's it like being on set with other kids?

Acting kids are the best because we are a little crazy and we have so much fun. The kids on Jessie are so much fun, especially my best bud, Skai Jackson. Skai plus me and some candy equals crazy!!! But my new castmates on Back in the Game are so cool. We gelled right away and we can't wait to get on set and do school together. Griffin Cluck is an amazing actor, Cooper Roth and Kennedy Waite are really talented, too. We are going to share the same set teacher and he speaks five languages. But I'm still going to miss my old school in Burbank. I plan on visiting there as much as I can.
Do your friends treat you differently because you're on TV?
Most of the kids at my school are actors so we are not treated any differently. When I visit my hometown, some of my old friends are really excited to see me because I am on television. One girl freaked out so much, she just stood there and screamed. But my real friends just treat me like J.J.
Tell us about your auditions for "Jessie" and the ABC series called "Back in the Game" with James Caan?
My audition for Jessie involved about four steps. Disney casting directors saw me do stand-up at the The Improv and had me come in for a general audition. A few months later I was asked to audition for the role of Stuart on Jessie. I had two callbacks and a chemistry audition with Skai Jackson who plays Zuri.
Back in the Game involved a lot more auditions and included a network and studio test. It took a lot longer and I had to sing as well as read for a much bigger group of people.
I play Michael on Back in the Game. Michael is a young kid who loves his mom, fashion and baseball. The show is about being part of a team of kids who are misfits and get picked on a lot. That's why I'm proud to play Michael. So many kids are bullied today just for being themselves and for liking what they like. Back in the Game shows kids that it's okay to be different. Haters are going to hate, but you gotta live your life to the fullest.
When you're just being yourself, do you put product in your hair?

I like to spike the hair. Gotta get my doo on. So I use Axe gel. Keeps the spikes up all day.
Do you have any privacy issues because you're an actor?
Ha ha, no. I am a really normal kid. I mean, I have been recognized and asked for my autograph and take pictures with people. I communicate with my fans mostly through Instagram and Twitter. I know how happy fans get when they see someone they like on TV in person and I do my best to keep it real for them.
J.J. is currently working on the TV series Back in the Game starring James Caan.
Do you have any siblings?
I have an older brother and sister. My sister is in college and she started doing professional theater when she was eight years old. She is the one who inspired me to do acting. She has an amazing voice and she is my friend. So is my brother. He's my best bud. He is a senior in high school. He inspires me every day. My brother has autism and he has had to overcome so many difficulties. He is the greatest guy and he is my biggest fan. I am a really lucky kid to have such a great family.
What's the best and worst part of being an actor?
The best part, obviously, is the craft services [food] at any set. These guys know how to keep a kid happy. They stock the place with all of your favorite foods. But seriously, it's just getting to do what you love. I love pretending to be somebody else but I also love to learn as much as I can about all the production stuff while I'm on the set. I guess making a TV show is like making magic and it's a blast.
The worst part is, really nothing. I love going on auditions. Believe me, I go on a ton of them and most times I don't get a callback. Lots of people ask me if I get sad about it but no way. Auditioning is the job. You never know where or when that casting director will see you again. You gotta remind yourself most times it's not about how well you did; you just may not be right for the part.
Anything else you'd like to add.
My best advice to other kids is to start out in community theater and make sure you like acting. Acting is a craft and an art form. It's not about being famous. You have to love this because most actors will never make a ton of money and need to work part time jobs. So if you're a kid and your family is willing to support you, then you are really lucky. My family has had to make a lot of sacrifices for me to live in L.A. And do what I do. I really appreciate them and I know how blessed I am to have a family that believes in me.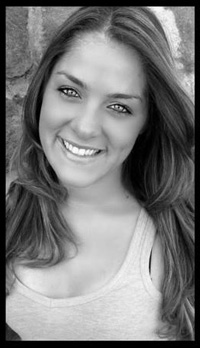 JAMIE HANNIGAN is the Owner and Director of Stage Stars Studios in Somerville, NJ, a place for performing artists of all ages to practice their craft.
Just after graduating high school, Jamie began her own performing arts company, Cabaret Kids. She wrote, choreographed, and directed original musical productions for hundreds of local young performers while attending a local college as a dance major. She then created Stage Stars, a performing & creative arts company where the focus is to create and nurture well-rounded, professional performers who use their talent to make a difference in the world. Years later, Stage Stars Studios blossomed into a tour de force in the performing and creative arts world. More than just a production company which produces countless musicals, plays, and original shows in the tri-state area and beyond, Stage Stars also provides a variety of offerings from tap, ballet, and hip-hop to acting, improvisation, creative writing, music and vocal coaching and rents out their space to create a close local artist community.
Why and when did you start Stage Stars Studios?
Stage Stars began in the fall of 2006 (when I had just turned 21 years old). I was attending a local college as a dance major, running my own performing arts program in my hometown (which was the first of its kind and attracted hundreds of children in its first year) and working professionally in the industry (dancing with artists like Alicia Keys and JaRule). I knew I had to seize the opportunity to open my own business while I had the clientele so I took the risk and followed my dream.
Stage Stars began as a school for all ages to perfect all areas of the arts. We offered an intensive program for students of any age who wished to pursue arts as a career and taught audition prep, how to write a resume, how to take a head shot and reviewed all of the tools one would need. I created the program that I wished I had when I was younger. Since then I have also created my own preforming arts company and now have my own rehearsal and venue space in Somerville, NJ where bands, artists, theater companies and all types of creative and visual artists use the space. We offer an exclusive artists' aid program where musicians, bands, etc. can have an all inclusive package with rehearsal time, advertising/marketing, performance time, and even a special constructive feedback session with industry professionals to help them perfect their performance.
What type of students are your classes geared toward?
All ages and skill levels. We also offer senior discounts.
What classes are available?
We have a monthly schedule of classes, events, workshops and performances. We also rent the space on a daily or monthly basis. Classes and workshops include all areas of the performing and creative arts as well as fitness and more.
Do you put on shows?
Stage Stars Performing Arts Company puts on all types of performances that range from cabarets, musicals, straight plays, improv shows and more. We offer adult and children's productions. I have a space for all types of artists to create and perform. It's a beautiful thing to be able to offer for my friends as well as the community. We are one block from the train and less than an hour outside of Manhattan so, we are able to accommodate everyone.
Which fundraisers do you participate in?
I have donated to countless charities and organizations for the last seven years. One of the reasons I left my job at the local recreation center when I was younger is because they would not allow me to give to charity through the program.
I get up every morning and am grateful to be alive and have the opportunity to live my life helping others. It's not easy, and I do feel pressure every single day, but I just take a deep breath and do it. I truly believe I was put on this earth to make it a better place and to make our younger generation realize that that's what they were put here to do…we all were. If we can use our talents and gifts for the greater good, we've done our job. From the beginning, I just wanted to create a positive environment where people could go and be 100% themselves, be totally creative and just vibe off each other. I wanted to teach people to perfect their craft and at the same time, use it to make the world a better place. I am blessed with so many talented friends who I consider my family, and it has always been a priority of mine for us to have a 'home.'
You were just on the radio July 17th, 2013.
Yes, I have done many radio interviews for various projects on NJ and NYC stations, but I was most recently on the radio being interviewed for Glen Burtnik's Beatles Bash show at The State Theater in New Brunswick, NJ. Glen was the guitarist for Styx and appeared in the Broadway show 'Beatlemania'. He has written hit songs recorded by Marshall Crenshaw, Randy Travis, Patty Smyth & Don Henley and has had songs in movies including 'Armageddon' and 'Bill & Ted's Excellent Adventure.' I have been Glen's Choreographer and lead dancer for a year now. A year ago was the first time Glen has integrated dance into his performances and I am honored to be the one he chose for the job. Not only do I enjoy creating and working with Glen, but we have become great friends.
Stage Stars Studios, 217 W Main Street Somerville, NJ.
Phone: 908.947.0332.
Email: stagestarsstudios@gmail.com