Over 40? Over 50? Over the grind of corporate life with a desire to finally pursue your dream of becoming an actor?
As long as you're ready to fully commit, a late start doesn't matter. You simply need the ability to still believe in the make believe shares Rick Zahn, a former fashion industry guru who began his acting career on the wrong side of 50.
Rick Zahn enjoyed a great deal of success in the business world, yet always felt drawn to the idea of acting. In 2003, he took the leap. He changed careers and did more than survive, he thrived! Rick's long list of acting credits now include major films such as Brooklyn's Finest and The Senator's Daughter, plus work on many television shows including 30 Rock, Law & Order, and Always Sunny in Philadelphia.
Here's Rick's inspiring story…
Q & A with Rick Zahn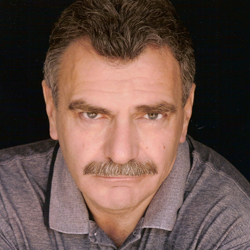 Q: How did you get started with acting later in life?
My mother-in-law owned a modeling school in New Jersey and a friend of hers made infomercials. She asked if I wanted to do one, and I said why not. At the end of the taping, the woman asked if I wanted to do more infomercials. I said yes and I ended up doing 17 of them.
Q: Did you have any previous acting experience?
In college. I was a history major in a pre-law program and a friend told me that if I really wanted to meet girls that I should join the drama club. I did, and he was right. That was the only reason I did any acting in college, and it was only a couple of plays.
Q: What made you take the leap to being a full-time actor?
The more I did those infomercials, the more I remembered being on stage in college. You couldn't see anything beyond the lights. You could hear a giggle or a gasp, but you could not see. I spoke to a professor about it and he said that you are helping them escape. He told me that every time I hear a gasp or giggle that I am pulling them out of their everyday life. I realized how much I enjoyed the process, because it is an escape. You become another character, someone different. You do what we all did as children and we forget as we grow older. You get to play make believe.
The phrase I have on my website is: Believe in the make believe.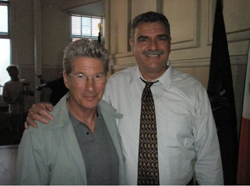 As actors, we get to play as children. We get to play pretend, and there is no more magical time than when we were children and could play pretend.
That feeling stayed with me, and I decided I wanted to pursue it. It was something I had thought about and never had the courage to do. I spoke to my wife about it and she said, Well, you have busted your tail your entire life. Go for it.
That day I walked away from a fat paycheck, and started to become an actor.
Q: Did you receive any specific advice that encouraged you?
Most of the people I took classes with used the exact same word. They said that I was very natural. And apparently that is a big deal, being real and natural.
Q: Once you decided to take the leap, what was your next step?
I was smart enough to realize that you don't just walk in and be an actor – you need an education. So, I started taking classes. I got picked up right away on a freelance basis by Suzy Friedman. She sent me out, and I booked a non-union commercial for Western Pest Control. That was pretty exciting.
I also took a class at TVI with Jonathan Strauss. He is the casting director for Law and Order SVU. At the end of the 8 week class, I asked if this was something that I should stick with because I was the oldest person in the class. And, he said absolutely.
A month later, Jonathan called me in to the office. He gave me a pre-read. He said it was very good, and that he wanted me back at 5:30 to go in front of Ted Kotcheff, Executive Producer who was also the director of that episode. It was the 100th episode, and they cast me in the role. It was my first legit, union job.
Q: You mentioned that you asked for Jonathan Strauss' feedback, how did you get the courage to speak up and ask for the truth? Is that a confidence that came with age?
Knowing me, I probably would have done the same at any age. I believe that making assumptions is not rewarding. Believing in yourself is rewarding, but making an assumption isn't. People might blow smoke, they might tell you to keep at it knowing you won't make it. But affirmation is beneficial. I write a thank you note after every class and workshop I take. And, if I've gotten positive feedback from the agent, I will thank them for them affirmation because the affirmation is really beneficial – especially in this business. Too often we don't hear anything. The last thing we hear is thank you very much, and you never get a phone call or know if you really did a good job. If you book the job, the chances are you had a good audition. But even if you don't book the job, you probably still did great. There are a myriad of reasons why you don't get a job. There aren't a lot of reasons for why you do get a job besides for – you are the one. For getting the job, planets have to line up right. It is your day, if you get the job.
Q: How did you come across NYCastings?
As a new actor, I was trying to find places that would let me know what is being cast, who is producing what shows, and what I need to be aware of. I found NYCastings and I have kept it ever since, even though I have agents. I kept it because your agent will not submit you for everything. They will think that some projects are beneath you. And I think that as an actor, your job is to keep acting.
Q: You have several agents, how did you meet them?
A lot of the workshops and seminars that I took were not only taught by casting directors, they were taught by agents looking for new clients. I was able, by persistently pursuing agents and through a recommendation from a casting director, to connect with Judy Boals as a legit agent.
Commercially, I was freelancing with Talent Works, Abrams, Paradigm, and Suzy Friedman. I was able to book a national commercial through Abrams for Verizon, but they never signed me to an exclusive. So, when I joined The Network, I was talking with Paul Michaels and he was asking me about the commercial end of things. I said that I would like to be able to sign with someone, and he told me that he had Buchwald coming in. They only work with signed clients. I took that workshop. David Elliot gave me his business card and said to call his admin to set up a meeting. I did, and he actually spent an hour talking with me. I thought that I would get 10-15 minutes. At the end of the hour, he said he wanted to pursue it further but had to set up a meeting with the rest of his department. When I walked in to that meeting, there was another agent who I recognized from classes. At the end of our talk, she asked if I had a Blackberry and I said no. She told me to get one on the way home. I didn't understand at first. So she said to me, You don't get it, do you? We want you to join our family.
They asked me to join them before I ever left the room. And, thankfully I've been able to book nationals and industrials with them. Currently, I have a national commercial running for Spiriva. It was the best job of my life because I got to work with that beautiful elephant.
Q: You have a great look – did you perfect that, or is it natural?
This is just me, who I am. I am a big guy. I have deep set eyes. And as silly, and crazy, and comedic as I am – internally I appear serious all the time. Some people tell me I look angry when all I want to do is make people laugh. It is just the way I look. And, that is typically how I get cast. Even when I worked on 30 Rock and Always Sunny, I was cast as the serious role to play off the comic.
Q: Do you think you would have been this successful if you started acting earlier in life?
I have often wondered if I could have been as successful if I had tried this when I was younger. When I have this conversation people, I always say that I probably would not have been just for the reason that I bring so much life experience to every character that I do.
Q: What was the hardest part about getting a late start?
Understanding and accepting the fact that you are surrounded by 20 something's all wanting to do the same thing you want to do. But if it is something you want to do, it doesn't matter if you are oldest, youngest, shortest, fattest, ugliest, or thinnest. If this is your dream, commit yourself to what you want to do and pursue it.
Q: What is your advice to older men and women who want to take the leap to Become an Actor?
A. Want it.
B. Commit to it.
Even though you have heard the word no' all your life, you have less tolerance for it as you get older. Any of us who have endured the ups and downs of living find that the word no' is something we don't want to hear anymore. We feel as if we have earned the right to hear a yes' but being an actor is entirely different. It is out of our control. We have two things in our control, being professional and being prepared. After that, everything is out of our hands. If you can understand and accept that, and you are willing to commit to acting, go for it.
Q: Did you have a Plan B, in case acting didn't pan out?
No. I committed. This is what I wanted to do. This was how I wanted to spend the rest of my life. Maybe there was some knowledge in the back of my head that if I wanted to go back to the office environment, I could. But it was the last thing I wanted to do.
I am an actor.
I get the same sense of silliness and giddiness as everyone else does during the opening to the SAG Awards when they go around the room and faces you instantly recognize say they are an actor. I can honestly say that too.
I am an actor.
Coming up for Rick Zahn…
A Feature Film called Tio Papi – It is a great human interest story in the Latin community. It has already been nominated for an Imagen Award for best picture, best actor, best actress, and best supporting actor and actress. The Imagen Awards are the Latin Oscars.
Later in the fall you can catch Rick Zahn in The Challenger. This is Michael Clarke Duncan's last film.
And, Rick recently got a call from the local SAG-AFTRA office and by August 15th he will hopefully be a NY Local Board Member and Convention Delegate for SAG-AFTRA.