When you waltz into the audition room, are you thinking about nailing the part or are you thinking that you may be asked to do physical stunt work? Exactly. Where is the line drawn between an actor performing his or her own stunts vs. a stunt double stepping in? Also, how are things handled from the stunt person's point of view?
Actors Celina Jade (Arrow"), Osric Chau (Supernatural) and John Barrowman (Doctor Who, Torchwood & Arrow) and Stunt Coordinators James Bamford and Tim Gallin weigh in on how all of this stunt business is handled!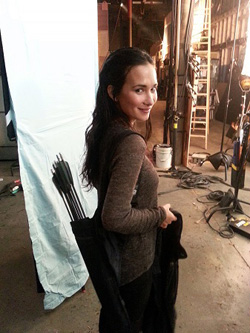 CELINA JADE plays 'Shado' in the CW's Arrow. Celina Jade is a quadruple threat: an actress, singer/songwriter, model and martial artist.
Is Celina Jade your birth name?
Nope. Celina Horan is my birth name.
Do you have just one sister or are there other siblings?
I have one younger sister – Jillian. She takes martial art classes with my dad once in a while, too. She's super sweet, bubbly and can hold her own very well if ever put in a situation of unfairness. She's very supportive of my career and passion. She's helped me read for auditions and analyze scripts. She's a very empathetic character so can understand pretty much any person's motives/ feelings. She just graduated from university in New Zealand and really hopes to become a horse trainer. I hope she, like I, will live her dream too. Because if there's one person that deserves it, it's her!
What were the steps you took to sign on with music mogul Paco Wong (EMI) in 2007 and Echelon Talent in 2009? Why did you leave EMI to sign with Nettwerk Music Group?
I met Paco through a mutual friend. We clicked straight away and I went into auditions a week after. I recorded three songs (one English, one Cantonese and one Mandarin song) and he signed me subsequently. I left EMI in 2009 because of structural changes in the company. Paco could no longer manage me because he was moved into a different department. I was very sad and left. I met Terry McBride at the Music Matters Conference shortly after. I really admire him as a music manager and he helped my career for a while. Unfortunately, it just didn't work out. I was still doing movie projects until I met Andrew at the Asian Film Festival and we decided we wanted to work together. It's been an incredible ride since. Funny how representation is… it's really no different than relationships… it's finding the right person at the right time.
What was your audition like for character Shado in the CW's "Arrow?"
It was a self-tape. Andrew (my manager) sent me the sides [piece of the script] and I filmed it with my father at my parent's place. I memorized my lines, researched my character and just went for it. It was exactly the scene from episode 14. We did two takes. The first take, I cried a little bit before toughening up. Then dad said, You're not a Horan unless you can snap out of the crying faster. Warriors don't sob for too long. We did the second take, and he said that was it. So we sent it through.
What's your typical day like on "Arrow?"
A typical day on Arrow would be a car pickup from the apartments/ hotel, breakfast on set, wardrobe change in my trailer, makeup and hair, blocking then filming. The days have been quite long, but the times vary. I do most of my stunts. I do have a stunt double and she does some of the more dangerous moves or falls. I'm really grateful for the whole stunt team. They are really supportive and caring of my well-being. The food on set is amazing. I'm vegetarian and I love the veggie options. It's a very good production and we are all well-taken care of.
As an actress, have you ever been directed to do a scene that you felt, in your mind, you could have directed better?
No. I'm still learning. There's so much to learn from every director. Right now, I'm in the sponge stage. Just absorb everything I can.
Celina Jade's Twitter: @CelinaJade

Celina also starred in The Man with the Iron Fists.

Photographer Corallin Cao
Tell us about the musical, Good Morning Hong Kong.
It's a rock 'n roll musical, a love story between 'Rick' & 'Fanny Moon' set in the context of the 1997 Handover in Hong Kong — a historical time full of uncertainty for a ½ expat, ½ Chinese family. It's a story of deception, endurance and dreams. Unlike most love stories which start with two people meeting and coming together; this story starts with a disaster that breaks a young married couple apart and about their journey afterwards to piece things back together again. Whether it ends in joy or tragedy is a question mark.
Are you a spiritual person?
Absolutely! I've been heavily influenced by spirituality from a young age. I started meditating at six years old because of my parents. I rejected it for a while during my teenage years because it was my parent's thing but I really embraced it as my own following college. Spirituality and family are the core of my life and being. I really want to live a meaningful life that is greater than my separate self/ego.
What do you believe in that others may think is a little "out" there?
Ha! Being half Chinese I definitely have adopted some Chinese superstitions, although I don't think that astrology/numerology/Feng Shui are superstitions or particularly out there. I just secured a new place to live in Hong Kong and I had a Feng Shui specialist come to check it out. I also believe that there are more auspicious days to do certain things (like moving/getting married) than others. I believe in science, too. Although I think just because science hasn't fully been able to explain certain things, it doesn't mean they are not possible.
You have many talents, including martial arts, singing/songwriting, acting and modeling. With so much going on, do you have time for a love life?
I got engaged earlier this year to a wonderful man and he has been an incredible source of support in my life. It's amazing how love can take away any fear of success or failure in one's career. Having such a strong support has given me the strength to try harder, take risks, improve myself and let go, too. Christian is not in the business; he owns a vegan/vegetarian organic restaurant in Hong Kong called Mana! and is a classically trained French chef even though he is half American. His life vision is to feed people healthy food. I admire that! He has an incredible story and we are both on a spiritual path headed in the same direction. My busy schedule can be difficult, but he's never once complained. I've never been loved so unconditionally before. As for how we met, my Dad introduced us, so he had the stamp of approval from day one.
Can you kick major butt?
I can fight

Yes. I love martial arts as a sport. I enjoy the philosophy and discipline behind it, too. It's a great way to build tolerance and patience. There's no doubt it helped me with getting the role of 'Shado.'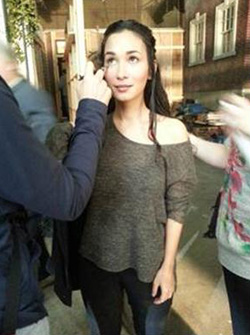 Celina has touch-up make-up applied right before one of her scenes.
Celina's official website: www.celinajade.com
How did you support yourself financially when first starting out in show business?
I was so lucky. I graduated from LSE and music school in London and told myself I'd give myself two years to give it a go. I didn't want to be a burden on my parents and was modeling to make a living while I tried to get a record deal. I had many student loans to repay and the pressure was high. Luckily, I landed a Ponds campaign (for many territories) and it paid off my loans entirely and gave me extra to survive. Then came Paco and my first movie Legendary Assassin and a career was born out of acting & singing. I have truly been lucky.
What are you afraid of?
I am afraid of losing my true sense of self and getting caught up in the ego's play of consciousness.
Anything else you want to add.
Thank you for interviewing me! 😀
OSRIC CHAU plays Kevin Tran on The CW's Supernatural. You may also remember him as the Blacksmith's Assistant in the film The Man with the Iron Fists.
Osric's official website: www.osricchau.com/
Photographer John Agcaoili

What attracted you to stunt work?
I grew up watching kung fu movies and was a really violent kid. When I was 13 my mom finally agreed to put me in Wushu (Chinese martial arts, what Jet Li does) classes and not only did that mellow me out, but it taught me to look at martial arts as a performance rather than combat. I grew up wanting to be an action hero. After I started doing Wushu, I wanted to be in the film industry. And after learning that many of Vancouver stunt performers went through the same Wushu school that I did, I wanted to be a stunt man.
My senior High School Play was the first time I really felt like I did any real acting and I have my high school girlfriend to thank for that. I was involved in acting for awhile to that point but I knew myself to be quite terrible at it. When I landed the lead role after my first audition for the school plays and had some great feedback after the show, it definitely gave me the confidence to really pursue the career path of an actor.
Recently in your career, you've been more of an actor than a stuntman. Do you ever think life would be different if you continued stunts without the acting? How?
I've stopped doing stuntman gigs for a few years now, but I jump at every chance to do my own stunts as an actor. Life would have been very different. I would still be in full time training in martial arts and gymnastics, so I'd be in much better shape and branching out in the extreme sports variety. Instead I've been developing a wider range of skill sets, from public speaking, to music, and just learning as much as I can in all aspects of life. I think I would have done quite well as a stuntman, especially with all these shows needing younger looking stunt guys recently (ironically that was my biggest challenge when I started trying to do stunt work).
What types of stunts were you involved with in entertainment? How did you learn what to do?
Coming from the martial arts background, falls and fighting choreography for film was very easy for me to pick up and was most of my stunt work. With every coordinator it's different, and it depends on how well they know you and how much they trust you. If you're new, they might have it all choreographed already, they might work it out with you, or if they trust you enough, they'll give you the scenario; you pull something together and show them for approval. As an actor, usually they'll want you to showcase what you can do a bit, or walk you through some of the choreography they have already and depending on what you can do, they'll adjust accordingly with what they'll keep, what they'll have a stunt-double do, etc.
You started training in Wushu when you were 13 years old. Why did you choose this contact sport over the gazillion other sports?
It was my mom that chose for me. She saw an ad in the newspaper and my brothers and I have always wanted to do martial arts, so we finally got our chance. Wushu is actually more of a gymnastics floor routine mixed in with some more dance elements and martial arts maneuvers. I fell in love with it because I loved the acrobatics portions with the combat elements combined, as well as the high pressure of competition; you only get one shot to be perfect.
Tell us about your stunt work for the popular game company Electronic Arts.
My Wushu coach Bruce Fontaine was a stunt coordinator at Electronic Arts for many years. I was one of his top students and I always went out of my way to learn some tumbling and trying to invent new moves for my routine. There was a union strike one year and none of the regular stunt guys were allowed to take anything, it just occurred to me that I was a scab, but it gave me my first opportunity to do motion capture work and I've loved every opportunity that I've been given to do it for an EA game that I always eventually played.
What was it like coming into "Supernatural" as character 'Kevin Tran' so late in the game?
It was a bit intimidating at first, but that cast and crew were so friendly and accommodating that I adjusted rather quickly. The first scene also required me to do some running and that gave me a chance to shake out the nerves and impress them since no one would have guessed that I can move my legs very fast. It was also a special day because one of the leads, Jared, was about to become a dad for the first time, so there were a lot of factors that made that a very memorable first day.
You started out as a guest role in "Supernatural" and turned into a recurring character. Did your contract change at that point?
I go on a per episode basis. Yes, I am a recurring, but there is no guarantees that they'll have me back, and if I happen to book a bigger role somewhere else I do have the option of turning them down (not that I would, they've been way too good to me). I'm a local hire, so there's a cap, but the casting directors are quite amazing about that and give that to me every time so there's not much negotiating needed. I've had a trailer from the start and though it's not in my contract for a bigger one or anything, they always upgrade me every chance they get, and I've very thankful for that. But honestly I'm too grateful to be wanting more or feeling entitled to anything, but I guess that's why I have agents that I trust to do all that stuff for me. The perks are nice to have when you have 'em but I'd never ask for it cause I can easily live without them.
What's the worst part about going to fan conventions?
The worst part is probably just not being able to spend as much time as I'd like with the fans who are all so excited to be there. And it's the hardest thing to turn down people who you see outside for photos (tears do come) because it's unfair to the people who are paying and waiting in line, and it just devalues the whole con in itself which might lead them not to invite you next time. It took me awhile to get behind the idea that it's a business, but the demand is there and in enormous proportions, so it makes sense. They handle travel, for the most part food too, and everyone does their own hair and makeup, which means I try to shower at least the day before.
You've worked on projects behind the scenes, as well. What behind the scenes projects are you currently working on?
If I'm not doing anything else, I'm writing. I don't consider myself a writer and don't plan on being one professionally, but every project starts with a good script and why not be the person to start a project rather than waiting around for someone else to do it and ask for your services? Filmmaking is a collaborative process and my time behind the camera not only allows me to appreciate the work everyone is doing to make the project happen, but it improves my ability to work from a technical standpoint and just makes it easier for everyone to do their jobs. I never want to be the guy everyone is waiting on. It's not about control, it's about synergy. Having everyone working together as a cohesive unit is a magical thing, and when everything's clicking, you can just sit back and watch. It's not always perfect and I like to help keep everyone happy and productive and I feel like I can do that more effectively when I'm behind the camera as a producer.
Which video games do you SUCK at?
I suck at first player shooters because I can't play them for more than 10 minutes without taking a nap or puking. I'm playing all those Words with Friends games, and Candy Crush, which is driving me crazy because I refuse to move on to the next stage till I 3-star the level. That's an issue I need to work out.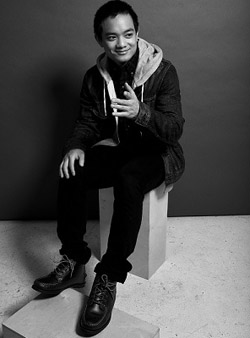 Osric Chau's Twitter: @OsricChau
Photographer John Agcaoili
Are you one of those actors that take forever to get into character or can you just turn it on like a lightbulb?
My general process is a long one. And it varies. Depending on the role and the general mood of the scenes, I lean my life and being in that direction several days prior. We all have moments of extreme happiness, darkness, confusion, and all sorts, so I just choose to live in that state of mind before the day of. When the time comes to get into character, it doesn't become much of a stretch as I'm already there. If it's a more intense scene, I'll do the same thing but find a few reference films in the genre or general feeling a few days before as well.
Do you still work with an acting teacher?
I do not. I have so much work to do to improve myself as an actor, but I spend all my time trying to learn every other piece of the machine. I am much more in love with the entire process as a whole than with acting itself and because of diminishing returns, I gain much more knowledge studying the realms that I have not worked in before.
What are your thoughts on family?
My family is in Vancouver and I live with my mom and dad when I'm in town. I spend too much time away from them as it is so any chance I get, I will go back home to keep them company. I'm the middle child with two brothers and they're both out of the house, but still in Vancouver. My grandpa was the biggest inspiration for me; he was the one that had me aspire to become a professional wrestler when I was five years old. That somehow had the biggest impact on every aspect of my life.
What boundaries in life would you like to push?
I want to do everything and be good at it. I'm greedy that way. The hard part is choosing what to do next. So anytime I get a gust of inspiration, or I say "I always wanted to do that…" or "I wish that…", I would make a decision/commitment to do that thing immediately before I had a chance to second guess my decision and back out. One of the philosophies I live by is that "present time Osric" doesn't know what's good for him. An example of that would be me picking up the guitar. In January I said to myself after watching a video on YouTube, "Man, I always wanted to play the guitar". Then I thought, "then why don't I start?" I then proceeded to buy a guitar and within five hours I met my guitar instructor and was taking my first class. Six months in, I still play and very happy that I started.
What are you grateful for?
My family and my close friends…the few constants in my life. I travel way more than I ever thought possible and things change constantly, myself included. My family is and has always been there for me, as well as a handful of friends that I've been able to grow with and it's very heartwarming to know that no matter where I am or what I'm doing, they'll always be there for me and I for them.
Anything else you'd like to add!
I've always wanted to be a motivational speaker. And part of that was helping people that wanted to help themselves. There is no greater satisfaction to me than to be able to give someone sound advice and watch them change their lives for the better. That being said, those who ask for help but can't be bothered to act for whatever reasons can make someone who wants to help very frustrated. So this is something I tell everyone. If this is an industry you are thinking about pursuing, you have to want it. Most people will say that they do want it, but they're looking at the paychecks and the glamor. It's definitely good motivation, but for me, it was in the most painful of times that I realized I wanted it enough. I found myself investing a large chunk of my bank account to a film that I knew from the beginning would not yield any returns. I was already a week without sleep and instead of taking a nap, I decided to stay up with the editor in solidarity. And even though my body and mind were both yelling at me from the abuse, before the film was completed and it was possible in my mind that this would be the most terrible thing ever made, I knew that I would still do it all over again.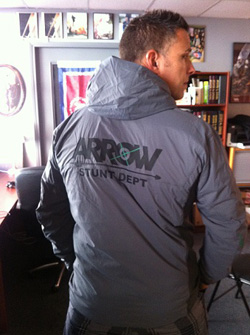 JAMES BAMFORD is the fight coordinator on the CW's Arrow. James' Twitter: @JamesBamford
Showing off our new swag that we (the stunt team) designed for season one. Location: Stunts Canada headquarters, Bridge Studios, Vancouver, Canada.
What prompted you to become a stunt person?
When I was a small boy, my father and I used to watch TV shows together such as "The Six Million Dollar Man. It was in viewing this classic that I asked my father, "How does he jump so high over those fences?" to which he replied, "That's a stuntman, son." Of course I immediately needed to be a stuntman. At the age of nine, my uncles took me to a drive-in theatre to see Bruce Lee's "Enter the Dragon" and my fate was sealed. After that I enrolled in martial arts by the age of 10, and the rest happened naturally.
I started, of course, as a stunt performer. This eventually worked itself into the creative/business end of the industry which in the stunt department is coordinating. Although I love performing, I seldom will place myself into the position of a performer while I am coordinating. This just isn't optimal for keeping an eye on the action and quality control since it's a visual medium. The Stunt Coordinator handles not only the creation of the Stunt Sequences, choreography, etc., but also in the casting of stunt doubles, performers and other stunt related personnel.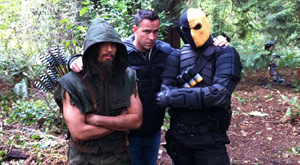 James Bamford standing with Yao Fei and Deathstroke after their rematch battle during the shooting of episode nine, season one of Arrow.
Is there special insurance required for stunt people?
Our Union in the U.S.A. is SAG (Screen Actors Guild.) In Canada it's UBCP/ACTRA that handles insurance for stunt performers. The agencies changed constantly depending on the relationship of the Union officials with the insurance corporation, and the financial impact on both the performer and the organizations. Premiums are high, and level of coverage is based upon a member's work record, affordability for that year. Some individuals choose to purchase their own insurance outside of the Unions for extra protection/coverage.
In your career, what is the most dangerous stunt you had to perform or coordinate?
I'm asked this question over and over. There are no absolutes in stunts or the film industry for that matter. Some of the smaller seemingly safest fight scenes can result in injuries like broken collar bone, arm, leg…you name it. Where as a 90 foot highfall which involves a greater risk of guaranteed death usually goes extremely well resulting in zero scratches to the performer. So the answer is…there isn't one.
What goes into orchestrating a scene with stunts?
First and foremost everything in the making of a film/TV series begins with the script. Just like the actors, we hope it's a good one. A good script makes for a great experience had by all. Then, communication begins between all departments involved: director, writers, producers, stunts, hair, make-up,wardrobe, construction, props, paint, etc. Meetings upon meetings occur during the prep process until everyone has a good, hopefully shared vision of the final product expectations. Prep continues and rehearsals ensue. Stunt people are cast, including doubles. If the double looks nothing like the actor even after hair / make-up /costumes then the Stunt Coordinator should be looking for another one. Sometimes the skill of the stuntman out weighs the need for him/her to be an exact double, although it's still important enough to get someone close. We temper the actor's "need" to be involved with the stunts to the requirements visually and safety of the production. If we don't see his face, and it's an increased safety risk, then there isn't a point in the actor being at risk.
What are your thoughts on CGI?
I work very closely with VFX (Visual Effect) experts and value their work very much. They are there not to take away our jobs, but only to enhance our performance as we are there for them. The day a stuntman is out of a job because they have decided to completely eliminate the human element, is the same day the actors are out of their jobs. Film is about telling stories, and other humans don't want every story to involve a robot. People care about people. Period.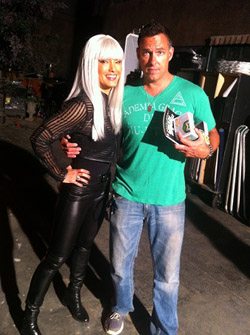 Kelly Hu (China White) and me after her fight with Diggle during episode two, season one of 'Arrow.' It went well, as you can tell by our smug facial expressions.
Are there back-up stunt people on set?
Not always right there on set, but there's always someone else waiting in the wings for their turn.
Did you go to a special school to learn how to be a stunt person?
There are such things as stunt schools. There are a couple in the world worth looking into but there are also several that were set up as money making scams by individuals who were never involved in stunt work in the first place. Those are the places that boast specializing in skills like "underwater fighting" – that's a direct quote. Generally most stuntmen/women come into the industry with a skill in some area, and work very hard under various mentors to learn the majority of the business. It's kind of like learning the tricks of the trade from another magician. During experience and training, you learn what equipment works for you, and what does not. Every piece of equipment is not every stunt person's favorite, however there is sometimes very specific equipment required when a specific situation is involved, i.e. fire. There is specially constructed fabric and gel used for protection. Yet even this is not completely fool proof. Burns occur on a regular basis and all equipment should be accompanied by experience and not just more layers. Safety and preparation are the cornerstones of the stunt world.
TIM GALLIN doubled Ed Harris in The Hours.
What prompted you to become a stunt person?
Becoming a stunt person was a product of my youth. When I was in college, people used to say to me "Hey you should get paid for what you do" because I was just a naturally wild kid that did stuff, attempted things, jumped off things. So that's when the thought came to me. What ended up being my entry into stunts was my former JV football coach in high school. He was in Scorsese's student films and shorts. When he did Taxi Driver, he hired my coach for all the action and put him in the film as one of the secret service agents.
I got out of college, went to L.A. and was told to come back in five years. I called my coach and when I got back to NY, he was doing a movie called The Wanderers which had football in it, so he asked me to come to Central Park and train the actors in football. I had already joined the actor's union AFTRA so I got into the union SAG that way. Back then it was great because SAG/AFTRA had an agreement where if you joined one union you could join the other for half price. So I paid $500.
I've been a stunt person for 35 years. My career began in 1978. August was my first professional job – The Gong Show. I was on the first group of shows that went from daytime to nighttime. Chuck Barris was a big Elvis fan and waiting a year after his death to do a show in his honor. I used to do a goofy thing and do Elvis in bars and got to audition.
Is there special insurance required for stunt people?
I use an insurance agency which is through the military. My family works in construction in NYC, so when I got my life insurance, I got it as a contractor, but then I left that business, did both worlds for a while and moved to strictly doing stunts. When I re-upped my life insurance, I told them I was a stunt performer and they kept me. While I'm working on a production, the production covers me for catastrophic and things of that nature, and through the union I'm covered through the union insurance. I've had my knee replaced so that was covered. Now I have to get my neck done, from landing on my neck. Now with the technology, when they do MRI's, you can see the issue. What happened is I couldn't use my right arm like I used to and a nerve was being pressed on by the vertebrae so I have to go in and get that taken care of. Today they can do amazing things.
In your career, what is the most dangerous stunt you had to perform or coordinate?
I've jumped out of buildings which is more about hitting the airbag right. I've gone from about 60 feet (six stories), 40 feet — the triangle building down on 9th Ave and 14th in NYC. One of the more challenging thing I had to do was for Rescue Me. They were showing Dennis Leary doing four disciplines: washing his face, drinking at the bar, holding the door open for a couple, etc., so it was all about him dealing with his mind as he was dealing with 9/11. That was the idea of the promo for the second season. So they needed a double to be on fire and doing the same disciplines. So they took my fire and transferred it onto Leary — they transposed it. I had to do at least nine fire burns in a day, in the studio. That was very challenging since I was on fire all day. I was rigged. The advantage of having years of experience is that you learn who does what the best and who has compiled the experience. I was asked to do this by someone who was hired by them and I knew that this guy had the most experience. He's probably one of the better fire riggers on the east coast, so I felt very comfortable with him in charge and making sure nothing went wrong.
I never got burned while working, fortunately. There's a friend of mine who has marks from when he was burnt on the film Jacob's Ladder where explosions went off. He had gloves on, took them off and when he went back into the scene he didn't put his gloves back on, so he has scarring on his hands. You should take precaution. You want to come back and play another day.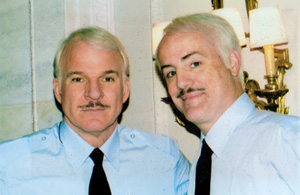 TIM GALLIN doubled Steve Martin in ThePink Panther.
What goes into orchestrating a scene with stunts?
Everything is based on the written word. The word comes in on the script. You look at the script and there are different interpretations, like from the director and how it will be laid out. The director might have it in his mind how he wants it laid out or he might consult with me. Also, the physical space will have an effect if you're going to do X, Y or Z. If you say you want the guy to fall over here, there might be a piece of metal over there, so you might want him to fall somewhere else. Then they figure out where they're going to put the cameras. In television, you're pressed for time. In film, there's a little more time and bigger budget so you can spend more time. I do a fight sometimes in two to four hours in TV where on film, they might spend days on it.
From the commercials contract standpoint, if this new contract is ratified, which I highly ratify people in voting yes for the contract (I was just in a meeting with Ray Rodriguez who negotiated the contract) — in there, there's a new rule that the Four A's (American Association of Advertising Agencies)
have agreed to, that although they are not required to hire a stunt coordinator for a commercial unless it specifically says stunts written in the copy. What's happened in the past is performers were asked to do stunts in the audition room. There's a stipulation in the new contract that's there to protect actors where if they're asked to perform physical activity during the audition, a stunt coordinator must be present.
It happened to me one time. When the NY Jets were thinking about building the stadium over the Hudson Yards (the railyards) they spent some money on promos to show what it would be like. They dressed some guys up as football players and had them tackle the sous chefs. They had some big guys hitting the chefs in the commercial. I got a call and they asked me to bring some pads. I was surprised that people were doing this in the audition room. The next day on set, this guy came down with a sling on his arm and said he was injured during the first day of auditioning.
I don't know if the Casting Director did a stand up thing and covered his medical bills, but here was a situation where the performer could have sued. From the studios and Four A's and advertising agencies, it's less costly to have a stunt coordinator than to pay for a lawsuit. These are the certain things that actors should have the realization that if they walk on set, nine times out of 10, they're protected by the union. They have the right to ask for a double or stunt person if they are asked to do something physical that they feel might hurt them.
AMPTP (The Alliance of Motion Picture and Television Producers) is a body of lawyers that represent studios, which now is five or six studios. Back in 1985, there were 29 entities that ran entertainment. They were merged to five or six entities. Example: when General Electric bought NBC, Disney is a worldwide conglomerate, SONY is a worldwide conglomerate. Murdoch. These are the people who own the studios, and they sit down with us every three years to talk about safety performer conditions as well as pay, health care, etc. We sit down and hammer it out.
This last commercial contract took 7 days of going back and forth in the conference room. These are things that any performer should understand what they're rights are.
There are advertising agencies who represent the commercials contract. We have multiple contracts in the union: Cable, Primetime, Animated (voiceover,) Commercials, New Media (Internet). New Media is the new territory to figure out how we're going to be treated as performers.
What are your thoughts on CGI?
I don't really think it's affected us yet because what's happened is CGI has not reached a level of being able to totally capture the human body. What they've done is something called motion capture, like for instance, (this is another contract that we had to negotiate) video games such as Max Payne and Grand Theft Auto. They have stunt performers come in and they put these suits on them and they do the physicality and they transfer that onto the game. We've recently solidified that contract. I remember going in, it was funny, because we became covered. I went in to audition for Max Payne, – it was a face to face audition; I didn't have to do anything physically. I requested residuals and they laughed at me because there was no requirement. I'm sure if they're using the name Max Payne or some character that they're selling, their agent would negotiate. I haven't done any work in that genre.
The studios will negotiate with us every three years, but then in between, the productions companies who are receiving the funding from the studios, are doing everything to not honor the contract. They're trying to do shortcuts to save money. As a performer you have to be aware of what your rights are so you don't get abused.
Are there back-up stunt people on set?
It depends upon what the show is. I was doing a commercial once and I got injured in my hand, and I was sitting there and it looked like I was going into shock. There were a couple of other guys there. There was a coordinator there who asked one of the other guys to get into my costume to replace me. Luckily, I recovered and was able to finish.
I was working on "Salt" with Angelina Jolie and I was supposed to be Liev Schreiber's sidekick and there was a lot of running. I needed a knee replacement so I was limping. The director came up to me and said, "Tim, I'm sorry, but I have to put you on the bench" so I was replaced. That's why I got a knee replacement.
For the Kevin Bacon TV series "The Following" I knew of a guy who looked like the actor — they were in the filming. We did three burns of the one guy. I took the guy who looked like the actor and put him into wardrobe and put him into the fire. If you do have the ability to back yourself up, that's great, but that's not always the case. If you only brought in that one stunt guy, the company has insurance so if you have to come in and do re-shoots, the production doesn't have to spend all that extra money to bring the crew back.
Most of the time they're over engineering the stunts, especially the bigger stunts. They give you prep time, they give you the opportunity to make sure more things go right rather than wrong.
The Director of Photography and Gaffer came over from "Damages" and they have a real long working experience together, so the look of the show is really good. They really captured an interesting look that you don't see on TV that much. A grainy, dark look. The acting – with Kevin Bacon you can't go wrong. We definitely pushed the envelope for network.
I got the job for "The Following" off of Facebook. A friend of mine, who's a first Assistant Director, was in Atlanta and he posted on Facebook. H calls me "Baldy" because of my first movie I was a Fordham baldy. When I saw the post on Facebook, I posted, just kidding around, "Baldies love Atlanta." He called me and said "Hey, they're looking for a NY coordinator, do you want me to throw your name in the hat?" I said, "Sure." They were thinking about a guy from California. Most of the time, jobs are gotten from word of mouth. Sometimes there's a more elaborate interview process where they'll ask for credits, your reel, etc. It varies.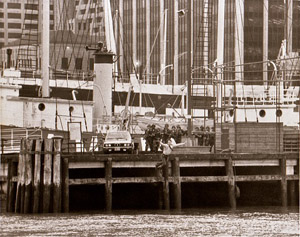 TIM GALLIN doubled Tom Hanks in the Ron Howard film Splash.
Tell us a fun stunt story.
I was Tom Hanks' stunt double in the film "Splash." Disney is not a big union-loving shop. I would think any big business is not fond of unions. I was foretold to watch what was going on. My boss at the time was doing two films at the same time, so he was stuck and had to send a guy down to cover him. That guy wasn't as experienced as my boss. He was a little more timid and just went along with the program. When I showed up for work on the first day, I knew I was doubling Tom Hanks. The wardrobe trailer was there and we were on the North end of Columbus Circle. Extras (background players) were on the South end of Columbus Circle. Wardrobe didn't have a camper set up for me and said I had to go to the Extras camper. It was quite a walk, so instead, I went into Tom Hanks' camper. I was in my underwear and in walked Tom Hanks, so that's the first time I met Tom Hanks. Tom told me to make myself at home and We have TV! He ended up coming over my house for a party and stayed to the end. He always remembers your name.
I had to jump into the East River at the end for Tom. When you first jump in, there's such a current. I was working with the NYPD scuba diving team. The first time I jumped in I got swept right under the pier. They were right there so I had a lot of confidence. In the film, when you see the scuba divers coming out of the helicopter, they had two NYPD scuba divers and two stunt guys coming out of the helicopter. There was a lot going on. Ron Howard is one of my favorite directors. I've worked with him on three films. It was a very good experience. Plus the experience with the NYPD from a safety perspective.
Anything else you'd like to add?
I'm working on Keeper of the Pinstripes which is currently in the development area. I had a meeting with the guy and it's all based on funding. That's a whole other part of the business. I've produced two films — one in 1998 with Danny Aiello III who was my business partner. He was a director on television and wanted to work on a feature film. I worked with him for two years. It's a very intricate process of working on the script, then the actors, letters of intent for financing, so it's a long process, so that's where Keeper of the Pinstripes is at right now.
I've done a bunch of independent films. You do everything from the big budgets to the little budgets. What has to happen on the smaller films is that you have to be able to communicate to the director what they can get for the price they're asking. As a stunt coordinator, you want to say "I can't have a guy thrown off here, because to rent to the air bag will cost X amount of money. Why don't we do it this way instead where there's more of a quick cut."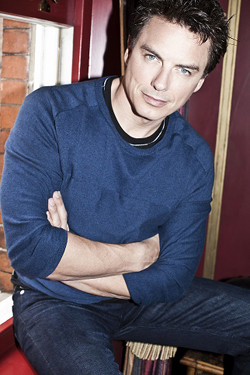 JOHN BARROWMAN is an entertainer best known for his role as Captain Jack in Doctor Who and Torchwood.
Photographer Simon Harris
Congratulations for being the host of a new talent show "Sing Your Face Off" on ABC! When do you start filming vs. air date?
Thank you. It's my first big entertainment show in the States. Yesterday I saw the set and it's about five to six times bigger than any set I've ever had in the UK, which is amazing. I'm really excited about the cast of celebrities who'll participate. It's going to be a fun-filled show. I'm already filming, but I'm not sure yet when it airs. Currently, we're filming one a week which means it will run every week for the next six weeks.

You've had, and continue to have, a very plentiful career. At what point, as an actor, did you feel you were successful?
I don't consider myself just to be an actor; I consider myself an entertainer, which includes acting, singing, writing, and performing in concert so I think the first time I stood on a stage and an audience applauded I felt I'd done something right. For me success equals working regularly in the entertainment business. The fact that I've been lucky enough to have fame and financial security come along with the work, well, that's great too, but I came into this business to work. My first job was at Opryland USA – a musical theme park in Nashville, TN, next to the Opryland Hotel. It was great training point for performing and even actresses like Kristin Chenoweth performed there. It didn't pay very much, but I loved it. Since that experience, I've learned to perform in a lot of different stages, including TV. Plus I'm not one of those people who shuns celebrity. I love talking to people. As long as I'm not eating dinner, come over and talk to me.
At what point, as just a regular person, did you feel you were famous? (This question stems from all of the marriage proposals you've received.)
*laugh* For me, playing Captain Jack in Doctor Who was my big turning point. I think the moment I really knew I was famous was when I was in a supermarket in Wales with my sister, Carole, and as I was walking down the aisle, I turned around and lots of shoppers were following me. My sister hung back and tried to distract them while I went to the checkout. Around that same time, I was in London and a double-decker bus stopped in front of me with a full-size poster of Captain Jack on it. That was thrilling and a bit weird. Every now and then someone shows up at my front door and asks me to sign something. I'm happy to sign it, but I usually ask tell them, "This is my home, it's private, and I'd appreciate it if you'd accept that."
You're such a slimeball in the CW's "Arrow" as Malcolm Merlyn (a.k.a. The Dark Archer). What's your secret for playing a great villain?
Now, I'd have to argue with the characterization slimeball. When I play a character like Malcolm, I don't see him as a bad or a slimey guy. He's complicated and damaged. Yeah, he's doing some nasty things, but I think he's doing the same as Oliver– cleaning up the city. He's just going about it in a different… more disturbing way. At the end a sequence in one episode when Oliver was hanging half naked, he immediately gets down and starts murdering people. I see Malcolm as an anti-hero, troubled, ruthless and mean, but he wants to save what he values and he doesn't care how he does it. Oliver cares how he does it. I hope viewers have compassion for his character… I'm not one of those actors who has to feel his character or transform in some way off camera. If my instinct or gut tells me to do it, then that's how I play it. Most directors I've worked with have simply let me take the script and let my try the character my way. Year ago, one of my acting coaches told me that if you're not happy with what you dot, go back and do it again. That's how I approach most of my work. I don't have a lot of patience for actor who need lots of time before the camera rolls to meditate and get in character… f**cking do it.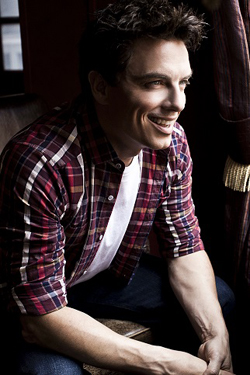 John Barrowman's Twitter: @Team_Barrowman
John's Official Website: http://www.JohnBarrowman.com
Photographer Simon Harris
You do some of your own stunts in "Arrow." Where do you draw the line?
I only get to do a certain amount of stunts because for the majority of the fighting is done by an amazing stunt team, led by the stunt coordinator, James Bamford, Bam Bam. Watching him plan a stunt is like watching the choreography of a dance performance. There's a team of stuntmen who cover Stephen Amell (Oliver) and me. When we were filming the rooftop sequence in the last episode, though, I did a lot of my own stunts. Also, before I do any TV show, I have to go through a thorough medical exam. A production company is investing a lot of money in me so they want to know that I'm healthy and that I can do what they expect of me. I've discovered in America, I'm allowed to do less of my own stunts because they're afraid I'm going to hurt myself.
Stunt-wise in your career, have you slowed down a bit as time goes on?
I haven't slowed down a bit. The limits production companies put on me have changed because I'm worth more to them. I have a 33″ waist and I might have a little love handle, but I still feel like I'm 20. I don't work out every day. I do weight training every so often. I swim and do more cardio. I used to spend two hours in the gym, but I don't have time between work and traveling.
You promote a line of skin care products called HIM and HER (@Her_Haircare #Himskincare ) on QVC. Do you use HIM? Why did you feel the need to develop skincare for men and now haircare for women called HER?
To be honest with you, I'm an entrepreneur and businessman as well as an entertainer. For years, people have told me I have good skin so I went to my business partner, Gavin Barker and said, Why don't I start my own men's skin products and branch into women's products? I'm also a good salesman. I've been on QVC in the UK and sold approximately 6,000 copies of my CD in minutes, so I was a game changer for them and I've continued to be a regular. I also sold 1,000 copies of my autobiography Anything Goes in three minutes when I pitched it on the week of its launch, which was also a game changer in for authors on QVC. It's been just over a year since we launched HIM and we launched HER about three weeks ago and it was the biggest launch in QVC. It sold out within 15 minutes. We had to get to Italy to start producing more. With HIM and HER, I'm not just putting my name to a product. I actually own the company with my business partners. I'm 100% committed to doing this correctly. I truly believe in it and, yes, I do use HIM. After you get older, you have to look after your skin. It's more about cleansing and hydrating. You're meant to have a little bit of wrinkling on your face and this skin care stuff that I've developed makes you look good without making you look like you've done something bad to your skin. I'm not against plastic surgery if it makes you feel better or you need to have something repaired.
Who arranges all of your appearances? What goes on during conventions?
Anything to do with publicity is done through my publicist, Simon DC Thomas, or my manager, Gavin Barker. I choose the conventions that I want to do, and I only choose about four to five a year. I was going to have to cancel Philadelphia because of a filming conflict and they called me and said can you please just do one day because we sold out after we announced you. So I did. I love when I can get to meet fans and chat with them… to hear their stories.
Why do you think I'm not going to ask you about the Doctor Who 50th Anniversary special?
Because I've already answered that question 100s of times. I know people are excited and disappointed.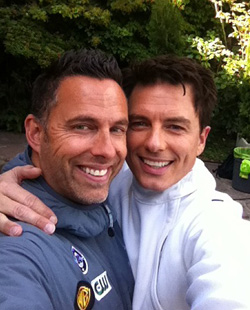 John currently plays Malcolm in The CW's Arrow. Standing w Stunt Fighter James Bamford after a fight sequence.
What's the difference between doing a BBC TV series vs. a series shot in Canada or America?
First of all, there's no such thing as craft services (all day food tables) in Britain. We go to the caterers during a lunch or dinner break and we eat. Then they're gone. When we were in Doctor Who and Torchwood, we had our own caterers, but we didn't have any big tables with coffee and donuts and six different kinds of tea all day long. In the UK you get 20 minutes to eat and then back to work. Also, in America, the series goes on even as episodes are still being filmed. In the UK, the series must be finished before it can be seen. This means here things can be changed. If there's a character that is more popular, the writers can easily write more scenes in later episodes for that character. When Captain Jack became popular, he was only going to be in five episodes, but the writers and producers had flexibility to do more with him.
Who do you get your cleft chin from?
My father. It runs in our family. My brother has a strong one. My sister has one. We call it our butt chin.

You started out as a recurring character in "Doctor Who." Why do you think your character of Captain Jack became so popular? As your popularity grew, did you have any changes made to your contract, such as financial or other options?
I've been brought up that what you earn is your business… from the first series to the second series of Doctor Who things changed. I always had a trailer. On Arrow, I have half a trailer. Most of the actors have a half a trailer. You really don't need that much space to chill between scenes. I don't have a rider. All I require is that when I'm picked up in a car, it has really good air conditioning. And when I'm in a hotel, I like it cold. I don't request the rooms to be painted or any of that nonsense — that money can be given to charity. I've heard of people in the UK who spend $4k-8k on their rider requirements and they never touch the stuff. What a waste of money.
You've played some great characters in your career. Which ones were the most challenging, and why?
Everything is a challenge for me and I accept the jobs because of the challenges. My career is still going on and I hope so will the challenges. When I did Anything Goes in the West End, the challenge was to become a better tap dancer. When I did Doctor Who and Torchwood, I had to learn how to use handguns and machine guns. For Arrow, it was learning how to talk in a mask… I'm claustrophobic. I'm not used to wearing a gimp mask, and I get lots of dialogue to say. So I asked them to please let me take the mask off to speak because it's just a nightmare to wear — it's a great costume but it's three layers. It takes about 10-12 minutes to get into and I have to be stitched into that mask. It just doesn't clip on. So every time we stop, they have to take it off and then re-stitch. In scenes where I rip it off, there are magnets.
You kissed both Rose and the Doctor in one episode. When you read that script, what was your first reaction? Did you ever think about how your family and the viewers would react?
I knew it would become a classic episode… I'm the first man in the fifty year history of the show ever to kiss the Doctor. As I thought about it before it was filmed, I knew I wanted to play it more about Captain Jack's love for each one of those characters. He was devoted to both of them. I kissed both of them in the same exact way with the same exact passion. It was about somebody sacrificing themselves for the love of two people.
Was that really you in the nude scenes?
It's always me. I'm proud of my bum. Proud of all the bits!
Do you keep in touch with previous castmates from "Central Park West" or previous shows?

I recently saw Tom Vericka because he works on Scandal and I was recently on an episode. I still keep in touch with Eve Myles of Torchwood and Casper Van Dien– we did Titans together years ago. Generally, in our business, we're gypsies and sometimes our paths cross again, sometimes it's not until 10-15 years later. But when we do cross paths again, we pick up it's just like it was.
Before you came out publicly as a gay man, did you ever have any question in your mind that you'd be typecast into certain roles because of your sexuality?
I didn't care because I didn't think about negative consequences. Plus, I was never really "in. I was always out to my family and friends… I've just always lived my life… I am who I am.
Is your middle name "Scot" because you were born in Scotland?
In Scotland, if Scot is your first name, it's spelled with one T. I'm the 4th generation John in the Barrowman family so my parents wanted me to have a middle name to use in case I preferred not to use John.
What do you do after a hard day's work?
I actually go driving. I love to drive. I race cars, do track racing. I also swim. I like it because it's quiet. I've also learned to love being on airplanes because I get peace– I get to relax without any cellphones. My partner, Scott, would say I don't ever relax because I'm always moving, but I do enjoy my time at home… I also love to barbeque.
Is there a special "Torchwood" episode that stands out for you
I never answer questions about favorites and bests because when I answer that, I can never change my mind. Fans hold me to that. I love the series, every episode.