Young performers have a great range in ages. Those who are considered minors (under the age of 18) have Work Day Rules which regulate their working hours, set hours and school hours.
Often times, a production will hire someone who is 18+ years to play younger (TPY) because 18+ can work on set as an adult without the Minor restrictions. You can see the Young Performers SAG-AFTRA handbook here: http://youngperformers.sagaftra.org/files/youngperformers/YPH_FNL3.pdf
I interviewed four working young performers, all different ages, to give us the rundown on how things work, from contracts to health to social media and beyond.
Ross Butler is in this summer's most anticipated Disney movie, Teen Beach 2, Keith Powers is best known on MTV's hit comedy series Faking It and Jonny Gray & Jake Goodman star in Nickelodeon's Max and Shred.
We learn a lot from these young actors!
ROSS BUTLER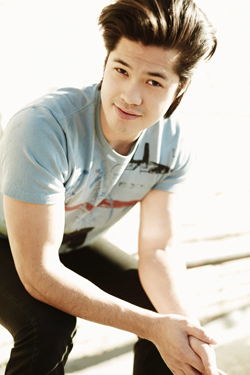 Ross Butler plays Spencer on Disney's Teen Beach 2 coming this summer. Photo By Trever Hoehne Photography .
Twitter: @RossButler , #TeenBeach2 , #TeenBeachMovie
Teen Beach 2 Official Trailer https://www.youtube.com/watch?v=b8bdiVmMICg
Teen Beach 2 Disney Page http://disneychannel.disney.com/teen-beach-2
You play Spencer on the highly anticipated summer Disney production Teen Beach 2. How does a TV movie contract differ from that of a TV series contract? Who reviews the contracts with you and have you ever requested changes before signing?
I don't necessarily think there is a defining difference between TV movie and TV series contracts based on my experience. It differs from project to project. For both Teen Beach 2 and KC Undercover, I was offered a weekly rate while for Perfect High, I was paid a flat fee for the whole project. Both my manager and agent review the contracts, but my manager works more closely with me to hear what my concerns are from pay, to trailer accommodations, to billing. As of now, I haven't requested any huge changes to contracts because I've been pretty happy with what I've been offered/what my manager and agent have negotiated for me.
Has your height of 6'3″ ever been the cause of NOT getting a teenage role?
To my knowledge, my height has not been a huge issue in booking teenage roles. Actually, it has worked in my favor with KC Undercover because Zendaya is so tall. Also, I had read for a movie opposite Chris Hemsworth (not a teenage role) who is also very tall and I figured my height would work in my favor. The way I think about it, there is so much they can do with camera angles that unless there was a drastic height difference between me and a co star, height shouldn't be something I should be self conscious about, especially in an audition room. I get my height from both sides of my family. My parents were both tall and I had tall grandparents on both my White and Asian sides.
You play characters in their teens to early 20's. In your experience, which age group (teens vs. 20s) is harder to play? Why?
I can't say one is more difficult than the other, it just comes down to the specific role. Playing a teenage heroin addict can be harder than playing a drunk frat boy, but playing a struggling post grad can be harder than playing a high school jock. I will say, though, that playing a teenager generally comes with a sense of naivete, freshness in the world and playfulness. They haven't experienced having to support themselves financially and have concerns that someone in their mid 20s don't necessarily have (popularity, keeping technologically hip). Characters in their 20s can begin to be a bit jaded after leaving the nest and haven't become as accustomed to life's greater challenges as someone older may have. Of course these are just generalizations and possibly just reflect my personal outlook on age haha.
You've guest starred on many cable TV shows such as ABC Family's Chasing Life, MTV's Happyland and TNT's Major Crime. What was it like on each of these sets?
All of these sets ran pretty much the same. If we were shooting on the lots, I had a trailer or dressing room. I've learned that every show that I've worked on, the crew is always nice and never have issues answering any questions you may have. Those questions for me are always related to where craft service is or where I can get lunch. On that subject, for union jobs, crafty always has awesome food and snacks. Before I joined SAG and worked on lots of non union gigs, I didn't know what all the hype was about. But my first union gig (a Volvo commercial) the craft service table did nothing short of blowing my mind and I understood.
You have a recurring role in the Disney hit comedy K.C. Undercover alongside Zendaya. For multiple episodes on this show, have you had the same Director?
Every week, I usually worked with a different director, except for Jon Rosenbaum, who directed a few of my episodes as well as many other episodes in the series. I really enjoyed working with different directors because they each brought their own unique energy to set and to where they wanted me to take my character. For example, I had the pleasure of working with Joel Zwick who has been directing for decades and made movies like My Big, Fat, Greek Wedding and worked with actors like Tom Hanks (one of my personal heroes). He was so skilled at keeping the energy on set up and lively which created such an amazing environment to be creative in.
You have a roommate, five dogs, one cat and a tortoise named Sheldon. Who's your roommate? How do you take care of your pets with such a hectic schedule?
My roommate was the first person I knew in LA. who was introduced to me by a mutual friend in DC. I've gotten so attached to the area where I live and the pets that I haven't been able to move. My roommate works from home so he takes care of the pets if I am away and vice versa. If we both are out of town, we have one of our close friends stay at our place and watch them.
You went to Ohio State University for chemical engineering but dropped out after a year to pursue your career in acting. What advice do you have for young performers who are in school and for those who decide not to go to college?
If you want to be an actor, there are two paths you can take regarding school. You can spend a few years getting a degree so you have something to fall back on, or you can skip it get an early start. I wouldn't suggest going to a conservatory because I personally enjoyed attending many different acting classes and studying various schools of thought. This allowed me to find what I felt was most authentic and what opened me up emotionally. I think that committing to one way of thinking or one way of being creative can limit you and is counter intuitive to being an artist. At the end of the day, I assume casting directors are looking to see if you are good and if you can deliver. If you can't do either, then it's irrelevant with whom or where you study. My advice is to find a coach that kicks your ass and pushes you. Don't get too comfortable in class and don't go to be social.
Once you made that decision to pursue acting, what were the first steps you took?
My first step was get into class and to get comfortable performing/opening up in front of people. I also explored the different styles of comedy (single camera, multi cam) and when I really committed to making acting my career, I started reading plays. I also subscribed to Deadline Hollywood to stay up to date on behind the scenes industry news. I think to be successful in this in line of work, you have to know the business side just as much as the creative side and there is no better way to do that then to stay up to date on the trades.
How did you find your talent agent and manager?
I got lucky when I met my manager. The acting class I was attending at the time had a talent showcase every Thursday night and my acting coach said she knew a manager who was looking for Asian American talent. After watching me, they decided to send me out on auditions to gauge how I did and after a few months, they signed me. After booking my first gig, I signed with Talentworks, who I met through my manager.
What recommendations do you have to stay fit and healthy?
I think people over complicate being healthy. Everything gets muddled and confusing because they want it to be easy, fast and cheap. Being active and eating healthy takes effort and time, and it sucks at first, but the end result is worth it. To be honest, all you need to do to be "healthy" is exercise three times a week, drink water and try to eat/portion reasonably. If you eat crazy one day, just exercise a little more the next day.
Being "fit" is a bit more intense but generally the same concept. Maintaining a six pack or getting the summer body is mainly about getting your body fat down with cardio based training and eating right. Diet really is half the battle. Unless you have a ridiculous metabolism, you won't get fit working out five days a week and eating pizza and drinking beer every other day. I personally give myself one or two cheat days a week where I'll splurge on what I eat (I'm a big foodie so when I let myself go, I go). But then again I am at the gym five times a week. It's all about balance.
Diet, I'm convinced, is just as important for skin quality. You get out what you put in. A lot of it is also genetics which is out of your control. I make sure to wash my face every night before going to sleep and to remove any make up from set as soon as I wrap. For guys, I suggest getting a safety razor, a brush with good shaving cream, and moisturizing after shave.
What do you do in your downtime?
In my downtime, I have a healthy balance between self education and time wasting. I like to read a lot of contemporary plays, whether they have characters that suit me or not. I find that reading plays help me understand characters more deeply than watching movies. I am always finding ways I can relate to the characters and think how I would act in the situations they are in. Also, I read a lot of novels which can give you a more thorough character study depending how well it is written.
In the vein of self education, I make sure to practice guitar and piano almost everyday. I think music is another fantastic creative outlet where you can express and interpret your feelings through a different medium. I am currently exploring more in depth music theory for both instruments and each instrument gives a unique perspective on the subject. I have been playing piano for 10+ years and guitar for about two years so bringing them together has been a recently achieved life goal of mine.
As for time wasting, I'm a huge video gamer. Or at least I was. I play whenever I feel like letting my brain idle for an hour or few. To complement my reading habits, I love games with a good narrative. Well made games really bring me into the story and on special occasions, I will pull an all nighter to find out what happens in the end. I have to be careful with multiplayer competitive games because I am naturally super competitive, and it can eat into my time which should be spent doing more efficient activities.
What's your take on social media as an actor?
If you are Brad Pitt or George Clooney, your Instagram is probably the least of your worries. But if you are an unknown or even "the next big thing", social media is very important right now. Fans now are all about immediate gratification with the new binge watching release formula, video streaming or just the internet in general. If you are out of the public sight for too long, you are out of mind. But, I also believe the opposite is true where if you over saturate your Twitter or Instagram with content, people will get bored of shenanigans (unless you are a billionaire professional poker player/wild animal tamer). Social media has gotten so important, producers without a doubt take your social media following into consideration when casting roles, and in some cases, to even consider you to even come in for an audition.
Personally, I don't spend an excessive of time on it but I am aware how important it is. I like an organic approach to my social media where I'll post slices of life and things I am interested in. Of course I'll promote my projects (whether it's compulsory or not) and have industry related posts, but I'll always try to show fans a little bit of who I really am off the screen.
You star in the upcoming Lifetime feature Perfect High opposite Bella Thorne. Tell us about your audition process.
The Perfect High process was actually relatively short, but that's not to say it was easy. After I went into the initial audition, I had a callback with one of the producers, and a few days later, I got the call, What made it difficult was the content of the sides. Out of the four scenes for the audition, two of them were the two emotionally taxing scenes for my character in the entire script. Also, the character breakdown was pretty standard and didn't give much back story. A lot of heavy emotional scenes HAVE to be rooted with specific back story so that was the majority of the work I focused on in the two days I had to prepare. Fortunately, when I went to the callback with the producer and casting director, they worked the sides with me and let me get into the swing of things, not a luxury you always have in a casting room.
Tell us a behind the scenes story from Teen Beach 2.
One of the best perks of being an actor is being able to travel and experience new cultures. We filmed Teen Beach 2 in Puerto Rico and I was so happy to eat the food and meet the people. One of the best memories I have happened during one night shoot on the beach. Many of the dancers were local hires and were also dance instructors so I decided to ask them if they could teach me how to Salsa. Fortunately, we had a lot of down time that night and I had brought my powerful portable speaker so the base camp turned into a dance floor and they ended up teaching a bunch of us how to Salsa on the beach.
Anything else you'd like to say to young performers or their guardians?
Having a career in acting is a marathon, not a sprint. You should not aim to be an overnight success if you haven't paid your dues as an actor or have a solid foundation. Those careers don't survive past the initial five minutes of fame. Also, don't expect it to happen overnight. Most likely, you will have to face a lot of rejection before you book your first big gig. If you really love to act, you stick with it and learn quickly to not take things personally because it rarely ever is.
Don't feel like you have to stick to one creative process. Explore different methods and techniques in acting and see what you connect with, even if you are hesitant or don't think it will work. Also, do creative things outside of acting. Keep learning something new like playing an instrument, cooking, learning a martial art.
Finally, know who you are as a person. Acting is about become another person, but you really need to own who you are because that is the unique factor you bring to each role. Self discovery is just as important as character study.
KEITH POWERS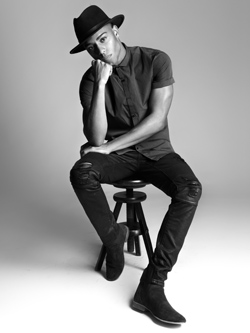 Keith plays LaDarius Pope on the series Sin City Saints and is best known as Theo on MTV's hit comedy series Faking It. Photo By Elias Tahan.
Twitter: @KeithTPowers
Faking It Page: http://www.mtv.com/shows/faking_it/
Sin City Saints Page: https://screen.yahoo.com/sin-city-saints/
Tell us about the audition process for Faking It and where you were when you found out you got the role.
The Faking It audition process was very standard, except the callback was the final audition. I went up against about 10 other guys, maybe a few more. I read in front of Showrunner, Carter Covington and his fellow producers and also with the casting directors. I read once with the casting director, three different scenes. Then they told me to wait outside. When it was my turn again and I read with Gregg Sulkin and Bailey DeYoung for chemistry. It went so well I could tell everything was clicking. It was one of the greatest days of my life. I found out at home, I was alone. I was super excited, at first but shortly after I always remind myself there's work to be done.
You were discovered by a modeling agency in San Francisco, California, when you were nine years old. How exactly did they discover you? What were you thinking back then, as a nine year old and who helped you make the decision to pursue modeling?
I was discovered by JE Models when I was 17 years old. When I was nine years old, I was signed to Look Agency in San Francisco. My mom did everything to get me signed. She took me to get my portfolio done and wrote a bio, the whole nine. I stopped after booking my first and only job around that time because my mom gave me the ultimatum of modeling or continuing to play football. I chose football. I was too young to actually enjoy modeling.
After high school, you signed on with modeling agency Wilhelmina. Tell us about your experiences as a teen model.
Yes, I was signed to Wilhelmina. It took a minute to adjust as far as meeting different types of people than back home, but the girls were so beautiful, the adjustment was not hard at all. My favorite job was Abercrombie. We worked for a week in Santa Barbara and stayed at a resort.
Have you ever had to negotiate things in your contracts?
My agents for the most part handle my contracts; sometimes they bring in a lawyer. They negotiate best they can but I understand I am still paying dues which is fine by me because I believe I still have to prove myself as an actor and I know in the future it will pay off.
You were recently in the basketball-themed comedy series Sin City Saints on YAHOO Screen. a) Tell us about your character Ladarius Pope and b) what is it like working for YAHOO Screen vs. a more conservative production on mainstream TV such as Pretty Little Liars.
My character on Sin City Saints is very emotional, bratty, naive and sheltered. He is totally different from who I am as a person in real life but that is definitely why I enjoy playing him. Being on set with a streaming show was no different from a mainstream; everything felt the same from craft service to trailer. I loved it.
You just finished working on Straight Outta Compton where you played Dr. Dre's younger brother. Spill the beans and tell us the scoop.
Yes, this film is so relevant to what we face as a nation today. I call it a reminder. If you do not know much about NWA, you should do your research. This film will be 100% accurate. Everyone is behind it and it is true. I do not want to spill too much, I rather people wait and see the classic when it arrives.
Photo By Elias Tahan.
You love football. How come you pursued acting and modeling instead of football?
I pursued modeling and acting because it was working better for me than football. I did not love anything as much as I loved football until I started acting. I simply know I was not good enough to play football on a professional level and I thank God that I am acting instead.
Do you think you're stereotyped into any particular roles?
I feel like yeah, when it comes to athletic type roles but it does not bother me. I love acting so I do not mind.
Have you ever been bullied?
I do not think I have ever actually been bullied and when I felt like I was, I would fight, but most of those fights were playing sports.
At what point in your career did you decide it was time for a publicist?
A couple of months ago, I had a talk with my team about the next steps in my career. We all believed it was the right time to look for a publicist. Since I had a lot of projects coming out this year and I am an entertainer working hard to be a lead male actor, we felt that was the best step to take and I thank God I did. It is great having a team of people who believe in me. Their support really helps fuel my fire to succeed.
Have you ever had braces?
I never had braces. No.
What's your take on young actors who get involved with a party lifestyle?
It is easy to get caught up in parties but I think the best thing to do is be a leader. I feel leaders do not get caught up in these things but not everyone is a leader. The best thing that keeps me from partying too much is I realize that at the end of the day you are chasing a high you are never going to get. Most people party because others are. I feel like if you understand that your career is what matters you will not fall into these traps.
What's your take on social media as an actor?
I think social media is great for actors to a certain extent. I really enjoy social networks. I think it is a perfect tool to promote and connect with people, especially the supporters / fans. I also think it can be a curse as well; I feel like if you do not know how to manage yourself on social networks you can become saturated and I also believe if you make people not like you on social media and off camera, they will not support your projects and that hurts. MTV Faking It and SIN CITY SAINTS love when their cast promotes on social media.
Have you been recognized on the street by fans?
Yes I have, and I actually think it is amazing. All the feedback has been positive. It makes me want to work harder as an actor, honestly. I like being recognized for being an actor — I would not sit here and lie. I enjoy entertaining but I know what really matters and that is the craft, which is acting and improving myself as an actor.
Anything else you'd like to say to young performers or their guardians?
I would say continue to stay a student to the game. Continue to learn and get better. Get a team that you know want the best interest for you.
JONNY GRAY
Jonny Gray plays Max Asher on Nickelodeon's hit teen series Max and Shred. Photo Credit: Nickelodeon
Twitter: @JonnyGrayy
Instagram: @jonnygrayactor
Facebook: facebook.com/jonnygrayofficial
Max and Shred: @MaxAndShred @NickelodeonTV @YTV #MaxAndShred
Max and Shred Page: www.nick.com/max-and-shred
What's it like working being a lead on Nickelodeon's smash show Max and Shred?
It has been a life changing experience, I have learned so much and changed for the better. I have had to grow up quickly. Being the lead on a TV show is a big responsibility and it is hard work with long hours, but the end result is so satisfying. It has inspired me to continue pursuing acting and move forward with my professional career.
How do you receive and read your script? When do you get it? Are there ever any changes?
An assistant director gives us the hard copy of the script when we arrive each day, but we receive a copy by email a few days before the episode begins and then they change very frequently according to the director's opinion on the flow of the lines.
What was it like being a part of the Kids' Choice Awards 2015? Did you get paid to do an award show or is it part of your contract?
I was invited to attend the awards show by surprise and gratefully accepted the offer. I got to choose my own wardrobe but still had to get my hair done!
How important is social media to you personally vs. business / your career?
Personally social media is a great way to let me connect with my friends however I also use it professionally promote the show.
Do you take acting lessons and/or have a coach?
I currently do not have an acting coach although Tyler Murree has provided an abundance of advice on the set of max and shred that has been of great help to me. Previously I took some private coaching before important auditions. Much of what I have learned has come form work with some amazing and talented actors and directors.
What's it like working with other young performers as opposed to adults?
I interact with everyone on the set fairly equally. Everybody's positive energy makes the Max And Shred crew feel like a big family.
Outside of work, what hobbies do you have?
I love all sports, especially hockey, which I have been playing as long as I can remember, snowboarding which I have been doing for seven years and polo which I started when my family moved out to the country!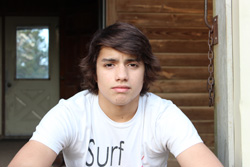 In non-English markets, do they dub your voice or you have no idea?
Yes they dub my voice and I would love to hear what it sounds like, but I haven't yet.
What do your non-show business friends think about you being in the business?
My friends have been great by providing me with a lot of support and encouragement which has really given me the confidence to continue doing what I love. They also treat me exactly the same as before I was on a TV show.
Have you ever been bullied?
I have never been bullied. I think that bullying stems from people not feeling good about themselves and needing to make others feel badly to elevate their own perceived self worth. It only takes one person to start making a change or to stand up to a bully, if we work together I know we can eradicate it from our society.
What's it like being directed on the same show by different directors?
It is really cool to see how different directors have different views on how a scene should be approached. They all have a different style that contributes to how any given scene can be filmed. I have learned a tremendous amount about my own acting form the direction each one has given me. It is a tedious job and they have to pay great attention to detail. I have great respect for what they do.
What advice do you have for young performers just starting in the business?
Acting takes a lot of persistence. Don't ever let rejection prevent you from doing what you love. Also louder + faster = funnier.
JAKE GOODMAN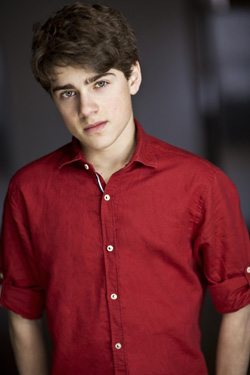 Jake Goodman plays Alvin Shred Ackerman on Nickelodeon's series Max and Shred. Photo by Pierre Gautreau.
Twitter – @jakegoodman9
Instagram – @jakegoodman9
Facebook – facebook.com/jakegoodmanofficial
For Max and Shred: @MaxAndShred @NickelodeonTV @YTV #MaxAndShred
Max and Shred Page: www.nick.com/max-and-shred

You play the lead character Shred on Max and Shred. Production for Season 2 just began. What preparation do you do before production starts? How far in advance do you get your script(s)? Do you have wardrobe fittings BEFORE production starts or is that all part of the same day?
There are changes in the script right up until two-three days before rehearsals. So usually I'll see the scripts one-two days before we start. It sometimes gets stressful having to learn scripts in a short amount of time but it's so much fun. Wardrobe fittings will happen a week in advance, and then during production we'll have fittings whenever we have some spare time.
You enjoy the guitar, bass and drums. Do you take formal lessons or teach yourself the instruments? How has music helped your acting career?
I took some guitar lessons a coupe years ago, but since than I've kind of learned at my own pace with different learning sites like Songsterr and ArtistWorks. I've always had a drum set and, from listening to records and CDs, I've been able to figure parts out. Also with the help of YouTube. Guitar and bass kinda help you come up with rhythms. I started bass about a year ago and its a lot like guitar. I haven't actually done anything related to music in my career yet, but hopefully soon!
Who are your biggest influences in LIFE and why?
Whenever I'm on sets, I definitely look up to the more experienced actors and actresses. I also look up to my older cousins and older friends.
You voiced the characters 'Castor' and 'Sigma' on Playhouse Disney's animated series Mr. Moon. What did you do to get the parts?
I haven't done much voice work and I'm not really doing it right now. That project was done in a studio, and I auditioned for it in a studio too.
You started acting at five years old. What or who prompted you to go into the business and what was your first job?
I was visiting my grandparents in Florida and met an older kid at the pool who was talking about a show that he did and I asked him about how he became an actor. He gave me his agent's number and I met with her. My first job was a Ready Beds commercial and all I did was pretend to sleep in a sleeping bag for a couple seconds.
How do you learn your lines?
I learn lines by connecting them to the blocking. I can't say my lines just sitting around. I use blocking as a trick to remembering which line comes where.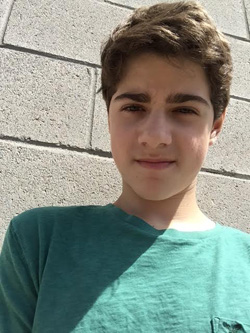 Are the eyeglasses you wear in Max and Shred your real eyeglasses or are they just for the show?
I don't actually wear glasses. The glasses are clear and the wardrobe department along with the show runner picked which frame they liked best.
How does your schooling work?
It's required that we get at least two hours a day of school, which is a lot when it's one-on-one tutoring with all your work in front of you. There's an on-set tutor who communicates with the school teachers.
Have you ever had to travel outside of Canada for work?
I haven't really auditioned for things outside of Toronto because I don't want to be away for too long. Just recently, we went out to LA of the Kids' Choice Awards which was great!
What advice do you have for young performers?
Don't get discouraged if you don't get a gig. Don't sweat it. Nobody gets every gig. Take the casting director's feedback and come into your next audition with energy and smiles and show them that you've taken their advice. If people see you improving, they'll like you more.
Anything else you'd like to say?
Stay tuned for Max and Shred Season 2!