Pretending is fun. It's an action that has been utilized for lifetimes, whether it be pretending to battle dragons in the backyard or pretending to enjoy the vegetable lasagna that grandma worked tirelessly on. However, over an extended period of time, falsifying emotions can take an enormous toll on the psyche. When you expel copious amounts of energy on pretending to be what you're not, you not only need a lot of down time, but a significant foundation of stamina.  It's similar to the energy and endurance called for from athletes.  An actor who practices and understands this is Neil Napier.
Neil's comprehension of this principle can be attributed to his history as an athlete. From a young age the Montreal native was immersed in rugby, football and hockey, providing for what he feels is an "e;instrumental and indispensable" basis for his work ethic on set. His dedication and knowledge has helped him nab roles in high profile productions like Immortals, Riddick and X-Men: Days of Future Past. With several impressive film, television and even video game credits under his belt, Neil is succeeding in the business.
These days, most people know Neil as the deeply flawed Dr. Peter Farragut on SyFy's apocalyptic thriller Helix. We sat down with him to discuss his leading role on the show, how Apple (yes that Apple) helped him nab the part, his helpful history as an athelete and the best piece of advice he's got. Check it out!
RP: So, how did you get your start acting?
NN: Well, spinal surgery. There have been many events and circumstances in my life that have precipitated fairly significant transformations; one of these events was a spinal surgery I had in 2000. I have always been very active in sports, and at this time was still playing hockey and rugby on a very regular basis. The surgery knocked me out of commission for a few months, the first two weeks of which I was limited to very little walking – lots of couch time. At the time I was not terribly fulfilled in my professional life; I had been working in the service industry, in construction/renovation, and doing some personal fitness training, the latter being at least somewhat gratifying. Now I had a fair amount of time to consider what the next chapter might look like.
"this is what I had to do: I had to be an actor."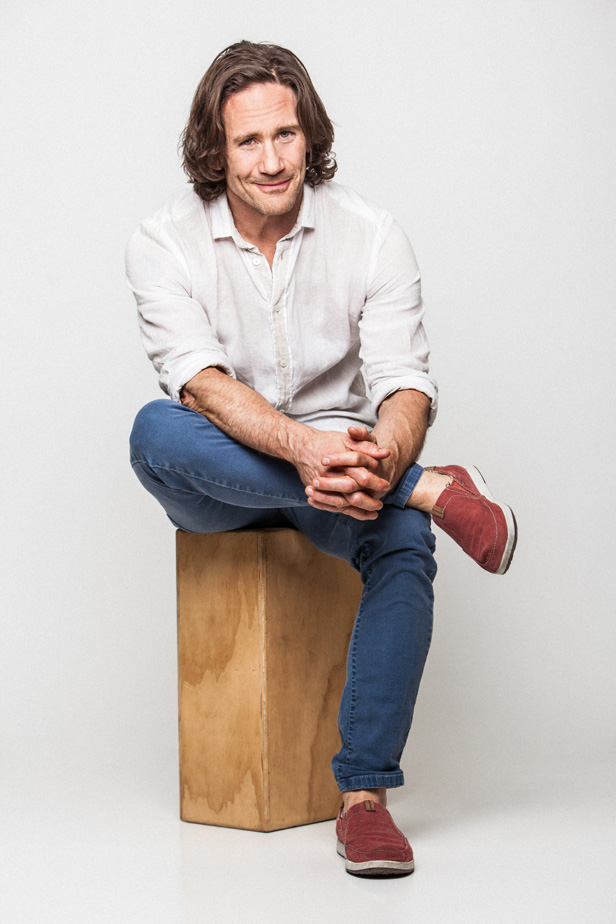 At this time an actor friend of mine came to town for a couple of auditions. He stayed at my place for a few days and we had quite a few conversations about our lives – past, present and future. Given my history in athletics (and a few youthful and dangerous misadventures) and my fascination with his career, my friend suggested I pursue stunt-work. I found a stunt-coordinator I knew who was willing to lay out for me the training I would need and the steps I should take. I was not quite fit for stunt action at that point so I decided to find a few open auditions I could go to in order to at least start putting myself out there in some capacity. Well, the second audition I went to was for a no-budget independent action film and I ended up booking it – no, it is not anywhere and you will never see it!
"a lot of my training happened in front of paying audiences." 
To make an already long story not quite as long as it could be, I realized in shooting the film that this is what I had to do: I had to be an actor. My focus became resolved on doing whatever I had to do to make this a reality. And I did. I started acting whenever and wherever I could: Fringe shows, student films, crazy little horror shorts; I took acting workshops, voice lessons, movement courses, and agreed to be in shows I had no real business doing at the time (a mask show, a musical, Shakespeare etc) with the idea that I could learn from working with these people who knew more about it… anything to start to develop a craft and to make connections. I was 30 years old and had not been through any sort of theatre program or institution, so a lot of my training happened in front of paying audiences. It was good to keep the stakes high, I guess!
RP: That is good! Aside from what you learned participating in productions, did you receive any training or study a method that you found instrumental?
NN: As I have mentioned above, much of my training has been ad hoc and informal. I have been very fortunate to work on projects with deeply talented and generous individuals who have been kind enough to hold my hand and show me various ropes.
Taking voice lessons and Laban workshops proved very valuable as I started working more and more in theatre. Also, there was one acting teacher I worked with very early on who seemed to have been speaking just the right language at just the right time in my journey. I feel that I made a significant shift in my approach while working with John Strasberg. He helped me to begin to develop a deeper relationship with my craft and to find pathways to access the emotional life underpinning character.
RP: I understand you've always been an athlete, do you think that helps you as an actor?
NN: Indeed, I have spent most of my life playing hockey, football and rugby. I love contact team sports; I feel at home and at peace on a hockey rink or a rugby pitch (and now in a theatre or on set).
I absolutely think that my history in athletics helps me as an actor. In fact, it is instrumental and indispensable for me. The first reason is that it is an integral part of who I am and how I understand and interact with the world around me. I feel that the deeper the understanding we have of ourselves and how we function as people, the deeper the understanding we will have of who we are as performers and the greater access we will have to our communication. That will be different for everyone. For me, I start as an athlete; in a way it is my primary modality.
"An athlete does not have time to 'think'… he or she must react without reflection on the past or thoughtful contemplation of the future – all there is is right now, and then it is gone."
In a specific way, my training in athletics has instilled in me good body-awareness and a facility of movement and physical engagement. It has also wired me to understand my part within the greater organism, how to work as member of a team, and to remain coachable. These are attributes that in my experience transpose themselves very neatly onto an acting career. But I think that the most important (and somewhat intangible) quality that athletics instills is the availability to "e;the moment": the ability through work and preparation to be committed, alive and reactive in the present. An athlete does not have time to 'think' in the midst of the immediacy of a rugby game, for example; he or she must react without reflection on the past or thoughtful contemplation of the future – all there is is right now, and then it is gone. Much the life of a performance, I feel.
RP: I can imagine stamina wise that it's very advantageous, especially for action scenes.
NN: Keeping fit and healthy is pretty key for my career. I do tend to play roles that at some point demand some pretty physical stuff; it is certainly helpful to be able to sell a punch, take a simple fall, and not get winded when running or fighting.
To be clear, though – I leave the tough stuff to the stunt professionals. As an actor, my main focus is telling the character's story; of owning that emotional journey. A stunt performers job is to sell the gag and do it in a safe manner. Those two things do not always go well together. I can think of a few times – no matter how fit I was – that I would have definitely gotten injured had I insisted on doing the stunt. Discretion is indeed the better part of valor.
RP: What's your advice for actors seeking representation?
NN: Get your materials in the best shape you can; commit to a bit of an investment in doing that. Format a comprehensive and honest resume of your work/training and get yourself sharp, professional photos. When shopping for a reputable photographer, solicit the advice of working professionals in your city that you know and respect; most will be happy to point you in the right direction.
Cut a slick (and concise) demo reel of your on-camera work – the more professional-quality the footage, the better. Again, seek advice on finding a good and fairly priced editor. If you do not have any on-camera material yet, work with an acting coach or someone you respect to choose a few short scenes to shoot audition-style. Choose scenes that highlight your strengths, and take care to light it well and capture quality sound. Nail it.
Ask other actors about their representation and their feelings about them. A referral is always better than a cold-call.
Take time to reflect on what defines you as a performer and what defines you as an individual. Understand what you bring to the table and own that. Agents and managers want to know who you are. Show them.
RP: That's a great testament. It clearly worked for you! You play Dr. Peter Farrugut on Syfy's hit show "Helix". Congrats! Do you remember your audition?
NN: Yes indeed. And thank you – he is a fun character to play! That audition was a little crazy, because I was actually out in Oregon with my now-wife (I had just asked her parents for their blessing to ask for her hand in marriage). We had been in Portland and decided to drive out to the coast for a couple of days, so we left our camera equipment back in Portland. Of course on the way out, I get a call from my agent asking if I could put myself on tape for a show called Helix; it is a pretty good role…
Well, thank God for iPhones! My wife and I set up a little studio by the balcony window for some good light and she was my camera operator and reader all at once. She shot the audition with the phone while reading the lines off my iPad (this audition was brought to you by Apple). I am pretty fortunate to have such a talented woman for a wife!
I had a call back the next week and, well – the rest is history. Oh – and her parents gave me their blessing!
RP: What a great story! Presently, what would you say has been the most challenging aspect for you on the show? The best part?
NN: I think that the most challenging part and the best part of playing Peter is actually the same thing: it is trying to get inside the head of such a conflicted and morally ambiguous man. Peter's motivations are fairly liquid in nature; he is a bit of an opportunist and he justifies and rationalizes a lot of his behavior. He is jealous, ambitious, disloyal and filled with resentment. He also has a great capacity for love and tenderness, but is equally cold and calculating, and capable of horrific acts of violence.
Folding all these elements into one man and finding a way to understand and inform all his choices in order to love him from within is a deeply gratifying challenge.
RP: Season two just ended. What can we expect to see in the future for your character?
NN: Moving forward with Peter, I think it is safe to say that we never really know what to expect from him; he is a bit of a wild card. Just know that what ever he does, he will firmly and steadfastly believe that it is the right thing.
RP: You've done a lot of voice over work as well, specifically for video games. How did you get into that?
NN: Yes, I have done quite a bit of voice work and performance-capture in video games. It is a crazy and fun part of my work as an actor! I got into it the same way I got into any of the films and TV shows I have played in: I auditioned. Video games are getting so good at storytelling and the technology is so faithful to performance that it is a rich and exciting world for actors to explore.
RP: To end on an inspiring note, what's your most valuable piece of advice for aspiring actors?
NN: Approach your work with a spirit of commitment, generosity and gratitude. We are blessed to do what we love for a living, so whether in an audition room, on a stage or set – show up prepared, nail your shit, and play nice. And always listen.
RP: Any upcoming projects you would like to tease?
NN: I have a few things in the works right now, but nothing firm. In the meantime I am gearing up to watch lots of playoff hockey! Go Habs, Go!!!
Be sure to follow Neil on Twitter @NeilNapier!