You may recognize Telvin Griffin from the Emmy-Award-Winning ABC comedy, Blackish and a bunch of national commercials including Dodge Ram.
Well, Telvin just made his big screen debut alongside Brad Pitt, Margot Robbie and Diego Calva in the Paramount Pictures feature film Babylon. This is a big deal, and I'm going to tell you why.
Making the jump from television to film is not an easy feat for any actor. It takes a great deal of preparation and dedication to make the transition successful. However, for those actors who are willing to put in the necessary work, it can open up a world of possibilities.
– With the right role in a blockbuster movie, an actor can become an international star overnight and enjoy increased financial security.
– Actors are able to explore independent projects that may offer them creative freedom or allow them to work with acclaimed directors. These types of opportunities can provide an actor with unique experiences and help them develop their craft even further.
– Actors gain access to new markets around the world and boosts their chances of acquiring agent representation abroad.
 Telvin Griffin. Photo by David Zaugh Photography.
So how did a boy from Texarkana, Arkansas get his feet wet in the entertainment field and land a high profile film? By setting high goals: Telvin wants to follow in the footsteps of some of today's most influential actors, such as Sidney Poitier, James Earl Jones and Denzel Washington. And in case you were wondering, yes, Telvin attended college. He studied broadcast journalism at the University of Arkansas.
DirectSubmit / NYCastings had an opportunity to touch base with Telvin Griffin and we're happy to share the interview with you.
You portray Reginald, a straight-shooting saxophone player, who is faced with an unexpected rivalry with fellow trumpet player Sidney Palmer (portrayed by Jovan Adepo). When you were in school, you took up piano and saxophone. What was it about those two instruments that made you gravitate toward them?
That's a fantastic question. What made me gravitate towards piano and saxophone was the fact that they complement each other. There were certain notes I could play on the sax that just translated to the piano. I was playing the piano before I started playing the sax. Both instruments bring a level of swagger with them, and honestly, I am in my own world when I'm playing. I saw former President Bill Clinton playing the saxophone at a White House dinner when I was a kid and knew then I wanted to play. Especially with Clinton being from my home state, Arkansas, a town about 10 minutes from mine.
Tell us about your audition for Babylon?
The audition process for Babylon went quickly. I remember being home with my family for a few months because we were still in the middle of the pandemic. I had just shot a Dodge Ram National campaign in Austin, Texas, so I decided to stay home and spend some more time with my family. When the audition came, I didn't really know how huge the film was looking to be. I remember getting the full script and thinking to myself, "holy cow, this is a monster of a film". I sent my initial tape in and just did my thing and just carried on about my day; you gotta leave it in the room and get on with life, so you're never second-guessing your creative work. About a week went by, and my reps sent me an email from casting saying the Director, Damien Chazelle, wanted to have a director's session with me along with actor Jovan Adepo. So now it's getting exciting because it looks like I'm getting closer, and at this point, it's about who I am and how I may stand out. I knew the fact that I actually played the saxophone could count for something, so before the chemistry read, I called every music store and pawnshop in the area to find one. I ended up finding a sax at a pawnshop and bought it that day. I spent a day re-teaching myself the notes and fingering on the sax and learned a quick little song, "I've Got Sunshine." During my chemistry read, I didn't want them to know I had the sax, so I waited until the time in the scene where I play to pull it out, and it took both Damien and Jovan by surprise. And I guess the rest is history. Once I got back to Los Angeles, the studio sent a couple of saxophones to my house to get even more familiar with before I started shooting, which was pretty cool. The moral of that story is always to find something within your arsenal that sets you apart in your creative process, and don't be afraid to use that. Because I had read the entire script beforehand, I knew my character Reggie was this passionate guy, full of energy, who wanted to catch his big break, just like Sidney, and navigate his way through this crazy transitional period in Hollywood. I really loved the fact that Damien allowed Jovan and me to really have fun and play off of each other during our scenes. He is truly an actor's director!
Babylon is a star-studded film. What type of security did you notice on set?
Ha yeah, no kidding, right?? You don't really have an idea of how massive a film will be until you start getting closer to shoot dates and you start seeing press clippings of who's joining the cast. I remember thinking on my first day on set how many big bodyguards were present. Well, at least we know we're safe — haha!! In all seriousness, security did an amazing job from day one all the way to wrap.
Babylon Party Scene. Photo by Scott Garfield, Paramount Pictures
What was it like on your first day on the set of Babylon?
So my first day on set was surreal. I remember driving up, two PA's (production assistants) came to my car and escorted me to my trailer, where I had all kinds of goodies waiting for me. I don't think I was in my trailer for longer than 10 minutes before I was escorted to hair and makeup. The moment I stepped on set, I was floored by how many background artists we had for the first scene and how many moving parts that scene entailed. All the main stars were in the scene also, so that was so cool watching people I admire and have watched for years work in person. You'll know what I'm talking about when you see the film. It's one of the party scenes, and it was massive. We shot from sundown until literally sunrise. But we were having so much fun we didn't even notice the time. Everyone made us feel welcome on that set. There were no egos during my entire time shooting. We all just believed in Damien's vision and wanted to help make this film a masterpiece!
Give us some insight as to your childhood. You have a very unique name. Tell us about it.
I grew up in a small town called Texarkana, Arkansas, about two hours east of Dallas, Texas. From the moment I came out of my mother's womb, I was looking for a microphone. Growing up, I always wanted to make people laugh. I used to pretend I was hosting shows in my grandparent's study den. My parents always had a pulse on things that interested me. By five years old, I was taking piano lessons with a guy who lived next door to my grandparents. So the name Telvin actually means "Gift from God", and Griffin means "Dangerously Fierce." When I found that out, it put more fire under me to keep going and to never give up on my dreams, no matter how hard it was or how long it took. There was an inspiration that came from knowing that. I have two little brothers and two little sisters, so being the oldest comes with a level of responsibility that requires me to be a role model for my younger siblings. I love being that for them — they're able to see how I handle adversity without letting it crush me.
Growing up, I was the kid in school that would make the class laugh and was kind of a "life of the party" type of kid. Sometimes it was good, and sometimes the teacher would call my parents. Other students sometimes couldn't get their work done. I had a very structured upbringing with plenty of spankings because I thought I knew more than my parents, LOL!! But I can honestly say my parents did a fantastic job raising my siblings and me. I was always on the A&B honor roll as a kid, which was cool, but there were times that I'd finish my work so fast that I'd be bored, which led to me distracting other kids from their work. This led me to be tested for the gifted and talented program, which changed my life. There were only about six or seven kids that got accepted into the gifted and talented (GT) program, and I was fortunate to be one. It allowed us to use our creative juices in different ways. I stayed in GT until I graduated high school. I became involved with the church at an early age; my dad's dad was a pastor. So we kind of had no choice. But again, with me loving the piano, I would always find myself on the piano before or after church playing until it was time to go. This led me to eventually become a church musician, and I've been one ever since, even to this day. I became interested in the band. I had seen on television HBCU bands playing, and the swagger they had during their halftime shows was enough to sell me on the idea of joining. I had fun during the two years I was in the band, but eventually, I wanted to play football, and you can't do band and football at the same time, so I ended up dropping band.
You've done several national commercials. Can you share your experience with them?
Before moving to Los Angeles in 2018, I was living in Dallas, Texas, because that was the closest market to my hometown where I could act full-time and actually book quality work. Texas is a right-to-work state, so many commercials come there to shoot to save money. Commercials were my bread and butter. I built a great relationship with every casting director in that market. My agent would sometimes tell me that casting wanted to direct book me without even auditioning. I always tried to make some type of an impact with the crew and fellow cast mates. I still do to this day actually. In my experience, it always led to them calling me back to shoot more spots or referring me to other ad agencies. I've been very blessed to do this amazing thing called storytelling.
What part of the entertainment business do you like and dislike the most?
What I love most about this industry is the fact that nothing is ever the same from one day to the next. Each project you work on is different and allows you to be a different character in a different world every time. That's the fun part. What I dislike the most is the business side. You can be the right person for the role but sometimes, based on your credits or lack of star power you may be passed over for a role, which can be frustrating at times, which is why it's great to have something you enjoy that takes your mind off acting. For me, that's refereeing high school basketball and college football.
Previous to becoming an actor, what did you do for a living?
Honestly, when I graduated from college in 2012 I jumped into acting. I signed with my first agent in Dallas and hit the ground running. Now there were times when things got slow, and during those times I picked up jobs here and there such as substitute teaching and working as a medical rep. Even here in Los Angeles, I drove Lyft for a year because I needed a car to get around the city for auditions and jobs that I booked. Now I just referee football and basketball games, which puts money in my pockets and allows me to still pursue my career full-on, with determination and passion. Those jobs were just a means for me to continue funding my dream of becoming a working actor. Sometimes you have to work on something that is not your dream to sustain your dream until it sustains itself, which will happen. You've just got to trust the process and never lose faith.
How did you land your agent / manager?
So at the current moment, I just have a fantastic manager who works her tail off, making sure that my career is going in the right direction. She gets and understands me as a person. I think that is very important when it comes to reps, especially managers, because they manage your career and, in turn, parts of your life on a day-to-day basis, but also, they're the point of contact for you in the industry. They need to know your strengths and your weaknesses, so they can help guide you in the right direction. I took the meeting with her back in 2019 and told her, "Listen, I'm going to be a star, and I want you in my corner when that time comes." For me, it's never been "if" but always "when" because I trust in my gift as an artist, and I work my butt off to make that happen. She believed in me, and I left that meeting signing with her even though I had other meetings set up. We've been together ever since, and I look forward to sharing all my success in my career with her. I told her this was a lifetime commitment and we're in it for the long haul, when times are good and when times are rough.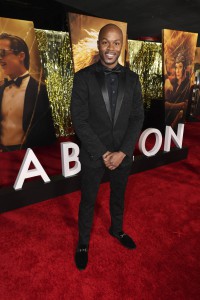 Anything else you'd like to say?
First and foremost, I'd like to thank God for giving me life and the gifts He's placed within me to contribute to this world. I'd like to shout out my amazing parents for bringing me into this world and raising me to be the man I am today. Completely separate note — I want to shout out everyone who did their part in voting in the last two elections we've had where our democracy and freedoms were on the line. We came together and put aside our political difference for the betterment of the country. I'm a huge advocate for voting rights and just human rights, period. So to all the organizations that make sure people are registered to vote and understand what they're voting for, I thank you!!
Readers, if you haven't already done so, register at DirectSubmit / NYCastings to see what opportunities await you!