At age 16, Aidan Wojtak-Hissong has already established himself as a rising star, and his latest role in the film adaptation of Judy Blume's novel, Are You There God? It's Me, Margaret, is further proof of his talent.
Are You There God? It's Me, Margaret holds a special place in the hearts of readers worldwide, exploring themes of identity, self-discovery and the challenges of adolescence. Aidan's involvement in this important project not only demonstrates his commitment to compelling storytelling but also reflects his dedication to portraying characters that resonate with audiences and inspire meaningful conversations.
In our exclusive DirectSubmit NYCastings interview, we speak with Aidan Wojtak-Hissong about his experiences of growing up in a show business atmosphere.
You play the teen character Moose in the film Are You There God? It's Me, Margaret and are also known for portraying Liam in Netflix's I Am Not Okay With This. What are the differences between working on a big time movie set vs. a Netflix series?
They were both pretty awesome experiences. What I liked about both projects is that they were pretty tightly run ships. Both Kelly Fremon Craig (the director of Margaret) and Johnathan Entwistle (the director on I Am Not Okay With This) were pretty clear about what they wanted and they didn't waste a lot of time getting the right shots. I learned a lot from both of them. Food on both sets was great. I might give a nod to the food on the Netflix set as being slightly better. Their craft table was unbelievable. I've never seen so many good snacks. I used to fill my pockets before I left for the day because they were so good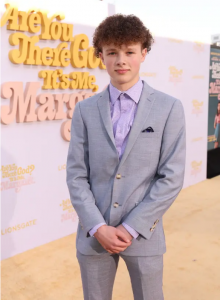 Tell us about your audition for Are You There God? It's Me, Margaret.
I first sent in a self-tape and then got a callback with the Director, Kelly Fremon Craig via Zoom. The callback was a lot of fun because it was important to Kelly that I was able to improvise. So we improvised the scene with Margaret where I offered to mow their lawn. The reader who was playing the role of Margaret asked me what I was going to do with the money I earned from mowing lawns and I told "Margaret" that I was saving up for a gas mower.
When you were five years old, you were in a play at camp, which started you on the acting bug. After camp, your mom was looking into activities for you and found acting. How did you go from "kid at camp" to "kid auditioning for a television commercial"?
When I was a baby, this lady stopped my parents and told them that I should be a 'baby model'. When I was three years old, my parents took me to an agency but got immediately turned off because there were hundreds of kids there and you had to buy their photography package which started at $700 so it seemed like a scam to them.
After I was in the play Walking on Sunshine, I said I wanted to keep acting, so my parents found a small reputable agency in Toronto that took me on. My first gig was in a Christmas Telus commercial called "Lift Off". Then I did a Hyundai commercial and then I had a small role in a movie with Nicholas Cage called Pay the Ghost.
At what point did you get an agent? Tell us the story on how you connected with your agent and what you talked about that made you decide they were the right fit for you.
Ummm… I think I was five years old when I got my first agent. There wasn't really any discussion about whether they were the right fit for me since it's the only agency we went to! My parents didn't know anything about the acting business at that stage, so we basically signed on with the first agency we contacted! My Mom kind of figured out after a while that I should probably be with an agency that specialized in kids so after about eight or nine months, I switched agencies.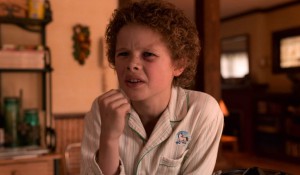 What were your thoughts when you found out you'd be working on a "girl coming of age" story based off of a popular book from over 50 years ago?
I did read the book and even though it's a girly book, I liked it. And I was pretty excited when I learned that I got the role of Moose. I loved meeting Kelly Fremon Craig during my audition and it was super exciting to get the chance to work with her. I also loved the role of Moose. He's a kind kid who sees the good in Margaret, even though she's a little geeky.
You're at that age now where you're not a kid anymore, but not quite an adult. Yet you've been working in an adult world most of your life. What lessons have you learned ahead of your time?
I turned 16 years old on May 18. I think the most important thing I learned is how to talk to people. My parents have been amazed when they've given rides to some of the kids I know and the kids don't talk. They just assume that all kids are as talkative as my brothers and me. I have always loved talking to adults and I find it pretty easy.
I also learned that acting is a job. I got my first lead role at the age of seven years old on a kids show called Playdate. I worked five days a week for three months and they expected me to show up every day prepared. It was hard work for a seven year old.
What's it like being a teen heart-throb? Have any fans stopped you in the street asking for pics or autographs? How do you handle strangers coming up to you?
It's been interesting. I've been noticed a few times in my city. It's nice to hear what people think about the movie and my performance. My Mom expected throngs of 11 year old girls recognizing me in the grocery store but I'm not sure how many 11 year old girls have seen the movie. So, so far, my life as a "teen heart-throb" has been pretty quiet!
Your little brothers, Finlay and Coleby, are also actors. How crazy busy is it at your house?! Do you have any pets? Talk about sports.
Our house is a pretty busy one especially when my middle brother and I are on sets at the same time. Fortunately that's only happened once and we had to call a family friend to take me to Pittsburgh for filming.
We have a Newfoundland dog named Olive. She's 11.5 and weighs about 130lbs. She's a gentle giant.
I am a huge sports fan. I play on my high school basketball team and I'm the quarterback of my high school football team. I'd love to be an NBA player but I think I've come to accept the fact that I'm about a foot too short for that dream to come true! But I can hoop, so if any scouts are reading this, please feel free to call me!
What advice do you have for young, aspiring actors looking to become a part of the show business world?
I'm not going to lie, it's hard. You put in a lot of self-tapes and then you don't hear back and you keep wondering what you need to do differently. You never really get any feedback so you don't know why you're not getting callbacks or landing roles. Plus now that it's all self- tapes and you never see casting agents in person, it's even harder. But you just have to keep trying and to keep working at it and find yourself a really good coach. Try to get some insight as to your limitations as an actor and then work on those.
The most important part is to persevere.
Anything else you'd like to say?
Thank you to my parents for supporting to me and my wonderful agents, Amanda Rosenthal Talent and Coast to Coast. I've also had friends and other family members who have supported me and I couldn't have done this without them. Oh and I can't forget about my acting coach and good friend Sara A… she knows who she is.