My head is exploding from speaking with Larry Silverberg, one of the leading authorities on the Meisner acting technique. What makes Larry an authority? Well, Mr. Sanford Meisner was Larry's acting coach. 'Nuff said!
Larry, who has been teaching acting for 30 years, has put together the Actors Success Suite & Online Acting Training videos. 
The Actors Success Suite, which has a lot of leading industry professionals on board (you'll see who! <wink wink>), is a powerful online venue for training, resources and discounts for actors who want to have an acting career.
Yes, you heard me. Career.
Below is a quick bit about the Actors Success Suite and then we'll dig right into the interview with Larry Silverberg.
…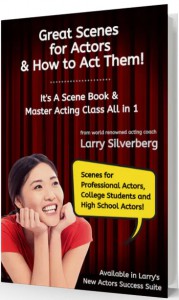 The Actors Success Suite is for ALL AGES. Inside this online-only program, you'll receive training, seminars, resources, 11 books including Great Scenes for Actors & How to Act Them! by Larry Silverberg, as well as others by Smith and Kraus Publishers. One of the seminars is from
Denise Simon
who is a top notch acting coach for child performers in NYC. "We want the young actors to start in a healthy way," says Larry. You'll also receive bonuses, including a discount to NYCastings!
…
I'm excited to share Larry Silverberg's acting wisdom with you. Here we go!
…
How did you become involved in acting?
…
I was setting out to be a filmmaker but a friend of mine talked me into trying acting with her and I fell in love with it. I loved the deep humanity of the art; it's a beautiful, awesome art form. Now I'm devoted to helping actors become the best they can be.
…
What kind of industry shifts have you seen in the teaching business?
…
I have a new book coming out called The End of Acting Technique which is a reaction to what I've seen. The majority of teachers have made acting very complicated.
…
I'd like to un-complicate acting and make it very simple. When I start to show students how easy acting is, they breathe a sigh of relief and think, "I can really do this." It mustn't be complex. All of these exercises that make the students watch themselves even more makes them self conscious. If you're self conscious, you cannot function as an actor. So when I help them, they can breathe again. It's very encouraging.
…
I want actors to be encouraged. I think a lot of young actors are worried "Can I do this?" My answer is "Yes, you can! At the highest level." 95% of acting is very bad. When I say bad, I mean artificial, without life, pretended, fake. That's why I have a workshop called the Top 5% Acting. When actors start to understand the human values of acting, it can raise them to the top 5% very quickly.
…
What's the difference between acting on stage vs. screen?
…
Most actors want to learn to act. There's a big misunderstanding with acting. The differences between stage acting and film acting is technical. You learn the acting and then apply it to the medium.
…
You have to get your spot when you're working in front of the camera. But great acting is great acting.
…
Can the Actors Success Suite also help seasoned actors?
…
Yes. The artist never arrives. You're always growing and evolving. We're never satisfied. The modern dance pioneer, Martha Graham, used the term "divine dissatisfaction." We're always trying to be better.
…
I love working with any actor who is ready to work hard. I tell actors you can take the whole idea of talent and throw it in the garbage because it doesn't matter. You don't have to worry about talent. The only way you can take it forward is by working hard. We have no say in talent.
…
[Martha Graham's full quote is: There is a vitality, a life force, an energy, a quickening that is translated through you into action, and because there is only one of you in all of time, this expression is unique. And if you block it, it will never exist through any other medium and it will be lost. The world will not have it. It is not your business to determine how good it is nor how valuable nor how it compares with other expressions. It is your business to keep it yours clearly and directly, to keep the channel open. You do not even have to believe in yourself or your work. You have to keep yourself open and aware to the urges that motivate you. Keep the channel open. … No artist is pleased. [There is] no satisfaction whatever at any time. There is only a queer divine dissatisfaction, a blessed unrest that keeps us marching and makes us more alive than the others.]
…
If we have no say in talent, then why do some teachers constantly talk about talented actors?
…
There are a lot of acting teachers who say, "I only want to work with talented students." What I say is, "There's nothing wrong in that student, there's something wrong in that teacher."
…
If you're a real teacher, you can help anybody act. I don't care about talent, I just want someone to work hard. Acting is a human event. It's human. We already do it every day. Our life is theatrical. Think about it. We get up in the morning, we put on our costume and make-up, we go onto the set and we live out this intense life with relationships. Things are very important to us and we're trying to accomplish something every day. Now, if I can show that to a student, once they see they're already doing it, they can start to bring that to their work.
…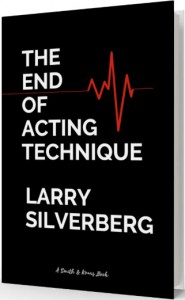 What makes a great actor?
…
We all play a character, no matter how honest or authentic you are, you're still playing a character, because you've chosen to be the person you've become. When you start to understand the human part of acting, you realize that acting is not distant from you. You already have everything you need to be a great actor. I call it Top 5% Acting. In the Actors Success Suite, you will find a workshop for that.
…
The difference is, when we read a script, it's not ANY day in the life of the character, it's the most important day. That's what the script is about — the BIGGEST day in the character's life. We forget the stakes are high. In theater, the stakes are always high.
…
Is the Actors Success Suite in place of a live acting course?
…
This doesn't take the place of an in-person acting program. This helps support actors and you will also receive discounts and that you can't find elsewhere.
…
If an actor wants to be coached by you in person, is that possible?
…
Absolutely. I'm known internationally on the Meisner approach. Actors can come to my location. I studied at the Neighborhood Playhouse School of Theatre.
…
You have books of scenes and monologues available for men, women and teens, which can be found on your website True Acting Institute.
…
Actors need scenes, for class, demo reels, to work with other actors.
…
I've been writing scenes for years and my students kept asking me to put the scenes in a book. In addition to the scenes, I give coaching to help the actors bring meaning and authenticity to the scenes.
…
I also want to give people tremendous resources and training so I have three new books coming out. I just wrote a really fantastic book of original scenes. I also give professional acting coaching after each scene.
…
How long did it take to put the Actors Success Suite together?
…
The Actors Success Suite has been evolving for the last few years and it's finally come together. It's been a long process but it was very important to me that I bring on the best people in the industry to help the students. It's really about advancing the actor's career. We want to help them become successful and help them to book jobs.
…
How does the Actors Success Suite help actors?
…
Auditions are a great performance and what happens after that is out of your control. When you go into the audition room, you have to be ready, so this program helps you become ready. It'll help get the Casting Director to stop falling asleep. It'll get them breathing because they're so impressed with what you're doing. It'll help you bring authentic life into the room — that's what everyone is begging to see. The whole point of this is to help actors work on the script and the material in ways they can accomplish that. The actors will get new skills, tools and resources.
…
You mentioned there are discounts available.
…
I'm thrilled to partner with NYCastings because in my opinion they're the most important place actors can find auditions. Other discounts are also available.
…
For a short time during our launch period, you can purchase the
Actors Success Suite
at a discount.
…
Also, be sure to visit
True Acting Institute
 where you can take an Online Master Class and order other training materials.
…
Larry Silverberg created the Actors Success Suite.
One of the world's foremost authorities on the Sanford Meisner technique of acting, Larry is the author of the acclaimed 4 volume series, The Sanford Meisner Approach and his books, Loving To Audition, The 7 Simple Truths of Acting for the Teen Actor, Meisner For Teens, True Acting Tips and Winning Your Acting Auditions.
…
 An award winning actor/director, Larry is a graduate of the Neighborhood Playhouse School of Theatre where he studied with legendary acting teacher, Sanford Meisner. Since then, Larry has worked professionally as an actor and director across the United States and in Canada. Larry won the Seattle Critic's Association "Stellar Acting Award" for his portrayal of "Teach" in the Belltown Theatre Center production of "American Buffalo." and his recent production of The Normal Heart won two "Best Play of the Year" Awards.