First ask yourself why you want to put your kid in show biz.
…
Then ask your child if they want to be in show biz.
 …
If their response is, "I'm too shy" but you see a twinkle in their eye, and maybe a partial smile that they're trying to hide from you by putting their head down, then perhaps acting is something to pursue.
 …
There is, however, something to consider… Just like there are different techniques in acting, there are differences in school plays and local theatre vs. more national productions such as Equity / SAG – AFTRA and Broadway shows:
 …
1. Pressure.
2. The competition is fierce.
 …
These factors could keep your child in their "shy shell".
 …
According to Google's dictionary, shy is "being reserved or having or showing nervousness or timidity in the company of other people." And being reserved is defined as "slow to reveal emotion or opinions."
 …
While acting is a learned skill, many children act without knowing they're acting. Ever play "pretend" with your siblings? Or talk to imaginary friends? These are subtle forms of the acting craft.
 …
Actors love the ability to become someone else; to portray a character that's engaging. For children, this form of "play" really is no different than reading the words from a script and creating a character in their mind.
 …
Let's put the shy factor on the side for a minute and look at some other acting benefits for your child:
 …
* Creating a character will give your child a task. This task will occupy them enough to make them want to put down their electronic games for the time being.
* Once their character is complete, perhaps they want to fabricate a second character to interact with.
* Now they can write a short script and act it out.
 …
By letting your child be involved in the entire process, it gives them a sense of accomplishment.
 …
Ask your shy child to share the characters and script with you and to act out their story. Then do it in front of family members, such as grandma and grandpa, or neighborhood friends. Then have them ask their friends if they'd like to be involved in making up some characters and maybe add some music. Bringing friends into their circle of acting can help bring a wallflower out of their shell. Once you've noticed that your child is enjoying the process, you may want to consider enrolling them in an acting class. Many skills are taught in acting class, such as learning how to express emotion, teamwork and seeing a project through completion. This leads to building confidence. Acting classes can also supply a supportive environment. There is often a level of respect and acceptance in the room, with different children in different stages of their lives, all of which your child can draw experience from.
 …
With exercises being performed in a group, there is no pressure for them to be alone in the spotlight. Encouragement to try different situations is exciting!
 …
 …
Regarding show business as a money-making career for children, Adele has some advice that may be hard for parents / guardians to accept:
 …
"I do not recommend that shy children should get involved in the industry.
 …
"The kids selected for print ,TV or film must be able to look at, and respond to casting directors in a happy and confident manner.
 …
"The competition factor is so great on all age levels, that why would a casting director choose someone who is shuffling their feet, looking away, uncomfortable and fidgeting, as opposed to a non-shy child?"Obviously that child is totally unsuitable for on camera parts, but even for print, it is a problem. For print the child must engage with the camera, be relaxed and enjoy being photographed, and comfortable following the photographer's instructions.
 …
"I have interviewed many cute but shy children, sometimes it is just fear of meeting a new person and (according to the parent) the child warms up slowly but eventually. Well, there is no warm up time at castings. The child must be the type of child who is 'on' always.
 …
"When this business is just a dream of the parent, without that parent having realistic expectations, it is truly not fair to the child. Let the kid be a kid. Not every child is cut out for this. And perhaps in the future, the child may be comfortable in the presence of strangers, or in front of a camera, but to pressure a child not happy in this situation is simply cruel."
 …
Overcoming shyness is possible. There have been several well-known actors who appear outgoing but are / were shy. Huffington Post cites people like Will Ferrell, Johnny Depp and Lady GaGa, to name a few.
 …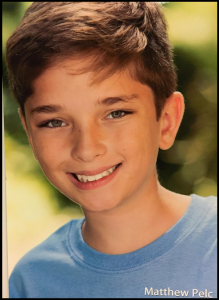 Matthew Pelc, a 12 year old East Coast actor has learned to cope with being shy.
 …
"I come alive on stage because I can let all my feelings out in a comfortable environment while having fun with some new friends! If you are shy there's not a thing really to worry about because everyone is probably as nervous as you are and you just have to tell yourself  'I can do it!'"
 …
If you or your child are interested in learning more about acting classes and opportunities,
click here
!
 …
Photo credit Footlights LLC of Martinsville.