The film Jersey Boys has been a big stepping stone for these two New Jersey actors,  Renée Marino who plays Frankie Valli's wife, Mary Delgado, and Johnny Cannizzaro who plays Nick DeVito.
The journey Renée and Johnny have taken to get to this point is an amazing one. It teaches us a lesson that stardom usually just doesn't happen overnight. Hard work, dedication and a strong willingness to learn and never give up is what catapulted Renée and Johnny to this spot.
So, fellow actors, beware! You too can do this if you have your heart and mind in the right place!
Let's see what Renée and Johnny have to tell us.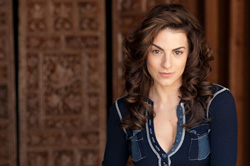 Renée Marino is very well known in New York for her stints in numerous plays, including Broadway's Cats. She just recently moved from New Jersey to LA to broaden her career horizons.
Photo by Jill Stokesberry.
You've been very successful in New York with Broadway shows. How is filming a movie different from working on stage?
Filming a movie is completely different than working onstage.  When your onstage the "show must go on", because you're in front of a live audience so no matter what you have to make it work.  In film, if you mess up a line or a costume may rip and it's okay because you can do one more take, or several.  When  performing on stage, the actor is usually responsible for doing their own makeup (unless you have very specific character makeup) and you share a dressing room with others, (unless you are a principal role).  I remember getting to the Warner Brothers lot my first day filming and screaming with excitement because I had my own trailer and I couldn't believe I had a TV, refrigerator and couch just for me!  One of my personal favorites about being on set, as opposed to the stage, is the FOOD!  I am quite a "foodie" and having an amazing caterer right there on the lot everyday was incredible, and something I am not used to but appreciated immensely!  As far as the actual process as a stage actor vs. a film actor, not having the instant gratification of the live energy and reactions from the audience was something I quickly had to adjust to.  There is a lot of waiting on set, while on stage, you are constantly "active".  Even during tech, you are prepared to be on your feet for 10-12 hrs, even if its just to stand there for the lighting crew, but when you are filming, you get to take a load off, while your stand-in goes into your spot as the crew is making adjustments such as changing the camera angle. Therefore, the idea of a stand-in was very foreign to me when I first got on set!
In Jersey Boys, you're an over the top scene stealer. How did you perfect the "too much drama" that actually worked for your character?
Thank you SO very much for saying that, That means a lot to me!  I believe I was able to pull off that "too much drama" from being brought up in an Italian-American family where immense love and passion were extremely prevalent.  In turn everything, such as the stories we expressed and the compassion we all shared was bigger in our house as opposed to many other families, and the volume in our voices matched that! Therefore, I brought forth those qualities when playing Ms. Mary Delgado.
Since you're from New Jersey, did you have to fake your New Jersey accent for Jersey Boys or did you use your regular speaking accent?
As far as my New Jersey accent in the film, I simply allowed the accent that I've listened to my entire life take the reigns.  I spent time training in college to let go of that "regional dialect" so it felt good to just let it fly for the film!
You've done lots of touring for shows, sometimes on very short notice. How did this affect your family life? Did you always have a bag packed and ready to go?
I spent three and a half years of my life touring, beginning with "Cats", then "Disney's High School Musical" and then "Jersey Boys".  This was one of the most exciting times of my life because I was getting paid to do what I love while seeing the world!  I felt like I was on a paid vacation all the time! Touring is definitely hard when you have to miss important events like family birthdays, and holidays, but there are always sacrifices that have to be made when you are working towards your dreams. Thankfully, my family and friends have always been my biggest supporters so they understood!
You had a "swing" role in the tour of Cats as well as numerous other productions. What exactly is a swing role? How does the payscale work for a swing role?
I have been a swing for various shows, the first one being "Cats".  A swing is when you understudy several roles, and have to be ready to go on at any point.  I have been a swing for up to nine roles, and had various index cards and notes for each role.  After I completed the 25th Anniversary Tour of "Cats" as a swing, I felt like I could do anything, because that is one of the most physically demanding shows that I have ever been a part of, and with that tour we would be on the bus sometimes for twelve hours at a time, and then have a show at night.  As a swing, you have to have a great amount of self-motivation because you are not on stage every night, and it's up to you to be build that stamina needed for the show.  You have to be completely prepared for anytime that you may have to go on that stage, even with a moment's notice.  There are many times you will go on in the middle of a show, and it's up to you to know exactly where you need to be, and what you need to be doing.  Usually, swings get paid a bit higher than those who are in the ensemble, because they have to know more than just one role.
Renée, why do you have the accent mark over the 'e' in your name? Who named you?
I have the accent mark in my name because that is the classic way Renée is spelled in French speaking countries.  As stated in Wikipedia:  Renée (often spelled without the accent in non-French speaking countries) is a French feminine first name.  Renée is the female form of René, with the extra –e making it feminine according to French grammar.[1]. My grandfather named me because he loved the name, and the accent mark is on my birth certificate as well!
You've always been a risk taker when it comes to your career. Talk about the risk you just took moving from the East Coast to Los Angeles and how you're pulling it off financially. Did your fiancé move with you?
I have always been a risk taker when it comes to my career, because for me it's always been about taking the next step, and following my heart in regards to my goals, as opposed to letting money be my guide.  There were several times that I was making the best money that I ever had while touring, and I decided to leave early, because I felt that I needed to move onto a new venture in New York City, and pursue Broadway.  I have recently moved to LA from NY with my fiancé and our dog, because I have always wanted to pursue a career in TV/film in addition to my theatre career, and I feel that now is my time to do it!  My fiancé is extremely supportive and did not think twice about moving, because luckily he owns his own business and he can work from anywhere.  He is also a great partner when I need someone to read scenes with! Hehe.
You're with a well known bi-coastal agency but are using the CA office as your main contact. Did you seek out bi-coastal agencies on purpose so you could switch back and forth between CA and NY? How did you come to find your agency and agent? How long have you been with your current agent?
When meeting with new agencies I knew that I wanted a great agency that had a strong TV/film department and that was bi-coastal as well.  I had a meeting with Gersh while I was filming the movie and then I came to New York to meet with the East Coast Office, and then we began working together in January.  I clicked with my agent right away, and loved not only when he explained how the agency works, but I loved his personality, which is VERY important to me.  I have to work with good people, who have good energy.  It truly makes all the difference.  The same is true for my manager of Valeo Entertainment who I signed with right after the film was finished shooting.  I chose to work with both a manager and agent, because I really wanted a great team behind me.  Also, a manager is more personal, and helps you not only with getting you appointments for jobs, but when you need some career guidance and emotional support! Hehe.
At what point in your career did you decide it was time to hire a manager and a publicist? Were they referred to you or did they seek you out?
As soon as I realized that I was cast as Mary Delgado in Clint Eastwood's directed "Jersey Boys", I knew that I would be needing both a manager and publicist besides my agent, because this was my first introduction into Hollywood.  Therefore, I wanted a wonderful and complete team of people who were behind me, helping me to focus in the exact direction that I needed to be.  I feel so grateful, because they really have been by my side, and anytime I have a question or concern, they are right there to help me out!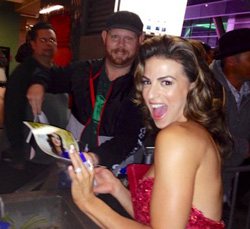 At the LA premiere of Jersey Boys. Fans asked Renée to sign autographs.
What was it like going to the premiere of Jersey Boys?
Going to the premiere of "Jersey Boys" was an absolute dream!  I was so full of gratitude and excitement leading up to that night and I made sure to take in every moment.  I had an INCREDIBLE stylist named Amanda Reno who took such good care of me by finding me a gorgeous gown from Basler, jewels from the incredible Neil Lane, and hair and makeup stylists Randi Petersen and Marina Gravani!  We had a blast getting ready, and then stepping onto the red carpet was SURREAL!  All of the photographers and interviews were amazing, and I loved answering all of their questions.  At one point, right before I walked in to see the movie, I saw many fans standing past the ropes with pictures for me to sign, and I was so happy to go over and show them some love!  I felt so very lucky to be there, and experiencing something so magical as my very first movie premiere!
What's the most important advice someone told you early in your career about acting, and / or life in general, that's stuck with you forever?
I have received some invaluable advice over the years and the foundation of who I am comes from the advice and love that I received from my beautiful family.  They have instilled within me key values that may sound very simple, but are ones that many overlook in their search for fame, fortune and success.  These values include having respect, honesty, responsibility  and one of the most influential pieces of advice came from my father Frank Marino, who said to me, "Always stay true to yourself and don't let anyone change you".  This advice serves me each and every day in not just my career, but every situation that I encounter. In this business, it is extremely important to train and continually hone the craft, but if you do not have a strong core as a human being first and foremost, all the training in the world will not allow people to truly connect with who you are, and not just what you do.
Do you submit for work on your own on top of what your agent sends you?
I think that if you are working with an agent, allow them to do their job with submitting you for work. With that said, YOU are the one who will always be working the hardest for YOU, so remember to keep open to what auditions and projects are happening.  I always keep an eye and ear out to what is coming up, and if there is something that I think is right for me, I will let my manager know, because sometimes it could be a project that he/she didn't think I would be interested in or right for!
Are you a member of Actors Equity Association? What benefits do they provide you?
I am a proud member of Actors Equity and have been since 2005.  I feel really taken care of being a part of this union that provides us with insurance, various contract benefits including monitoring safe working conditions, programs such as tax assistance through VITA, access to incredible service organizations like The Actor's Fund. http://www.actorsfund.org 
Do you have an acting coach? Do you take acting lessons?
When I got out to LA in January I went right to work with starting acting classes at The John Rosenfeld Studios.  In addition, I also began working with an amazing acting coach named Meredith Scott Lynn for when I had auditions.  I believe immensely in keeping up with class, and with coachings.
As performers, our bodies are our instruments and we need to keep them tuned up just like those who work with a computer everyday have to keep that updated and fresh.
Renée on the red carpet answering reporters' questions at the premiere of Jersey Boys.
What advice do you have for aspiring actors?
I love helping out young aspiring actors, because there is nothing like getting advice from those who have gone down the same path.  I would advise those pursuing a performing career whether it be acting, singing, dancing or all three, to immerse yourself in the arts through taking part in your local theaters, watching others perform, and continually train.  Even though this is such a competitive field, its all about Love, because that is why we chose this career path, for the love of it.  Therefore, spread that love and be happy for one anthers successes, because at the end of the day, when we can all be happy for each other, we are happy for ourselves too, and that makes the journey so much sweeter.  In closing, as my father explained to me, "Always stay true to yourself"!
Anything else you'd like to say?
Thank you so much, and I feel so much joy to be a part of NYCastings! Shout outs to all of those reading this, The Actors Fund, and NYCastings for this great interview! 
My Twitter is @ReneeMarino and my website is www.reneemarino.com
Johnny Cannizzaro moved to New Jersey at a young age. When the time was right, he decided to give it a shot in LA – and look what happened!
Photo by Daniel Lam.
What were you doing at the time you received the call that you got the part of Nick DeVito in the Jersey Boys film? What was your reaction? Who was the first person you told?
I believe I was at work in the middle of a very hectic day. My reaction was pure shock and excitement, It certainly helped to ease the stress of the day. The first person I told was my mother because she has been my biggest fan from the day I first stepped foot on stage so she was beyond words when I told her.
How did you land your first agent / manager?
We all have knocking on doors stories and early on I remember doing exactly that but I was fortunate enough to land my very first manager by doing a play. They happened to be in the audience and approached me afterward. It was a new experience for me having someone guide my career in the direction they saw it going which was hard to get used to because it didn't always necessarily match up with the way I saw it going. My first real agent was based on a referral from a friend who I worked with on another play. We connected and they had worked diligently for me for several years.
What was it like getting the part of Nick DeVito before knowing which actors would be playing Frankie Valli, Tommy DeVito and Nick Massi? Or were you given that information while the rest of the world had no clue? Did you have a chemistry test with any of them?
I was elated just to be involved in the film. No chemistry test for me in this case, but when you have such dynamic performers playing the leads, that's where the focus of the chemistry was directed. I think we all found out around the same time about booking the film. Once I heard, John Lloyd Young, Erich Bergen and Vincent Piazza were already attached. I had been a fan of all of their work on stage and television then having Michael Lomenda thrown into the mix was the perfect final ingredient to make that iconic Four Seasons sound. It was incredible to work with and amongst all of them!

When you left New Jersey for LA in 2005 with no money and no plan, how did you manage? Were you scared?
I've always been a fly by night kind of person and when I moved out to L.A, I didn't really have a plan other than knowing I was crashing on a friend's sofa. Thinking back now, the thought of being scared never crossed my mind…at least not at the time. It seems crazy to me now that I would have taken such a life changing risk. Managing day by day wasn't easy but the struggle is a part of the journey and I was always just willing to sacrifice stability to do what I loved.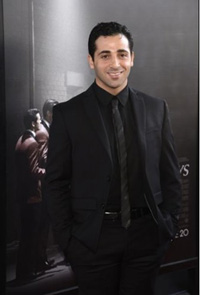 At the LA premiere of Jersey Boys.
What other roles did you audition for in Jersey Boys before being offered the role of Nick DeVito?
They had originally brought me in for the role of Tommy DeVito twice and then the role of Donnie.
What do you find so interesting about Charlie Chaplin, and how has he been an influence on your acting career? Did you see the Broadway play? What's your favorite Chaplin film?
I think hobo clowns are fascinating…maybe I was one in a past life. Chaplin influences everything that I do. Communicating with no words is the most powerful form of communication in my opinion and he was a master of that skill. I never had the chance to see the Broadway show because I was working in L.A at the time but I believe one of my cast mates, Renee Marino was in it. I hope to catch the tour next year!
What's the difference between working on a film such as Jersey Boys vs. the TNT series Mob City?
They are two completely different mediums. Time is always a concern because of the the budgets involved in feature films so the less takes they take to get the shot the better. I think there is a little more leniency with film but Mr. Eastwood tends to get what he wants in one take…maybe two at most, but the great thing about Jersey Boys was that Mr. Eastwood uses the same crew on all of his projects from craft services to post production so they've got it down to a science which makes for a very easy going and efficient shoot.

Do you still study with acting coach Max Decker? Who introduced you to Max? What's the most important lesson you've learned so far? Do you study with other coaches or take any other types of lessons?
I do. I met Max through a film producer I was personal assisting for several years ago. He has proven to be my saving grace in this industry and is still heavily involved in my career progress. He has an amazing gift for getting to the root of an actor's insecurities and access their vulnerabilities which as any actor knows is the hardest thing to do. The lesson he's helped drill into my head is to keep my performances grounded which helps make for a more captivating, real performance.
I have studied with several coaches in the past but like anything, it's a matter of finding one that matches you. Luckily, after many years of searching, I've found that and I am in class four to five times a week exercising and trying to improve my craft.
What was it like working with Christopher Walken?
The first time I met Mr. Walken was while staging the Finale number in Jersey Boys. I was placed right next to him and got to watch his genius at work. He's such an interesting person who you could listen to and talk to for days. In the final scene, I have to open the car door for him and got to sit in the back of a 1957 Cadillac with him for close to an hour in between set ups. Definitively an experience I will not forget!
What was the most uncomfortable scene you ever had to do?
I can't think of a situation that stands out particularly but I'm still early in my career. I'm always up for a new, interesting or slightly uncomfortable experience if it will help me grow as an artist so I look forward to them!
When you moved to LA, why did you choose to do a two year program at the American Academy of Dramatic Arts?
I learned a lot of great things at the American Academy. Working with the same group of people for two years is a valuable experience because you get to know one another on a personal level and figure out what each others triggers are. It helps prep you for life as an actor.
When did you join AEA and SAG-AFTRA? What benefits do you utilize from these unions?
I joined SAG-AFTRA and AEA around the same time. Both unions are essential to work in the entertainment business on a professional level. Not to downplay the many wonderful non-union projects out there, but it's definitely a necessity to join at some point. The mistake a lot of actors make is being in a rush to get their union cards when it doesn't come into play until you already are working professionally or at least semi-professionally.
You were in the soaps General Hospital and The Young and the Restless. What was the difference between working on these two soaps?
Soaps, for the most part, are the same. They move very fast and a lot of time they are shooting 60+ minutes of footage per day and just need to keep moving. I had a great time on both.

You also play guitar and write. Did you ever take formal guitar and writing lessons? What type of music do you create? What are you currently writing?
I took formal lessons when I was young but only as a hobby. I like to think I carry some of those skills with me still. I create whatever happens to inspire me at the time. I am constantly writing. I think it's a part of being an artist to constantly work on new material. It's nice to be able to write for yourself because then you don't have to leave your career in the hands of a casting director. Cast yourself.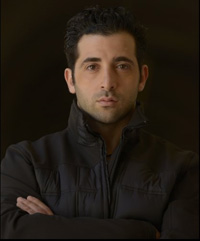 Johnny has had success with several photographers but the chemistry is best with photographer Daniel Lam.
Who is your professional headshot photographer? How'd you choose him/her? How often do you get your headshots updated?
I've used many photographers throughout the years…it's similar to finding a manager. It has to be a match, someone who understands your type and what you're looking for. I've been through four or five over the past several years, but have been using the same one consistently lately. His name is is Daniel Lam.
Do you have a significant other?
I prefer not to discuss the details specifically, but I always look for a woman who is easy to talk to, secure in who they are, independent and giving.
What technology do you use for acting?
Call me old fashioned but I like to do it the old way…with a script or sides and a pencil.

Please give advice to aspiring actors.
The best advice I could give would be to keep chasing the dream because you will catch up to it. This business is not only talent…it's luck, it's perseverance, it's passion and it's truth. Be honest with who you are first and the rest will follow.
Anything else you'd like to say?
It was a pleasure speaking with you. If your readers would like to follow me, I am on Twitter @JPCannizzaro and Instagram @JohnnyCannizzaro. They can also visit my website at johnnycannizzaro.com for future updates and upcoming projects. Thank you and I hope we can do it again soon!