Tabrett Bethell is best known for her role as Cara on the TV series Legend of the Seeker. She started out as a sidekick and quickly became a fan favorite which resulted in her being upgraded to a series regular. To most actors, this is a dream come true, but it comes with a lot of life altering decisions.
Interviewing Tabrett was effortless. She is so honest and truly appreciates everyone and everything around her. Completely different from character Cara!
Tabrett gives us an inside look at how things progressed with her career and how she overcame her fears.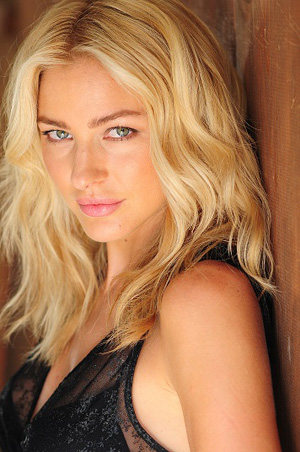 Tabrett Bethell was most recently seen on ABC's Mistresses as Kate, the Australian sister to one of the main characters played by Brett Tucker. How fun to hear Tabrett's Australian accent!
Photo by Russell Baer Photography.
As an Australian actress working overseas, do you have actor unions such as SAG-AFTRA? How do you protect yourself with non-union status?
Yes, there are unions to join here. When I worked on the series LEGEND OF THE SEEKER it was supported by AFTRA. So during that time you are supported with that union. A lot of actors are with SAG here in the States. SAG is great to be a part of here as if you do a SAG project you know you will be looked after and protected very well and the rates are excellent. If you join SAG you are covered for medical and many other various things here in LA. I know I am SAG eligible and joining SAG is something that is on my to do list. I frequent back to AUSTRALIA a lot so I haven't gotten around to joining but if you can it's definitely worthwhile. In terms of protecting myself I am guided by my management and always refer to them if I have any questions in protecting myself with such things. Most of my actor friends are with SAG. As far as I know you have to be SAG eligible to join. There was a merge with AFTRA and SAG but to be honest I don't know enough about it.
You recently did your first Bollywood film, Dhoom: 3. Tell us about your filming location and what differences you've seen in shooting for Bollywood vs. your other projects. Did you have a trailer? Were there differences in craft services? Who paid for travel and expenses?
The filming locations for Dhoom 3 were incredible. We first started in Chicago. I had never been to Chicago so I was excited to explore the city in my downtime, I loved it. The second location was Switzerland. A few days in Zurich and then we caught a flight to Lake Lugano which, I won't lie, was a delicious experience. The hotel was on a mountain overlooking snow covered mountains on the other side and a lake that looked like glass; breath taking. And then finally the last stop was Mumbai, India. I adore India and travelling so this was very exciting for me. To be honest there wasn't much difference from Western film sets to Eastern film sets except of course for the language barrier. But to be frank, each film set always has its own unique attributes and from my experience no film set has ever been the same as the one before. The cast were very jovial so this made shooting fun and relaxed. I had a lot of scenes with Uday Chopra and he is a real hoot to work with. Craft services [food] was always a mix of Indian food and Western food and a stack of Chai tea – and there is no Chai tea like properly made authentic Chai tea – it's delicious. All costs were paid by the production and I was lucky that most of the time I had my own trailer. That's always a plus!!! Initially I was booked for Dhoom 3 for a certain amount of time and then the time frame was extended by six months. I didn't see a full script until towards the end of filming as they wanted to keep the plots top secret – so that was something I had never experienced before. It was a little daunting. I'd get my scenes and sometimes my scenes had a lot of Hindi in it so I'd be unsure of what the scene was exactly about and often this wouldn't be explained until right before shooting so I just had to show up with a strong character that I'd created and trust that the director had my back.
You're best known for your role as Cara in Legend of the Seeker (LoTS). What was your audition like? Who made you aware of the role? Were you given sides in advance? What were you told about the character before you went to the audition? Who was at the audition with you? Did you get the job from the first audition or did you have more auditions, chemistry tests, etc? What did you wear?
My audition for LoTS was very interesting. I thought I flopped it and l left the audition and drove to the beach and sat in my car and cried for three hours, called all my friends, told them I'd made a mistake wanting to be an actor, and I felt humiliated and wanted to go crawl under a rock. I maybe even went and bought a stack of chocolate just to really feel bad. Then three days later I found out casting called and wanted me to go back in as they had some notes and wanted to see me do it a couple of different ways. I was shocked. My agent RGM had sent me the audition and I remember reading the material and not wanting to go in. I was very unfamiliar with this genre and was still very new to professional acting. I was given the sides [piece of script] in advance and saw two acting coaches. It was very fortunate that the character came from a series of books written by Terry Goodkind so there was a lot of information on the net but I still had so much fear about being able to portray her. At the time I was like, How to a play a bad ass lunatic assassin in a foreign world talking about the midlands and magic and fight with magic agile sticks. How do I do this and be believable? I didn't have any process as an artist back then, only passion. The audition was with a lovely Australian casting director called Faith Martin. It was taped and sent to the show executives and network. At the time I didn't realize how lucky this was. I wasn't auditioning in a room full of writers, producers and casting directors who were watching my every move. There were no chemistry reads; it was as simple as turning up with Faith and putting a tape down.That's it. By the recall I walked in with the knowledge of the notes they suggested, an idea of what casting liked and marrying the lot and then ultimately making it my own and doing the best I could. I wore my hair in a half braid, shiny black satin pants and a black tight singlet.. I may have even taken my salad bowl mixer as a prop (my weapon). The rest is history.
Cara was brought into the end of the first season as a side character who was then upgraded to a sidekick to the main character for season two. What did your original contract call for in terms of work?
When I went for the audition originally, from memory, it was only for a recurring two episodes. Then when they saw my tape they came back and said it's possible she will become a series regular and asked if I was interested in doing this. I couldn't do the recurring spots unless I was open to doing this. If I sign on I'm signing a seven year contract. That's how it works in the United States. They are seven year contracts. It's always a gamble but in actual fact if a show goes that long you have hit the jack pot. I had two contracts: one for the recurring two episodes and one for the series regular 24 episode season two. At the time I had only had the luck of doing a few indie films; I had never experienced or had to think about these sort of commitments. It was overwhelming for me at the time. I was questioning am I ready to possibly move to another country for seven years and is this a project I want to do for seven years. It was very scary. I was in my second year of professional acting so this was ultimately very scary for me. Little did I know of the amazing journey ahead.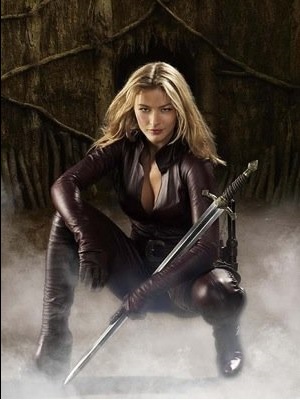 Picture courtesy of IMDB.
You had lots of physical fight scenes in Legend of the Seeker. Did you have prior training in any sort of martial arts or did the production train you? Tell us a story about this.
Cara had so many fight scenes in the series – almost every day we had a fight scene. I was lucky that as a teenager I had explored kick boxing and prior to getting the role on LoTS I was part of a set of TVC'S that were shot for a company called RABO BANK where I had to learn a set of fight sequences and fight training. I enjoy martial arts, I love learning choreography and fighting. I enjoy stylized martial arts and have a dance background so it was really amazing. Unfortunately because I came on at the end of the show everything was already established and there just wasn't much time to have proper fight training. TV land is so fast so I would just learn the choreography and hope for the best. I was lucky that I became friends with one of the stuntie's, Craig Dunn, on set and we would catch up once a week after shooting and he would show me things and train me so I became a better fighter. He became my confidant. I became a better fighter because of him. My endless gratitude goes to him. At the beginning, my outfit, before it was modified, was very difficult to walk in let alone fight in so I was always trying to not look like a praying mantas trying to fight or trying not to slip over in cow poo when we were out in the forest. I wore these boots and they were a nine inch wedge and walking or fighting in mud is not an easy feat in the shoes – my heart would always race before a fight sequence from excitement and absolute fear. I remember doing a fight sequence and I got punched in the face twice and I thought, "Wow, I'm actually in a fight here. Awesome!!! No one better mess with me cause I definitely feel I'm a trained fighter now. I remember doing a fight sequence with the cast in the rain for about six hours one day. It was freezing and brutal – boot camp. At the time I thought I was going to die. I thought, "If I have to do another spin kick I'm going to vomit. I would go home and sit in the bath and often not be able to reach my arms over my head because I was just so sore but looking back now it was really an experience of a life time.
As a sidekick, did you ever think your character of Cara would become as popular as she did?
I kind of knew after I shot the last episode of season one that my character would come back for season two. The show wanted a new character and Cara, who I was portraying, seemed to fit what they wanted. I honestly felt like I had no idea what I was doing playing Cara. I was sure they would fire me after a month or two after starting season two. My confusion of not knowing how to play her started to come off and read as funny. And then Cara became funny but that was really Tabrett just trying to mask – what the hell do I do with this line? I guess you just never know how things will turn out and that was an excellent obstacle. My confusion became a part of the character; it made her funny. An accidental discovery. It was wonderful that I had so much support from one of our producers MARK BEASLEY who was stationed in New Zealand where LoTS was shot. He would come into my trailer all the time trying to ease my fears about the character. I desperately wanted to do a great job and he would say things like, "Tabrett, it's you, be you, you are doing a great job. I must have driven him crazy! I had no idea Cara would get so popular as I was quite naive throughout the whole process. It wasn't until after the show finished that I realized what impact Cara and the other characters had on the fans. It's only really now with the support still from LoTS fans that I truly understand just how special that show was. I'm still shocked it didn't go for another season. It would be great if someone came along and wanted to do a LoTS movie. That would be fun! (Author's Note: To join the campaign to bring back Legend of the Seeker, go here: http://www.saveourseeker.com/ )
What are your thoughts on all of the fans and fanfiction written about LoTS and Cara? Share a fan story. (You can read LoTS fanfiction at https://www.fanfiction.net/tv/Legend-of-the-Seeker/ )
Ok, what is fanfiction? Do I need to start Googling?
I adore the fans. They are so loyal and supportive. I remember receiving a beautiful gift box at the end of season two. It was this huge handmade leather bound book with fan letters, songs, poems and photos of fans from all around the world giving support for Cara and myself. I remember sitting in my agency at RGM and opening this tremendous gift. I was so overwhelmed. I went through a massive personal journey during that show and to receive such a heartfelt gift from people all around the world was so incredible. I didn't know that kind of stuff actually happened and I was so humbled that my character had touched so many hearts. It overwhelms me to do this day. But I honestly I couldn't have done it without the amazing writing that I was gifted with for my character.
Studying the script on set of the movie Oren.
The fans are truly remarkable. They actually helped me finance a short film that I put through Kickstarter called Oren written and directed by Tahyna Tozzi. They got right behind the film, came up with creative ways to generate money and we ended up overshooting the financial target with their help. I truly love them and feel so blessed to have like minded people behind me supporting the arts.
We learned that Cara has no male/female boundaries when it comes to love. Was this something that was discussed when you were brought in for season one or did this progress as the show moved forward? Were there any talks about kissing scenes with males and females?
To be honest I didn't ever think twice about this. Being intimate with male / females was part of the character and it didn't ever feel like an unsafe environment to express this creatively through my character. I'm sure I was probably spoken to about this and had support if needed but the memory doesn't register as I just didn't ever feel I had a problem with this. The juicier and darker my character got the more excited I got. BRING IT ON! And when I started to feel like I had a better understanding of Cara this process became rather thrilling. That's what I love about being an actor – it gives you permission to do things you wouldn't normally do. And how exciting to play a character that gets to enjoy the best of both worlds, both sexes, how fun! My mother became a mad fan of the show. She would call me in tears when watching Cara being tortured and I'd be like "Mum, chill, it's a TV show, it's not real. I'm still here, unharmed.
You started out as a model and cheerleader. What made you decide to give acting a go? Why did you choose Screenwise as your acting school? What was the most valuable lesson you learned while studying?
Well, I was always passionate about the arts. I actually started in theatre when I was a young teenager but I had a stutter and was painfully shy and just felt petrified that I would stutter on stage and people would laugh at me. So I left it for awhile. Modelling was a career I fell into and I guess I got stuck in it for many years because the money was just so good. But as the years went on, my burning desire kept growing and growing to go back to acting. It got to a point where I just couldn't take it anymore and I made the transition. I remember I really wanted to go to NIDA in Sydney, Australia and study but that was a three year course and I was 26 years old at the time and just didn't feel I had three years. Also, it was a full time course and I was used to supporting myself from modelling and just thought, How am I ever going to be able to support myself? So I started Googling and found Screenwise. It was a part time year course. I had a meeting with the Director there, Denise. I was very green but she saw something in me, maybe my burning passion and Denise was at the beginning of the early stages of my career. I booked my first feature film before graduating the course and then it all happened very quickly. I'm not sure what the most valuable lesson I learnt was while studying as I'm still studying now. My process is ever evolving and I'm constantly learning how to go deeper, closer to my truth. Acting is almost a spiritual process for me. I guess what I learnt is that there is no one way. It's an amalgamation of lots of different tools and techniques, and what works for one scene or one character is not going to work for another. I love to paint the canvas with the tools I have learnt then trust that it's all there and then let my intuition take over; keep cooking the character and then let the magic of the scene take over. Art is such a mystery.
You were cast in the ABC Pilot POE about Edgar Allen Poe, which ABC did NOT pick up. What was going through your mind at the time while waiting to hear if the show was going to series? Where was the pilot shot? Who informed you it was not picked up?
POE was shot in Toronto, Canada. I was very excited about this project from the moment I read it. Normally when I get a surging rush through my body while reading a project I know I have a good chance of getting the project or getting positive feedback. I was very disappointed when it wasn't going any further and shocked as we all couldn't believe that POE didn't get picked up. There was so much heat around the pilot and we all thought it would go. There were even talks about it getting greenlit before waiting until the upfronts in May. The date to know what pilots get picked up always falls on my birthday in May…May 13th.. So we were all waiting for the news.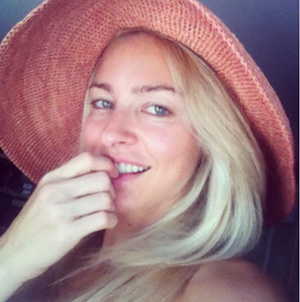 Tabrett chilling at home in Los Angeles.
I'm not sure what was going through my head while waiting. Excitement and anticipation, as you know, that if your pilot gets picked up your life is about to radically change. From my experience while shooting LoTS there isn't much time for life except on weekends if you're not sleeping. It's very intense working on a show depending on its structure. Lots of early morning calls and late nights, but you know it's not forever as the down time in between projects can often be long, something I was yet to learn. So there is definitely a mix of that going on. After shooting POE in Canada I had returned to Australia to celebrate my 30th birthday. I found out the news POE wasn't picked up through various sources, my friends who were trailing Deadline (a website that tracks pilots that get picked up), my reps, the other actors in POE and of course the writers, director and producer. I was looped in all the emails and everyone was pretty disappointed. I remember I turned 30 on that day I found out and I thought, Well, this is my queue to move to LA. So that's exactly what I did and hit the ground running. Of course you are sad when a project that you are so invested in doesn't go ahead but this is such a fast game that all you can really do is look forward and be grateful for the experience.
Anything else you'd like to say?
I'd like to say a huge thanks to all the LoTS fans for all the support throughout the show and the continual support for my upcoming projects. Especially for the support with the very special Oren Movie that the LoTS fans help fund through Kickstarter. Written and directed by Tahyna Tozzi. It's a very special project. I play the character EMILE, about a woman that works her way through a tragic loss and in the process discovers an accidental oracle. The film was shot in May and the edits look amazing. We are excited to enter it in all the upcoming festivals this year. Also a huge thanks to my reps EL ERDMANE at RGM and KIM CALLAHAN at INDUSTRY for all the support throughout the years and to all the teachers that I have met throughout my journey so far for sharing their wisdom with me. The arts is a hard, tough, gruelling industry. It will test your soul in so many ways but it truly is so rewarding. How wonderful to be part of an industry that gifts audiences the way it does. Never give up on your dreams, believe in your artist and keep going because you will eventually get there!