Simms May, a budding child actor, has recently left his mark on the big screen with his portrayal of the goofy kid, Norman Fisher, in the film adaptation of Judy Blume's novel, Are You There God? It's Me, Margaret.
At the tender age of 13, Simms has already demonstrated an extraordinary ability to bring characters to life, effortlessly immersing himself in complex roles with a depth beyond his years.
This NYCastings interview provides an exclusive look into Simms May's world, as we discuss his time on the set of Are You There God? It's Me, Margaret, his method for portraying a multifaceted character, and how this movie has influenced his personal development.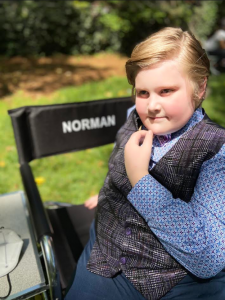 You play Norman Fisher in the theatrical release Are You There God? It's Me, Margaret, based off of the Judy Blume book written over 50 years ago. How'd you hear about the role? Tell us about your audition.
I am blessed to be represented by J Pervis Talent of Atlanta and they sent me the role to audition for in January of 2021. I was super excited as I thought it was a great script and an awesome role – but my mom was really excited because it was a book she had read and loved as a young girl. We actually read the book together in preparation for my audition.
It was a self-tape, and all my callbacks / auditions were via Zoom as this was during Covid. After the initial submission, I celebrated my first callback on January 20th. Then I had a one-on-one session with the amazing director Kelly Fremon Craig. I can't say enough about how wonderful it was to work with her. Not only did she truly care about each one of us but took the time to sit down … literally on the floor… to discuss and work through any questions we had. Kelly asked me who I thought Norman should be. The initial audition called for Norman to be an awkward, funny kid with thick glasses and ill-fitting clothes. While on set, Kelly and I decided that Norman was much cooler and more confident than that. Norman still sported the glasses, which I loved, but was defined more by his snappy sweaters and confident attire and attitude.
After the session with Kelly, I had a couple more Zoom callbacks. Each lasted about an hour but were super fun. They let me improv the scenes which is what I love to do the most. I got the final call in late February and then headed to film in Charlotte, NC the first of April.
What tips and tricks can you share regarding remembering your lines? Did you forget any lines at all and have to do re-takes?
Studying the script and practicing with a live reader makes it easier for me. I have tried a couple of the apps, but I prefer a reader. I am a quick learner of my lines because I am usually really excited about the roles that I get auditions for. I did not have any retakes, because I did not know my lines, but I had several retakes in the scene where Norman kisses Janie as I had just turned 11 and that was my first kiss!! – forever documented on the big screen.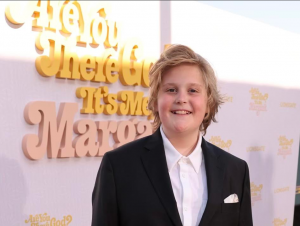 You walked the yellow carpet at the premiere which was held in California. Being from Georgia, tell us how a premiere works.
One of the cool things about Are You There God is that the cast of kids were from all over; Georgia, Mississippi, North Carolina, Chicago, Canada and of course Los Angeles. Being invited to the premiere was part of my contract, but if it hadn't been, I would not have missed it for anything. We are all great friends in life and have talked or texted every week for the past two years since filming. We all were super excited about seeing the final product but were just as thrilled about being back together and hanging out for a few days. I bought a suit for the premiere, but I was most excited about my new Jordans that I wore with it. What you may not have noticed were my socks and pocket square! Jason Johnson, the Digital Imaging Technician, created a caricature of Norman. Norman stickers were everywhere on set and I loved it so much that I had socks and a pocket square made with Norman on them.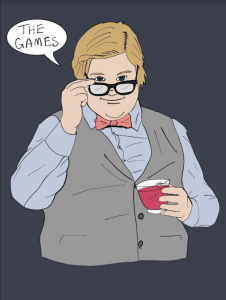 You're in 7th grade, so you're how old? Do you go to public / private school? It's known that starting middle school and into high school, there's a lot of bullying. What types of precautions do you have in place if that ever happens to you?
I turned 13 in January of this year and I attend The Westminster Schools in Atlanta. It is a regular / day school and pretty tough academically. My favorite subjects in school are History, Spanish, Musical Theatre, PE and recess!
Middle school is just hard for everyone, I think AYTG addressed some of the awkwardness and pettiness of middle school, but yeah, bullying still happens all the time. For me, mostly due to my weight, but I try to stick to the thought that no matter what they have to say, it is not going to have an affect on me. They are wasting their breath and are just "being mean to be mean". It's hard, but unfortunately most of us at this age have experienced it.
Do you think that acting has made you a stronger person because you're able to control emotions?
Yes, I do! I think it has kept me out of situations by being able to control myself and my emotions. I think it has helped in other ways as I can hold a conversation with just about anyone and I am not afraid to get up in front of a crowd or speak to 'important people'.
Let's talk about improv! You were in a child actor improv group. What a great way to be active and learn the craft! What are your favorite improv games?
My very first acting class was Improv. My instructor, Julia Jones, is amazing. She made it fun and taught me so very much! Julia was the first person "to see something in me" and she is still my acting coach today, and her Improv class is still my favorite. We have held several Improv shows across Atlanta in front of live audiences. My favorite improv games are Werewolf, Evil Twin and Zip, Zap, Zop. I especially enjoy the challenge of quickly coming up with my own characters and ZZZ is a fast paced fun game.
There are lots of kids you interact with in the film. What do you enjoy most about collaborating with other actors on set? How does teamwork contribute to the success of a project?
I can honestly say that when I discovered acting, I found 'my people'. Actors are amazing, creative, weird, fun, accepting, people. I just fit. As I said above, the entire cast of AYTG became great friends and I honestly think we will be friends for life. You do your best work, so everyone and the film can be successful. It is a true team effort by everyone! And please don't forget to mention all the people behind the scenes that make all the magic happen. I had no idea, and it was truly amazing to watch and be a part of. Getting the part is super competitive, but when you are all there together, creating art, creating something amazing, it is no different than a team sport where everyone works together to win.
Being in this movie must've catapulted you into a new kind of "normal". How do you stay grounded and maintain a sense of normalcy in your life despite being in the spotlight?
Ha! That makes me laugh as I don't feel that I am in the spotlight, I am just a normal kid trying to survive middle school. Now, it is fun when someone recognizes me and super special to sign an autograph (I need to practice this because my age group never learned cursive) but it is important to my family that I stay grounded, do what I love, but focus on my education.
You have a great name, Simms! What's the story behind your name?
Thank you! Well, I am the youngest of five children. I have two brothers and two sisters. When my next older brother was five years old, he Prayed for a little brother. William was six years old when I was born. Simms means "God has heard you", so basically, I am the answer to his Prayers!
What advice do you have for aspiring young actors?
Work hard! Practice! Don't give up on your dreams! Celebrate the accomplishments as they come. It does not have to be a role… celebrate every audition, every callback, every joke laughed at, every tear you can squeeze out and keep getting better every day. Baseball players don't make the team without working hard and practicing, neither will actors. Do your best, be yourself and everything will work out.
Anything else you'd like to say?
First, I want to thank you for asking me for this interview, it has been fun. I must thank J Pervis Talent, especially Joy Pervis and team, for taking a chance, signing me and having the faith that I might earn the opportunities that they have put in front of me. Also, I want to thank my manger, Margot Menzel, of Luber Roklin Entertainment, Los Angeles, CA, for taking care of me in Los Angeles. I'm indebted to Julia Jones for seeing something in me and helping to pull it out of me during all my crazy auditions. Thank you Julia and Joe Massingill and everyone at Imagination Emissary, Marietta, GA, for the training and talent, that share their knowledge, enthusiasm and passion for this crazy business. Finally, a big thanks to all the casting directors and directors that have taken the time to watch my auditions and that have given me a second look or two.
I'm passionate about my faith in God, helping animals and those battling cancer. My favorite charities include St. Jude's Children's Research Hospital and the Leukemia Foundation.