Welcome to an exclusive DirectSubmit NYCastings interview with Ashlei Sharpe Chestnut, the actress who has made her mark on the iconic series Star Trek: Picard. We had the privilege of delving into Ashlei's journey, from her initial introduction to the Star Trek universe to her evolution as a performer within the groundbreaking series.
Prepare to embark on an unforgettable voyage as we delve into the intricacies of Ashlei Sharpe Chestnut's craft, her experiences on set and the profound impact of Star Trek: Picard on her personal and professional life. P.S. Ashlei Sharpe Chestnut was also on Broadway. Read on!
You play Sidney La Forge, Helmsman of the USS Titan, on the final season of Star Trek: Picard. With today's special effects and movie magic, give us some examples of when you had to "pretend" you were reacting to something that wasn't really there, or flying a ship that's not really a ship, action scenes. How did you handle all of that?
The majority of the scenes that took place on the bridge used a green screen which was actually blue, so there was A LOT of pretending. I had to pretend seeing explosions, pretty space creatures, and people who weren't even in the room. It was a pretty cool experience, because you're just using your imagination, even with hitting buttons on my console to fly the ship, it was like playtime.
The Star Trek fandom is very hardcore and loyal. When you joined the cast, were you aware, or given tips from production, that fans might ask you for upcoming spoilers, maybe even ask you to marry them? How did your character turn into a fan favorite so quickly?
Well first, I haven't had any marriage proposals from fans yet, at least that I'm aware of [laughs]. I had an inkling of how deep this fandom runs, because I've seen people cosplay characters and was aware of the excitement for this final season especially with all of the legacy characters returning. One of the jokes on set between a few of us newbies was that we hoped the fans would like our characters because if they didn't, we knew they would be extremely vocal. It wasn't until after episode 7 aired where I felt and heard from fans from so many countries about how much they resonated with my character. Our Star Trek fans are the best! Yeah, they are hardcore and loyal which made it more rewarding to know that my character became a fan favorite.
Was giving interviews, Comic Con, talking to the press a part of your Star Trek contract or did you just agree to do that on your own. When you decided to become an actor, even when you were little, did you ever think beyond just performing — that you'd be giving interviews? When signing an NDA, how does it work when you're doing an interview weeks in advance prior to an episode being shown — are you allowed to talk about spoilers since the interview won't be seen until AFTER the episode is aired?
No, doing press was not a part of my contract at all. Aside from fans promoting my work on the show, the majority of my exposure stemmed from my own publicity team helping to push me forward. There are so many things that I've learned throughout this journey specifically with a sci-fi show, like I knew Comic Con would be a given based on this franchise, but I didn't know the behind the scenes work to get there. A lot of people have "con agents" for these conventions, so I'm taking meetings now for that. I have already had inquiries to attend a couple conventions, but I'm trying to align them with my schedule. But what's nice is they cover hotels and flights, and you receive a fee among other things.
As for the NDA and giving interviews, that has been one of the highlights from this experience. Mostly because it's new to me. We started filming these episodes almost a year and a half ago, so when people are asking detailed questions about my experience and plot points, I've had to jog my memory. But what's also helpful was usually depending on which episode I was being interviewed for, I was granted access to screeners to be able to discuss episodes in detail. But not major spoilers for the season though, only things that were happening in those specific episodes because those interviews would be published after airing.
You attended the University of North Carolina-Greensboro where you graduated with a Bachelor of Fine Arts degree in Acting. What made you choose that University? Did you apply to several colleges or just that one?
I did apply to two other schools in Florida, but I had a really good friend at the time who raved about the arts program at North Carolina so I applied and got in.
After you graduated from college in 2015, you decided to move to New York to advance your acting career. Why did you choose New York? Tell us about the adventure it was of moving to the city that never sleeps.
What's funny is I initially thought I would move to LA. My mom and I flew out to LA the summer before my senior year of college to see if it was a city that I'd be willing to relocate to after graduation. By the time we left, I was sold and fully prepared to make the move across country. But my acting class had a senior year showcase in NY, and I had a lot of agent interest, so I felt it was best to go where I had made a few industry connections because my feedback was "let us know when you graduate and officially move here." But what's funny is, once I officially moved, none of those agents called me back or emailed me back.
My first year in New York I lived with two classmates from my acting class from NC. I had a little bit of savings, but I told my mom that I would "book something big" in the first six months, and asked if she could help pay my rent for those six months. Did I have any auditions lined up at the time? Absolutely not, but I hustled my butt off. I was sending my headshot and resume everywhere, I would mail them, I would stop by agencies pretending to have a meeting to drop them off, I even heard back from acting scams… good times.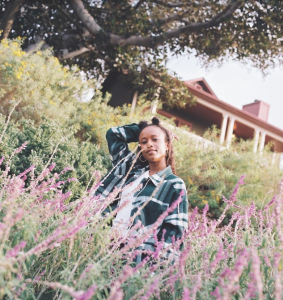 How did you meet your agents? Tell us about your meeting.
My current agent? I reached out via email during my run in The Crucible on Broadway because the boutique agency that I was with shut down and went into management. At the time I didn't think I needed a manager, so I sent emails to specific agents I wanted to work with — shoutout to IMDbPro — and luckily they agreed to meet. When I was taking those meetings, my main focus aside from looking for someone who would obviously advocate for me, was at minimum being with a team that had bi-coastal access, and opportunities for me to audition for bigger roles via casting offices that I hadn't worked with, etc.
Soon after you arrived in New York, you booked your first Broadway play, the Crucible, which ran at the Walter Kerr Theatre. Tell us about your audition, rehearsals, wardrobe, etc.
Sure, I met one of the casting directors for that show at One on One in NY. I asked what was the best way to follow up with her and she told me to mail her my headshot and resume. I thought she was blowing me off because I had been doing that for the past month and having no luck. But I did it, and about a week later she reached out to me asking for me to audition for this Broadway show. God, I was so nervous! It was my first Broadway audition but it was so chill. The process was fairly quick. The audition was actually on my dad's birthday, and the callback was the next day at Chelsea Studios, and at the last minute before my callback they sent sides for Susanna Walcott, the character I ended up booking, which is so funny because I had prepared extensively for another role and ended up booking this one essentially from a cold reading.
I had regional theatre experience prior to this show which was helpful because it allowed me some familiarity to jump into our eight show a week work schedule which can be taxing on your body especially with only one day off on Mondays. And for that show we had a lot of choreography and body contortion work so it was lovely that they had physical therapists on site that were free.
What's the difference between performing on stage vs. on screen?
There are so many differences but also so many similarities. I think for theatre the difference is, yes you're doing the same show for months and you're able to play and try new things throughout the run, but each performance it's like you only have one shot to get it right because each 500+ audience will never be in the same room ever again. Versus on screen, you kind of have the chance to do multiple takes in the moment, but you don't necessarily have the flexibility to come back and try new things after you've wrapped filming, unless you're lucky to get reshoots.
What's your advice for aspiring young actors?
I have a few pieces of advice, but I was talking to a friend the other day about FOMO (Fear of Missing Out) in our industry. I'd encourage younger actors to not get lost in this business. And what I mean by that is, it's important to have a life outside of acting. Because for me in the beginning, I would skip out on certain activities or trips or experiences in general because I was scared that I would miss an audition. Luckily the industry has changed with the development of self tapes now, but what I've learned is that what's meant for you, won't pass you. I'm a fervent believer on that. So I'd pass that advice along and recommend finding hobbies and exploring other things that bring you joy, because at the end of the day those life experiences will also help you become a better actor.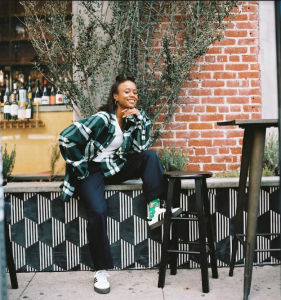 Who came up with your name? Are you named after anyone?
My mom. The Fresh Prince of Bel-Air was on in the delivery room, and I was named after Ashley Banks. But my mom wanted to change the " y " to an " i ".
Anything else you'd like to say?
Yeah, I'm really thrilled to hopefully be coming back to Broadway soon, and going into production for some of the work I've written. And of course, stream season 3 of Star Trek: Picard if you haven't already!