In the captivating world of cinema, young talents often emerge, bringing fresh perspectives and remarkable performances to the silver screen. Among these promising stars is Amari Alexis Price, a child actor who has captured the hearts of audiences with her portrayal in the film adaptation of Judy Blume's timeless novel, Are You There God? It's Me, Margaret.
Amari's remarkable work ethic, coupled with a humble and down-to-earth demeanor, made her a joy to speak with for NYCastings. Amari Alexis Price demonstrates a genuine love for acting and has some great advice for aspiring young actors.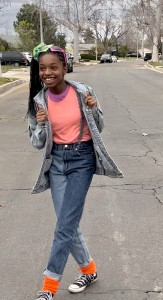 You play Janie Loomis in the film Are You There God? It's Me, Margaret. Being fairly new to the acting world, tell us how you won such a great role!
Playing Janie Loomis was so much fun! It was my first theatrical role. I had been in commercials but had just started auditioning for movies and TV.

I auditioned for Are You There God? It's Me, Margaret in 2021 and everything was self-tape during that time because we were still in quarantine. About a week after I auditioned, I had a callback and a week after that, I had a director's callback and then the next week I had a chemistry read with Abby Ryder Fortson, who played the lead role of Margaret. The chemistry read was my favorite part of the audition process, because we had to improv and I really enjoyed that. When the audition was over, I felt like I did a pretty good job with the material. I had so much fun improvising with Abby. I remember thinking, "This is what it would be like if I booked the role". Which I did!
How old are you? How did you get started in acting? Please share your journey into the world of acting at such a young age. Was it your idea or your family's idea for you to try your hand in front of the camera?
I started acting in 2021. Well, I started doing commercials a couple years before that, but I booked Margaret, my first role, in 2021. I had just turned 11 and now I am 13.
I wanted to start acting because a friend of mine was acting. I thought the idea of being on camera was really cool. My sister, Aiden, started acting at the same time I did, and my little brother acts also. His name is Kai. My little sister and I are actually in a film together called The Knife. It was such a cool experience to work together.
In the movie, you take Margaret to a Christian church. What are your thoughts on religion, specifically religious beliefs being portrayed in film and TV?
I am a Christian, like my character Janie, so it felt nice to show that on the big screen. I think religion is something that is important, but it can be a sensitive topic because people have different things they believe in. And that's okay.
I really love that Janie was Christian in the movie because it shows a part of her that other girls can relate to and something she enjoyed. In the church scene, Janie and Margaret were dancing to the music and having a lot of fun. My church friends and I sometimes do the same thing at my church, so it was cool to show that side.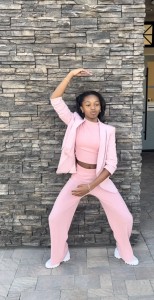 You're also a dancer. What benefits are there to dancing?
Yes, I love to dance. It keeps me healthy and it is great exercise. I don't stretch as much as I would like, but it's very important. It also helps with your flexibility, and I love the idea of being flexible. I was very flexible when I was younger, but not so much anymore. I also tumble a little and I have taken all sorts of dance classes. What I love the most about dance is I can put what I'm feeling into it. It's a great way to express yourself and that's something I really enjoy about dancing.
Has your participation in Are You There God? It's Me, Margaret brought you immediate fame? What did your friends say? Did any of them see the movie? Are kids that you never hung out with talking to you now?
I wouldn't say the movie has brought me immediate fame, but I would say that people are treating me a little differently now. Some people at school didn't really want to be my friend until they found out I was in a movie. Like there was a boy who barely spoke to me and then one day he told me his mom saw my movie and now he speaks all the time.
My friends at my old school and my new school, were really excited to see the movie. We even went to the movies as a group to see it and it felt great to have everyone show up to see me. They are super supportive about it.
Please tell us about a memorable experience or funny incident that happened on set.
There were so many funny incidents that happened on set like Katherine Mallen Kupferer, who played Gretchen Potter, and I kept eating all the props for the party scene. And one of the most memorable experiences was when I shot the scene where Janie gets dressed up for the party. That was the very first day of shooting, so I was so excited. Although the set was very fun to be on, we also had some memorable and fun moments off set also. There were days where the kids and the moms would rent electric bikes and we would go on rides through the park and to different places in North Carolina. There were also days where we would go to a pottery place or just hang out. The whole experience was just something I will never forget.
What are your future goals and aspirations in the acting industry? Are there any specific roles or projects you hope to take on?
I definitely want to keep acting. In the future I would really like to be in a horror film. It's my favorite genre to watch and it would be great to see how they are made. Another goal of mine is to just keep booking roles. I love being on set. It is so fun and I don't know why I would stop.
What other creative outlets or hobbies do you enjoy outside of acting and dancing?
I am also a track runner. I ran track for most of this past season, but had to miss the last couple of track meets because of the movie premiere and dance. I think I do want to continue with track because l liked being a part of a team. The kids and coaches were nice and we would encourage each other and cheer for each other. I learned a lot.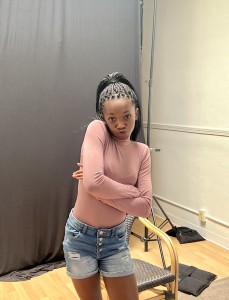 What advice do you have for kids who want to be actors?
I want kids who want to be actors to know that it is such an amazing thing / industry to be a part of. You have to work hard and you won't always get picked, but that doesn't mean that you are not great. There are so many different reasons why people don't get picked, so no matter what, just keep trying and always do your best. That's all we can do.
Anything else you'd like to say?
I would like to shout out my mom, Salena, for making this all happen for me and my dad, Denard for always taking care of us. I would also like to shout out my acting coach Pamela Azmi-Andrew who coached me through this, Ria Pavia and also Sara Arrington who was my coach on the set. They have all helped me improve and get to where I am today. I also want to shout out my agents Nick, Pat and Pierre at Pantheon and my manager Wendi at Atlas Artists. They are THE BEST. I appreciate everything they do for me.