A character's sexual development has become more and more complicated over the years. Back in the day it was easy to define a character's sexuality as gay, lesbian, bisexual, transgendered or straight. In today's world, there are multiple levels of the spectrum.
We talked to six actresses who have same-sex scenes whether emotional and/or physical to see how they understood and developed their characters. Charlotte Sullivan of ABC's Rookie Blue, Jes Macallan of ABC's Mistresses, Ali Liebert of Showcase's & SyFy's Lost Girl, Lauren Collins of Nick's Degrassi, Shiri Appleby of NBC's Chicago Fire and Elizabeth McLaughlin of ABC's Betrayal give us their perspectives on the development of their LGBTQ characters.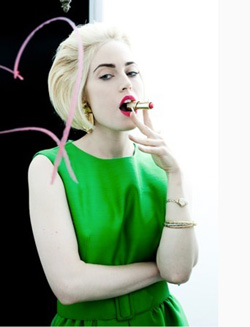 Charlotte Sullivan plays rookie cop Gail Peck on ABC's Rookie Blue. Gail meets Holly on the job and Holly stirs up feelings that Gail never experienced. It'll be interesting to see where this leads next season!You've been acting since you were a kid. Did you, and do you now, have an acting coach?

I just started training at Ivana Chubbuck's studio. My manager is dear friends of hers and arranged a meeting. Her method is substitution based whereby you take what's unresolved in your current life experience and inject it into your art. It's still very new to me but it's important to train and keep yourself busy in between jobs. For years I would sign up for classes and just never go because I was afraid of not being good enough. I didn't realize this until now but class is where you're supposed to eat shit and fail.

Is it true that you wanted to act because you liked David Bowie in "Labyrinth" and Johnny Depp in "Edward Scissorhands?" Why'd you get into acting?

This question has left me flummoxed. Heffalumps & weasels!?!? Why do I act? I saved this one for last because I don't know how to answer it. The reason I started acting in the beginning was because I loved fantasy and transformation. I think prosthetics and make-up are beautiful. There is a real artistry to molding ones face into a completely different entity. Bowie & Depp both inspire me to be more experimental in my expression. They're just the cat's whiskers. The hard part about acting is what you do with yourself when your not working. It's important for me to get offline and limit my internet usage and instead read more books, enroll in courses that ignite my creativity, look at the stars, take more Polaroids, volunteer in my community, seek adventure and be more reckless and irresponsible or else I would have to slit my wrists from restlessness and boredom.

Your "Rookie Blue" character, Gail, is super snarky. Was this a feature of the character from day one or did the snarkiness evolve as you felt more comfortable in the role? Did the writers just make Gail snarky or did they choose to do that after seeing your early performances and knew you could pull it off?

From day one Gail was supposed to be a snotball. Her last name Peck was chosen because she pecks at people. When you've been playing a character for so long your own eccentricities are bound to barf out of you every now and then. Our writers are like covert spies so you have to be careful what you say or it will end up in the show.

Gail's sexuality was never really revealed in earlier seasons. In your character's mind, did Gail think that everyone at the wedding would think she was gay because her +1 was Holly?

I don't think at that point Gail had started thinking about Holly in that way. You have to remember that Ms. Peck doesn't have many friends. I think she was just grateful her date wasn't a dingleberry.
A lot of people can't separate emotional and physical feelings. In Gail's case, it appears she's straight but develops emotional feelings for Holly, which make her want to physically be with Holly. In your mind at the end of Season 4, what is Gail's sexual preference? 
I'm not sure I'm ready to define it or if one really needs to. I think if Gail had been born deaf, dumb and with no eyeballs she still would have been drawn to Holly. It's not about gender in this case. It's about when your heart splits open and it's guts are splatter all over the walls. It's about falling in love.
 In Season 1 of "Rookie Blue", why did you suspect Gail might have lesbian tendencies? Do you do table reads on Rookie Blue?
 I've always questioned Gail's sexuality and I casually mentioned it four years ago to our show runner Tassie Cameron. She thought it was a beautiful idea and I'm honored she made it part of my character arc. Certainly not everything I suggest will make it into the show. I may or may not have asked if I could wear a green wig and pretend I was a near sighted robot. Whoopsie daisies!! Table reads are indeed a very important part of the creative process. It allows for you to stitch the show together with imaginative knitting needles.
What happened behind the scenes prior to actress Aliyah O'Brien (who plays Holly) briefly kissing you and you passionately kissing Aliyah in the precinct? Was there any "kiss" preparation? Did you and Aliyah pretend to giggle or something to make light of it? Did you discuss anything at all amongst yourselves?
If my foggy/senile memory serves me correct I can remember eating lots of chocolate mini eggs beforehand. Doing intimate scenes of any kind are usually inelegant and uncomfortable but in a strange way I think being two women made it easier. Both Aliyah and myself agreed to pretend like we weren't nervous. That would be our secret. It really helps having a scene partner who's as warm and delightful as Ms. O'Brien but unfortunately it doesn't always work out that way. I was the lucky toad in that scene.
Charlotte's Twitter: I'm not on twitter. You can reach me by air balloon telegram. Charlotte's website: http://www.charlottesullivan.net. What's not to love about Charlotte?!
How'd you meet your husband, Peter Stebbings, and how do you maintain a positive relationship with him since you're both in the business of crazy hours and different locations?

I met my husband years ago in a graveyard. Our schedules don't often align so at times it can be frustrating but when the cat's away the mice do play. Dolly Parton who's been married for 47 years says the secret to a happy and successful marriage is to "stay gone". What a wise butterfly she is.

Have you ever had a crush on a girl in real life?

Women are the sweet nectar of this earth. I'm quite mesmerized and infatuated by many, particularly Evan Rachel Wood. I love watching her performances. What a talented bean. It certainly helps playing my character when I love and adore women so much.

What excites you the most about your "Rookie Blue" character Gail? What do you dislike the most about her?

I'm over the moon by my storyline this year and I'm so excited to get back to work with Aliyah. The response from LGBT people has been gobsmacking. I'm so bloody honored that I get to represent them on television and I would do anything to defend and protect the gay community. They mean everything to me. I gypsy wish (hand on crystal ball) for marriage equality. P.S. I dislike Gail's wonky nose and noodle arms.

Anything else you'd like to say?

This advice is particularly geared towards young girls who are first starting out in this business. If you're ever in a situation where a producer or director wants you to wear something or do something that you don't feel is apropos and I'm talking about when things are being sprung on you the last moment that you didn't agree to beforehand – if you ever feel uncomfortable say so and know that you don't have to. I once lied and said I was a bible thumping Christian to get out of doing a nude scene. When I finally confessed my sins to the director after filming had wrapped she applauded me and said she would have done the same thing. Know your rights and lie if you have to. You're never to be repeated again in the history of human kind so don't go against your true authentic self. I stand by you.
I'm madly in love with UNICEF. They have saved more children's lives than any other humanitarian organization. They provide children with healthcare, immunizations, nutrition, clean water, education and emergency relief. There determination to reach children in need, regardless of religion, race or politics is exceptional. Please visit unicef.ca and give survival gifts this Christmas. Spread the love.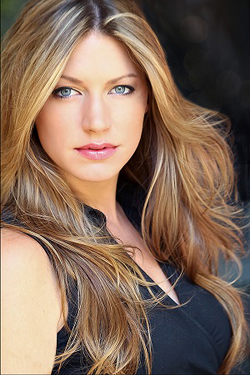 Jes Macallan took the world by storm when she won the role of real estate agent Josslyn Carver on ABC's Mistresses. Joss is a male-loving no commitment sexual being who befriends a female client, Alex, who makes Joss feel special. Joss decides to give a physical and mental relationship a try. Talk about torture.
Photo by Deidhra Fahey
deidhrafahey.com
You play Josslyn Carver in the ABC drama series "Mistresses" which was just picked up for a second season. When does production for Season Two start and how many seasons are you contracted for? Who helped you negotiate your contract?

We should be back in to production at the top of next year. I am contracted for as many years as they want me, hahah! Kidding, but I absolutely love being a part of this show, from the cast, to the producers, to the crew, EVERYONE is just so lovely to work with. I look forward to going back. Contracts are a different part of the biz… that's why you have great representation! My manager/agents/lawyer are all rockstars.

Before Season One aired, your character was being advertised as a bisexual. But it turns out Joss just wanted to keep her one and only female friend Alex, who is a lesbian, and the only way Josslyn could do that was to engage Alex in a romantic and sexual relationship. In your opinion, what is Josslyn's sexual orientation and why?

I don't know if she was being "advertised" as bisexual… but she was definitely the commitment-phobe, try-anything-once, free spirit! I absolutely loved discovering the feelings between Joss and Alex and watching them grow the way they did. Above all things, I think Joss has a HUGE heart and is a lover of love. I think she is fearful to the point of self-sabotage of the idea of being in love… but she loves love. Does that make sense? Everyone keeps trying to put a gay or straight or bi or whatever stamp on what she is/was, but ultimately, yes, I think she was in love with Alex. I know she was. I think it was the first person that ever made her feel that way; it was a super special relationship. I don't think Joss is now looking for the new "girl of her dreams" but I think she understands what it feels like to love someone and be loved back. She also got a fast track lesson into being in a "relationship" which was such a foreign concept to her.

You went on a lot of callbacks for Josslyn. How was the first audition different from the callbacks? Was there any point you felt you got the job even before you got the job?

I auditioned like six times!!! It felt like 106 so I think I always exaggerate the number. Sometimes it's six, sometimes its 46! Haha! I had a few scenes to work with. Both scenes changed drastically once we finally shot the pilot but they had the same tone. I remember just feeling like I really wanted to go for it. I was all over the room: bent myself over a chair (as in a sexual position) while doing the first scene… haha! Now that I recall it all they must have thought I was bananas! But I think Joss is a bit bananas! I went in every time with something fresh, something new, a different "layer" to the character. I think that is why finally I had to go in all dolled up in a sassy dress and full hair and make-up. They wanted to see the "finished" product! I never ever think "Oh I got the job". I just think I know all of the factors that go into actually "getting the job". So as long as I walk out with my head held high and I don't think I just crapped all over the room I am a happy girl.

You are very active on Twitter and your followers increased substantially when and since "Mistresses" has aired. Do you feel this job helped you become more visible in the public eye?

I don't think it was a possibility that this job WOULDN'T make me more visible in the public eye. That is the magic of network television or any television for that matter. So many lovely little films, and shorts and internet webisodes, etc get made every minute and no one ever sees them. Television is all about the ratings so you know a certain number of people are going to tune in and notice you or you get cancelled. I am actually really bad/inconsistent with Twitter, but I really really enjoy chatting with the fans. We have some very loyal ones and I truly believe that the live chats helped our show to keep growing and ultimately to be renewed for a second season. That is the power of the fans and to them I bestow all of my gratitude.

What is it with you and horses?

Ummmmmmmm… I am obsessed with them. I think horses are one of the best forms of therapy. In this crazy business you go from working 14 hour days to not at all and I think that if you don't have something (or many things) to put your energy into, it becomes really hard. I have four dogs, a cat, a horse, a house and a husband and I love every second with them. They keep me busy which keeps me sane.

In the role of Josslyn, how were you pushed as an actor? Were you given any backstory that wasn't shown in Season One? Moving away from the character's sexuality, how else were you pushed as an actor with Josslyn? Were there any moments where you felt you did a particularly good job? When? Why?

Josslyn pushed me in ways I could never imagine. Like I said before it was a learning process week to week, episode to episode. I never watched the BBC version because I wanted to be surprised by things and be able to make my own choices on Joss and who she was. I worried that the BBC version would have subconsciously affected my performance. I made up a lot of my own backstory as you do when you try to justify certain things that your character does. Of all things, I just didn't want her to be the "hated whore". I really wanted her to be loved for being crazy, and spontaneous, and impulsive and promiscuous. So, I went into every naughty or sideways situation she was put into and I just tried to find some sort of internal justification as to why she would do what she was doing. I think there was a pivotal "ah hah" that happened for me in episode… I believe 105… where I had my first big fight with [screen sister] Savi. I remember reading that script and being truly crushed that Joss would be the LAST to know that her sister was pregnant and had an affair!! That was very telling of that relationship and how important family loyalty was to Joss. It happened again in episode 109 when our mom showed up. I think that episode painted a pretty clear picture of the childhood these girls had and the roles they took on as sisters. As far as the bisexual question, I have many LGBT friends and I don't know if it would be fair to categorize Joss as a bisexual. I think ultimately she prefers men. That still doesn't change the fact that she was absolutely in love with Alex.

Jes' Twitter: @jesmacallan . Jes' Fansite: http://jesmacallan.net. Jes is currently filming a movie in Utah so it will be fun to see her in something new while waiting for Mistresses Season 2 to start production!

Were you uncomfortable during any part of the filming?

Believe it or not, no. I mean, sex scenes are as uncomfortable as they come. In editing they add some music and the director lights and frames the shots just so, but on the day it's a lot of giggling and "oops, ouch, oh, sorry, you ok?" hahaha! Our directors, our producers and writers and cast and crew – everyone was all amazing so it left little room for discomfort of any kind.

Let's talk about the infamous shower scene with you and Shannyn Sossamon, who plays Alex, the woman Josslyn is involved with. Tell us about the direction you received and camera placements. Who was the Director and DURING FILMING, what did he/she direct you to do? Was that a real shower or built on set?

Hahahhahaha! Is that scene infamous?!?!? That's awesome!!! I'm actually pridefully giggling over here. I mean, first of all, Shannyn Sossamon is magical. Not only the romantic scenes, but EVERY scene was an absolute joy with her. She is so intense and present and organic… I can't imagine anyone else playing Alex. The director on the day was a woman (Cherie Nowlan, she actually directed the pilot) and she is just wonderful, stellar really. She was very careful, and had a clear vision of making it tasteful and romantic and not gratuitous and sloppy. The shower was built on a stage and to be honest, I can't even remember where the cameras were! We just sort of started at it and off it went. There are all of these technical things that you don't really think about like, well, once Shannyn's hair was wet we had to keep going. It didn't make sense to keep taking time to re-dry hair! So once we were in we were in and I am very pleased with the way it turned out. When everything comes together, especially when music is added, I think you can really create a moving moment.

Have you ever kissed a woman in any of your other acting jobs? Have you ever romantically kissed a woman in real life? Did you receive any backlash from the gay community when it was revealed that the only reason Josslyn had a relationship with a woman is because she wanted to remain friends with her?

I played a lesbian character in a play I did once and I had to kiss a girl. It's interesting you know because I know that the concept seems like such a big deal to people. Or maybe it is a big deal to straight people, I dunno. But I am straight and I didn't have a smidgen of discomfort or worry. I didn't have to do any crazy preparation or anything. I think I actually had more anxiety about making out with the super young guy that had just moved here from Kentucky who was really worried about his "mom" seeing it! That was awkward! I think that yes, we got some backlash, as expected, from the gay community saying that Joss wasn't "really" gay which is valid and true. What I was most proud of is that we accomplished this feeling of a blurred line. Many of my Twitter peeps were upset that Alex and I didn't last, but they were so grateful for the love we found in each other. People really loved seeing us together. I don't think that one person watching that relationship unfold episode to episode could say anything negative like "Joss was fake" or "They were just using each other". The love was there. I know I felt it on the day so I know people felt it at home. I mean, if Joss doesn't ever find love with anyone else (male or female) the way she had love with Alex – what does that make her? Celibate-sexual ?!?! Haha!

Why did you start your entertainment career in modeling? Why did you move into acting?

I actually started in dance. I was a dancer since I was three years old. I grew up competing and training and dancing in companies until I had to apply for college. I was given a few scholarships to schools to dance but my knee was fried and ultimately it isn't a long lived career. My father (the business minded doctor he is) wanted me to get a degree in something business related and just put arts on the back burner, so I did. I am so grateful to him for that even though I wasn't at the time. I think a lot of this is creative and artistic but SO much of it is a business as well. It's unavoidable. So I am happy that I can change gears in my brain between a scene and a conversation with my agents – it's a great tool to have. As far as the modeling goes, it was a free trip abroad and I jumped at the adventure. I remember my family called thinking I was in Florida to see if I would be home for the holidays and I was like "Oh, yeah, I forgot to tell you… I moved to Milan to model for a bit". Hahaha! They were like "What?! Well OK. See you when you get back, be safe". That was never a career path I wanted to commit to but I sure had a fun go at it!!

Your husband, Canadian actor Jason Gray-Stanford, seems to be very supportive of your new found fame. Since you're both in the same business which entails crazy hours, how do you find time to be together? What activities do you enjoy TOGETHER that you wouldn't necessarily do if the other wasn't involved?

We are such saps! We really just LOVE cuddling on the couch with a movie, making dinner at home, hiking with the puppies and fixing up our house. He is at the gym quite a bit and I am at the barn but everything else we do, we pretty much want to do together. We try to keep a rule not to be apart for more than two weeks at any given time which is hard enough!

Anything else you'd like to say?

My advice to actors playing LGBT characters is to take the gender part out of it and just look at the person. Find why you love that PERSON, why you want to spend every second with that person, why that person gives you butterflies when they walk in the room – and everything else just falls into place.
I believe I am leaving in a week or so to shoot a film in Utah which I am excited about. The character and tone are very different from Joss and Mistresses so I am going to have to prep a lot, but I really wanted to fit something in before we go back for season two so hopefully things all pan out.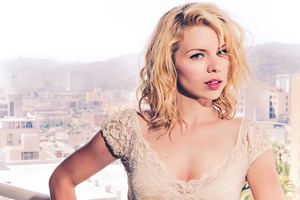 Ali Liebert is a one-of-a-kind gal who doesn't understand the word relax. Not only does she own part of Sociable Films http://sociablefilms.com which has the movie Afterparty premiering December 5th at the Whistler Film Festival
http://www.whistlerfilmfestival.com
, but now she's on the popular Showcase and SyFy series Lost Girl as Crystal, a waitress who has her eye on a lesbian named Doctor Lauren. Photo by Kyle Cassie.

Your acting career takes you between Canada (home), LA and sometimes NY. What are the differences between working in these three places? Is the craft services better/worse in LA/NY vs. Canada? Do you get bigger/smaller trailers/dressing rooms? Do you work over and over again with the same people?

These days, I call Vancouver and Los Angeles home but I have spent the majority of the last few years working in Toronto (Bomb Girls shooting location). When I'm away from home, I tend to live in a bubble of the show which is both isolating and stimulating. The distance from friends and family allows me to be even more obsessive about my work in a way that is sometimes difficult when you are balancing normal life in your hometown.

After a decade in the business, I do find that I am working with people for the second or third times (both crews, directors and producers) and it's a very comforting feeling. Knowing the crew when you walk on set is awesome, as you feel like you have allies all around you. Craft service and catering is, hands down, the best in Vancouver.

Trailers…well that all depends on what your agent can negotiate and what the budget of the movie is. I find that every set is slightly different mostly because of the tone set by the director and lead actors.

You played the character of Betty in "Bomb Girls." Betty felt an attraction toward her co-worker, Kate. Explain this attraction for those who haven't seen the show.
What was discussed with the production team regarding Betty's sexual identity? Did you know this information during your audition? Why was the audition process so long?

Betty first lays eyes on Kate Andrews in the hallway of the rooming house. Kate is just moving in and now the girls will not only work together at VicMu (Bomb factory) but they will live across the hall from each other. Like any first (true) love, Betty's feelings towards Kate are all consuming, intense and also very confusing. Their relationship was described on the breakdown as a fondness that grows into romantic feelings, so I knew that Betty was definitely into Kate from the beginning. The audition process was long because the producers/creators were searching for some of the other characters and wanted to make sure they assembled the perfect team. Casting a show set in the 40's is a little different than a contemporary show as you obviously need to find performers who capture the the look and feel of the period.

Now that your "Lost Girl" episodes started airing, spill the beans about your character's sexuality and your character in general.I play the role of Crystal who is a waitress/singer. Crystal has had a rough go at life and is doing her best to accept her present circumstances (as she calls it back luck) and start dreaming more realistic dreams. She is a genuine sweetheart who has an unfortunate knack of getting swept up with the wrong people. Crystal's feelings for Lauren are quite deep and she feels a closeness to Lauren she hasn't felt for anyone in a long time. Their connection surprises her. I appreciate that Lost Girl doesn't feel the need to label their characters sexual identities or preferences. rystal 's sexuality doesn't need to be defined but it's safe to say she's into women – especially the fine Doctor. Episode 3 is going to be very steamy!

Have you ever been attracted to women in real life? Did you do any research for Betty?

When I'm attracted to someone, I'm attracted to them and yes, I've definitely been attracted to women in real life. Doing research is one of my favorite parts of the job as an actor and luckily there are so many resources to draw from – books, the internet, real people. Talking to lesbians who lived through the war, or have lived in homes or places that were homophobic was especially helpful as I was creating and understanding Betty's point of view of the world.
I was also in constant communication with the show's creators Michael MacLennan and Adrienne Mitchell about Betty's backstory and her experience with women.

You are 1/3 owner in a production company called Sociable Films (
http://sociablefilms.com/
). What made you want to start this venture?

Sociable Films started to take shape after the three of us, myself, Nicholas Carella and Michelle Ouellet talked about making one specific film together. After developing this film for a few months, we realized we clicked as a group, as a cohesive unit and started dreaming a bigger dream than just the one film. Our motto at Sociable Films is to make movies sociably and for the past two years we have been doing just that. Last summer, together with the incredible talent of our friends and colleagues, we shot our company's flagship film, Afterparty. My partner Nicholas says it best, the art comes first and we make the numbers work after that.
Ali Liebert & Carlyn Burchell in Bomb Girls at the BG Studio inToronto, Canada. Ali's Twitter: @AliLiebert and @sociablefilms . Ali's website: http://www.aliliebert.com

Sociable Films has a premiere at the Whistler Film Festival on Dec 5, 2013. What's it like being an actress AND a producer at the same time? What were your day-to-day activities?
Balancing my acting career and my producing career is pretty tricky. They are both essentially full time jobs and are both very important to me so it all comes down to time management and unbridled commitment and geeky Saturday nights in – working and playing catch up. Right now I'm shooting Bomb Girls, The Movie in Toronto but doing my best to contribute to Sociable Films and all of our upcoming festival duties while I'm away. Thank goodness, I have two amazing business partners.
5am wake up for set
5:30am-7pm'ish shoot
During the day, try to answer as many emails regarding Afterparty as possible! Caffeine is key.

In your career, you've played several lesbians or characters struggling with their sexuality. Which lesbian character left the biggest impression on you and why?

Betty McRae, of course. I admire her journey, her brave struggle to authenticity and her frank, unapologetic attitude. Lately she has inspired me to speak my mind when people wrong me. My pleasantries have gone out the window.

Do you have a significant other?

No comment.

What do you do to make your characters believable?Do you do backstory?

Yes, getting the character's backstory clear with your head writer is very important, but for auditions, often we are not provided with this information so I use my imagination and fill in my character's life with as many details as possible. My acting process is always evolving but my base place of evaluation comes from the training I received and continue to receive from renowned Vancouver acting teacher/director, Andrew McIlroy. Andrew helped me create Betty and many other roles. We work together to create authentic and interesting choices that are as dynamic as possible. We spend hours researching tiny moments of each scene. No word of dialogue or physical offer goes unexplored. We do phone coaching too, when I'm out of town. At this point, he knows Betty almost as well as I do.
For me, it's always about what I connect to the most with my characters. What feelings do we share? How can I get inside of her head, heart, skin? I usually start from a physical place. How does she walk? Sit? Eat? Talk? Then once you find the spine of the character, you don't worry about how you say a line, you think about what angle the character is working to get what they want. Just like us, characters are always going after what they truly desire in life.

Anything else you'd like to say?

Charities I support are GLAAD and Dogs Without Borders.
I will continue to stand up for equality for our LGBT citizens because it hits close to my heart as I have two gay uncles and I have a very strong circle of LGBT friends. I love that GLAAD promotes understanding, increases acceptance and advances equality through the media. Dogs Without Borders is the terrific organization where I rescued my little puppy Joplin in Los Angeles. I encourage everyone who is thinking about buying a dog from the pet store (NO!) or a breeder – to stop, breathe it out and really think about it. Why on earth would you buy a brand new animal when you could save a life and rescue a little buddy instead?
To close, I don't think there even needs to be an article about same-sex acting. In itself, it is suggesting that it is more difficult or unique to play a lesbian character than a regular straight character. If you are an actor portraying a gay character, why would you approach it any differently than any other role? Do your research if you don't know what it feels like. Love is love. Woman/Woman, Man/Man, Man/Woman. Who cares? When you are in love, you are in love. End of story. Thanks a bunch!
Lauren Collins has more acting experience than one can imagine. She played Paige in Degrassi who went from being a boy-crazy teen to falling for a girl named Alex.
You've been in show business since you were a kid. What made you want to become an actor for a living? Have you modified your physical appearance for WORK or just for fun on your own?

Even though I started at a very young age, I can honestly say I just sort of fell into this career path and haven't looked back since. I was a shy, creative kid so when one of my teachers recommended I try out for an afterschool theatre program I gave it a shot and fell in love. Hard to imagine myself doing anything else at this point, which has its pros and cons.

Probably the biggest modification I've made to my appearance is the most identifiable thing about Paige. I'm a natural brunette but when I was 12 I booked a show that required me to match my hair to the rest of the light-haired family. When Degrassi came around, the blonde hair "fit". Can't really picture Paige without it. Also, I definitely used the "my character would TOTALLY have a belly button piercing" excuse on my parents to convince them to let me get that done in season 2 of Degrassi. My job does restrict how much I can change my look. Having a quirky hairstyle or piercing limits the roles you are right for. The flip side is working with very gifted hair and makeup teams who can totally transform you into a new character.

Your character, Paige Michalchuk, on the "Degrassi: The Next Generation" TV series fell for a girl named Alex because there was something that "clicked" — not because of a physical attraction. There really is no label that defines Paige's sexuality, even though she does fit the label of a popular fashion-loving teen. What was it like for your character to break her normal mold of having a label (popular) to NOT having a label when it comes to relationships?

When the writers informed me that Paige was going to begin a relationship with Alex I was thrilled for the challenge and knew how much it would mean to many of our viewers. Lesbian relationships were not nearly as common on television at that time. Yes, Paige had always been queen bee at the high school and caught up in her image, but I never found her to be a stock "mean girl" character. She was far more dimensional than that. So I just looked at this as another side of a complex girl. I struggled a bit with the fact that Paige had seemed somewhat boy-crazy up to this point, but I put my full trust in the amazing writing team. When I received the scripts for "Lexicon of Love" I thought they had done a beautiful job of making this side of Paige feel organic and natural. I began to understand how conflicted and vulnerable Alex made her feel. In the end (and in true Paige fashion) she owned this relationship much like she owned her queen bee crown.

Was your character Paige the first time you ever kissed a girl? What were your immediate thoughts?

Kissing scenes on Degrassi were not uncommon and often resulted in playful teasing from various crew and cast members. They are awkward, especially when you are actually a teenager and dealing with all those raging pubescent hormones, which we all were. But there was something different about this scene. The crew was extremely respectful of the nervousness that both Deanna (the actress who played Alex) and I were experiencing and so we had a "closed set" (limited crew) to ensure we were as comfortable as possible. It was a first for both of us and such an important moment for these two characters. The director, Phil Earnshaw, and I had grown very close and that resulted in a sort of shorthand. He didn't need to say much for me to know what he meant. That helped a ton. He put a lot of trust in us and didn't "over-direct".

You're straight, correct? Did you get any fan letters from the LGBT community saying how you helped them come out to their family or how watching your storyline with Alex has given them courage? Was there any particular fan letters that REALLY stood out to you that you still remember today?
Yes, I am.
The fan response from these episodes was overwhelming. When we're on set in our little bubble of filming you aren't constantly thinking about the end result, who will see the episodes and how much of an impact it could have on them. We were fortunate enough to do lots of 'meet and greet' events across Canada and the U.S. for our show. That was when everything would sink in. Countless fans would open up to us face to face (which is so incredibly brave!) and thank us for portraying our characters' stories. There is one encounter that sticks out in particular. When we were in LA filming "Degrassi Goes Hollywood", Adamo (Marco) and I had a scene off and were hanging out at an outdoor cafe on Abbot Kinney. A girl, probably in her early twenties, came right up to us, took my hand and with tears in her eyes just simply said "thank you". It was such an emotional and powerful moment for me and one I'll never forget.
Also in "Degrassi," Paige was raped. This must've been a difficult subject to portray when you were so young. Tell us something about that storyline that you've never mentioned before in any public interview. Did you discuss with your parents?
I was recently discussing this episode with a friend of mine who couldn't get over the fact that I was only 14 or 15 when it was shot. I'm not sure I realized at the time what a big deal that was, even if everyone around me did. The challenge for me shooting that night was that we had a handful of fun party scenes scheduled before the big bedroom scene. All of my friends from the cast were there and we so rarely got to shoot at night which was exciting in our 15-year-old minds. I'll never forget when one of our crew members, the children's coordinator, came up to me and said that I should separate from the group and take some time to myself. I remember feeling upset by this; I didn't want to miss all the fun that the guys were having. Looking back, never have I been more thankful to anyone on set for setting me straight. Had I not taken his advice I know I wouldn't have been happy with the result. Every precaution imaginable was put in place when we shot the rape scene. My dad was told he needed to be around but I insisted that he not be right on set, which everyone was cool with. The crew was very small and I'll never forget how emotional some of them became while we were shooting. Our 1st assistant director told me after that he couldn't even watch the scene. One of the reasons I'm so thankful for my time on Degrassi is that we were trusted with such important stories at a very young age. Most of the material available for actors that age is squeaky clean and "Disney".
What differences have you noticed working in Canada vs. working in the USA?
I love that in LA everyone drives themselves to work. That's how things were on Degrassi but generally speaking on Canadian productions there are transport drivers who take you to and from set. Some of the closest bonds I've formed on set have been with my various drivers, but it is nice to have that time completely alone at the beginning and end of the day to decompress. Also, when I was shooting Kroll Show earlier this year I was SO thankful to the director, Jon Krisel, for subtly giving me the 411 on the lunch truck. I'd never seen that before and it threw me for a loop! Beyond that, I was really surprised by how few differences there are between shooting in the US and here at home; being on set has a very universal feel.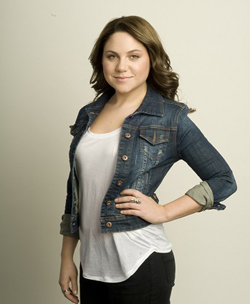 Lauren is currently filming the fifth season of 1 Girl 5 Gays. Twitter: @Lauren_Collins and Instagram: @LaurenFCollins. Photo by Mercedes Grundy http://www.mercedesgrundy.com
At what point in your career did you decide to get a manager and agent, and how'd you go about doing so? Did you look into several managers/agents who wouldn't take you?
I have had the same agent in Toronto since the day I started acting, Shari Quallenberg. She is like family to me and knows me SO well. Finding representation in the US was a different story. I tested out a few managers before finding an amazing fit with my current rep. What I love about Steve is his no bullshit approach. So many managers I met with had a real "LA" vibe to them and some didn't want to represent me because they weren't sure where I "fit" in the industry, meaning what roles I would be suited for based on my looks. This was never an issue with Steve or with Shari. They trust that talent prevails and that has given me the confidence to keep trucking ahead in a business that can be really tough at times.
Do you currently have a significant other?
I'm single at the moment. I often say "I'll never date an actor" so I suppose I understand why that is in fact the case.

What's the most uncomfortable scene you've ever had to play?
This is a REALLY hard question. There have been many scenes over the years where physically you are so uncomfortable it can be hard to focus on the work… whether it be shooting in the dead of winter through the night or perhaps in a pair of vintage jeans that are so tight you can't eat, breathe or move!
But I think the most uncomfortable scene I've ever had to shoot was the rape scene.
What do you think about at night right before you fall asleep?

EVERYTHING. That's when you're supposed to be able to shut off your brain and drift off to sleep, but for me it's when things go into overdrive and I do a lot of self-reflection and analysis. Probably why I'm always tired!
Anything else you'd like to say?
I think my advice to actors doing same-sex scenes would be to give it the same thought and sensitivity as any other sex scene. Psyching yourself up and putting too much pressure is the kiss of death for an actor — you can't be in your head.
Currently I'm shooting the fifth season of 1 Girl 5 Gays which has been an absolutely incredible experience. It was a very natural next step in my career and I'm thrilled the fans of the show have embraced me the way they have. Paige's storyline started a very strong relationship between me and the voice of the LGBTQ community and I'm so thankful for that.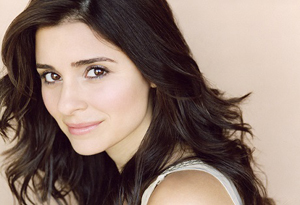 Shiri Appleby has a special gift when it comes to playing roles. She's able to tap into human conditions which makes her characters multi-dimensional on all levels. Shiri played Clarice on NBC's Chicago Fire in which she was in love with female EMT Leslie Shay but married to a man. Twitter: @ShiriAppleby
You began your acting career at the age of four. What were the circumstances that you started at this age? What is your earliest childhood memory of doing a job?
My parents started me in the business as a tool to pull me out of my shell. I was a quiet kid and they felt like acting would be a great exercise to help me learn how to express myself and they were right.
My first memory of being on set was sitting at the head of a big table while shooting a commercial. I remember feeling like I was surrounded by magic when I looked up and saw two huge lights blaring down on me. I have been fascinated ever since.
What's the difference between being a guest star, such as on "SVU" and "Chicago Fire", vs. being a series regular such as your breakout role on "Roswell?"
The difference between guesting on a show and being a regular member of an ensemble cast is the same difference as running a sprint and pacing a marathon. There is pressure attached to both experiences. When you are coming on to guest all eyes are on you to match the level of performance already established. When you're carrying a show, not only are you focused with acting but with publicity, politics and pacing yourself for a five-nine month run. It's a very demanding job for many intimate months, which is why the reward is so great.
In "Chicago Fire" you play Clarice, the on-again / off-again girlfriend of female firefighter Leslie Shay. What happened at your audition? (Who contacted you about the role — your agent? What exactly were you told prior to your audition? Wait — DID you audition or was the role just given to you? When did you find out that Clarice was going to be romantically involved with a woman?)
I am good friends with Derek Haas [writer/producer] and he emailed me about the role which he described as Lauren German's ex-girlfriend who is now pregnant with her husband's baby. I was shooting Girls at the time so I put myself on tape with their casting director in LA and was lucky enough to get cast.
What were your immediate thoughts the very first time you had a scene with actress Lauren German who plays Shay?
Lauren and I were in the same sorority in college and have been friends for years. I never did a table read since I live in LA and they shoot in Chicago.
How have you seen yourself grow as an actor since age four to now in your 30's? Have you changed your acting methods? Do you get into character like an hour before filming or you just walk right on set and bam, you're in character?
One of the things I like best about being an actor is that the job and my technique are constantly changing. The more I get to know myself, the more I can understand the human condition and that can all translate into the job. How I prepare or do the work on set depends on the job and the scene. For very emotional scenes I tend not to hold onto the emotion as I have easy access to it and don't want to burn it out. I always take into consideration how the other actor I'm working with works best and give them the respect and space for their process since we are in it together.
Why do you think you end up with really emotional roles?
I think you end up with the roles that are meant for you. I have a strong ability to access emotions and it doesn't come from a personal place that I'm abusing so I actually enjoy the roles even though they can be draining.
What's your perception of your Chicago Fire character's sexuality? She truly seemed to be in love with Shay, yet she married a man.
My perception of Clarice is that she loves people regardless of their gender. I agree that she genuinely was in love with Shay, possibly even more than her husband.
What type of discussions did you have with the production team about your character?
There really wasn't much discussion about sexuality. We did discuss Clarice and Shay's backstory and how they were together for three years and were planning on starting a family together and then Clarice backed out at the last minute. Why Clarice left was never set in stone as it may have been for plenty of reasons – fear of not being able to have a child possibly as one of them.
Congratulations on your baby girl, Natalie, who was born March 23, 2013. You recently went back to work with a job on "Law and Order SVU" – what's the difference with work now that you have a child?
The greatest thing about working now that I have a family of my own is that work truly is work. I'm not looking for my job to fulfill any part of me other than being able to perform and contribute to my family. My goal is to do the best job I possibly can in the quickest way possible.
Anything else you'd like to say?
I think that doing any kind of love scene regardless of who you're playing it with can be very revealing so you want to make sure you are 100% comfortable. If you're not, you and the work will suffer.
Elizabeth McLaughlin is having loads of fun playing lesbian character Val in ABC's new series Betrayal. Val was written as already knowing she likes girls so we don't see the sexuality struggle, but instead, the show focuses on Val's budding first relationship with lesbian character Jules.
You started acting when you were eight years old in Tampa, Florida. What made you want to make the leap to television/film? How did you get your agent / manager? Who came first?
I've always had that performance bug inside me. I have always jumped at any opportunity to express myself in front of an audience, whether it be acting, singing, dancing, anything. As I got older, my infatuation and discovery with film grew, and I knew that acting was the thing for me. I just always knew. After years of begging my parents, they finally let me take meetings with commercial agencies in Florida. The agent I ultimately signed with brought me out to Los Angeles, where I was introduced to the manager who helped start my career. She then referred me to my agents that I'm still with today.
A lot of people remember you from a video called "The Clique." What was so special about this video and your character that still has people talking years later?
The Clique was such a special opportunity for me. It being based on an extremely successful book series by the same name written by Lisi Harrison, even myself being a fan of the series, there was a strong fan base built in. Those books were so connected to what pre-teen girls are actually like, but set in this fun, fantastical world of supreme wealth. The character I played, Massie Block, was so iconic for the girls who were fans of the books. She epitomized every mean girl in middle school, and everyone had a Massie Block sometime in school. The character was written so richly, I just had to follow the writing and connect to my personal experience with 'mean girls', and play.
In ABC's "Betrayal" you play Valerie McAllister who meets a lesbian named Jules and something just clicks — sort of. Jules is already comfortable being out and has no problem flirting with Valerie right away. What were your initial discussions with the writers, director and actress Sofia Black-D'Elia who plays Jules?
When the writers of Betrayalcame to me with the character development of Valerie being a lesbian, I was initially excited to see a new dimension and depth to my character. The creators and I had extensive conversations about making sure that it was fleshed out, and not simply a device for the sake of having a gay character. We didn't want to explore the idea of Val of discovering her sexuality, or having issues stem from that fact. It's been done before. What thrilled me so much about Val being a lesbian was the modern, fresh viewpoint from which the writers were writing her. It was never a big deal, it was not painted as taboo in any way. There was no drama stemming from the fact that Val was a lesbian. Any issues with my relationship with Jules came from the fact that she was older, working for my father etc., not because I was dating a girl. I didn't want to make a big deal out of it, because it's not. I was lucky to have Sofia Black-D'Elia cast as my girlfriend. Not only is she awesome as a person, but she's played a similar character before, and we were able to talk about it together before shooting. It's not about playing 'gay' or 'straight', it's about playing being hit by a strong attraction for another human being, and about falling in love with someone. I used the same acting tricks with Sofia, that I use on any other love interest in other films.
Sometimes in television episodes, time moves really fast. Things seem to be going slow with your character, Valerie, and your love interest's character, Jules. What are your thoughts on this?
I think with such an exciting show like Betrayal, they couldn't always focus on my character's new budding relationship, but it's always there. In fact, Valerie and Jules just might be the most stable, and healthy relationship on Betrayal! I think Val learns a lot from her relationship with Jules, and Jules herself. She starts standing up for what she believes in more. But of course, the stable relationship between them gets tested in an upcoming episode, and Val has to decide where she stands in it all. In many ways, I think it's her relationship with Jules that helps keep herself afloat with all the drama going on around her in her family. As far as dating other people, who knows. This is Val's first relationship, and she may want to explore beyond her in future seasons, but she's happy now. She fell in love with Jules as a person first and foremost, and that's what matters most.
What technology do you use? What type of phone do you have? Do you read your scripts on paper or on a tablet?
I have an iPhone, and read most of my scripts on my Mac laptop. I do keep an updated notebook of the hardcopies of the final drafts of every episode of Betrayal. But that's mostly a keepsake

You've been live tweeting during episodes of "Betrayal". Is that something you do on your own or was that type of promotion written into your contract?
Of course I live tweet for Betrayal! The publicity team for Betrayal asked us to do so for the premiere and the cast and I love it, so we continued. Why wouldn't we? It's a wonderful way to get a first hand look at what the audience is thinking of our show! It's quite enjoyable seeing fans react to all the twists!
Have you ever had a crush on a girl in real life? Did you do any type of research into this character, such as talking to people who are struggling with their sexuality?
I haven't had a crush on a girl, myself. There are women that I look up to for who they are and their talent, like Jessica Chastain, Emma Stone and other artists. There are qualities about them that I respect and hope to emulate. That's about as close as I've gotten to a crush on a girl in my life. I do have a bunch of close friends who have struggled with their sexuality and just knowing them helped my approach to Val. But the thing I love about my character so much is that she is who she is. She doesn't try to hide anything about herself, including her sexuality. She's proud of who she is, and is lucky to have a family who supports that. Val's sexuality was never made out to be a scandalous big deal in anyway on the show. I think that's the appropriate way to handle it.
Elizabeth McLauglin on the set of Betrayal. Twitter: @BzMcLaughlin. Website: http://www.ElizabethMcLaughlin.com (currently down for re-design, visit back soon!)
You're not new to television series, having been in "Ugly Betty", "Dexter" and more. What differences have you seen in your guest roles vs. a more frequent role like in "Betrayal?" Do you have a trailer / half trailer / dressing room? Are you treated differently on set than you were on the guest role productions?
I have been fortunate enough to work on really wonderful productions with wonderful people, so I can't say there has been a huge difference between my time on Betrayal and some of my guest-spot roles. Sure, maybe my trailer is bigger. The best difference is the relationship I have with the cast and crew. It's delightful to be so close to my fellow cast, as it helps with my performance. Braeden Lemasters, who plays my brother Vic on the show, is like my brother in real life now. We recently had to shoot a fight scene for the show, and our real life relationship really helped with the performance. It added a natural rhythm and a deeper sadness to it. I can't speak highly enough of having a strong relationship to everyone on the crew, behind the camera as well. These guys and girls work so incredibly hard to make actors look good, while giving them room to perform their best work. Becoming close with the crew creates a huge support system that I am always so grateful to have. I got lucky with my cast and crew for Betrayal. We're a big family now.
Tell us about your typical day on the set of "Betrayal." Do you go to the craft services table? What's your average normal call time? When do you have time to memorize your lines?
I typically only work a few days an episode, so I have plenty of time to memorize lines and focus on the deeper character work prior to coming to set. My set times are always different, with typical early morning calls of 6am, and even the occasional night shoot call time. (My call time was once 12am for Hair and Make-up, and I didn't get off work until 6am) Whenever I'm finished with Hair, Make-up and Wardrobe and have downtime, I am always on set. I love watching the other amazing actors, or hanging out with the crew. When I'm not working while on set, you can always find me at the crafty table or behind video village asking the crew questions, trying to learn every aspect to this magical thing we do as filmmakers. The AD's on Betrayal have learned to tell me when lunch is at the beginning of the day, because I was constantly asking. (We have amazing caterers on Betrayal)!
Is there anything regarding "Betrayal" and Val's realization that she likes a girl that you're nervous about doing? Will this sort of scene make your heart race or breathe differently?
The biggest thing I was worried about when approaching Val's sexuality was making sure that it came off as genuine, just as I would with a male love interest. There's a lot of things about yourself as a human being that the actor in you can't turn off, and I didn't want any internal awkwardness I had about kissing another girl to ever come out. Of course I was nervous when shooting a particular scene with Jules in an upcoming episode. The nervousness came from the fear of appearing in-genuine in any way. I didn't want to be inhibited as an actor because I as Elizabeth was nervous about kissing a girl. Luckily, Sofia and her sense of humor broke any tension quickly, and we were able to just do our work as actors.
Anything else you'd like to say?
All I would say is to relax and keep a clear perspective. I don't think it's important to focus on playing any specific characteristic that is commonly thought of as "gay" or "lesbian", unless it's called for in the script. Approach the character by his/her other human characteristics, traits, and experiences. Approach the scenes as being in love, being in your first serious relationship, falling for a specific person. We can all identify, relate, and tap into those experiences and emotions. I always think being comfortable with your scene partner is highly beneficial, especially in any romantic or sexual scenes. It helps being comfortable with the person you're working with, just as your characters would be comfortable with each other. Anything physical you may have to do in the scenes is just blocking. Focus on the other actor and the character work you've done, and play. Do your best to block out any internal uncomfortableness you may experience, and relax.