In this digital growing age, especially now with the downtime from COVID-19, accomplished actor, producer and director Raphael Sbarge suggests that this is an opportune time for us to make our own content.
YouTubers are making new content every day so there's nothing stopping you except fear and laziness. What will set you apart, however, is the way you deliver your content. Raphael shares the tech he uses to put out quality films.
If you want to see an example, check out Raphael's film LA Foodways.
Raphael's latest endeavor was turning a one-man play called The Tricky Part, by Martin Moran, into a film. The interview below goes into detail about the challenges that were faced in making this film which was to premiere exactly as the world shut down for the pandemic. (For those of you interested in reading paperback version of The Tricky Part, click HERE.)
A little bit about The Tricky Part film:
There was a live streaming of the world premiere of the film The Tricky Part. The film, executive produced by actor, director, and 1in6 board chairman Anthony Edwards and directed by actor, director, and producer Raphael Sbarge, captures a live performance of the Obie award-winning play by the same name, written and performed by Broadway actor Martin Moran. The Tricky Part memoir also won numerous honors, including a Barnes and Noble Discover Prize & a Lambda Literary Award.
And now, Raphael Sbarge!
Your latest project is the film called The Tricky Part, hosted by https://1in6.org/ which is an organization to help men who have had unwanted or abusive sexual experiences live healthier, happier lives.
Aside from being long-time friends with ER actor Anthony Edwards who is Board Chairman of 1in6, what was it about this Obie award winning play that drew you in so much that you wanted to direct the film?
Tony (Anthony Edwards) had asked me to consider shooting some scenes from the film, so that he could use it for the work he does with his non-profit, 1in6. I had not seen Martin Moran's show, nor had I read his memoir. Once I had, however I was knocked out and overwhelmed with emotion, so I quickly made the case for filming the entire show. To do something representative of this extraordinary play, it needed a more substantial effort to capture it, I felt. It seemed important, in every way to bring all we had, with the resources we had, to make it as good as we could. Suffice to say, the moment The Tricky Part begins, what was clear was that we are in the hands of a master storyteller. And, Martin's humanity and his shimmering writing wrap around you like a magic carpet that carries you along until he lets you out at the end, filled up with emotion.
What is the process of directing a one-man play turned film? What challenges did you face?
It is true that trying to translate the experience of this play – any play really, into a film, is challenging. Generally my experience of most theatre on film, is that it separates the viewer from the experience due to the proscenium and the footlights, and the simple fact that the audience and the actor are on two sides. To film this, I wanted to maintain an experience of intimacy with him; I wanted to feel like we had the pleasure of sitting next to Marty, and most importantly that he was speaking directly to us. There is something profoundly human about the desire to sit in the dark with others and experience a performance, many would say more fully, whether it be on stage or in a movie theatre. So, I wanted to preserve that, but then I wanted to literally "go in," break the 4th wall, visually, and try to create a feeling of rounded space around Marty, all while preserving the natural theatricality of it. This is what I set out to do and believe we accomplished that. Other than that the other challenge was that we had very limited time to get the show filmed — we had two live performances and no opportunity for a do over.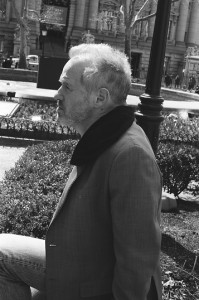 There were nearly 20 speaking engagements around the film set up that were postponed due to COVID-19, hence the decision was made to stream the live event instead.
Once the film was done, 1in6 was excited to use it for speaking events they had scheduled. Those, of course, were all cancelled due to Covid-19. As the filmmaker, since we had finished it mid-January, and were poised to start submitting it to film festivals as a way to build word of mouth, find an audience and get distribution, the standard indie film route forward. But moments before we started submitting, festivals started closing, one after another, with no real indication of when they might reopen. This was when Tony suggested we embrace the moment and do a Live Premiere Stream of the film. This pivot was done very quickly — but was a wonderful way to bring the completed film to a "captive audience."
Was there a loss of funds due to the cancellation of the speaking engagements?
This may be a question for 1in6 as I don't know about payments for speaking engagement — sorry!
Were you as the Director involved in making decisions to cancel the speaking engagements and set up the livestream?
Tony, as producer and board chair, was working with the executive director of 1in6, Matthew Ennis. They set up the live stream, and we all decided that it would be worth promoting, and getting the word out.
What type of contracts are involved in streaming to Facebook, YouTube, Vimeo, and all home streaming services such as Apple, Roku, Amazon Fire, etc.? How do you and the staff actually get paid for your work on The Tricky Part?
My understanding is that Matthew and 1in6 had obtained a subscription to Vimeo that allowed him to have a large audience, up to 250k people viewing at one time. Their web master was able to host the film on their site and then aggregate it to Apple, Amazon, YouTube and FaceBook live. This is a great way to maximize the opportunities for people to find the film across multiple platforms. Since it was a fundraiser, and an awareness raiser, all the money collected went to 1in6, however this was a "free event", and no one paid to see it. We all came together because we wanted to support Marty's amazing play, and this important cause!
You've come a long way from your Sesame Street days! Starting at age five in show business, do you think that had a play on why you continued to be in the entertainment field?
My mother was a very successful Broadway costume designer, and my father was an artist, playwright and filmmaker. So, I grew up — literally– back stage and in a very artsy family. We also lived in a commune on the lower east side in the late 60's and here was this brand new show for PBS, called Sesame Street. They were looking for kids and a friend, I am told, suggested that we meet them. I still have vivid memories of Oscar the Grouch, Big Bird, and Mr. Hooper on the Sesame Street set. Apparently I was offered a contract, but my mother, who was working a lot as a designer at the time, said no. Her feeling, she told me years later, was that due to how difficult the business was, that ultimately it should be my decision. Well, once I turned 13, I "heard the call," and decided to give it a shot. I reached out to an actress friend to find an agent, started training and getting around the city on my own, usually on my bike or using my school bus pass to get to auditions. I was a very precocious kid, and seemed to take to it with gusto. New York's public transportation also gave me the independence I needed to get out there, and I was fortunate enough to get work very quickly with commercials, and then my first Broadway show at 16.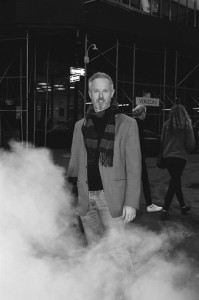 You've been in show business for five decades. Your career has naturally progressed into directing and producing. What are the reasons you decided to branch out to behind the camera? Which gives you more satisfaction — in front of or behind the camera?
About ten years ago I was producing a series with the astonishing actor Ed Begley Jr., and on one of the first days of filming, the director got another job. I suddenly was thrust into "saving the show," and, once I calmed down, found that I liked it. The series did well, and sold to a streaming platform, and then I quickly found other opportunities to do more. What I have discovered is that we are, as actors, innate storytellers, and the opportunity to bring that to a camera, seemed to be a natural progression. I also grew up in a very visual household — and so I was very comfortable finding ways to tell a story visually. What I also know is that these days, if you are not creating your own content as an actor, then you are a beat behind. With an enormous demand for content, with the tools of filmmaking so available, and with all the time we have as actors "between gigs," making movies and finding ways to express yourself as a filmmaker and story teller is both a viable hustle and a genuine outlet for us as actors. I love what I get to do as an actor — and these days, the opportunity to just show up, know my lines and not bump into the furniture is so delightful. But, taking a story, finding all the other people to help tell it, taking a story and then elevating it, is an extraordinary joy. I plan to keep making films for years to come.
You've performed in five Broadway shows, your first being at the age of 16 in The Curse of the Aching Heart opposite Faye Dunaway. Did you audition for any of the Broadway plays you were in?
I auditioned for all the Broadways shows I've done, except one which was offered to me, The Shadow Box, with Mercedes Ruehl. My favorite was Ah, Wilderness with Jason Robards, Colleen Dewhurst, George Hern and Kyra Sedgewick (who I had gone to high school with on the Upper West Side coincidently along with other classmates, Matthew Broderick and Kenneth Lonergan). But, Jason and Colleen were Theatre Royalty; I would sit in the rehearsal room or in the wings of the theatre and just watch them do what they did — with such ease, and grace, and such confidence. This was the greatest acting lesson anyone could have ever dreamed of, and I loved every minute of it. One thing I remember was how Jason seemingly discovered what he was saying every night. Some actors can get stuck in how they say certain lines – line readings, as it were – and Jason always found a way to newly mint that night's performance, in a way that always left me aghast and amazed.
You've directed the Web Series On Begley Street and Jenna's Studio. What's it like directing a digital format as opposed to traditional format?
On Begley Street, Jenna's Studio and two other PBS docs I did were shot on a Canon 5D in 1080p. That is a hi-def format that is still the industry standard on most network shows — although that's changing quickly to 4K, particularly on Netflix and other streamers. Most of what I shoot now is in 4 or 6k. But, either way, the most important thing to remember is to have decent light, and good sound. Without those, we fall into the "YouTube-look" very quickly, which is not visually rich and really nothing gives away an indie film quicker than bad sound. It's that old adage from the theatre: If you can't see it, you can't hear it and if you can't hear it, you can't see it. The tools are so good now, and if you can learn to master them, you can do so much with a little — but it's so important to have those two things at the top of your list.
As for other equipment, I have invested a fair amount to time and money on good glass, that is great Canon or Sigma lenses, and have a wide array of sizes I work with regularly — 70-200mm, 24-105mm, 12-24mm (for wide, or establishing shots), and then several other fixed lenses in my kit, a 40mm, an 85mm, and a 14mm for certain key shots or close ups. There is a language to lenses, and having been in front of the camera for so long, it was not hard to learn to understand it from the other side. But story and performance are key — first and foremost. Then, being able to have the language to work with a writer or actor to help them dial in their work, is also super important particularly on set, when there is little time to get it right. But knowing how to use the technical aspects of film to illuminate the story is where it gets very exciting for me. That, and working with other filmmakers on a crew, who are so gifted and bring so much to that one department, and then collectively know how to translate that to what's on the screen.
Tell us about the documentary LA Foodways that you directed. Why did you decide to start directing documentaries?
I love docs and have found that they speak to me in an unexpected way. They take time; they require a lot of research and they are magic; they way they reveal themselves to you, as you go. It's like the sculptors who say that they are finding the statue within the stone — just taking away the extra, to discover it. There is such poetry in great docs, and perhaps what I love most is that they can be done with small crews, and at a much lower cost. The narrative film I did, called The Bird Who Could Fly, had a crew of 50 on certain days, and had a lot more going on as we navigated all those folks. I love that too, of course but there is an intimacy to making docs that I find very appealing. LA Foodways was co-produced by KCET-PBS, and was both a six part series and a one-hour feature. It was a very ambitious project covering 150 years of LA history, and turned out so well. I'm very proud of it, and they want to produce another season. I am now working on another feature doc called Only In Theatres about the famous Laemmle art house movie theatres in Los Angeles with ties back to the origins of Hollywood. Right now — with our "stay-at-home" orders, I can edit via Skype with my editor and we have made enormous progress during this quiet time. Another benefit of docs!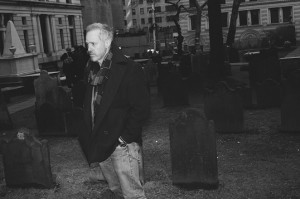 As an actor, you've appeared in more than 100 network television shows and films. Did you ever have any issues on set that impacted your ability to act in them?
Set life is complex, and high pressure, and if you work on enough sets you have invariably had challenges. Whether it be difficult material, tough weather conditions, not enough time to get everything done, or complicated personalities — there are so many things that can and do come up. The greatest gift is experience, more set time, more time in front of a camera to help get you to a place where you can feel relaxed and then learn to go with the flow of the day. As well, if someone says something (like an overworked A.D, or a stressed hair or make up person early in the morning) you can see it for what it is, and not let it shut you down or upset you. I have learned to stay as calm as I can, to have books or music or podcasts to go to, if I get tight or feel a little anxious. I practice breathing and meditation so that I can stay loose and open. I actively work on my listening — so that I can actually hear what's happening and not just the noise in my head. And, I would encourage anyone to do as many films or shorts, or music videos or scenes on tape so you can feel comfortable in front of a camera. The goal is to become so at ease that any opportunity for self consciousness falls away.
What life goals do you have that you have not yet achieved? What goals HAVE you achieved?
What I love about being an artist is that there is always more to learn, more to understand and new ways to approach things. I like to say I am always a student of the art of acting because I am endlessly curious about it and I love what I do. I am interested in directing more television, particularly now with so much extraordinary work being done on so many outlets. I am also developing multiple projects, and have found enormous joy in working with writers and other producers to tell stories that are relevant and dynamic. I love working on series TV as an actor and long form storytelling. That's something I have been so fortunate to do many times and look forward to doing it again. But I love that we get to live in a time when so much is available to us — to tell incredible stories, to get them made and to distribute them — in all new ways never available before. This is a thrilling time to be in our business. And — my prediction is that once we are all back and on sets, and they have figured out how we can gather in theatres or with crews, that there will be a huge push to find tons of new opportunities. We are aware now more than ever, how artists can bring such depth and dimension to our lives, particularly when we feel isolated or are looking for perspective.
You also teach actors. How can someone get in touch with you for coaching? Do you accept actors in all walks of their career or do you only accept beginners, intermediate students, etc.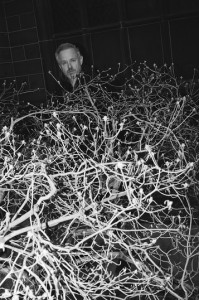 I ran a Lab in Los Angeles for ten years, with working actors, directors and writers, and it was a great joy to do that. I now spend a fair amount of time on the road, so it's been harder to run a regular class, just at the moment. But for actors who would like to explore coaching with me one-on-one, then can email info@wishingwellEntertainment.com and someone will be able to get back to them.
Last words: We must find ways to give back. As artists, and as fellow humans living in these complex times, the future calls each of us to consider the world we live in, and find ways to contribute. Even in small ways, through a kind word, or a small act of kindness, it can mean so much to another person who is trying to find their way in all of this. The time is now and the call is great — so do what you can, whatever it is, to answer that call.