Actress Connie Giordano, who can be currently seen in Mare of Easttown with Kate Winslet and Jean Smart, was super enthused to learn she'd be working side-by-side with actors she's adored from afar.
However, Connie soon realized that she had to stow away her fangirl excitement and be a professional.
On set, there is no room for amateur behavior. Schedules are tight, anxiety could be high and things could go wrong. Your purpose is to do your top notch job and not let anything else stand in the way.
Read on to see what great advice Connie Giordano has to share with actors!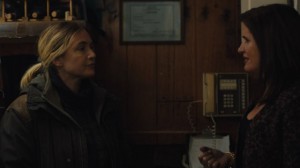 You play Patty DelRasso, a nurse and restaurant owner, in HBO Max's Mare of Easttown. Tell us about your audition.
I auditioned and didn't hear back for weeks. I never got a callback, so I didn't think I got it. My audition was in 2019, in person, and I had just a day and a half ahead to prepare two scenes. I was with my Casting Director in Philadelphia, Jason Loftus, at Heery Loftus casting, a great CD and a nice guy! I wore something neutral because I knew my character was a nurse.
What types of discussions did you have about your character prior to and during filming?
On my first day on set, we sat around the table. Kate Winslet was there, the director, and the actors who played my family members. We talked about the story, got to know each other a little, blocked one of the more challenging scenes, and rehearsed. It was thrilling!
What feeling did you get when you had your very first scenes with Kate Winslet and Jean Smart?
I was just thrilled to meet them! I met Kate first, Jean on a later shoot date. It was just an honor to work with actresses I have admired for years. I had a moment on the first day when I thought, "I'm sitting next to 'Rose' from Titanic," haha! But no, I was there to work. I didn't feel nervous; I felt exhilarated!
Did you have to sign an NDA (non-disclosure agreement) for Mare of Easttown? What exactly does it say in an NDA?
Yes, I did. I needed to agree that I wouldn't reveal plot lines or location sites. That was fair. I didn't want to spoil the end!!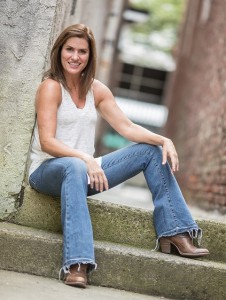 You're a resident of Pennsylvania, where Mare of Easttown was primarily filmed. Did production put you up in a hotel or did you commute from home?
I did both. I had to quarantine during 2020 in a hotel before being on set. But I also came from home before Covid. I lived in NY for ten years and still go back frequently for auditions. It's not that far for me, it's an easy commute for auditions, and I stay over whenever I need to. I have more space in Philly!
You've been in numerous stage productions throughout the years. What attracts you to stage vs. television/film? Do you find it difficult to go from projecting your voice to talking at a "normal" volume? Is it true that every stage actor's dream is to be on Broadway?
The stage is where my acting roots are. I think it's where you learn the skills. Then you adapt to performing in front of a camera. It's my dream to be on Broadway. I've been close and have worked Off-Broadway quite a bit. In general, Off-Broadway productions tend to be more "artisitic," perhaps because there's pressure for big-box-office dollars, but there are always exceptions to that rule. I've seen outstanding work on Broadway too!
How did you get your SAG-AFTRA and AEA cards?
I got my Equity (AEA) card being cast in a play at The Montgomery Theater in Souderton, PA. I earned points, then joined SAG by doing extra work at first. AEA was very exciting because I had been trying to get in that union for ever. I even gave up a trip to Israel to be an understudy to get the card!
What type of training have you had? Why is it important for people in the entertainment field to be coached?
I went to NY after college, took classes, but then ended up going for an MFA from Brooklyn College at CUNY. I wanted to complete the training I didn't feel I had received in undergrad. Acting is a skill like anything; you need education and training. A doctor wouldn't perform surgery on their first day of med school. The same thing, education, and experience are key.
You're a representative of Snow Joe/Sun Joe products on HSN. How did you get involved with this company? As a representative, what are your responsibilities?
I started representing brands on QVC back in 2003. I was at a trade show and met a talent agent, Jean Murray. She groomed me to represent all different kinds of products. HSN was purchased by QVC (now Qrate), and I was presented to sell this brand in 2020. I work primarily in the winter with Snow Joe because it's too warm to sell outdoor snow products in Florida, where HSN is located. Lucky me! I am now in the Home and Garden outdoors categories. My job is to learn the products, and become the expert on-air, make it fun and exciting for viewers to buy. I love the products, it's an excellent brand, and it's thrilling to do the work!
You love birds. What is it about birds that interest you?
Ha! Guess you got that from my Instagram page. I love cooking and baking too! I put those pics up as well. I have a feeder in one of my trees that draws many birds, and I get hummingbirds on my deck. I take snapshots when I want to have fun. I love the outdoors, and I'm an animal lover.

Anything else you'd like to say?
Advice to actors, don't ever give up! My favorite charity is Genesis Pregnancy Crisis Center. It helps women and young couples struggling with unplanned children, everything they need, and job counseling. My sister volunteers and I support them. It's a wonderful place.
Photographer: Ken Volpe: www.transposure.com
Hair and Make Up: Brittany DeCheine, D Cheine Beauty