Seven year old actress Jophielle Love is having the time of her life while learning what it's like to work with adults on the long running ABC soap opera General Hospital.
Unfortunately, being in show business is not all fun and games. Jophielle had to leave her first agent and it was a painful move for everyone involved. Now she and her brothers have three agents: Zuri, Bold Talent and Paradigm. They all get along and collaborate well with their manager KD Talent.
Jophielle Love gives us the lowdown on being a kid on the set of General Hospital (and other jobs, too!)
Jophielle Love with Enslee Moore and Autumn Chasson.
You play Violet Finn on the ABC soap opera General Hospital. How old were you when you first started on GH? How'd you hear about the role? Tell us about your audition.
I was five years old when I auditioned for General Hospital. I first read for Mark Teshner, their Casting Director. That part was really easy. I only had a couple of lines. Then I went to the callback in front of the Executive Producer, Frank Valentini, and the other producers of the show. There were three other girls going in at the same time. Two of them are friends I run into a lot for auditions. I had gone through my lines with my parents until I knew them perfectly. It was quite a long scene…about having a tea party. I felt pretty comfortable and I connected with Frank right away. He told my mom later on that I entered the audition like a little lady. I sat on the chair very straight, crossing my legs and nailed my lines. Sincerely, I wasn't really aware of how important that audition was. I was more excited about stopping by the stages of Grey's Anatomy next door to bring a big pile of crêpes we had made for them to thank them for the fun week I just had with them while working on an episode. So we did that for a few minutes and made our way back to our car, and that's when we got the call from my agent. We thought we just had forgotten something at the audition or something. Turned out, they had already made their decision and booked me right away. It was really exciting!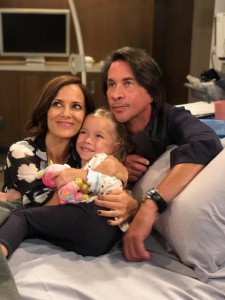 Your character Violet is the daughter of Hayden Barnes (Rebecca Budig) and Hamilton Finn (Michael Easton). Finola Hughes, who plays Anna Devane, is also thrown in the mix as stepmom. Violet is brought to General Hospital with a high fever that Finn is going to treat. Was it hard acting like you were sick? What direction were you given about how to act in the sick scenes and other scenes?
I had just worked for a week on Grey's Anatomy, playing a young girl with a rare head disease, so I had to be on a hospital bed the whole length of the shoot. I thought it was funny I just went from one hospital bed to another! Plus the two hospital shows shoot on the same lot.
I had an instant connection with Michael Easton and Rebecca Budig. We felt like a family instantly. Rebecca has a daughter my age too.
I was always happy to give them big hugs all the time. Before each take, I would make sure that Michael's hair was perfect. It was my little thing with him. They didn't give me a lot of acting advice until I started having longer scenes, but they sure made me feel at home right away. I miss Rebecca on set. She left the show shortly after as the storyline made Hayden abandon her daughter, leaving her behind with her dad. It was a sad day for all of us. At least she didn't die, so I have big hope that she will come back for Violet someday. Of course it will have to be in a very dramatic fashion. The middle of a wedding or something like they do!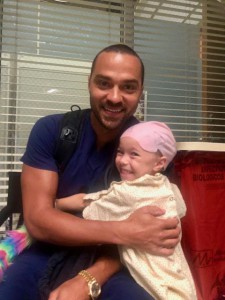 On Grey's Anatomy, I fell in love with Jesse Williams…who wouldn't!
The actors who play your parents have all been on soap operas for a very long time. What type of advice did they offer you?
Finola Hughes is a great stepmom. I like her. We celebrated her 35 years on the show! Can you believe that? All of them spoil me way too much. It does feel like a real family there. It is also the perfect way to start your acting career when you are a five year old little girl: short days on set, the studios are near me, the scenes are short and easy and the genre is not one that will traumatize me. We rarely do more than three takes when we shoot (most of the time it is just one, so you have to nail it right away), and when I work a lot, it is no more than two or three days a week, but not every week. So it is perfect to learn the ropes of being an actress.
Your real life parents, Karine Mauffrey who is a stunt woman, and Jade Kindar-Martin, a high-wire walker, travel with you between America and France. Being that you were born in France, are you an American citizen?
My parents met 20 years ago while working with Cirque du Soleil. They got married in France on a high-wire!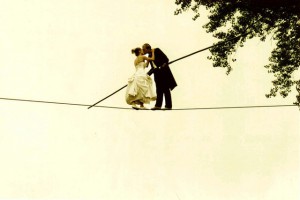 Dad is American and mom is French. It's only when they had my older brother Raphael that they decided to move to the South of France where they bought a 400 year old stone farmhouse. They turned it into an art retreat named Mas Pinet. They wanted to have their kids grow up in a more grounded environment, and be close to nature. They had three kids and a great time hosting people in yurts, tipis (teepees) and gypsy caravans. We had fun adventures all over the world too during that time while following my dad to his big high-wire shows. My mom would fly back and forth to Los Angeles for stunt work when she was capable of working between babies. Life was good. We have been raised to live life with passion and to not be afraid to go into the unknown. Sometimes others would say that we live a bit "dangerously" but we call it living the "High-Life". We perform in front of people with my parents, doing circus tricks or stunts here and there. I have a fun hand balancing act with my dad. All three of us kids have hand balanced since we were babies.
When my older brother turned nine years old, he asked to get into acting, and so just like that, when I was two years old, my parents took us to Vermont where my grandparents are and bought an old bus converted into a house, and we drove it cross country for a year, all the way to Los Angeles, where we settled down to get back to "work". Never a dull moment. So we all got into acting, modeling, stunts… whatever fun we could find, and haven't stopped since! We just make sure we get back to Mas Pinet every year for a few months to get back to nature, get grounded again and recharge our batteries! There we take care of our animals, sheep, bees, cats, dog, chickens … we paint, do circus, walk on the high-wire, enjoy nature, hike, build forts … We are outside pretty much all day long. It's a completely different life.
And yes, we all have dual citizenship.
You have two older brothers, Raphael Luce and Gabriel Sky, who are also actors. What's it like being in a family where everyone is in the entertainment field?
Now that we all work in the business, we give it all we have. The hard part is not so much the work, but the logistics. We juggle jobs between Los Angeles, New Orleans and Atlanta mostly.
When we are in New Orleans, we live on a boat.
In L.A, we have our cozy bus "Cozy Rosie". We like fun tiny houses type of living! When my parents both work away from us, either as circus or as stunt performers, we call my Nana to take care of us.
We always find a way to get by. We make it work, one day at a time! We have a lot of auditions on tape and outside activities. It's not easy keeping up with the schedule and the technicality of our every day.
At least now with Covid, the auditions are on tape and we kind of like that! We do have less activities though, and we miss some of them a lot, like dance or gymnastics. We manage to Zoom some of them like music, singing. You just have to make the most of it.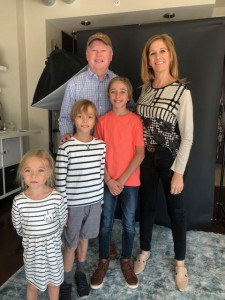 You're with Paradigm Talent Agency and your manager, KD Talent. How did you meet your agent and manager? What do they do for you?
Our managers are Kathleen and Brian at KD Talent. Our friend and professional photographer Jeff Xander introduced us to our manager. He thought we would make a good team and he was right!
We did not have a manager before but my mom had a hard time keeping up with all she needed to do to advance our careers.
She thought that what we needed at this point, was not to save money but to invest it all in activities that would further our experience, and a manager that would guide us towards the right places.
So we jumped in and have been very happy with them.
We have a good relationship with them, but most importantly we can feel that they are excited to work with us and that's what you want from your manager.
KD introduced us to Paradigm. It has been quite an important change for me, and a bit emotional, as I had to leave my former agency which wasn't as easy as I had thought.
There is a whole complicated side in this business that is not fun to deal with and that you should just leave up to your manager… so that you just focus on your acting.
My relationship with Paradigm still feels pretty new as it started just before Covid. We still have to prove to each other that we are a good match. I am excited and ready for this adventure. I know we are going to accomplish great things together.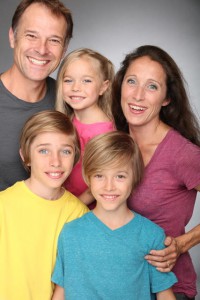 You've also done commercial work. Are you a part of SAG-AFTRA?
I remember joining SAG-AFTRA right before I started working at General Hospital. You get to work on three gigs that are UNION before you have to join… it gives you a little time to figure out if you really want to invest in this career.
My first SAG-AFTRA job was a big commercial for Citibank that we had booked as a family. Such a fun one. You may remember it because it aired nationally for over a year!
My brother and I had to hang on my dad's legs, laughing, while he would walk around the house pretending to be a dinosaur! A whole day of that! My dad could barely walk or talk the next day!
We will never forget that one. We ended up on the front page of the New York Times. My dad thought that was very cool!
Let's talk about school. What grade are you in? Do you homeschool, go to public / private school? Because of Covid-19, are you learning virtually or doing hybrid learning? Have you ever done school on set? What's that like?
Since we travel so much, it is honestly impossible to be in one school, so homeschooling is what it has to be. It's not always easy for my parents because there are three of us and sometimes, when we come across a fun school we can join for a little while and learn something new, we do, and we love it. We have been in a Waldorf School in Vermont for a few months, and that was great, connected to nature and people. My brothers went to a Catholic school with our cousins in Atlanta for a few months and that was very different, and also very cool! And when we were home in France, this year, I got to join our small village school with 15 other kids, and learn to speak some French! My brothers are bilingual but it's been a little harder for me since I have been in America most of my life. My school hasn't been too hard so far since I am just in elementary school.
In L.A we follow a program on our iPad, and take some classes on Zoom, and pack the rest of our time with artistic activities that will help us be better actors all around.
My parents also want to make sure we keep connected to the world around us in a helpful way, so we become good people in the future, so the three of us now have an Instagram page together called Follow the Halos, on which we will work on projects that will bring people together to make the world a better place by 2030. We are following the 17 Global Goals that the United Nations has set to guide everyone that wants to participate in the effort. Please follow us there. We hope ro be more active on it soon.
How do you receive your scripts for GH? Do you have any tricks for memorizing your lines?
I receive the script about a week before I shoot, and run my lines with my parents. I just have to memorize them because I don't read very well yet.
Then, when I get to set, I usually run them again with Michael when there are a lot of them. It is usually pretty easy compared to what the grown ups have to remember!
I am always so impressed with how much they have to remember. I don't know when I'll be able to remember as much as they do.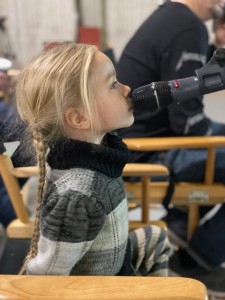 Do you have your own dressing room or trailer?
I don't have my own dressing room because I am not there very often yet, so I get to enjoy everyone's dressing room, which is kind of fun because I get to know them better through their dressing room. Sometimes I leave them little hints that I have been through!
My favorite thing to do when I get to work is to say hi in the microphone that everyone can hear in the dressing rooms, make-up and offices.
It's my little signature. I always say something different, It makes people smile and makes me laugh.
The rest of the time I spend in the classroom there with my teacher. We play games and decorate the wall that has pictures of all the kids that passed through the show.
My brother Gabriel Sky is even on there since he worked with me on a big Christmas episode.
You have several social media accounts. Who manages them for you?
My mom manages the whole family as far as social media goes. She keeps us informed of what goes on there. She makes sure we get the important messages people send us, and she organizes our projects for us. It's like we have our own little production. It's fun for us and it keeps us on our toes, but it's a lot of work for her.
She doesn't mind though because she likes writing… a lot, almost as much as she likes taking pictures and editing videos.
While we were in France for seven months during the Covid lockdown, we made some fun little videos and IGTV about our life at Mas Pinet, taking care of the animals, playing on the land, cooking, making songs or even playing poker!!! LOL. It was great and it kept us working on our acting. You can check them out on our Instagram pages. I actually miss doing those, so we will try to get back to it.
What advice do you have for young actors?
Have fun with the process… with the learning phase… the actual job is the cherry on top of the cake, but the fun has to be the journey first!
Don't be too hard on yourself. Treat each audition as if it's your job. Do the best you can, and then, consider it over! You will do hundreds of taped auditions before you get a job sometimes, so you can't worry about the result, or the phone ringing, or you will spend too much time waiting by the phone rather than spending it learning new things. Plus you will be endlessly disappointed and wondering why you didn't get the job. When you are a kid, your job is to learn, learn, learn AND have fun!