Actor Kevin Mambo, who can currently be seen on the Netflix drama, Hit & Run and upcoming film Rustin, started from scratch…twice.
As much as it pains me to say this, back in the day, when an actor started their career on a soap opera, it was considered the low end of the totem pole. Actors would hope to land a primetime show or movie while learning their acting chops on the soaps.
For Kevin Mambo, this was exactly the case. Even as a Daytime Emmy Award winner for Younger Actor on the soap Guiding Light, he had to struggle to prove his worth as an actor.
Now, an accomplished Broadway, TV and film actor, Kevin Mambo shares his story to help other actors press on to continue doing what they love doing.
The cast of Rustin
Psst… watch for Kevin Mambo in the new film Rustin which tells the story of Bayard Rustin, the late civil rights activist who helped organize the 1963 March on Washington for Jobs and Freedom, where Dr. Martin Luther King made his famous "I Have a Dream" speech.
You're in the Netflix drama, Hit & Run playing an NYPD detective named Newkirk who has a wry sense of humor and who has seen it all. Tell us about your audition.
The audition came through my representation. I met with the casting director, producers, writers, and even the star of the show. It was great to audition. It was also nice to be able to relax, talk, and add what I thought was important about my life (both of my parents being in medicine, my father being a coroner) that could add yet another texture to an already layered show. The auditions were in person, which I prefer — I also book work self-taping as well. I got some sides — I really encourage actors to try to yield as much you can with how little you are given. With intellectual property being the name of the game and NDAs being flung left and right, it becomes difficult to decode what is being asked of you and what you can glean, therefore you need to add your own energy. I try to be as close to off-book as I can be, but focusing on only that takes away from the task at hand: letting people get to know you, not see if you can memorize a laundry list. I never do chemistry tests — maybe I'm missing something? [laughs] 
 Kevin Mambo gives us a silly selfie for NYCastings

Did you have to go through any training to portray a Detective? What other training in general have you had to enhance your acting career?
Yes, I did a little work. A lot of documentary research: how to enter a crime scene, interview techniques, apprehending suspects, etc. I even took the time to go on a ride along. That part had to be natural because the main thrust of Newkirk's personality is solving puzzles — this one stumps him. That provides fuel. I found out the hard way that getting your own badge and pistol is cool, but standing under a bridge near the water from midnight until dawn in the cold is just not so glamorous. Even working on my BFA, I knew that each job would require its own methodology, something unique to me. I haven't had time to be back in training, so I watch and watch and watch everything I can get my hands on. The good AND the bad. They both hold important lessons.
You've been on network television as well as streaming. What differences are there regarding filming network vs. streaming?
I really try to see each thing as its own thing. Maybe if I were on a series for ten years, my perspective would be different. Be it a reading, a play, a musical, a guest or lead role, finding your center and place of relaxation is crucial. With onscreen there are more technical or organization issues as shooting is always out of order. I get fed well and try not to pig out or you get sluggish after lunch and are there all night!
Let's talk about soap operas! You portrayed Marcus Williams on Guiding Light, for which you received two Daytime Emmy Awards, and you were also on One Life to Live as Dr. Jordan Kingsley. A lot of actors see soap operas as a stepping stone to films and higher end productions. What are your thoughts on this way of thinking? Was this true for you?
Everyone will have a different experience. I came on, managed to find a groove right away, and used the time to learn the craft: I got the job before grad school, so off to NYC. At the time, it was a double-edged sword: win Emmys, but now you're not an "actor"? I had to start over, on the boards, off Broadway in NYC. I'm glad that that sort of silly backlash is over, but being a Black kid in my mid-20s coming off of that experience, there was not a home to go to after that. Things have changed for the better. It was a tough time for a lot of people. I knew that I had a strong foundation and would be fine, but when people make up their minds… it takes time to change it.
You played Mafala Hatimbi, the Ugandan village chief, in The Book of Mormon national tour. Share your experience about being on tour. What's it like being on tour away from family and friends?
Touring is not for the faint of heart. That said, I want to shout out our tour swings — what hard and uncelebrated work! I like to be home, but being in Los Angeles for three months, San Francisco for a month, and a month-long launch in Denver was very welcome. See the cities, see friends, and I even managed to book a film and a guest TV spot to shoot around work. The week-long stays, especially in winter, are just too brutal. We were in Denver, L.A., San Francisco, Portland, Seattle, Rochester, Buffalo, Des Moines, Minneapolis, Detroit, Boston, St. Louis, Toronto. . . makes the head spin. Some places are nice, some not so nice. With a show like Mormon, it becomes clear where you are: when the Ugandans are onstage you are either laughing with us, or at us. Pretty genius litmus.
Today there are so many factors that go into being an actor. Sometimes being talented isn't #1 on the list. Instead, having lots of social media followers plays a huge part in some casting decisions. How do you feel about this?
I do love technology and have since I was young. I'm not sure why I need to be an influencer with a new nail polish line to book a movie. Concentrate on your work and hire someone to do that stuff. It's more time-consuming than one would like to admit. And my Instagram account doesn't learn my blocking or come with me to tech [rehearsals]. Smoke and mirrors can work for a bit, but without working on the goods.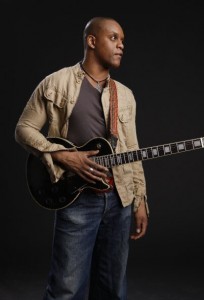 You were in a church choir as a child and, as a young man, started playing piano, saxophone and guitar. How did you get interested in music?
Music was always in our house. I was drawn in around age seven and I'm still here. My music process is what helped be develop a small tool box when I first started acting as a teen.
What kind of student were you in school?
I was always different, so school was a place to explore who I was going to be. I had strict immigrant parents, so I was a good student with good grades: I love to learn, and I finally started to feel free when I learned how to teach myself. No dependency on anyone else, and only my imagination was my limitation. We all get in trouble, but — in my defense — when I was skipping class, I was going to classes at other schools! [laughs] Wow, that's a little geeky!
You were born in Harare, Zimbabwe and raised in Saskatoon, Saskatchewan, Canada. Tell us the history of your family name and why your family moved to Canada. How did you end up in New York?
My name means King. My parents left Apartheid in Zimbabwe to reach full potential for themselves and their kids. I try to keep that baton in the air. I got to New York just after graduation and my heart has never left — for better or for worse.
Kevin Mambo Closing Night of Broadway's Fela
What advice do you have for people who want to have a career in show business?
You have to be yourself. Silence the doubters, you have enough doubt. Chase happiness, but chase foundation to empower yourself. If you are your hardest critic, proceed. Fall down — a lot. Just learn what happened so getting back up becomes easier and easier. Without learning and dreaming, we are alive, but no longer living. Be gentle with yourself, you're the only you've got. XO