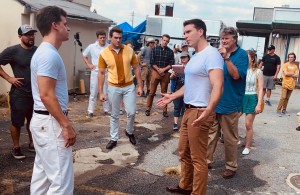 Jesse Kove plays the varsity Captain bully, David, in Netflix's Cobra Kai, who bullies the younger version of John Kreese (the adult character John Kreese was introduced in the 1984 film The Karate Kid as the unhinged Vietnam War veteran and sensei of the dojo, Cobra Kai.)
Watch the fight scene HERE.
Fight scenes are an integral part of Cobra Kai, which was originally launched on YouTube Red before moving to Netflix, where the momentum picked up. As exciting as fight scenes are to the viewer, the rehearsals, getting in shape and memorizing the moves can be exhausting.
Jesse Kove gives us a behind the scenes look at his grueling fight scene with Barrett Carnahan in Cobra Kai.
Did you have an audition or were you gifted the role?
I absolutely had to audition for this role. I worked on it for about a week and did not talk to anyone. I wasn't given too much information about the role. In fact, my team originally thought the role was for the young version of my father, John Kreese. And then I found out in the audition room that it was actually for the bully. I got a few notes in the room. One was that they wanted me to be even more of a jerk. I asked them, "How much of a jerk do you want this guy to be?" And they said, "Crank it all the way up." I got a call a few weeks later that they wanted to bring me down to Atlanta where my dad was already filming season 3. So it all came together beautifully. I was honored to step into the Cobra Kai, Karate Kid universe.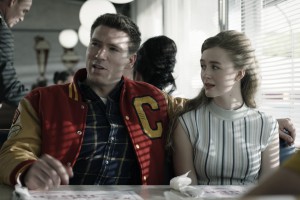 In Cobra Kai, you and a buddy, Ken Barefield, are in a long fight scene with young Kreese, played by Barrett Carnahan. Was there a fight scene coordinator? Did you do your own stunts for this scene?
I had flown into Atlanta the week before we started shooting so I could work with Hiro Koda, who was the stunt coordinator at the time. We did rehearsals in the "stunt" Cobra Kai dojo to work out all the kinks. They had an entire video that was edited to show me what they wanted the fight sequence to look like. I was very intimidated at first, but then once we actually did it in person, we caught on pretty quickly. Barrett Carnahan (young Kreese), unfortunately — because of the scheduling — didn't get as much time as I did, and we were rehearsing the fight sequence on the day of filming during "lunch" [laughs]. But he jumped right in as if it was second nature. And we had a "brawl," pun intended [laughs].
Did you have rehearsals, table reads or run lines with fellow actors? What exactly goes on at a table read?
They did not do a table read for this sequence. Usually, they'll do a table read of the first episode when starting a new season to get everybody excited about the show and also to show the producers and the studios what it's going to be like. Since Cobra Kai was going into its third season, they already knew where the trajectory of the show was going, and everybody was comfortable as those characters. I did have some creative talks with the writers and producers — Jon Hurwitz, Hayden Schlossberg, Josh Heald — about my character. They were so excited about this character because it was someone that they had created that they were bringing into not only the Cobra Kai universe, but also the Karate Kid universe. Crossing those two worlds was incredible.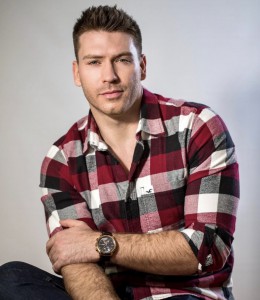 Some of your other work was the Lifetime film Christmas on the Menu and a war movie called D-Day: Battle of Omaha Beach. How is working on a series different from working on a movie?
On a series, things move a lot faster as, I believe, since you're under the gun a little bit more. With a movie, you get a little more time to sit with the characters, to elaborate some of the sequences. But it all depends on the project.
What type of training do you have and what are some important values you learned in the training?
I have training in horseback riding, theater, as well as off-Broadway. Acting coaches. Weapons training with Taran Tactical. And of course various different martial arts training over the years. I am always looking to broaden my skills and be the best that I can I hold myself to a very high standard. One of the best things I've learned is the responsibility of learning these new skills and the focus that they provide.
How important is it for an actor to have a healthy mindset?
Having a healthy mindset keeps you going in positive ways. Sometimes the work can drain you physically and emotionally. When I was shooting D-Day, that film was incredibly physical and emotional. I just kept reminding myself that the soldiers we were portraying actually had to go through this in real life, and that I could not complain because they couldn't. That's what motivated me to get through that. It was probably the most difficult movie I've done physically.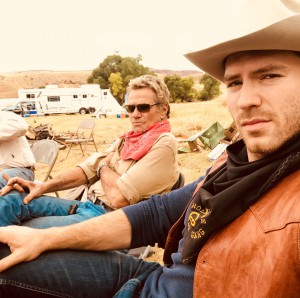 Your dad, Martin Kove, will forever be associated as the tough, bad guy John Kreese. In general, what do you think about actors being pigeonholed into the same types of roles they are known for?
My dad is definitely an artist, and playing bad guys is so much fun because the playing field is so big. You get to really expand on your character choices as a villain. And I think my dad really loves having a huge canvas to paint on.
What is 5.11 Tactical and what's your affiliation with them?
The name "5.11" comes from the highest rock-climbing difficulty level that was listed in the Yosemite Decimal System. 5.11 is a great company that I love working with as they supply clothing and gear to military, law enforcement, and also general public as overall outdoor wear. I'm someone who is always on the move, as well as on various movie sets and television shows around the world, and I love what they stand for. I wear their clothing daily. We also recently did in commercial with them where my dad even has a funny cameo as "maybe" John Kreese (wink wink).
Inquiring minds want to know if you currently have a significant other! What do you look for in a person?
Yes, I am in a relationship. One of the first things that I loved about my girlfriend was that she had this great big pit bull, whose name is Brody. And I thought to myself, well, if she's willing to carry him around and deal with everything that comes along with the big dog, she's gotta be one incredible woman. I love kindness. And I also appreciate when I can fully be myself — which is a pretty wild guy — and have that freedom with my significant other, which I have now.
Anything else you want to say?
I love the fans of Cobra Kai so much. They are the greatest fans in the world. And this goes for my father and myself. We couldn't do it without their support, and the show wouldn't exist without their support. We hope to continue to entertain you and bring you more Cobra Kai joy.