Looking to heat up your acting career? You can! By learning how to spark on-screen acting chemistry in every scene, you'll help ensure that all eyes stay on you from your very first audition to your movie's premier. And when I speak about packing heat, it doesn't just pertain to romance. Great actors can ignite a chemical reaction in any situation – from a first encounter, to friends who feud, to quiet moments depicting brotherly love.
To help you learn how to spark on-screen chemistry…. Here are 5 tips from actors who make every movie moment sizzle:
Jonathan Rossetti – HOME, JAMES
Manny Perez – LOVE IS STRANGE –Supper Suite by STK hosted with Fiji Water and Dobel Tequila
Tommy Wirkola– DEAD SNOW; RED VS. DEAD – Sundance 2014
Joseph Julian Soria – CAMP X-RAY – Sundance 2014

1. USE YOUR SENSES!
Actor Kerry Knuppe ofHOME, JAMES shares…
One of the things that worked well for me in creating chemistry is to use the physical aspects of other actors. Especially when you need to have some history, or where you need to fall in love, I look for something about the actor that reminds me about someone who I really do care about or love. It could be a boyfriend, or dad, or sister. A lot of times for me, it is eye color. In HOME, JAMES – Jonathan has similar eyes as an ex that I am still very close to. When the actor has similar eye color, you can use that as a way to make the moment truthful to you. You are looking at that eye color and it reminds you of true feelings.
Hands are also a big one for me. There is something about people's hands, and men's hands can often look similar. I also look for the way they talk, or a familiar gesture.
About Kerry Knuppe
Kerry Knuppe studied acting in Denver, Colorado under renowned acting coachBill Howeyfor several years which led her to star in several short films in Denver, paving the way to the lead role of "Lucy"in the successful Indie comedy "Skills Like This."She can also be seen in other indies including "The Sensei,"directed by Diana Lee Inosanto,"A Perfect Ending"co-starring John Heard and Morgan Fairchild as well as "Taking Capella" with Rudolf Martin.Kerry recently snagged the role of Marlene on CBS's new pilot "Vegas" as well as a co-starring role on ABC'S "Revenge."
UP NEXT: You can catch Kerry in the upcoming film LIKE A COUNTRY SONG. Check out more of her work at: http://kerryknuppe.com/

2. Connect withthe HUMAN, BEING.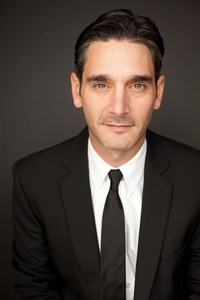 To help build a fiery connection, actor / director of HOME, JAMES –Jonathan Rossetti tells us…
It takes a lot of rehearsing and hanging out – for me that is the easiest way for us to be able to see each other as people. You are playing a character, and sometimes filming these intimate scenes, and so it was important to know Kerry as a human being. Kerry and I rehearsed twice a week for two months leading up to the shoot. We are both LA based, so that worked out well. Rehearsing was really important in terms on getting to know each other as people, and as the characters. And that is not something you often get in a film setting. You want to get along with your co-workers. That doesn't mean you have to become best friends with the person you are shooting with. Kerry and I did happen to get along great. But it helps to understand where each other are coming from.
I studied acting at the Atlantic Theater Company in New York and they preach practical aesthetics as a technique. The basics boil down to living truthfully in the moment. It is not based on a method type of acting, or recalling memories. It is very much a forward thinking process, and that helps to create chemistry with your fellow actors. The technique is What would happen in the situation, if I were in it? – compared to remembering a past event. It is living truthfully in each moment.
ABOUT Jonathan Rossetti
Co-writer, director of HOME, JAMES – Jonathan is a graduate of the Conservatory Program at the Atlantic Acting School in New York City and the Advanced Program in Los Angeles, where he was taught by David Mamet, William H. Macy, Felicity Huffman and others. He has appeared in many films and shorts including The Fall of 1980, Spartan, Redbelt, Smoke, Mirrors and on television in The Unit. On stage Jonathan has appeared off-Broadway in Keep Your Pantheon (Atlantic Theater), 10×20 (Atlantic Theater), the World Premier of Keep Your Pantheon in Los Angeles (Center Theater Group), and many performances of LIVEworks with Acorn Pictures, among others.
FOLLOW @homejamestulsa

3. TRUST EACH OTHER
Manny Perez from LOVE IS STRANGE shares that actors must…
Trust each other. To develop chemistry, get to know the person you are with and learn to trust them. We did bonding on the set of LOVE IS STRANGE. The guy who plays my partner and I didn't know each other beforehand. We got together before the film and developed a friendship, a brotherly friendship, and that showed in our relationship in the film. We spoke beforehand, and hung out. We played it on the set too. The set became a place for us to show the brotherly love that we developed.
About Manny Perez
Manny Perez is becoming one of the most recognized Latino Actors in Hollywood. He has embarked into the most pivotal steps in his career. In the past few years he has been cast from leads to co-starring roles in over a dozen films; in major and independent releases.

4. PUT EVERYTHING OUT THERE!
Director Tommy Wirkola from DEAD SNOW; RED VS. DEAD believes that when it comes to sparking chemistry…
It's about putting everything out there. In general, in an audition, you can feel who is holding back and who is putting everything out there. It's not about making sure you look good. I try to give actors as much help as I can, but it is a strange process. It's about feeling your energy. It's about trusting the director and believing that they know what the scene needs. It's also about sharing the same humor. It is something you feel right away. When two of my actors met for the first time, they smiled at each other and had a connection right away. I knew they would be great together. It is about their personalities and their point of views.
About Tommy Wirkola
Tommy Wirkola was born on December 6, 1979 in Alta, Norway. He is a director and writer, known forHansel & Gretel: Witch Hunters (2013),Dead Snow(2009) andKill Buljo: The Movie

5. THINK AS A TEAM
Actor Joseph Julian Soria of Camp X-Ray shares…
For me specifically, when it comes to building chemistry, I just try to bring the same mentality I had when I played sports. It's a team game, and we all need each other to produce a win. For CAMP X-RAY, we hung out a few times to get to know each other. Communication is key before you even step in front of the camera. We would play catch, hit golf balls, tell stories, and basically just become friends. Real chemistry makes the best on-screen chemistry.
Joseph is proving that he possesses the talent, energy and experience to bring memorable characters to life on the small and silver screen. Most recently, Soria was bumped up as a series regular on Lifetime's top rated series, "Army Wives," so this year, he continues his role as Private First Class "Hector Cruz." Although often cast as the bad boy, Soria has proven to have the chops to conquer many other roles, including comedic characters. His latest film Camp X-Ray, premiered at the 2014 Sundance Film Festival.
THANKS ALL – FOR YOUR SMOKING ADVICE!