How does it feel to interview two of the most incredible young performers in two of the hottest Broadway shows? Find out here.
The Broadway experience is one that many theater kids dream about. There's lots of excitement, fun and stardom, but it's also one of the hardest jobs out there.
Cole Grey is a mere 10 years old and already on the Broadway stage in Fun Home which is the 2015 Tony award winning musical.
Alexandria Suarez, who is a hairpin away from 16 years old as of this interview, has been working on Broadway's On Your Feet for two years.
Things go down that a young performer may not even think about. Being on Broadway is one of the hardest commitments of their young lives – not just THEIR lives, but their family's lives as well.
Dedication is the first word that comes to mind. From rehearsals to learning lines, wardrobe fittings to attending events, school work to remembering to eat and sleep… and what about leaving home hours in advance just to get through all that New York City traffic so you're on time?
When I was nine years old and in the Broadway show Golda (which starred Anne Bancroft), all of the above didn't even phase me. It was just another fantastic day at the theater! Nevermind that my mom pulled me through snowstorms, made arrangements for my little brother every day after school and weekends, bought birthday presents for the cast, exhausted herself dragging me to events while I soundlessly slept in the cab…
With the support of their families, Cole Grey and Alexandria Suarez are two of the happiest young performers on Broadway!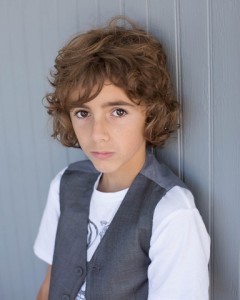 Cole Grey is 10 years old and in the Broadway play Fun Home. Visit Cole's Website.
You play Christian in Broadway's Fun Home. Tell us about your audition.
Back in January, my mom thought it would be good for me to get some "real" stage experience besides the recitals that I have done with my theatre schools. She had contacted the school that I was attending (Annie's Playhouse, Far Hills, NJ) to inquire about auditioning for community theatre. The owner of my school, Annie Forgione, told my mom that she wanted me to meet someone before I did that. I ended up meeting and auditioning for Susan, a manager for children in the theatre business. I ended up signing with Susan who then proceeded to set up a meeting/audition with Barry, an agent. However, before I even made it to meet him, an opportunity came up and Barry and Susan asked that I send in a video audition for the part of Christian in Fun Home. I had to do it within two days because the auditions were over. It was so stressful to do, my parents filmed it and they had no idea what they were doing. I sent it in on a Saturday, and my mom received a call early Monday morning that they wanted to see me that day for callbacks. I had never been to an audition before so I was so nervous I didn't know if I could do it. My mom told me to try and relax that this will be a good auditioning experience for me. Obviously, this happened so quickly that I did not have much time to prepare, never mind trying to remember the dialogue and a new song! I messed up twice in the audition, but I kept going and they made a comment to me at the end that I should be very proud of myself since this was my first audition and also about the way that I recovered from my mistake and kept going. I was so happy when it was over. A few hours later on the train ride back home, we got a call from Susan that they wanted to see me for final callbacks the next day…now I was really freaking out! The final callbacks were about two hours long. There were a handful of other boys there. We auditioned in a group with a choreographer for dance and then a voice coach for harmonizing together. We were also called back individually. I really had a good time at this audition, I wasn't as nervous as I was the day before.
Who told you that you got the part? What went through your mind when you found out?
When I got back from the audition, my mom and dad, sister and grandparents were just hanging out talking. My mom's phone rang and my mom asked me to answer it, it was my manager, Susan. My dad started videotaping me while I was on the phone with Susan, which was very confusing to me. Susan asked how the audition went, how I thought I did and then she said…. "Cole, you got the part!". At first, I was stunned, speechless, it took a while to sink in. Then I started to cry. My mom started screaming, my whole family was going crazy! (My mom and dad had already known, Susan had called while I was still on the train coming back from the audition). This all happened within five days. It was like a dream.
What's it like exiting the theater after the show and seeing fans waiting by the stage door? Do you interact with them?
The unique thing about this show is that the performers exit the theatre the same way the attendees/fans do. There is a circled off area where the fans wait. All the kids usually go out together. I always make sure I have my Sharpie with me for signing autographs, I also do selfies with the fans. I talk to them and thank them for coming. It is such an exciting feeling to go out every night and see the fans waiting to meet me.
How many days a week do you work on the show?
Eight shows per week (matinees on Wed and Sat) – each show is 1 hour 40 mins (no intermission). Rehearsal lasted about three weeks prior to my first performance. It ended once I started the show.
Cole Grey loves to sing and perform! Wonder what he'll be for Halloween THIS year?
Are you the only actor who portrays Christian or are you on rotation with another young performer? Do you have an understudy?
I am the only performer that plays Christian. There are two girl understudies that cover all three of the children (Christian, Allison, John). When they fill in for Christian or John they wear a wig!!
How does school work?
I go to my regular school Monday, Tuesday, Thursday, and Friday. I go into the city on Wednesday mornings for tutoring then have a 2:00 pm matinee and 7:00 pm show. The show is required to provide me with a tutor since I would not be able to attend enough hours of school for it to count and still make it to the show on time. My tutor sends informal reports each week to the principal of my school so that the work and hours I put in are documented. My teacher and tutor communicate when needed to make sure they are on the same page as far as expectations. My teacher and the school system have been extremely supportive and flexible during all of this. I have maintained my grades.
Since you're a minor, who stays with you while you're working at the theater?
My parents (or someone designated) needs to drop me off and pick me up. I have a child wrangler, named Vanessa, who is awesome! She takes care of us while we are at the show. She makes sure we are where we need to be and in costumes, etc. She is really like a "second mom" settles any disputes among the kids, makes sure we stay hydrated, plays games with us and showed me how to do the Rubik's cube.
Is it true that a Broadway kid needs to stay within certain height guidelines?
That is true for my role. It states in my contract that if I grow more than two inches within six months the management company has the right to stop my contract. I actually replaced a boy who got too tall for the part. Let's hope I don't have a growth spurt anytime soon!
How did you learn your lines?
I had three weeks of rehearsals, 4 times a week for about four hours per day. I also had to watch the show and/or go backstage during the show about 3-4 times per week. I was initially very nervous that I would never learn all of the choreography and songs. I also had to learn how to move the sets around. I did practice when I went home as well. I would say I had everything "mastered" by the end of the second week.
At what age did you realize you wanted to be in show business? Why did you choose theater over television/film?
I don't think I ever really thought I actually wanted to be in show business. I just always knew I liked to sing and dance so I think I just naturally was more drawn to the theatre instead of TV or film.
Not a day goes by where Cole Grey doesn't belt out a tune, even if he's in his pajamas. Here's Cole in the recording studio.
Do you have a singing coach? Does the production pay for your singing lessons? Do they provide the coach?
I don't really have an official singing coach and/or lessons. All of the children performers warm up with the music director about 40 mins before each show. If they think something needs to be adjusted with my singing this would be where it would be addressed. The more intensive singing lessons/coaching was during the rehearsal period. I did have to stop my regular theatre and vocal lessons while I am doing the show as I just don't have the time right now. But I do plan on going back when I can.
Do you have your own dressing room?
I share my dressing room with the other boy in the show. There is a bathroom in our dressing room. I also have a place to sit with a big mirror and lights around it. I can decorate my area anyway that I would like. We do have a monitor and speaker so we can see and hear the show.
Are you a member of Actors Equity Association?
Yes. I had a choice to join Actors Equity and it provides more opportunities for my future with Broadway and other roles.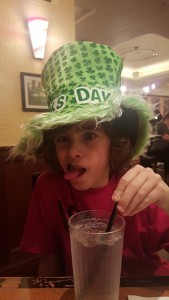 What are your favorite foods?
Watermelon, chicken fingers, French fries, sour patch kids, ravioli, my mom's lasagna.
What are your hobbies?
Well of course singing and dancing! Soccer, basketball, flag football, swimming, water skiing, making videos.
Do you ever feel like you have to give up things because of your career?
Yes. I have had to give up many things. Sports/activities, school events, birthday parties, vacations, playing with friends. I have mixed feelings. I am sad when I know I am going to miss something, but then I am so happy when I am doing the show.
Do you have an agent and/or manager?
Yes, I have both. Susan Lipton and Sabina Kalfa from KRS Entertainment are my managers. Barry Kolker from The Carson Kolker Organization is my agent.
Do you see yourself in show business for the rest of your life or do you have other interests you want to pursue as you get older?
At this moment I want to do this forever!!
Any advice for young performers?
Yes. You should never give up. Follow your dreams. Get as much experience performing in front of people as you can. A good theatre school should be able to provide references and/or recommendations for managers/agents.
Alexandria Suarez turns 16 years old on June 16th. Happy Birthday, girl! Check out Alexandria's Twitter page.
Tell us about your audition for On Your Feet.
My audition for On Your Feet, now over two years ago, was pretty thrilling. They were about to do the initial workshop for the first script draft they wanted to present so I auditioned in front of Jerry Mitchell, much love to you Jerry. I prepared a few songs and after the first one he told me that that was "sensational." He is a sensitive and well-rounded director that I felt comfortable to practice my craft around right from the commencement of the audition. I had my curls down like usual and was wearing one of my Doc Martens boots pairs which are one of my top preferable shoe picks for anything. Very soon after that, I was called for the first workshop of the production and I have been a part of it since.
Did you know who Emilio Estefan and Gloria Estefan were before you went on the audition? Did you get to meet the real Emilio and Gloria Estefan?
I was well aware of who Emilio and Gloria Estefan were because, in my household, my parents always exposed me to good music from various generations. They are the epitome of Cuban pride and Latin pride in general for our family and many others. I actually have a video from my three-year-old self singing along and moving to a song that I now sing in the show which happens to be one of my favorite ones of her discography. Gloria loved the video and after watching it squished my cheeks, ha. They have been a great part of this project and are very maternal and paternal with the cast, being involved with a lot of the production and cast recording.
Alexandria Suarez stepping out of her dressing room backstage at Broadway's On Your Feet.
Are your parents allowed to stay in your dressing room or behind the scenes during the show, or do they stay in the audience, or just leave and come back when the show finishes?
My mom and dad have the family schedule down pat; my mom and dad work hand in hand and always manage to make me feel appreciated, cared for, supported and loved. They hang out at the theatre with me for a bit, then I meet with my child wrangler, #mychildwranglerisprettyrad. There are many jokes and so much comfort among the wrangler and everyone in our cast, that I leave my family for a while to see another, that's how I view that.
What do your friends think about you being on Broadway?
My friends are casual, supportive and nonchalant. We all interpret each other's schedules, passions and views in everything. My friends have their own activities that I support them with. Everyone has something they love and are passionate about doing, mine just happens to be this, and I always appreciate their regard toward mine.
You also do voices on Dora the Explorer. Do you know how to speak Spanish and English or you only learn the Spanish parts that you have to?
Indeed, I speak Spanglish with and among the cast as the voice of Backpack on Dora the Explorer as well as Naiya in the spin-off Dora and Friends. We speak primarily English but with vital Spanish lessons throughout each episode.
What is it like recording characters for the animated Dora the Explorer?

The experience of recording Dora The Explorer is amazing; it evidently varies greatly from my other current project On Your Feet, and that's the magic of all of this — you can see different sides of the spectrum and still be in a booth or in the wings or on scenery waiting to perform again and do what you love and still convey a message. My lines and / or lyrics for Dora can be memorized or read cold initially developed on the spot with a take or more, varying on the type of episode.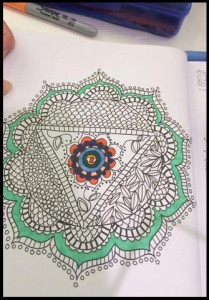 In her spare time, Alexandria Suarez likes to work on adult coloring books.
What activities do you enjoy the most, outside of show business?
School is another passion of mine. I took my SAT's in seventh and eighth grade for a program. I enjoy taking AP classes. Aside from these two vital aspects of my life, I enjoy yoga, baking, walking anywhere especially longer distance, seeing friends, playing with my dog "Loba," bbq's with family, and aside from that, I like to be an occasional low key average Joe making smoothies and reading articles on Buzzfeed.
Are you in any of the actor unions?
Equity and SAG-AFTRA. I joined when AFTRA and SAG were still individual unions. It's nice to have a set position from where you can potentially book jobs and be protected. I joined Equity for my initial Broadway production, On Your Feet.
Any advice for young performers?

Regardless of what aspect of life you are interested in pursuing and potentially diving into, being authentic will be key. You do not always find yourself very early in life, therefore, for the sake of adventure, expose yourself to different things so that when you want to decide what to contribute part of your life to, you have a broader understanding of things to pick from. You discover things many times through trial and error, but you will always know what feels almost like a representation of yourself by your instincts and goals.