10 ways YOU can make more Money in Acting
I think I can, I think I can, I think I can…
For certain – you can!
You can keep chugging up this mountain called YOUR ACTING DREAM… no matter how high it seems. Of course, it helps to get insight from those who have already faced the same formidable journey – and have succeeded at performing as an actual living.
So, to keep your engine going, go ahead and fuel up with this advice on how to make more money and keep your career in motion…
Julie Alexandria
Currently A TVHost/Personality and Sports reporter for Big Ten Network & MLG. Julie has hosted for MTV's The Seven, Mets Weekly, Spike TV, and has recorded a ton of voiceovers!
1. To get more work… One of the things I did when I was starting out was to be a promotional model/booth host at trade shows. The experience is twofold: you get to learn about a product, and "sell" the idea to buyers (as Actors that comes quite naturally to us!), and, you never know whom you will meet!
Because most trade shows/conventions take place over the weekend, the time commitment is minimal, and usually won't cut into precious auditioning time. In one instance I was a promotional model for an accessories company where I forged a good relationship with the owner. Every time she had a trade show in LA/NYC, I was her go to model for the booth. After a few shows, she asked me to be the cover model for her seasonal catalogue. Since then, I have appeared in every Spring/Fall catalogue, as well as her website.
You never know when a company is looking for a spokesperson, a "face" for their brand, or a host for their demonstrations. I've ended up travelling all over the country and internationally with some companies; (from Medical device sales to handbags!) as they more often like to cast someone who is familiar with their brand, and someone who can sell their concept, as well as the item itself.
My tip: familiarize yourself with the brand/company before you work your first day on the convention floor. They always like to know you did your research. Find out who attends these expos; what kind of people will you be meeting? talking to? or selling to? Conventions/Trade shows are all about networking, so there really is no better place to do so!
Follow Julie Alexandria:
FB: http://www.facebook.com/julie.alexandria
Twitter: @JulieAlexandria
Lauren Francesca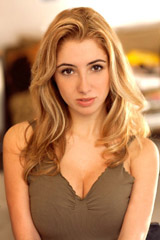 Recently cast in the movie Catskill Park and just completed acting in the movie, Bad Parents. Also working with Mark Mangold – an award winning music producer who is helping her produce her first Album.
2. To get more work… One interesting thing I did to get into more acting work was shooting my own projects. I started working as a production coordinator. Two webseries that I worked on were picked up, one to Atom.com and the other to BET. I then went on to produce content for YouTube, and a short film that was accepted in to Cannes last May.
Follow Lauren Francesca:
FB: http://www.facebook.com/Laurenisfunny
Twitter: @laurenfrancesca
www.youtube.com/lauren
Christina Calph
Currently appearing in the movie Tower Heist playing a snoody Victoria Secret's saleswoman. Recently appeared in Arthur, alongside Russell Brand. Next up, Christina is working on new videos for her web series, "XXX : A Bad Girl's Ball," while dancing with her hip hop group, "Truckstop Dancers" and doing industrials for Intel.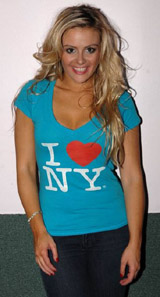 3. To get more work… I stopped looking for approval and started playing by my own rules. Instructors, other actors, and teachers sometimes offer insight that causes the entertainment industry seem like it's untouchable. The "Golden Enterprise" so to speak. I started treating it like I did my survival jobs…not on such a high pedestal. Started taking chances and making bold choices. I also found the nuances in the text and in the audition room really made my interpretation of the scene come to life. They want to see actors that can hold their own and don't need to be spoon-fed with directions. With that said, I've learned it is important to ALWAYS work on your craft. I tend to book work most when I am in class fine-tuning my work. I also started researching past work. Going to see plays/musicals when I can and watching anything and everything I can get my hands on. I live at the Lincoln Center Library. You must do your homework.
Follow Christina Calph:
http://www.youtube.com/user/XXXBadGirlsBall
Summer Crockett Moore
Currently starring in Reading Under the Influence, traveling the festival circuit with award-winning short film A Younger Man, and awaiting the world Premiere of her movie Junction .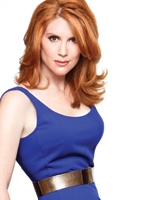 4. To get more work… I became a producer! I work pretty steadily as an actress, but found that I was craving more creative input, so decided to become a producer as well, so that I could have more control over some of the jobs that I was acting in. What it did was widen the playing field for me, and allowed me to showcase myself in a way that I think would have been harder to break into, as some of the roles I have played in projects that I have produced, at first glance, appear to possibly be outside my wheelhouse, but are things that I knew I could do. As a producer, I have done many projects, but as a producer / actor, I have done 4 Off-Off Broadway world premieres, 2 Off-Broadway World Premiere plays, 2 Regional Plays, and recently two films. This not only was great fun for me, as I got to work from the ground up on great projects with great producing partners, but it also helped my agency and casting directors see me in a new light as well.
Follow Summer Crockett Moore:
FB: http://www.facebook.com/pages/Choice-Films-Inc-Choice-Theatricals/264232936771
Junction the Movie: http://www.facebook.com/pages/Junction/265823313448835
Reading Under the Influence: http://www.readingundertheinfluencetheplay.com/
Annie Edgerton
Currently appearing in "Mamma Mia!" on Broadway through the end of January – in the ensemble and covering the roles of Donna, Tanya and Rosie. After that, Annie will be playing Paulette in "Legally Blonde" in Indianapolis through April.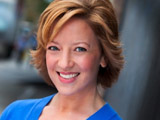 5. To get more work… The biggest piece of advice I have is that you have to revel in who you are and keep doing the work to pursue what you love – because of that I booked my next gig without even auditioning for it: As part of "doing the work," I routinely look over the photo/resume request section of the AEA website, and a few months ago I submitted myself for a show in Indianapolis for which I was called in to audition. The role was a little bit outside of what I typically aim for, but I went in prepared for it and was 100% me. The Artistic Director told me I wasn't really right for the role… BUT he thought I was perfect for something else he was doing later this season and he'd call me in for that when they were auditioning that show! (Fantastic 'rejection', right?) Well, a few months later, my agent called me with an OFFER for the role – when I said I hadn't auditioned for it yet, she said, "I know – he's coming into town for auditions next week and hopes you accept the offer so he doesn't have to audition anyone else for it." Makes a gal feel pretty darn great, and I love that story because things can – and do – really happen that way!!
6. To get more work… In the same vein, I am now in a Broadway show because I went to a run-of-the-mill required chorus call years ago – at the time I had no agent, no major credits, and was in a dry spell, but I was what they were looking for and one thing led to another. You have to be an ARTIST, not just an actor, singer, dancer… you have to take classes, and create your own projects and collaborate with other artists CONSTANTLY. For all of these great stories that people are sharing, there are hundreds of thousands of stories of NOT booking a job, so you really need a foundation – not just to get you through the tough times but to put your whole career in perspective. (Because if you don't want a CAREER, then go find something else you're passionate about and go do that.) But if you're willing to commit to this above all else, then do it – and it will become a joyous experience, not just simply a series of auditions.
Follow Annie's Journey!
Annie is working on a project to sing the national anthem for every Major League Baseball team and hope to surpass the halfway point next season.
http://www.facebook.com/#!/pages/Annie-Edgerton-Anthem-Quest/398786458091

Herman Chavez
Recently appeared on Pan Am, Suits, The Good Wife and in the short film Una calle sin salida, which premiered at Cannes. He also coaches on The Mental Game of Auditioning.
7. To get more work… One interesting thing I did to get more acting work, was first to be specific as to what genre of acting I wanted to work in. Once I knew it was film and TV, I figured let me go to the source. So, I started taking class with a casting director, and submerged myself working practicing, just like an audition [because the practice needs to parallel as closely as possible how you're going to execute it in the real world], exclusively on scenes from T V episodics, Feature films, and sitcoms. I knew I needed to not only own my product but know it and my customer, inside and out, because I know casting directors who get annoyed when an actor comes into their office and wants to impose their theatre theory, or scenes from plays theory and are unaware that there is a different pacing rhythm, subtleties to film and TV, actors spend so much time working on scenes from plays, when most of them want to work in film and TV. It's like being trained in classical music and walking into Russell Simmons' or Jay Z's office to impose your theory on them… and then getting pissed because you're not getting work as a hip hop artist. To me, all actors are salesmen/ or women. We sell acting performances (auditions) to the customers (casting directors and directors). Either they buy it or they don't. And if you can't find a casting director you feel comfortable with, try to learn from someone who is a working actor, someone who will give you that inside information because success leaves clues. At the end of the day, you can do all the networking that you want. It is going to come down to the actors read at his or her audition.
For more insight from Herman Chavez:
Sign up for coaching classes, starting soon: www.thementalgameofauditioning.com

Keisha Omilana
A Supermodel and super woman – Keisha just booked a deal with AVON! She also walked for Pamela Dennis and Monique Lhuillier during Fashion and Beauty week NYC. And recently shot a cover for Vogue!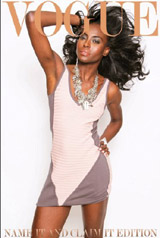 8. To get more work.. I have been told for years "Your nail beds are so long and beautiful. You have nice hands!" So, I said, "you know what… If I have a 'nice/beautiful' face and can get paid for it why not see if I can make money with my so called 'nice hands!'" I called and submitted to the Parts modeling agencies in NYC and two called me in. I did not work immediately, but I put myself out there, built my Parts book, and within 6 months I booked Maybelline, Veet, editorials, and a Band aid commercial! The extra money quickly stared rolling in from that point on!
Keep up with Keisha Omilana's modeling and philanthropy work here:
Twitter: @komilana
Facebook: http://www.facebook.com/KeishaOmilana#!/profile.php?id=620829759

Sarah Lowe
From NYC… Sarah is currently appearing in Jersey Boys Las Vegas, while working as a backup singer for Penn Jillette's (Of Penn & Teller fame) NoGod Band, and performing with The Apple Sisters.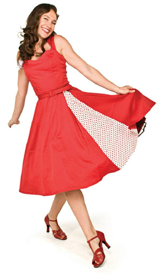 9. To get more work.. Honestly, the one thing I did to get more acting work was take improv classes. It gave me the opportunity to have more confidence and connect with commercial casting people. Also it allowed me to perform on a regular basis. I didn't get paid, but I didn't have to pay – and, in the long run, I was able to invite casting directors to my show, or at the very least always had an interesting talking point when I got in a room!
Check out Sarah Lowe's Performances:
www.applesisters.com
Facebook: http://www.facebook.com/#!/profile.php?id=673697882
http://www.jerseyboysinfo.com/vegas/cast.html

Elizabeth Merendino
Originally from New York, Liz is currently traveling, performing theatre in London, Tokyo and Hong Kong. Her one-woman show "Seasons of Liz" just played at the Edinburgh Fringe Festival. And, Liz runs her own music education consultancy firm, Overture Limited.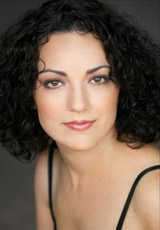 10. To get more work.. I market myself! I made a Facebook page and asked all my friends to Like it – this way their friends see your upcoming performances as well, and they might keep you in mind for future gigs. I also twitter about performances I am doing. I attended parties where I knew there would be people I could give my card to. I sing for charities to get my face and name out there. I developed a one-woman show. And I keep up my acting website, so people can learn more about me and hire me!
For more on Elizabeth Merendino:
http://lizmerendino.com/
Facebook: http://www.facebook.com/pages/Liz-Merendino/227665703937664
Twitter: @LZMerendino