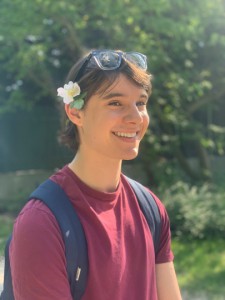 Teenage actor Ewan Horrocks is making a name for himself, having just finished filming the British television series The Last Kingdom. You can catch up on the previous seasons on Netflix.
Show business is a whirlwind and juggling time is something every actor should master. One day you're at home relaxing and the next day, you could be on a plane flying across the world!
As a newcomer to the professional world of acting, Ewan Horrocks discusses his life, acting and what it was like seeing himself on screen for the first time.
You were recently in Budapest, Hungary filming Netflix's final season of The Last Kingdom where you play Aelfweard in a recurring role. Tell us about your audition.
I auditioned for Aelfweard in October 2020. It was a pretty straight forward self-tape audition; I got sent the sides in advance, prepared for the scene, filmed it and sent it on. After a couple of weeks I met the director, casting and the producers on a Zoom call and performed the scene – then a week later I found out I was flying to Budapest! We've just wrapped on The Last Kingdom and it's an experience I will treasure forever.
You're fairly new to the acting world and had a breakout role as Young Drusus in Sky's Ancient Rome series Domina . Now that the show has begun airing, what's it like watching yourself on TV?
It's a pretty surreal feeling – seeing yourself on screen. I mean, for me, when I watched it back, I had to distance myself from it and just imagine that it's a character and not me. I feel like that's the healthiest way for me to look at it. But it was great watching Domina when it aired, especially seeing everyone else's work and what it looked like as a finished show.
Did the Covid-19 pandemic interrupt your filming of Domina or The Last Kingdom? Did you have to get tested for Covid-19 just to be on set? If yes, how often? Was the test done by production or was it your own responsibility to get it and show the results?
Covid-19 definitely had an impact on filming, as it did everyone. With Domina, we shut down when the pandemic first started and then when the cases started to ease near the summer, we were fortunate enough to be one of the only international projects to continue working. For both projects, production would schedule two weekly Covid-19 tests to keep on top of the safety of cast and crew.
Did you graduate school? Do you have plans for university?
I graduated Sixth Form last year, studying English Literature, Photography and Media Studies. But, for me, my dream since I was young was to work as an actor, so my plan is to keep auditioning and working in this industry.
As a young, professional actor, who do you look up to for guidance?
Well, I always have and always will look up to my parents. They may not be actors, but they are the most hard working and loving people I know, and they have supported me all the way. Not all parents are supportive when their child says they want to be an actor, so for that I am very fortunate and grateful. In terms of actors I've looked up to, the list could be endless. But, as a kid, I was inspired by the likes of Johnny Depp, Harrison Ford and Tom Hanks. As I have grown older, I appreciated the works of many others like Leonardo DiCaprio, Brad Pitt, Marlon Brando etc. But honestly, the list is endless.
You have a great name, Ewan Horrocks! Please share the history of your name.
Thank you! Well, my parents named me Ewan because my dad is half Scottish and it's a Gaelic name. Horrocks is a northern name, but sadly no relation to Jane Horrocks!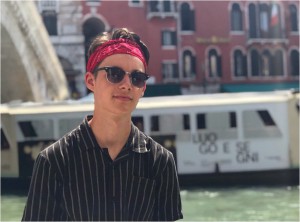 Are you taking acting / coaching lessons?
I've been having acting lessons since I was sixteen and continue to now. When I'm working, I struggle to attend classes but, in my downtime, I will do my best to attend. I feel like it's a safe space for me to make mistakes and continue to grow as an actor.
Acting on a series takes up a lot of time. What do you do on your downtime?
I guess downtime has been incredible for me so far; mainly because I've only worked outside the UK, giving me the opportunity to explore different cultures and cities. So, for me it's mainly spending time with the cast and getting to know our surroundings. Having said that, I do try to keep myself occupied by learning guitar and working out.
What advice do you have for teenagers looking to get into show business?
I'm really not at the stage to be advising others on their careers as I've only just started mine, but the best thing I could say would be: if you really want it, you've got to work hard and stick with it!… That's what I've been doing and so far, it's paid off!