Rosie Day is a name you can put to the face. You'll recognize her as series regular Mary Hawkins from the hit show Outlander.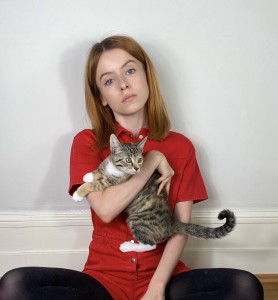 With two more projects in the works plus the October 14th launch of her book Instructions for a Teenage Armageddon, it might seem that everything is peachy keen and that the world is made out of rainbows and butterflies.
Not so. Rosie Day auditions just like the rest of us. She does not book every job and she most certainly isn't riding easy street. Rosie is a hard working woman who has gone through the ringer, having the pain and heartbreaks we all have when not booking the perfect role. Her persistence has paid off after years and years of working in the entertainment field.
Rosie Day is an inspiration to teen girls, actors and writers everywhere.
You can be seen in the upcoming comedy-drama Real Love as well as the award-winning Call the Midwife. Having had a successful career in show business since the age of four, are you at the point where you're able to choose which projects you want to work on, or do you still audition and cross your fingers that you win the role?
Oh gosh, I audition most weeks for something! I'm lucky enough to sometimes get straight offers for things, but most of the time it's auditioning – but I really enjoy the actual auditions and recalls – the waiting by the phone not so much! It's a career based on hope, isn't it? I think you have to think of the auditions as the work, and then if you book the job – that's the fun part! I'm learning that it's just as important what you say 'no' to, and to not jump at everything just because you want to work, but I know that's a privilege to be in that position. I remember watching an old interview with James McAvoy saying he still auditioned occasionally; I think that process always exists sometimes no matter how successful you are.
You're also an author! Your book Instructions for a Teenage Armageddon, about surviving your teenage years, is coming out Oct. 14, 2021. How exciting! What prompted you to write a book? How'd you choose the topic? How'd you get WMEBooks to represent you? How'd you get @wrenandrookbook and @HachetteUK to publish it? Walk us through the adventure you took from start to finish in getting your book written and into production.
It was all by chance really like most things in my life are! A brilliant theatre director, Hannah Price, set me the challenge of writing a one girl play, and whilst I was abroad filming, I wrote it on weekends. I wanted to depict what it is to be a teenage girl and their experiences realistically on stage, as so often teen roles in theatre are supporting roles and it's not their story. We did a preview run last year, with the actual run due this winter in London. It was by word of mouth I ended up with a meeting with WME who proposed writing a book, and I loved the idea of creating a guide to help girls survive and thrive in their adolescence. My amazing literary agent, Anna, pitched it to publishers and Hachette made us an offer that I beyond delighted about and somehow a year later it's about to exist in the real world!
Rosie Day in Outlander. Photo by Jason Bell Starz Entertainment LLC.
Let's talk about your portrayal of Mary Hawkins in the Golden Globe nominated Starz and Sony Pictures TV series Outlander. Another drama-driven role with trauma and violence leading up to the rape of your character. For scenes like this, do you need personal time to get "into the zone" before filming, or can you just be on set and immediately jump into the scene without much preparation? What's your process for doing scenes of this emotional, terrifying nature?
I'm definitely an actor that just sort of does it, and I'm not really sure how. It's like they say 'action' and it's this magic word and it just sort of happens. I'm not someone who has a process or a method, it's all just imagination for me. But the scripts and sets were so brilliant on Outlander – it was very easy to lose yourself in that world.
Since you were a child actress following in the footsteps of your big sister, did you at any point ever feel like you were missing out on being a "normal" child?
Sometimes I did for sure. But I never minded missing out on things like birthday parties or sleepovers as I loved being on set and working so much, which is a weird thing for a little girl to have in her life. I much preferred the company of adults on set than my peers in a classroom. I'd experienced this huge world outside school, so I always felt quite trapped by being in a classroom. I was a creative kid, and the school system doesn't cater to that particularly well if you go to ordinary school here in the UK.
I also didn't grow up in London – I grew up in places and schools where I was the only child working in the entertainment industry, which definitely caused problems at school. But I think that's the same for most child actors. You go away filming and come back and you've missed out on everything that's happened at school. It was very hard from about ages 10-13, but once I got to year 9, I found an amazing group of girlfriends that were so supportive, but also never spoke to me that much about my work which was lovely. I sometimes think, what would I be doing if I hadn't accidentally found acting, but I guess I'll never know the answer to that one!
Rosie Day. Photo by Helen McArdle.
You've been in numerous stage plays. As an actor, what's the difference between playing a role in theatre vs. on screen? Do you have a preference?
I will always love filming, but theatre has a hugely special place in my heart. Each play is such a unique experience and I really thrive on working with a team to create an end result that you get to live start to finish every night. You go on a journey throughout each run which means you have time to play and change things up each night. Your performance is yours, there's no edits, no cuts, it's just whatever happens that night and you and your cast mates have to get through it together, and I love it when things go a bit wrong, and you have to think on your feet. Maybe I'm an adrenaline junkie but I don't think there's anything that can rival the first few nights of a play; it's exhilarating. 
You've delved into directing. What do you like about directing? How did you learn? What have you directed? Any upcoming gigs?
It started off as writing – I write stories constantly, and then directing those stories was sort of a natural progression. As a young woman when you suddenly realize you have a voice and stories that you want to tell, it feels really empowering to get to bring them to life. I sat quiet for many years but then found I had a lot to say. I think from growing up on a set and working and watching directors I had absorbed so much. I had a lot of directors who were kind enough to answer my questions when I'd be acting and then suddenly want to know all the things about the shot we were doing!
We're currently filming a film version of Teenage Armageddon at the moment, which is really fun. I've only directed shorts before, so this is a bit of a step up but it's going great so far!
The Biggest. Seriously. Full Swiftie. And so proud to be! I met her at a party in LA once and she was the kindest person to me, and afterwards I just broke down and cried. Her music has been the soundtrack to my life since I was 12. I don't think there's a single musician that can sum up a very specific emotion or moment in a single line like her.
You're an ambassador for the teenage mental health charity stem4. How did you become involved with stem4? What duties do you have as an ambassador?
I started working with them about six years ago and the work they do is unparalleled when it comes to teenage mental health. They are the first charity to have apps to help teenagers deal with their anxiety, depression and urge to self-harm. My role as an ambassador is speaking at schools, parents and GP conferences to help them raise awareness around teenage mental health and how it can affect families and I help fundraise when I can. Some of the profits from the Teenage Armageddon book are going to stem4 as without their amazing work, and the time I've spent with them, I don't think I would have created it.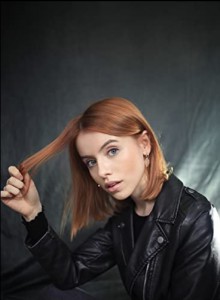 What advice do you have for the under 25 crowd looking to start a career in the entertainment field?
It's a career that can cause a lot of pain and heartbreak and is very unstable, so it's something you have to be very committed to and you just have to keep plugging away at it. Some people get lucky and get a big break quickly but for most that's not the case, so perseverance is key. Politely networking is great – getting people to know your face and your work when you're young is really important and taking as many opportunities to learn as you can. But also, it can't be the only thing in your life; it's a great thing to have but work can't be it all, and your self-worth is not connected to whether you booked a job or not, you have to fill your life with lots of other wonderful, colorful things, that will inadvertently help inform your work, but also means you get to live your life.