Every actor has their own unique pre-show rituals that help them prepare for a performance. Whether it's an intense warm up or just a few moments of meditation, these rituals can become essential for any actor to get in the right mindset before taking the stage. From seasoned veterans to complete newcomers, many actors rely on these routines to help them focus and stay in character. Some of these rituals involve superstitious elements, while others are based on practicality. Such rituals can vary from actor to actor but often involve things such as meditation, stretching or vocal warm ups. It's important for an actor to find the routine that works best for them in order to give the most powerful performance possible.
Actress Jennifer Babiak is currently reprising her role as Golde in the Yiddish version of Fiddler on the Roof which has supertitles in English and Russian, so you don't have to speak Yiddish to enjoy the show. It's playing at the New World Stages theater at 340 W 50th St, New York City.
A true New Yorker, Jennifer, who is very peppy and has a glowy excitement about her, takes us through the steps of her original audition, gives us some up close and personal insights into spending time apart from her actor husband due to work and shares with us her pre-show rituals.
Photo by Michael Kushner for 'The Dressing Room Project'
You play Golde in the Yiddish version of Fiddler on the Roof. Tell us about your audition.
For my initial audition in spring of 2018 I was asked to prepare Golde material in Yiddish, two scenes and a short cut of "Do You Love Me" in Yiddish. I wasn't sure at first if I was right for Golde. I remember asking my agent if I read the e-mail wrong. But what I did know was that I wanted so badly to be a part of this production after hearing it was an all Yiddish production directed by Joel Grey. So I was willing to go for it no matter what. We were given a ton of helpful material to prepare, recordings with pronunciation of the scenes and songs. But when the actual audition day came it was a little scary going into a room auditioning in a language you do not know and knowing the Joel Grey was going to be there. I just remember walking in and Joel could not have been more warm and inviting and made me feel at ease with his beautiful smile. The entire team had the most supportive energy in the room and wanted us to succeed. I ended up being cast as Bobe Tsaytl and a Mame in the ensemble as well as understudying Golde. I then was asked to take over a few weeks into the run downtown and have played the role ever since. It has been one of the most rewarding and beautiful experiences of my life and career. And I am the luckiest actor getting to play opposite the incomparable Steven Skybell. He is the most incredible and giving person onstage and off. This entire cast is a dream and we are all truly a family. It has been amazing to be together for all these years and also welcoming lovely new family members to this production as well.
Golde is not an easy character to play. What rituals, if any, do you do to get into character?
I have my usual rituals getting ready for the show: steaming, tea, a banana and warming up but for this I particularly warm up my lower register speaking voice because she is placed much lower than I normally talk. I speak the Yiddish before each show to make sure it's rolling off the tongue properly. But for getting into character I have a big physical transformation which helps me slip into character for sure; a padded suit, extra hair pieces for underneath my head covering, some age makeup, etc. I get to the theater very early to start the process and I love that prep time. At the start of the show I always watch our amazing Fiddler, Lauren Jean Thomas, as she plays the iconic opening, and I watch Steven Skybell walk out for his opening monologue. They set the scene so beautifully that I am ready to go on the ride and tell this beautiful story.
What's it like working with the iconic director Joel Grey?
Just as he was warm, kind and welcoming at the audition, that is the way Joel has been with this show and this cast from day one. He loves this show so much and every single person involved. Joel has never stopped wanting to work on things and never stopped in keeping the show fresh and alive. He is collaborative and loves talking about the characters, scenes, moments and welcomes conversations with us actors. I particularly loved being in the room watching him work with others in scenes. It is beautiful to watch him work his magic. He says something and it's as if you are seeing the scene for the first time — seeing Fiddler for the first time.
Why and when did you become involved in acting? Like any job, I'm sure it has its ups and downs. What are the ups and downs for you?
I got involved in the musicals in high school and doing community theater on Long Island where I grew up. I was a singer first and always loved music. I was obsessed with musical theater and took the LIRR frequently to see Broadway shows and didn't care that I could only afford the worst seat in the house, LOL. I didn't really fall in love with acting until I went to NYU and met my mentor and incredible acting teacher, Jack Allison. My eyes were opened and I was hooked on the craft from then on. There are ups and downs of course. Over the years I have had many gaps in time where I was waitressing for longer stretches than I had hoped. But then when getting to do what I love and having these precious moments like I am having now it is so special, so worth it, and I am incredibly grateful.
Oh Jennifer, you're so silly! READERS — Caption this photo! Follow DirectSubmit NYCastings to comment!
On December 8, you and the cast of Fiddler on the Roof will be at the Chanukah Spectacular which will stream December 8 at 7 PM ET. Are appearances such as this built into your contract, or is it something you're asked to do on the side?
I am not involved in this event you mention, but in general when we have been asked to perform outside of the show we are asked in advance and asked if we are available so it's not built into the contract. We have had the opportunity to do some incredible events over the years for Fiddler. Steven and I performed 'Do you Love Me' at the Drama Desk Awards in 2019 when our Fiddler won Best Musical revival. What a thrilling night!
Has the recent anti-Semitic happenings affected you in any way?
It's absolutely horrifying. It does feel extremely important now more than ever to be telling stories like this and to be spreading as much empathy as possible into the world.
What place does politics have in the world of acting?
I feel it is so important again now more than ever when people's rights are in jeopardy and when there is hate being spread in the world to do whatever we can to prevent it. So if I can help in any way by sharing or spreading the words of those politically who are fighting for what's right, I feel compelled to do so.
Being an actor is not an easy job, what with crazy hours. How do you and your husband, Michael, work through that? Is Michael in show business?
Yes Michael is in actor as well (he's amazing!) We support each other whole heartedly and although it is hard especially when doing shows away from home, we are both so proud of each other and we make sure we schedule in visits as much as possible. We actually got to be in a production together for the first time ever this past spring ('I Love You, You're Perfect Now Change' at Act II Playhouse in Ambler, PA) and it was truly special.
What is it about Bernadette Peters that drives you and everyone else nuts?
I love Bernadette! I have always loved her voice, her wonderful personality, her phenomenal talent of course and she exudes grace, kindness and generosity.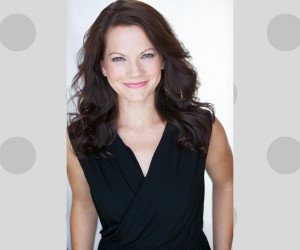 Anything else you'd like to say?
Thank you for the lovely interview and I hope to meet in person at some point! Shout outs to a few of my favorite charities: Speaking of Bernadette — Broadway Barks, Broadway Cares and Girl Up.
Jennifer Babiak's Socials: