Emily Ruhl, the model turned actress turned Writer and Executive Producer, has a very unique story of grabbing life and running full steam ahead. She used her college money to fund her passion project film Blue Moon (available for viewing) without knowing exactly how to go about producing a short.
On top of that, Emily Ruhl struggled with addiction, so she delves into that and gives us how she deals with it on a daily basis.
Blue Moon is a vibrant vignette of a love story that takes place in a single night. It follows two young women through Los Angeles as they explore the depths of themselves and one another. A beautiful portrait of how nurturing mutual vulnerability can turn into pure magic.
You wrote, directed and produced the short film Blue Moon. It's loosely based on the experience of one of your friends who started dating women. When you decided to use your college fund money to make a movie, what did your parents say?
My mom was super supportive when I decided to use my college for money to make a movie. She always wanted me to find my purpose and when I found it, she was incredibly supportive and cried. When I ended up showing her the final product of Blue Moon, we watched it twice and she cried both times.
How did you find everyone to work with, such as the script supervisor, gaffer and the rest of the behind the scenes crew? How did you know what to pay them?
The first person I spoke with when I decided I wanted to make something was an ex-boyfriend, who is a writer and a director. He gave me a list of all of the jobs I needed to fill. Then I reached out to a friend of a friend who recommended a producer who then recommended me to someone else who recommended me to somebody else… So there were a few degrees of separation. My producers filled out the rest of the crew from the script supervisor to the gaffer, to everybody else.
I did not know what to pay them. I just had a budget and tried to use it accordingly. The first project was a huge learning curve. I had no idea what was normal or anything like that.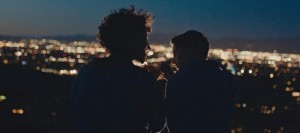 Let's talk about the casting of Olivia Berris and Audra Rae Thornton as the leads in Blue Moon. Since they are friends, was it weird for them to do the sex scene? Did you direct the scene or did you just let the actors do whatever they wanted? What type of talks did you have involving this scene?
I wouldn't say that the sex scene was necessarily weird. It was very thought out and very planned. We had many conversations and a little bit of rehearsal beforehand. We also looked at some videos as reference.
Our talks were about what are we not going to show? What were we trying to accomplish? We did that scene twice. It was a closed set, so it was only the cinematographer in the room. My wonderful acting coach, Lena Georgas, who is with Nancy Banks Studios, and I were just looking in.
Lena did a few different bonding exercises with Olivia and Audra before we got started. But I don't think it was weird. I think it was just new territory for everyone and nobody was ever fully nude. We did maintain quite a lot of level of privacy on set.
Your next project that you're funding is called 13th Stepping which is a dark comedy-drama about addiction and redemption. Tell us the story about your own challenges with addiction and what you did to become sober. What do you do to keep yourself sober?
I feel like this is a topic that I'm still trying to decide how I want to speak about publicly. But I think for me, I've just learned a lot of different tools that I didn't have when I was younger to help me emotionally regulate. And that's been what's helped me. I have much more of a community now than I did when I was younger.
I truly believe the opposite of addiction is connection. I try to find connection as much as I can in my life.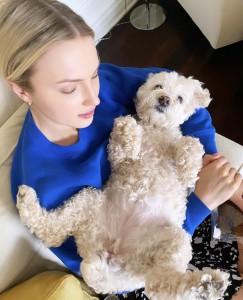 Awwwww!
You've been acting for about four years. At what point in time did you decide to go to acting class? What made you decide where to go for class? What life lessons have you learned during your acting journey?
I think acting class was something that was always encouraged from the start. My acting coach now is Lena, who I spoke about earlier. She's incredible. She's so much more than an acting coach for me because she holds so much of my vulnerability and she knows so much about me. I think she's had to help me with emotional triggers. So she knows quite a bit. My manager had sent me a long list of different acting coaches and being in Los Angeles, I've gone to a few different studios.
During COVID I decided to create my own acting curriculum and started working with Lena. We have built a bond over the last couple of years, and now she's on set with me wherever I go. Life lessons — I mean, you learn so much about yourself in acting, but I think just being as present as possible is the best lesson I've learned.
As a model, you were scouted when you were 13 years old during your attendance at the New York Fashion Week shows. Did you come into New York just for Fashion Week or were you in NY for something else and it just happened to be Fashion Week? Who went with you?
I did come to New York just for Fashion Week. My father took me there as a birthday present, so that was a pivotal moment in my life. Funny enough, it was a Canadian designer who approached me and said that I should model and gave me her card. She was friends with Mother Agent.
I remember I was backstage or maybe I was at one of the little parties. This was in a park, so it was all under tents. It's a bit different than it is now. I emailed my mom to email my Mother Agent. Then I went back to Texas and sent her photos which lead me to winning her modeling search soI flew back to New York to do my first photo shoot.
Pretty soon after that I had a contract in Tokyo. It all happened extremely, extremely quickly.
Emily and the Changing of the Guard
Do you still like Nirvana as much as you did when you were a teen? What is the appeal of Nirvana to young people? How important (or not important) is music in today's world? You put together the play list for Blue Moon. Did you choose the music after the script was written or did you know in advance those songs are the ones you wanted to incorporate into the film?
I do like Nirvana. I think Nirvana, for young people, is timeless. I think that there are certain themes in life that are timeless and can appeal to people of all ages at different points and in time. Music is incredibly important. I think it's the best medicine really, and it's such an incredible medium to be able to express yourself.
I did put together a playlist for Blue Moon which was separate from the one that ended up being in the film, but to me, it was just the most epic kind of "falling in love" playlist. The music that actually ended up in the film is a little bitty, pretty song by Bobby Day. I wrote the first scene to that song.
Sometimes I do that when I have a song in mind and it sets a tempo or a pace for a scene. The second song was supposed to be a little different, but we ended up using it too late to turn back. I had just watched BlacKkKlansman from Spike Lee — he's one of my all time favorites — and that song is used in that film. I heard it and thought, "Oh, this could be amazing."
It was actually in post production that we switched out the songs and used that one. The third song I actually wrote and produced with Olivia Barris who plays Maya in the film. So we did that one together and that was a pretty cool experience. I'd never done anything like that before.
Emily was into fashion and modeling even as a baby!
Are you a member of the LGBTQ+ community?
I am not a member of the LGBTQ+ community, but very many of my chosen family are. It's a very, very important community to me. I think that representation is important and I think that this world is very colorful and diverse. It's important that community is represented in entertainment because entertainment projects, to the rest of the world, represents the rest of the world. So I think that it's important that the two are correlated.
Anything else you'd like to say?
I think that the message I want to leave with everybody is just that if you want do something, do it and learn by doing it. Just because you don't know how to do something yet shouldn't be a deterrent of you doing it. Just ask questions and believe in yourself and you can make things happen.
I think that's the greatest lesson that I've learned from this process. Thank you so much.