General Hospital actor Nicholas Alexander Chavez has been cast as the troubled teenager Spencer Cassadine.
22 years old and new to daytime, a fun fact is that Nicholas has been acting since high school, so he's had more than half a decade to really dig deep into making characters real. He has a really interesting approach, which you'll read about below.
The way Nicholas Alexander Chavez delved into Spencer's life is what landed him the job. He didn't have to prove that he could handle the role; he proved that he is, indeed, Spencer Cassadine.
Check out this Clip of Spencer helping Trina (played by Sydney Mikayla) process what she just overheard.
Sydney Mikayla & Nicholas Chavez. Photo By Troy Harvey, Courtesy ABC.
You play Spencer Cassadine on ABC's long running soap opera, General Hospital. Tell us about your audition.
It started with my manager sending me a self tape request. I spent a couple days on the material before I sent it off. We heard back pretty quickly that they wanted me to come screen test for the show. I tested with Maura West but didn't get to chem test with Sydney Mikayla. I was given sides about a week in advance to prepare. I worked with a couple different coaches, acting mentors and colleagues that I've been acquainted with since I started acting about six years ago. I pulled my favorite notes from each of them and ultimately made choices that set me up to have an in-the-moment experience with Maura.
I was wearing some nice plain clothes that I had picked out from Target and I brought a couple other options for the costume team to choose from. All of my options were simple. I had a couple conversations with the wardrobe department's Shawn Reeves in the week leading up to the screen test and he essentially told me 'the simpler the better'.
Nicholas Alexander Chavez Photo by Lauren Allen.
Everyone got the chance to rehearse the scene once, privately with Maura and the Executive Producer, Frank Valentini, before we recorded it on stage. He gave me a little direction and I really took it to heart. I went back to my dressing room and loosened up and really tried to invest in the circumstances of the scene I was given and forget about the fact that this was an audition. I saw this audition as another way to get better, rather than me trying to prove myself to someone, which can be a dangerous place for an actor to be. "Proving yourself" comes as a byproduct of committing to the scene.
The audition was very fast, but very fun. I was maybe on the sound stage for all of three minutes. I did my best to implement the notes the Frank had given me in rehearsal while still remembering freshly learned blocking. In retrospect, it was a great test given the pacing of the show. Maura West really made it easy on me by being such a terrific scene partner. Everyone I met that day was supportive and friendly.
The next day they called me and told me I got the role. I've never been so ecstatic!
You stepped into a role that's been portrayed by other actors in the past. Granted, the other actors were the younger versions of your character. Did you have any reservations about playing such a well known character?
This is the best opportunity I've ever been given — so no reservations whatsoever, I jumped at this. That said, I knew that it was a beloved character and I wanted to be sure to do the character justice. To be clear though, I never took that to mean "Behave with the same quirks and mannerisms that the old Spencer did." To me, doing a character justice means looking at the facts of a character's life. What's happened to them? How does that shape them? How do they treat other people? How do other people talk about them?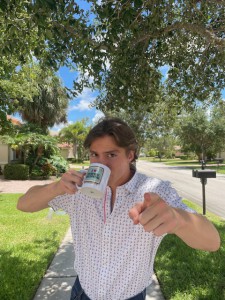 Spencer had also been away at boarding school for three years, which got my mind racing with all the ways that can change a person. Especially if, for all of that time, he'd been estranged from and lied to by the only parent that he had left – Nikolas.
Spencer does some things that we might consider "bad", but in his mind he's 100% justified in doing the things that he does. I needed to access a character that thought like that. The new material and storyline demanded different behavior than what was done before.
Spencer is an entitled, troubled Prince with lots of pain. What acting tricks do you use to get that across?
I use my imagination. I have to treat every aspect of the process as a reality. It's a very high stakes game of pretend. I don't pull on my own life, or think about something traumatic that happened to me. I stay present as Spencer Cassadine. I try to hear and see the world through his lens, and then let my behavior come from that.
Who told you and how long did it take for you to learn you won the role of Spencer? Did you have to sign an NDA (Non-Disclosure Agreement)? When you sign an NDA, does it specifically state that you just can't publicize it / do interviews until it's announced, or does it specify that you can't even tell your friends and family?
My manager, Jenevieve, called me the day after my screen test. ABC told me to not post about it on social media. They added that anyone in my family whom I shared the news with also couldn't post about it. My grandparents aren't great at keeping secrets but they were champs about this one! Haha!
Buddies on screen and off. Nicholas Alexander Chavez with the General Hospital Cast.
You majored in acting at Mason Gross School of the Arts Acting Conservatory in New Brunswick, NJ. You also studied commercial acting at Killian's Workshop in Los Angeles and acting at Visionbox Studio Theatre in Denver, CO. Being from Pittsburgh, PA, how did you choose where you wanted to study? What was the best acting lesson you've ever learned from school?
I was born in Houston, TX and raised in Denver, CO. Not sure where the Pittsburgh thing came from, I've seen a couple articles that say that. The only time I've been to Pittsburgh is when I bought my C5!
When I was in high school I looked up a BuzzFeed article for the 10 best drama schools and then I auditioned for those. I ended up going to the conservatory that, at the time, I felt had the best program with small, focused class sizes.
The most important lesson I've learned is that: every time you act, it is an improvisation. You are constantly responding to, for, and off of your scene partner. If they do even the slightest thing differently, it'll change the moment. It'll give it a slightly different color. It will land on you differently. It's important to pay attention and remain sensitive. Any actor can respond to a bat over the head. My goal is to be able to, one day, respond to a shift in the wind.
Behind the scenes game of Chess with Marcus.
You'll be doing appearances, including the virtual Fantasy Event with your co-star, Sydney Mikayla. Are online and in-person events built into your contract or is that something totally separate that goes through your publicity team? For the online events, do you do your portion from home or are you brought into another location?
Totally separate thing, and I'm not sure because I haven't done one yet, but I imagine I'll be able to do it from home.
Being cast on a show that has fans from all over the globe, did you feel overwhelmed at any point in dealing with the press or fans? Did anyone give you a heads up that you will be caught up in a whirlwind of media and people asking for photos and autographs?
At first it can be overwhelming, but like anything else you learn to accept it as part of the job, and incorporate it into your life in a healthy way. I think that looks different for everyone.
Wow. To me, Corvette is the best brand in the car business. They're such an incredible value and continue to be performance monsters, beauty queens, and they're not too demanding from a maintenance perspective. I love taking care of mine. I'm saving up to get the calipers painted red to match the interior. I think I'll paint the hubs black too. A couple subtle details that will really dial it in and make it pop.
The "Dream Garage" list on my phone is ridiculously long but a few my favorites are:
2004 Lotus Esprit in Orange over Magnolia


1999 Ferrari 355 GTS in California Blue

2005-2006 Ford GT in Blue with White Stripes
Getting a job in California means you had to relocate. Once you accepted the General Hospital offer, who helped you make arrangements to move? Did production pay for your move? Did you get your own apartment or are you staying with friends?
I used what I had in savings to make it happen. I also had some friends and colleagues who were gracious enough to help me out by giving me a place to sleep for a couple weeks while I looked for an apartment. It was a bit of an awkward few weeks but we made it happen, and I'm thankful to those who extended a hand t help me!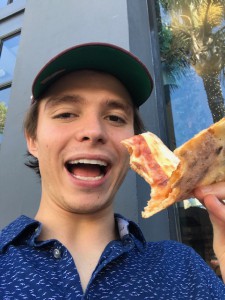 What advice do you have for actors who are just starting out?
Take care of the work and the work will take care of you. Invest in your training before anything else. Really love what you do and always try to get better. Oh, and be gracious and kind to everyone that you meet.
Thanks so much for the thoughtful interview questions!