Child actor Saniyya Sidney has a heavy message to deliver. Working non-stop, she still has time to share her thoughts on how Hollywood can be more diverse so roles are more inclusive.
You'll recognize Saniyya from the Oscar nominated films "Fences" and "Hidden Figures". Currently, she is starring in the new FOX drama, "The Passage". The series is based on the Justin Cronin best-selling trilogy of the same name.
Saniyya also has two other projects that she is starring in as well. One for Netflix, titled "Kevin Hart's Guide To Black History" and Fast Color, alongside Gugu Mbatha-Raw and Lorraine Toussaint.
Even though Saniyya is only 12 years old, she's working in a grown up world with grown up issues.
You play Amy Bellafonte in FOX's series, The Passage. Did you audition?
Yes I auditioned and had a network test. I was given my sides & the breakdown of the character. The series is based on The New York Times best selling novel The Passage so there was a lot of information available for research.
In The Passage, there are several novel-to-screen differences. Example: Your character in the novel is a white 10 year-old, and you're an African American 12 year-old. Also, Brianne Howey's character, Shauna Babcock, is female in the show but male in Justin Cronin's books. FOX, the executive producers and the author Justin Cronin sought the perfect actors who could play the roles, more than physically trying to match all the character in the books. Were you told WHY the changes took place?
No explanation was given. This is a huge undertaking to adapt these huge books. They needed to be allowed flexibility to adapt them into a television show.
There's been a lot of action recently in the entertainment business to show diversity. Also a lot of backlash. An example is Scarlett Johansson who was cast as a Japanese character in the film "Ghost in the Shell" and later as a transgender man in "Rub & Tug". Why is it so important for Hollywood to diversify their roles? How do you feel about being an actual part of these changing times? What negative or positive feedback have you heard about your character's change?
It's always an honor to help create positive change. It is so important that everyone feels represented and heard. Plus it makes for great story telling. It has been a blessing to receive so much positive feedback from our amazing fans.
Saniyya Sidney – FOX's The Passage. Photo by Lee Clower.
You've been acting for a good part of your life. How did you get involved in acting?
I always knew I wanted to act. I begged my parents for a year, so when I was five years-old they took me to my first acting class. And I have been consistently studying my craft ever since.
Do you have an acting coach? How'd you find them?
Constance Tillotson is my coach. My very first class was with her at Sterling Studio. All us actors in her studio call ourselves a "Tribe". We love each other very much. Push each other creatively and greatly celebrate each other's success. I hope to know them forever.
How do you attend school when you're at work and when you're not at work?
I go to a great performing arts school and plug back into the classroom when I get the opportunity. I also have a private tutor that helps me with my lessons for homeschooling. When I'm on set I have a wonderful on set teacher that keeps me rather busy. School is just as important to me as acting.
Do you get to view The Passage or any of the films you've been in before they're released? What do you think about watching yourself on screen?
Yes sometimes I get to see them in advance. I love the projects I take. I enjoying the entire film making process including seeing the end result. I like to watch my fellow actors, how it is directed and edited. And I always learn when I watch myself of what works and what I need to work on.
People may recognize you from the films Fences & Hidden Figures and the TV series Roots and American Horror Story. What's the difference between acting in a film vs. a series?
The difference is in a film you usually only get to show a short window in a character's life. And it moves at a slower pace so you can really experience going deep in your character. And the travel is very cool. And being on set on location is super fun. And you get to play different genres. In TV, you have much shorter shoot and less takes so you need to come in ready to get it in the first couple of takes. Also, the shots are different. You don't have as many angles. You get to really spend a long time with your character, which is nice, because you don't have to say goodbye so quickly. With TV the project usually comes out quicker so people get to see it when you are shooting or just after the wrap. Sometimes with films it may take years for them to come out!
Your portion of Hidden Figures was shot in Atlanta. What was it like leaving home to shoot in Atlanta?
I love traveling & seeing new places. I shot in New Orleans for "Roots." Pittsburgh for "Fences." And back to Atlanta for "The Passage." Food is great in Atlanta.
Who accompanied you?
My parents.
Where did you stay?
Depending on how long you are shooting either a hotel or an apartment.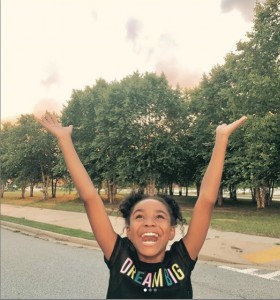 Who paid for your lodging and air fare?
They were all SAG projects so production covered costs.
How long were you there for? Did you go home for a few days then have to come back?
For "The Passage" I was in Atlanta for about five months. Anytime I had a good break, I would do my best to get home for a few days, get loved on by the family and then head back to work.
What life lessons did you learn while on set of any of your jobs?
Always bring your heart to work every day. Never take anything for granted. Work hard to make everyone else's jobs easier.
Tell us about your name "Saniyya Sidney".
My mother chose the name. It was her turn to choose a name when I was born. My dad named my older brother. She was looking for names that she thought were pretty but were also unique. My dad likes to try and steal the credit though. Saniyya is an Arabic name and means brilliant and radiant.
What advice do you have for children who want to become actors?
Learn your craft very well, stay flexible and when you find what you love stay focused and work hard. And remember, the first person who must believe in you is YOU.