So Actors, what's it like to play a bisexual character?
Tommy Martinez currently plays Gael, an artistic bisexual man, in Freeform's TV series Good Trouble (the spinoff of The Fosters).
Disney-ABC's Freeform has been very open in dealing with sexuality in their shows. It's refreshing to see that Freeform continues to represent the LGBTQ+ community. (Not only does Good Trouble have the bisexual Gael, but another character named Alice, played by Sherry Cola, is lesbian and Gael has a transgender sister named Jazmin, played by Hailie Sahar.)
Actors reading this: Would YOU take on a role with romantic same-sex scenes?
What you'll read below in Tommy Martinez's answers is a mix of true authenticity about playing an LGBTQ+ character, along with the excitement of booking a successful series after grinding the pavement for years. (Good Trouble was renewed for a second season!)
You're currently 26 years old and already making a name for yourself in the acting world, with having worked on Shameless, NCIS: Los Angeles, Riverdale and now Freeform's Good Trouble. What made you decide to become an actor?
About to turn 27 years old on the 20th of March! I never truly had any ambitions growing up. I was too caught up in having fun with my friends, and my parents never really pushed anything onto me. They gave me the freedom to figure it out for myself. I think there are Pros and Cons to that. Pros: I could truly do whatever I wanted, but it was hard to find that path that felt right. I had millions of different trails that led into a park of endless opportunities…it was trying to figure out which one I wanted to walk on that made it hard for me. Not having any direction was the Con. Acting is something I always admired to watch, but never thought of it to be feasible. It wasn't until college, (still taking classes that weren't taking me anywhere and failing them while at it), that I got the chance to do a short film. This was around two weeks after I had a quarter life crisis. Screaming and crying in my room because I thought I was going to get left behind in life and amount to nothing. The very first day of shooting that short film changed my life. I got hit with this undeniable emotion that THIS was it. THIS is what I had and wanted to do. I decided to drop out of my classes and prepare myself to audition for the FSU BFA acting program. Although, I had already spent three years in college, and I missed the deadline for the program. So that would mean another three years in college. SIX YEARS!!! I said hell no and decided to risk it all. I dropped out of college, moved back home for a year to get a job and make some money. At the end of 2015, I packed up my whole life into my car and drove across the country to chase this dream.
What steps did you take, and how long did it take, to get signed by a Talent Agent? It's a catch-22 — it's hard for an actor to get auditions without an agent, but an agency may not consider an actor just starting out. Walk us through the steps to your successful agency marriage.
I first got with Wilhelmina Models and started a career in modeling. That helped me get the stability I needed to pay rent, car, etc,. A year and a half later, I was taking classes at Ivana Chubbock Studio. I got myself comfortable with acting in front of people and really breaking out of my shell. Once I felt confident enough in my acting, I decided it was time to put it to work. I tried out an LA casting site which you could submit yourself to student films, commercials, etc,. I never really found a way through that, but I think it's a good place to start and maybe build up your resume. I went to my agents at Wilhelmina and told them that I was looking for representation. They told me that Aperture Talent Agency just opened up next to them and that they will set up a meeting for me. I didn't have a headshot, I didn't have ANYTHING on my resume aside from modeling jobs and that single short film I had done. I spoke passionately from my heart about this career choice, and they decided to work with me. No contract upfront, it was more like a trial run. Opportunities started coming in one after another, and now I'm here. If you love what you do, stop at nothing to achieve it. Everybody has a different success story, and some will either take longer or shorter to get to. But NEVER stop.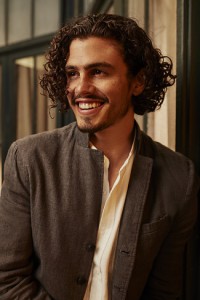 GOOD TROUBLE – Freeform's "Good Trouble" stars Tommy Martinez as Gael. (Freeform/Gus&Lo)
I've noticed on Good Trouble that when your bisexual character Gael is intimate / kissing Bryan (played by Michael Galante) that the camera pans away or the lights fade. Are you involved at all with the tech / lighting FX during your scenes? Do you have any say in how a scene will look as the finished product?
Interesting how you pointed that out! I feel like at times, the camera is like Callie's eyes. Obviously her and Gael are getting more serious, so those are things that she doesn't necessarily wants to see. But that is just a guess. I don't have any say on what you mentioned above, but I would never suggest those things because I am completely comfortable portraying Gael in those situations and scenes.
 Tell us about your audition for Gael.
The audition process was the longest I had experienced. About a month long of four auditions in total: Initial audition, producer session, chemistry read, and network test. I first read with Scott Genkinger and it wasn't on tape. I had all the sides, and I truly felt myself in Gael's life and prepared as much as I could. After the audition, Scott asked me a couple of questions about my life and how I got started here in LA. He seemed to be pleased with what I put up. Right when we finished, he said that I'll be back next week for a call back, that was actually a producer session. A week later, I'm in the room with Joanna Johnson, Peter Paige, and Bradley Bredeweg. All of the creators. I did my scenes a couple of times and then they said, "Thank you very much, that was great". An actor can run circles in their minds thinking, "What the hell does that mean?". Did they like me? I don't know, but at least I was happy with what I put up again. 3-4 days later I get a call from my agent that they wanted to set up a chemistry read with Maia Mitchell. At this point, I'm pooping my pants because I get to meet Maia, and act alongside her. I had been binge watching all of The Fosters, so I felt like I was somewhat part of the family because I was so involved in it. I got to the chemistry read an hour and a half early, (which I don't recommend because you'll tend to get into your head about the lines and nerves start kicking in), and I just sat outside admiring the beautiful sky thinking, "No matter what happens in there, you got this far. You're doing something right". I went into the room with the same EP's and creators of the show, and Maia. We did our scenes a couple of different times…nervous as hell but managing to string it together. The final scene concluded, and Maia ran up to me with a big smile to give me a hug. "Holy shit", I thought. Joanna Johnson then said, "Well, I think that means something". With a huge smile on my face, I said my thank you's and was getting ready to head out before Peter Paige stopped me to ask a few questions. He asked me where I was from and all of the other questions that had to do with how long and why I got into acting. He then asked me if I knew that the role required to have intimate scenes with a man. I said yes and that it wasn't a problem at all. They thanked me and told me to have a nice day. I was ecstatic and couldn't contain my energy, so I went to Six Flags across the street by myself to let out some crazy screams. I went on maybe three intense roller coaster rides to let it all out, then hopped on my motorcycle to ride home. I pulled off my exit and got a call from my agents…I was scheduled for a network test next week. I think I maybe shit my pants a little bit. With the roar of my Harley, I screamed and hollered all the way home. Fast forward next week and I'm on my way to the Freeform building to do my thing once again. I saw the only other guy going for my role and knew that he was the other option. I never thought, "Screw this guy". We both talked and had great conversations…then went to our respected corners to focus on what we had to do. I went into the room, without my glasses so I couldn't see the 25ish people that were before me. I started running the scenes with Scott, again and again. Feeling great about what I did, I said thank you and walked out. The other actor and I who went in for Gael walked together to the exit, talking about how big this opportunity is and no matter what happens…We made it this far. We showed what we can do, and that's all that matters. It's only up from here. Two hours later, I'm back at home with my roommates talking about the experience when I received a message from Bradley on Instagram. He said that it was a pleasure seeing my work at the test, and that they'll be in touch. I literally responded in all caps, "WHAT THE FUCK DOES THAT MEAN?!"…The audacity, I know. I was really excited. He then sent me his number and told me to call him. I did, and he proceeded to tell me that it was beautiful what I did, and that's why they want to offer me the role. I SCREAMED. I CRIED. This is also captured on video that I posted on my Instagram. I still look at it to this day. I was always positive in my belief that this dream I was chasing would pay off soon, but I still couldn't believe it. It forever changed my life.
You've had your own same-sex experience when you were a teenager, yet at that time, your Hispanic community was not open to homosexuality. What about today from your community's standpoint? Is it "okay" if you're kissing a man on television because it's just a character?
I think that with time and exposure to the topic at hand, any perspective can be swayed into realizing that it's completely okay. At first, my mom kinda had a nervous laugh. Everybody was cool with it, but it was so new to them. Hell, it was new to me, too. But I respected the sexuality and embraced it. Over the months of shooting, everybody was accepting it and me. My mom now defends the sexuality when someone says an ignorant comment.
Have you done any stage work?
I haven't done any stage work aside from acting classes on stage, but I would love to integrate myself in theatre. You can never know enough, and I know I can pick up on many things while incorporating those arts.
On Good Trouble, do you have your own dressing room / trailer? What type of downtime do you have while on set? What do you do when you're waiting to be called to set?
I do have my own trailer, which counts as my dressing room. But sometimes we can be in a hurry to get to the next scene and the head of costumes will be there at the ready to switch outfits. On my downtime, you can find me eating peanut butter filled pretzels at our craft services, which has all the snacks and meals prepared for the whole production and ourselves while shooting. There's also a basketball hoop that I mess around with, and there's a hang board on one of the production trucks. I do a lot of rock climbing and that helps with the training and staying in shape. But most of all, I'm always talking with my cast mates either in the make-up trailer, or in their own trailers.
Are you given full scripts or just your portions? Are they paper or electronic scripts? Which do you prefer?
We are given full scripts when we do a table read. Everyone who is part of production is in attendance, and they are also sent to us electronically. I prefer electronically because I think it's a waste of paper to print out full scripts. Especially when we're shooting scenes because we have our individual sides that are given to us for that specific shooting day and specific scenes throughout that day.
What does your family think about you being an actor?
At first, they told me just to follow what I love. But they also care about my direction and success in what it is that I'm doing. My parents only wanted the best for me and wanted to make sure that it's truly what I wanted to do. All they knew is that it's extremely hard to get into, but like I said before, when you absolutely love what you do, you'll stop at nothing…The opportunity you've been waiting for could be right around the corner.
Tell us about your first fan escapade?
My first actual fan escapade happened not too long ago while I was walking out of dinner with my girlfriend. A couple passed by and the girl asked if the restaurant was good, then she looked at me and recognized me from Good Trouble. It was quite a crazy feeling. I smiled when she asked if I was the one from the show, and told her I was. Adeline then looked over at me like a proud mom and gave me a big kiss. Such a sweet moment, and moments like those will never get old. Still makes me feel crazy.
Are you going out with actress Adeline Rudolph? As an actor, did you make a decision that you will only date actors?
Hahaha! Well, I guess I gave that away in the last answer. Yes, we've been dating for a couple of months now. I never made the decision to only date actors. My past relationships were with people who weren't actors. Love finds you in some interesting ways, and the way that Adeline and my relationship came about is a lovely one. I think that we both understand the demanding hours of our jobs, and we also acknowledge our love for what we do, and we talk constantly about our hopes and dreams. I've never been happier, and we just get each other.
Do you use any type of acting technique or are using techniques today not really a thing?
I did read some Stanislavski books when I first moved here and I took what I could from it. But most of all, I use my own personal experience which packs into my emotional intelligence. I've been through a range of different situations and emotions, that I can step my foot into the character's shoes and try to find the feeling for them. I think everyone has their own personal technique. It's whatever works for you, but different classes definitely helped me in various ways. You learn from your classmates, the feedback, and the direction from yourself and the teacher. I still try my best to get into classes to keep those creative juices flowing.
GOOD TROUBLE – Freeform's "Good Trouble" stars Tommy Martinez as Gael. (Freeform/Gus&Lo)
What is your food and workout routine? Do you do pushups before your scenes like I've seen actors do?
Before we began shooting the first season, I busted my ass in the gym and ate really healthy food. It took me some time to find what diet works best for me, and not every single diet that's advertised works for every person out there. My workouts consisted of a ton of bouldering / rock climbing, and incorporating heavy lifting / high intensity interval training. This was five days a week, and when you truly commit to it, it becomes a habit. I definitely do some pushups before some scenes…especially when I've stuffed my face with thousands of peanut butter filled pretzels. I do also bring some weights into my trailer just to continue working out, even though I'm not in a gym. It helps keeping up the momentum with my exercise.
What advice can you give actors about playing a bisexual character?
NEVER judge your character. We all do this for the love of storytelling, and if you judge your character, that will seep through your performance. I'm not going to lie, I was a little nervous because I had never kissed a man before, but it was completely natural. Michael Galante (Bryan) and I really hit it off. Such an incredible person he is, and we had a blast telling these stories. Part of acting is stepping out of your comfort zone, but once you step over to that side, you'll realize that it's not anything that you ever thought of. We all became family, and we love creating what we do…so will you.