Did you know that actress Leisha Hailey had an influence on what her character, Alice Pieszecki, would be doing for a living in The L Word: Generation Q?
Best known for her role in SHOWTIME's The L Word, Leisha Hailey has been in show business since she was a teen. Navigating back and forth between music and acting made her a well rounded entertainer.
Leisha Hailey in The L Word: Generation Q
But just like her character in the show, Leisha sure has had some drama in her real life. [pretend you hear that intense music dun dun Dunnnnn]!
[cough] What about that thruple Alice had with Nat and Gigi?
Let's get some comments going about why Leisha's fans just love her sooooo much as we get a glimpse into her life – and see what her advice is for people looking to join the biz!
You're an accomplished actress and known as playing the mouthy Alice Pieszecki in Showtime's The L Word and The L Word: Generation Q. Tell us about your audition, originally for the part of Shane, for The L Word.
I was at a small gathering at a friend's house and someone told me I should try to get an audition for this new lesbian pilot she had heard about. At that time in my life I was only pursuing my music career and it was a real struggle at that point so I thought why not. I called my band's manager at the time and had her look into it. She ended up getting me an audition with the castings assistant for the role of Shane. Shane read like a badass and a player so I wore all black with a leather jacket and my big idea was to carry a comb in my back pocket in honor of [Happy Days] Fonzie.
In 1991, you formed the pop duo The Murmurs (later changed to Gush) with classmate Heather Grody. You were having fun touring, including playing at Sarah McLachlan's Lilith Fair. But then Gush disbanded when you were cast in The L Word. How did you make the decision to leave the group? Did you struggle with the decision? Did Heather know you were going on the audition and that the band would be over if you got the part?
We both went on the audition separately so it was clear that if either one got a part something would shift. I honestly never expected this "pilot" to change my life the way it did so the plan was never to leave the band. We were going to possibly keep it going. When all was said and done Heather wanted to pursue her own music career and I focused on what was ahead. We had our band for so long it was a natural progression.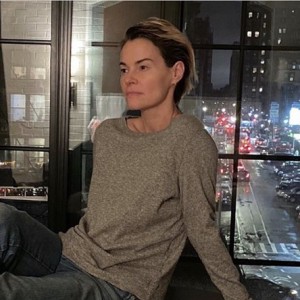 You've always been drawn to music. Why is that?
I was a musical theater geek. I started when I was in fifth grade. Local community plays and musicals, the high school productions when they needed kids. I always took drama class, singing lessons, etc. To this day I think Oliver Twist was my peak, LOL.
You play bass guitar, keyboard and do vocals. What other instruments would you like to learn?
Drums. I took lessons for a while when I was young and gave up. I still regret that.
You knew you were gay from a young age. How did you survive growing up in the 70s & 80s during this time when there wasn't much representation on TV and film?
I give all the credit to my incredible parents. They supported and nurtured every little thing that was different about me. They always taught me that my differences were my greatnesses. It helped guide me through some difficult times and it's something I'll never forget.
You grew up in Nebraska. After begging your parents for years to move to NYC, you got your wish around the age of 17 to attend the American Academy of Dramatic Arts. How'd you get into that school? Did you graduate from the American Academy of Dramatic Arts? Why'd you choose NY instead of LA? Where'd you live while at school? Did you get a non-entertainment job? How'd you earn money?
I really wanted to end up on Broadway and I was obsessed with New York City even though I had never been. It just called me. I wanted to really study acting and didn't want the University pipeline. I wanted to only study the craft. I read about the school in a counselor's pamphlet. I taped an audition and got a letter that I had to go to NY to audition in person for the school. I went with my mom and sister and ended up getting in. My parents knew this was the life I needed and off I went at 17 and studied there until I graduated. For the first year I lived in a girls' dorm on the Upper East Side where all the dancers from Juilliard lived. I had tons of jobs through the years. I worked retail, a coat check girl and a bakery at 4am, etc. Luckily it was during a time where you could be a broke artist and still live in Manhattan.
To you, what's the difference between acting and doing music?
This is something I've always struggled to answer. Music, at least the bands I've been in, have always had an organic beginning. The idea of starting with nothing and ending up with a sound and a show that you tour with has always inspired me. Acting feels more freeing to me in a sense. The words are already there. You get to take them and create a life around them. There is a vulnerability to it that I love. It always feels like you're on the edge. I'm the girl who wishes I could do a million takes of the same scene because I want to try it so many different ways. I'm obsessed with what can happen when actors get together. The ideas are infinite.
Rose Rollins and Leisha Hailey in The L Word
Do you think The L Word: Generation Q has less of an impact than The L Word did since in today's world, people are introduced to LGBTQ+ from birth?
The only big difference is that you can't be "the first" at something twice. When we came out the first time, a show like that didn't exist so it had a huge impact. I still think Gen Q means a lot to a lot of people so I can't say.
Did you have any say in the development of your character, Alice Pieszecki?
I have a deep respect for writers. They shape and mold the trajectory of character's lives. On the flip side we know these characters intimately. I really believe it's the collaboration of the two that creates magic. I know if something bumps for me I can go to the writers and work through it. The talk show was my idea. We had a lot of time to think about where our characters would be over the last ten years.
If you were a FAN of The L Word Generation Q instead of an actress in the show, what would you want to see for your character of Alice?
In the end I want Alice to be happy in her personal life. Work is second hand for her. Relationships are much more of struggle. I just want her to be happy, how could I not?
Jennifer Beals, Leisha Hailey, Katherine Moennig
What's in store for your future with music?
I've closed that chapter in my life. I've had the most incredible adventures with the bands I've been in. I'm excited to try some other things on.
What advice do you have for people who want to break into the entertainment field?
Be your authentic self. Bring that into every room. What you might think are your flaws are probably the traits people are drawn to and want to cast.
You can follow Leisha Hailey on Instagram and Twitter.
"The Chart" – Who remembers this?

A small portion of The Chart, covering some of the relationships established throughout the series. Pink circles denote primary characters, purple circles denote supporting and minor characters, and grey circles denote characters who are only alluded to and never depicted.