What's love got to do with it? When it comes to acting – the answer is EVERYTHING.
An actor must expose their heart; be vulnerable (often uncomfortably so) to the most volatile of elements. They allow themselves to be overtaken by the intoxicating power of raw emotion so that their bodies can react in ways that alarm and surprise even themselves. It's a maddening, soul rattling level of passion that's not for the timid of scared. Luckily, for those who cannot live without the thrill of being a part of the acting world, there are ways to survive this torrid love affair.
8 Tips for Surviving your Love Affair with Drama
ADVICE FROM SCOOT MCNAIRY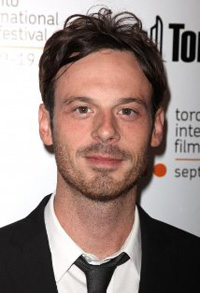 Scoot McNairy recently appeared in the cast of ARGO, and attended The Hampton's International Film Festival with KILLING THEM SOFTLY.
#1 – Watch Out!
I learned everything in my life by watching. I am incredibly dyslexic and went to a dyslexia school. I am a horrible reader. But you can either read a book about how to take apart a car, or you can take apart a car engine and see how it is taken apart. I grew up watching movies, watching actors, and seeing what their process is.
#2 – Make Sure Your Emotions Are Available to You.
Constantly be aware of human behavior, watching people, and checking in with your own body to see how you feel – what your body is doing. Acting isn't something you just show up and do. It is something that you are constantly working on, making sure that your emotions are available to you. Whatever happens at the end result of that is what happens, but you focus on the work and I promise you, you are going to enjoy your life so much more. And you will find work.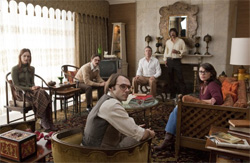 #3 – Keep going back to your roots!
I continue to stay in the theatre. To me, if you are an actor and you are not doing plays, then you are not going to the gym. You have to be constantly working out, and there is no other format of acting that will prove to make you better than doing a play. So keep doing plays. Even put up a play in your backyard. You can put up a play anywhere. You can get friends together and put up a play.
With plays you don't have the ability to stop and go back. When you are sinking, you have to pull yourself out of it. On a film set, you have time to get worked up for something. In a play you don't. You really have to rise to the emotion and trust in yourself enough. That is the hardest thing to do as a human being and an actor – to trust that you are enough. You, as an individual, are interesting. All people are interesting. Human behavior is interesting. The theatre allows you to explore that deeper than a film. In a play, you are constantly working throughout the performance, and the next day's rehearsal, and the following performance. You are constantly changing, and you realize that there is so much in you that you didn't have that is coming out naturally and organically. Things that you weren't aware of. Things that you can't learn just by studying, or on a movie set.
#4 – Focus on the moment.
The best advice I can give to an actor is to not focus on the end goal. Don't have expectations. Focus on the work. Stay Studying. Stay constantly learning. Focus on work, on theatre, acting classes, and creating characters. I was incredibly lucky on ARGO to be surrounded by the actors I was working with – Christopher Denham, Kerry Bishé, Tate Donovan, Rory Cochrane, Clea DuVall, Victor Garber, Ben Affleck – and it is so much easier when you get put in a room with a bunch of talented people. What I learned from them was to commit to the work, to see how much work they put in. When uou are working with people that are working just as hard as you, it is redeeming.
ADVICE FROM NADIA SZOLD – DIRECTOR OF JOY DE V.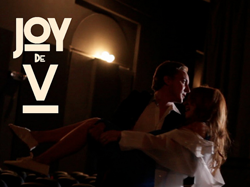 Nadia Szold directed Joy de V. which won Slamdance's GRAND JURY AWARDS- NARRATIVE – Special Mention in 2013. The film takes an expressionistic, gritty look at the intersection of madness and love that follows a young con artist who wakes up to discover his pregnant wife is missing.
#5 – Have TRUST.
The actor has to trust the director in order for them to take the risk, and to get the role. Actors have to trust that the director will do their best job. At auditions, that is the most difficult. If an actor clams up, the director doesn't get a good window into their abilities. The actor has to be able to convey the emotional shifts of the scene. It is such a gift when that does happen, when an actor opens up their emotions and their soul. They show their talent, and we are able to capture that emotion inside of them.
# 6 – Create chemistry!
In the audition process, it is really important for directors to get a wide variety of actors – and more importantly to put actors together and see how they play the scene. It is really important for us to see how actors play with each other and have chemistry.
ADVICE FROM EVAN LOUISON OF JOY DE V.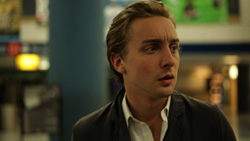 Evan Louison played the lead in Joy de V. – a film that dives into the mysterious behavior of those stricken by love and who are perhaps more certifiably crazy than they believe themselves to be.
#7 – Realize that it's never too late to find LOVE.
I have only been acting since 2005, so it was more like a second calling for me. I didn't rely on it as my main income for eight years. When things came down to it last year, when one movie was coming out and I was about to go make another movie, I decided to fully commit to it.
#8 – Let your passion dominate your fear!
I gave myself an ultimatum that I would stop working other jobs. I told myself that if I starve, I starve. But I was going to commit to acting, and somehow it worked for me. My maddening efforts are patience and languishing. I wake up every day, and everything I do all day has to do with film. I have dedicated myself to it. I am trying to put myself in a place to do good things because I am not giving myself a way out. Those who do give themselves a way out do not let their passionate dominate their fear.