I am definitely not the expert on how to juggle everything, says Anna Fishbeyn with a laugh, as we sit down at a Starbucks in New York City to speak about her challenges and triumphs as a mom, artist and woman with a hilariously strong viewpoint.
Anna mentions her lack of guru status because being a mom and a career woman is not an art that can be mastered. One has to, keep trying everything, Anna reveals.
You try everything and you find a way, especially when it's a passion you long for, that you were born for.
Growing up as a child actress in Russia, Anna Fishbeyn sung as a soloist in a state national choir and she acted in the theatre.
I loved every minute of it, Anna shares. But when we came to America, my parents didn't have enough money for singing or acting lessons and all of that theatrical life ended. I would long for it, but my parents were like, you should get into statistics.'
A graduate of the University of Chicago, Anna went on to earn an MFA in Fiction from New School University, and Ph.D. from Columbia University, where she wrote a 360 page dissertation, entitled, Evil in the Novel and Its Implications for Moral Education.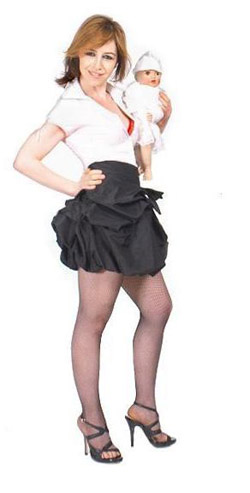 Since graduating, Anna began writing her own novel, The Matrimonial Flirtations of Emma Kaulfield, about a gorgeous, free-spirited, feminist artist, who redefines the traditional rules of dating and puts a feminist spin on the word, "harem."
As a writer, Anna did a lot of juggling to try and get her creative work done while raising her children and giving them a lot of love and attention.
I'd write while they slept, while I cooked dinner or while I changed their diaper; writing in my head and then rushing to write it down on paper, Anna says. I wrote while my children sat on my lap and drew. I would have the computer sideways, writing on it. I even wrote while I breastfed… over the boob… over the kid.
So, when people ask, how did you write a five hundred page novel while having one kid and then the next?' well…that's how I did it, Anna says.
I did it by constantly being both mom and in the characters lives.
Anna kept her characters alive but had yet to awaken her childhood love of acting until she saw a show called Birth Stories, featuring prominent writers from places like Comedy Central telling atypical tales about being parents. Inspired, Anna decided to write and perform a show based on her own misadventures.
She performed the raw and honest one woman piece, titled Conversations with my Breasts,' at The Cornelia Street Café.
I hadn't been on stage since I was nine, Anna shares. But, being a Mom gave me a strength I never had.
Everyone says, your time for chances is up when you have babies.' But what happens is you fight for them, you fight for them at pre-school or at the playground. Suddenly you can't be the, hi please like me,' type of person anymore. You've changed into a tigress and that shift in mentality, especially for me because I was a real pussycat, gave me guts. It was only after my second kid that I decided to get back onstage.
My kids made me tougher and they made me take chances that I never would have, Anna shares.
From Cornelia, Anna placed a taping of her show on YouTube and soon got a break to perform a longer version at The Flea in New York City (Now titled, Sex in Mommyville, Directed by Sande Shurin, from August 18-29, 2010)

The show is edgy. It ain't your run of the mill mommy talk, Anna says. I rile women up and say, lets stand up and not submit to all the pressures to be a certain way and look a certain way and all the craziness of the wrinkles. You can't turn on the TV anymore without it saying, let us help you look reborn to the age of a two year old.'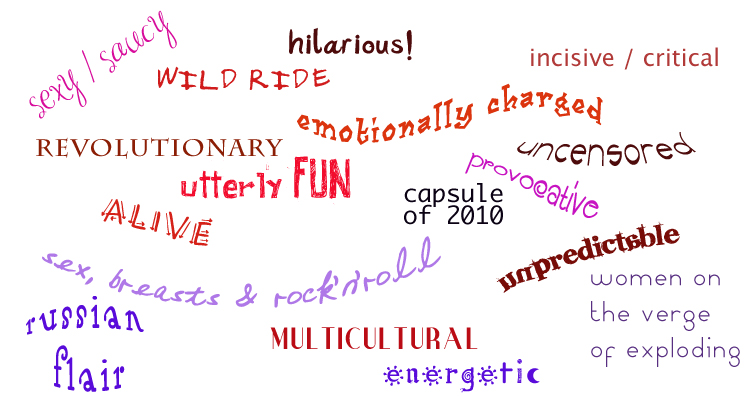 Speaking of two year olds… Anna has a two year old and a six year old. Who both challenge and inspire her.
Here is how Anna secretly absorbs acting tips from her children. By the way – this all happened on the very day she met with NYCastings!
A day in the life of Anna the actress.
9am
Anna learns to develop many different, yet true voices.
The children are each eating yogurt with honey and one had a pretty silver spoon and one had a plain spoon and it was all whining and nagging and crying while I am making them waffles, Anna says. So I try the calm tone. I try the yelling tone. I try the manipulative tone. But my children are very clever. In the end it winds up being a complicated discussion of what's fair.
10 am
Anna learns how to toughen her skin – against the word, NO.
I ask my daughter to clean up papers. So, she lies on the floor, on top of the papers, and puts her legs under the table, kicking it. Then the little one does the same thing and I have to give them time out – but – my girl says, No. I do not have time out. I will not go to time out.' Eventually she went very reluctantly, Anna says.
11 am
Anna learns how to deal with other – dramatic actors.
I asked my daughter to play with my son and they were making a puzzle but my daughter wouldn't share a piece. When I told her she needed to share, she decides to put herself in time out! She puts herself in time out so she doesn't have to play with her brother.
How could you live like this with these amazing children and not write about it? Anna adds, laughing.
12 noon
Anna learns how to deal with an industry where everyone wants a piece of you.
I had to rush out for a NY Times Podcast and needed to take a shower. Of course, this becomes a process because my children hold onto my legs as I try to go take a shower and they hold onto my legs as I pick out an outfit.
3pm
Anna learns the value of a solid scene partner.
Then, I have to go to rehearsal and thankfully my Mom lives upstairs and she watches them for two hours because they can't come into this rehearsal with me.
4:30pm
Anna enjoys the love of true fans.
While at rehearsal, my kids call me to make sure I am coming back soon, Anna says, her eyes misting.
At no point during the day – does Anna Fishbeyn find life easy as an actor, artist, woman and mom with an original sense of humor.
But getting on the stage is a great outlet for the guilt. I totally love it and you play aspects of life that are so real and so connected with the things you know, Anna says, grinning again.
Performance is a way to know that there is something going on – FOR ME.
Whatever is going to happen with the show, I have had the best time doing it and being able to say to my kids… I am going to work just like Daddy. For a while, my daughter would say, Mommies don't work, only Daddy's work.' And now, it's different.
As Anna readily admitted at the beginning of this interview, it takes trying everything' to be a mom and a working artist/actor…
It's complicated and you have to juggle a lot. You can not do it alone, Anna says…
But it is worth it.
For more information on Anna Fishbeyn's one woman show at The Flea, directed by Sande Shurin, visit… http://www.sexinmommyville.com/