Solving the mystery as to how to get an agent can often seem like the loftiest of challenges. Is there a secret passageway that you're missing out on? Some underground recruitment center? Do agents have a form of special intelligence, honing device, or tracing method?
Attempting to land an agent can be incredibly frustrating. After all, we are actors meant to embody Bourne or 007 – not to actually be them.
On the bright side…. actors do not NEED an agent in order to get auditions. Though, in full disclosure, it really does make a difference when it comes to landing those higher-level, career-making gigs.
So how do you accomplish this impossible ultimate mission?
Here are 5 real-life stories from those who have taken on the challenge, and have lived to tell about it.
Kandis Erickson
Kandis Erickson recently appeared in the Sundance film, I AM NOT A HIPSTER, which was released this January and is now available on iTunes, Amazon, and Google Play.She has two more films coming out this year: a horror film called TRAIL OF BLOOD directed by the Guerrieri Brothers, and an indie movie, TRATTORIA, directed by Jason Wolos.Coming up… she will appear in a great role on Masters of Sex', a new Showtime series coming out in September. Check her out at: www.kandiserickson.net
HOW KANDIS LANDED AN AGENT
Getting an agent can be an elusive thing to some actors; I hope my story demystifies the process a little. Everyone has a different journey, so by no means is this only way to get an agent.
My first agent saw me at a showcase. I was fifteen and had just started acting.Since I was spending money on the class, I made sure that it had a showcase at the end where I'd be seen by agents.
After a few years gaining some experience and adding to my resume, I felt it was time for me to move on to another agency. I did some research, which is important in finding the right agent for you. I created an excel spreadsheet (nerd alert!) and made a list of actor friends (from class or from projects) who had seen my work. I researched who their agents were and wrote down any agency that fit with my age, look, etc. Then I sent personal emails to each friend asking if I could use their name when contacting the agent. In my opinion, this is better than a mass email that says: "Hey Friends, I'm looking for a new agent. Can you refer me to yours?" That puts all the work on them. Let your actor friend know you've done your homework and all you need is their okay to use their name; very little effort for them.
I asked about twenty friends and got a series of responses: some said they didn't like their agents and wouldn't recommend them, others said "Of course" and even offered to put in a good word. Once I had permission, I would call the assistant at each agency and say, "Hi I'm friends with your client so and so, I'm looking for new representation and they referred me to you. What's the best way to get you my materials?" Most of them wanted me to email my materials, some want hard copies. Be ready to send either right away. Then in a week, if you don't hear from them, call them to follow up. I sent sixteen emails and was asked to meet with four agents, one of which I'm currently with.
In the meeting, talk about your experience as an actor but also show them that you have a life and other interests. Ask them questions. You are interviewing them just as much as they are interviewing you.It's like dating – you both have to be into it.
Things to do before getting an agent:
1. Have pictures
2. Have footage
3. Think about your type and what jobs you want
4. Stop using not having an agent' as your excuse for not working; Many of my jobs have come from friend Casting Directors, DPs and Filmmakers.
Lindsay Pulsipher
Lindsay Pulsipher attended Sundance 2013 with THE RAMBLER, and 2012 with THE OREGONIAN – both by Calvin Reeder. She also recently appeared in HATFIELDS & MCCOYSas Roseanna McCoy, and TRUE BLOOD as Crystal Norris.
HOW LINDSAY LANDED AN AGENT
I am from Salt Lake City Utah and did some TV roles out here that got me an agent in LA. I did TOUCHED BY AN ANGEL and an independent film called JUMPING FOR JOY – a Disney type film. An agent saw it and wanted to meet me. He said Who in Utah got this part.
The casting director set up the meeting and I went out to LA for pilot season.
I was so lucky. I got to go to LA having representation. I know so many talented actors both in LA and in NY that aren't represented. They could be huge stars, but they don't have representation. So I feel like I got very lucky to go to LA already having an agent.
Dave T. Koenig
Dave T. Koenig has worked on DECEPTION, MADE IN JERSEY, DAMAGES, and LOUIE. He also starred in a Norwegian web series, STD: Oddfjord, and wrote and directed the short MAN TIES: The Manti Te'o Story. Check him out at: http://www.davetkoenig.com/
HOW DAVE LANDED AN AGENT
I got a new agent a couple of years ago.
I was working with an agency that didn't support every area that I wanted to go into so I confided in a friend that I needed a change, I was doing a show with her at Accomplice, and she volunteered to hand-deliver my headshot to Abrams .
When I met Tracey Goldblum I had an immediately positive vibe, and she had really great responses when I explained my goals and needs — wanting to stay active in on-camera, needing to develop my VO career, looking into doing more print, etc. Tracey arranged, in turn, for me to meet with the VO and print departments – – where I happily signed a few weeks later.
Everyone there is incredibly down-to-earth and cool. I immediately felt very much at home there. And the fact that I have so many friends there who are clients, only adds to the confidence I have in them.
Since I've been with Abrams I've booked several on-cam spots, plus I recently had a nice run of VO bookings (Staples, Dunkin' Donuts, Bank Midwest). I also did a couple of print ads, the biggest so far being the New York Powerball spot where my face was seen on the tail of an airplane all over NYC.
I suppose the moral of the story is that it is very important to develop positive relationships with anyone and everyone, as you never know where the next helping hand is coming from.
Andrew Casanova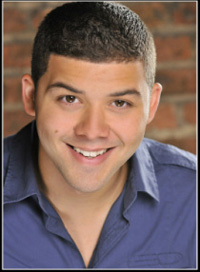 Andrew Casanova is a graduate of The New York Conservatory for Dramtic Arts: School of Film and Television. This past holiday season, Andrew had a principal role in a national Verizon commercial for the Droid Razr. Currently,Andrew is a full-time member of The Actor's Project NYC, as well as One on One NYC, and Play Club presented by The Unknown Artists, which allows all actors to get together and do cold readings and readings of original work. Recently, Andrew filmed a feature film project entitled, AUDITION, directed by Matt Herron with casting by Todd Thaler. Andrew just wrote and produced a song, "Beautiful Memories," dedicated to his mother.
HOW ANDREW LANDED AN AGENT
It is all about networking.
In February of 2012, I started with the Actors Project – an all comedy showcase where you get to do a monologue. While doing the actors project, I also did a One on One session with Jenevieve Brewer, from ABOUTFACE, who is a big time supporter of the Actor's Project. She called me in from there. I am not positive whether or not Jenevieve would have called me in if I wasn't with the Actors Project. The fact that I knew she was a supporter, was the biggest reason why I took the session with her specifically. It has worked out great. It is important to have an agent who is good at what she does. Everything she sends on – I could see myself as that role.
For the second season of the Actor's Project, I auditioned to be part of the sketch comedy group. That way, I could do more than the one monologue and get more exposure. After that showcase, I got two agents – David McDermott of JGD and Nicole Astell from Prestige Management.
I also did another agent seminar where I met Erica Moran of Avalon/BMG. There were probably 100 people there. She called in 25 people afterwards. At the meeting, she gave me commercial copy to read for her. About a month later, she began to work with me.
Connections are so important. You would be surprised how we all know each other in New York, and work with each other. So be positive, and keep yourself in a good light – because they are always watching you.
Also, I feel like you do need a great training background. Doing the conservatory, acting my whole life, and all of the classes and seminars I still take (I feel like I have done a millions of them) – that ends up giving you experience and an awesome resume. I have even taken workshops on how to talk to industry people so I know what I am saying.
You are always learning something. As much as I know now, I don't know anywhere near what I could know. There is an endless amount to learn.
Kelly Calabrese
Actor, Writer, Creative Junkie – Kelly Calabrese – began performing in children's theatre at the age of seven and won her first award for Broadcast Journalism by age twelve, through ITV's Eddy Awards. Today, Kelly works as an Actor and an Entertainment Reporter. Recent projects include a lead role in a pilot called Proof, Under-5's on Discovery ID's REDRUM and PBS's ILLUSION OF TIME, national commercials, industrials, and a hilarious web video directed by an Independent Film Award Nominee. In addition to acting, Kelly recently launched her own small business – Canvas Cuffs. Follow her on Twitter at: @KellyCalabrese
HOW KELLY LANDED AN AGENT
I got an agent through NYCastings!
After taking an incredibly helpful on-camera, 5-week program at NYCastings with Karyn Casl of Telsey & Co, I auditioned for 2 agents as part of their final class. Erica Moran of Avalon/BMG called me in a day later to read commercial copy for her. Within a week, we began working together.
Taking classes that culminate in an agent meeting is a HUGE advantage because your scene work has been polished to a performance level. Also, the agent's know that you are serious about your training.
In addition to working with Avalon, I also work with two other agents. Both agents came through commercial agent nights where you pay to play' – so to speak. Having to shell out money to meet industry people may seem suspect, but how else will the agents know that you exist. It's a lot like trying to win the lottery without a ticket. You know… all that in it to win it' jazz. Getting further in any aspect of life takes consistent effort!
Of course, before I even met one single agent, I took an on-camera commercial class so I knew how to slate, make choices, and be comfortable with various styles of commercial copy. Angela Mickey teaches an amazing commercial class, as does Brooke & Mary, and Tisha Ioli.
Once you do meet an agent, even if they don't call you, I think it is incredibly important to keep in touch with them through postcards. There could be a million reasons why they didn't call. It could be that they had too many of your type already. It could be that you fall in an odd age-range at the moment. Maybe they are at max capacity with their clients and are being über selective. By staying in touch, with updates about the work you get on your own, agents will see that you are a hard-working and a capable of booking jobs. They may opt to give you a second look.
– So keep training. Keep networking. Keep smiling!