Child performers have long been a part of scary film and television entertainment.
Remember actress Linda Blair from the 1973 movie The Exorcist? How about Haley Joel Osment from 1999's The Sixth Sense? Or Danny Lloyd, who played Jack Nicholson's son, Danny, in the classic scary movie The Shining? (Who could forget the line Danny isn't here, Mrs. Torrance.)
These young actors left a mark in history.
Today, we continue to enjoy entertainment that leaves us, and our families, on the edge of our seats.
Let's explore the world of young performers in the recently released horror flick Mama and the upcoming, child-friendly Nickelodeon television series Deadtime Stories.
Below, we find out what making a scary film or television series is like from the young performers point of view. Also, Deadtime Stories Executive Producers and Directors, brothers David Hillenbrand and Scott Hillenbrand, offer valuable insight and information pertaining to child performers and what happens behind the scenes.
I had nice chats with Mama actress Megan Charpentier and Deadtime Stories performers Piper Reese and Devin Eash.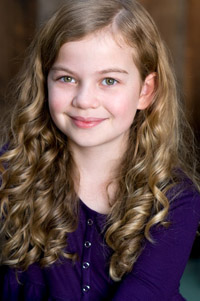 Megan Charpentier played 'Victoria' in the January 2013 film Mama and 'The Red Queen' in 2012's movie Resident Evil: Retribution.
What was your audition like for "Mama" and "Resident Evil: Retribution?"
When I auditioned for 'Mama,' it was a taped audition I did in Vancouver. They had me do the scene where the Uncle meets Victoria for the first time after 5 years – the one where he gives Victoria her glasses. For 'Resident Evil,' I also did a taping in Vancouver and they booked me after seeing the tape and flew me to Toronto to film.
What's it like working on horror movies?
Filming horror movies is similar to filming any other type of movies. It's not as scary as watching the movies because there are no music or special effects while you are filming.
Did you see any of the other Resident Evil movies?
No I didn't see any of the other Resident Evil movies. I never even saw the one I was in either. My mom just let me see the parts I was in!
What's a typical day on set like? How is schooling handled?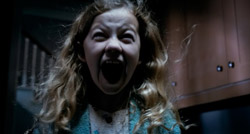 Well, every day would start with school if I wasn't first up. If I was first up, then I would go right to set after taking a quick look at the scenes for the day and seeing if there were any script changes. I would say hello to everyone and then get to work on the scenes for that day. The mood was usually really bright. In between scenes while set ups were being done, I would be with my tutor. I would do at least 2 hours of school a day.
When did you decide to go into acting? Why?
I got into acting when I was about 2-1/2 or 3 years old. I went into the audition barefoot and danced around for the director and I got the part. Acting is so much fun. I get to meet new people and have new experiences and I learn so much every time I get a new part.
Do you take any acting classes in between work?
I always take classes when I'm in between projects. There's always more you can learn.
Do you notice any special treatment by your friends since you've been on TV/film?
No, not really. My true friends just treat me like me! But I do get asked some questions at school sometimes!!
Anything else you'd like to add?
My agent always says to run your own race. You will get there faster if you're not always looking behind you.
Nickelodeon is planning a summer 2013 launch of the TV series adaptation of Deadtime Stories, created by the Hillenbrand brothers and the Deadtime Stories author sisters Annette and Gina Cascone.
David, who shares the responsibilities of Director and Producer?
Scott and I are Executive Producers, along with several others, and we also produce the show. For the first season, I have directed some of the episodes, and Scott has directed some of the episodes.
Because "Deadtime Stories" is an anthology series, you're constantly casting young performers. How is this casting process interesting and/or different than independent feature films ?" i.e. Is there a Casting Director who narrows the actors down that get sent to you? Once you have potential actors in mind, what happens next? What's the audition process like?
For each episode we work closely with our casting director, Iris Hampton, to discuss what we are looking for in the episode's cast. Iris has lots of experience casting kids shows through the years in including the 'Power Rangers.' With the anthology structure, we've had a great opportunity to diversify across ethnicity from episode to episode and work with many young performers. The only constant for each episode is the babysitter, played by Jennifer Stone, well-known as 'Harper' from the hit Disney series 'Wizards of Waverly Place.' We have a recurring series of pairs of brother/sisters that the babysitter visits to read the episode's Deadtime Story. Iris and her associate, Jenna Johnson, do all the initial rounds of casting. We also work closely with Nickelodeon who makes suggestions and offers ideas on talent to see. Then the episode's director (myself of Scott) views a narrowed down selection of options for each role. We have been using a casting system called Eco-Cast which is an easy way to view the auditions privately for our team. We then do a final call back session where the actors audition for the Director. We do an intensive session where we mix and match different actors together, putting them in and out, reading with each other so we can choose an overall chemistry for the episode and maintain diversity. It's a fun session where the kids get to work through the scenes being auditioned with a multitude of actors. Then the Director's selects are sent to the Nickelodeon team for final approval.
Do you use SAG-AFTRA actors AND non-union actors?
This is a SAG-AFTRA production.
Were any of the young performers involved in green screen shots? If yes, how do you coach them?
Yes, we have done green screen work and the process for the actors varies depending on what is required for the shot. The actors do not see monitors and usually interact with the other performers in the scene in a manner not too different than shots that are not green screen. Depending on the shot, the Director will sometimes be working with a live video switching system that allows the green screen to be composited into the background plate shot so the Director can effectively direct the actors.
What's it like working with time constraints since young performers can only work a certain amount of hours? How do you plan which scenes are shot first?
Working with young actors is challenging given the time constraints and limited shooting hours. It is the job of the 1st Assistant Director and 2nd Assistant Director, along with their support team of production assistants, to plan ahead and then be efficient on the set to ensure the actors complete their required time in school (on the set) and are available for their camera setups. We have a great Assistant Director team and set teachers who create a very smooth process.
Do the young performers' parents / guardians stay on set during the shoot?
Yes.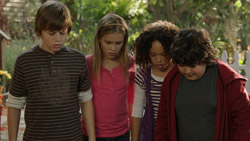 Have there been any frustrating moments working with young performers?
We have been very fortunate to have wonderful young performers with whom we have had the pleasure to work. The 'Deadtime Stories' set is a fun atmosphere where each day an exciting, creepy, scary (and often funny) story comes to life on screen.
How does the taping of each episode work?
We shoot each episode on a five day shooting schedule.
Do the actors just receive their portion of the script (the sides) or does each actor receive the full script?
The actors receive the final shooting script once they have been cast.
Is there a table read or do the young performers just arrive on set and you direct them?
We do not typically do a table read. The preparation and rehearsal/work session varies from episode to episode.
Is there a premiere date for the series?
Stay tuned for the launch date of the series coming soon. There was a sneak premiere of the pilot episode a few months ago on Nickelodeon, and you will start to see lots of promotion on Nickelodeon and elsewhere very soon.
Anything else you want to add?
We are very excited to bring this television series to kids across the country (and around the world). It's a great show based on wonderfully fun, scary, diverse stories for kids written by Annette and Gina Cascone that we are certain will thrill and chill kids and the whole family. There's magic, witches, ghouls, goblins, tigers, horses, knights in shining armor, fantastical creatures and beasts, and many other exciting things to entertain and spark your imagination.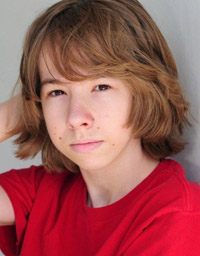 Devin Eash plays Todd French in Deadtime Stories: Grave Secrets
What was your audition like for "Deadtime Stories"?
The audition process was interesting to say the least. I auditioned for 4 different characters, and ended up with a character that I didn't even try out for. I found this very funny and yet very odd at the same time.
What was it like working with Directors/Producers David & Scott Hillenbrand?
I found it fantastic! They make it very nice to work. It's not too stressful, as acting can normally be. Some Directors/Producers can make working tiring and sometimes not fun because they like to push for perfection. David and Scott Hillenbrand made it very nice and easy to continue working. They made it all about the fun in acting, rather than the work and business side of things.
Did you read the books?
I have not read the books as of yet. To be perfectly honest, I don't do much reading in general.
What's a typical day on set like? How is schooling handled?
A typical day on set… it's actually an amazing experience every time. You are always treated very nicely, and the food, well that's amazing, too. You are always trying to be professional, but it's still super fun! For the schooling side of things, they hire an on-set teacher. He or she oversees the kids getting their school work done which they first have to get from their teachers.
When did you decide to go into acting? Why?
I started acting when I was 10. I did this because my sister was actually scouted as a model, and the scout was also a scout for acting. When she asked who wanted to be in the industry of acting, I couldn't help but jump up and shout out! I had wanted to do acting for as long as I can remember and that was my opportunity to make my break!
Do you take any acting classes in between work?
I have taken acting classes since the day I started. You can never get too much practice and it always helps!
Do you notice any special treatment by your friends since you've been on TV? Do you get recognized on the street?
I do not get special treatment from friends, nor do I get recognized on the street. And honestly… I like it that way. I am just a normal person who likes what everyone else likes. So not being recognized definitely keeps my head at a decent size.
How did you receive agent representation?
Much like everything else in the acting industry, I auditioned for many agents. You audition much like you do for a role. You go in a small room all by yourself and you just recite a monologue that you have practiced and hope for the best.
Anything else you'd like to add?
The only thing I would like add is that if you really follow your dreams and you don't give up… anything can happen. And even if you get rejected many times, your time will come. You just need to wait.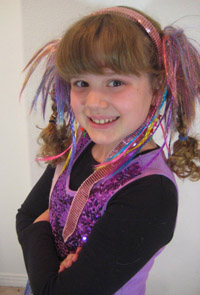 Piper Reese has completed several episodes of Deadtime Stories and also has her own web show Piper's Picks® TV.
What was your audition like for "Deadtime Stories?
Lots of fun. Somehow, I had a special feeling about the audition for 'Deadtime Stories,' but I was a little nervous because I messed up on my age at first and I said my character's name wrong! I think that was supposed to be easiest part. The call-back was even more fun because I got to act out my part with other kids. It was a little strange because I knew both girls going up for one of the other parts and they were both nice.
What's it like working with Directors/Producers David & Scott Hillenbrand?
Well, David was the director on set. I think Scott was working on another project during the episodes I've filmed. David was super nice! He even lit candles on Chanukah with a bunch of the kids. No matter what went wrong or had to be filmed over, he never got upset. He also remembered my name from the start. That meant a lot to me.
Did you read the books?
Yes! I'm actually reading The Witching Game right now (well, not while I'm answering these questions!)
What's a typical day on set like? How is schooling handled?
The set was a lot of fun with all of the friends I made. I liked everyone – including the people my character was mean to. The set for 'The Beast of Baskerville' was really freakadelic because we were filming high up in the mountains in Griffith Park late at night. It was super-kewlio! The food was good, too. School was a different story…zzzzzzzz! Hehe…we did schooling before filming, but it's much more fun working on set than doing school work. Annette Cascone, one of the authors [of the books,] was on set too! She's one of the sweetest people I've met. I love the characters she wrote, especially Nancy Patanski 😉
When did you decide to go into acting? Why?
Well, we've been producing Piper's Picks® TV, my Internet show, since I was 7 years old. I do acting work on a lot of the episodes. I've always loved singing and acting.
Do you take any acting classes in between work?
Yes! I am in a performing arts program, but I also do intensive workshops, private acting lessons, and vocal coaching.
Do you notice any special treatment by your friends since you've been on TV?
I haven't been on TV much yet (just glimpses of me on 'Modern Family' and 'The Neighbors'), but most of my friends are used to my work on Piper's Picks. If any of them would like to bring me lip gloss or glitter, I probably wouldn't turn it away.

How did you receive agent representation?
Actually, a very pretty fairy and super-nice girl I interviewed once (she might be reading this) asked if I had a talent agent. I didn't yet, so she referred me to my agent.
Anything else you'd like to add?
Yup! Definitely check out www.PipersPicks.TV, follow me on Twitter, Facebook and Instagram @PipersPicksTV and make SURE you tune in to 'Deadtime Stories!' It's one of my favorite things I've done. It's going to be ToTaLLy PiPeRiFiC!