Lately there's been an influx of Broadway actors coming to television and screen actors going to Broadway.  Think NBC's Smash, FOX's Glee and Matthew Broderick.
So just what is it about these entertainers that make us want more?  They're double threats!  They act, they sing, they make us realize that we have the opportunity to expand our talents.
Let's see what goes on in the minds of these Double Threats: JANE BADLER of V & Mission Impossible, MARIA HOWELL of The Hunger Games: Catching Fire & TV's Revolution, and MARK HILDRETH who has appeared in TV's Rizzoli & Isles and Voltron Force.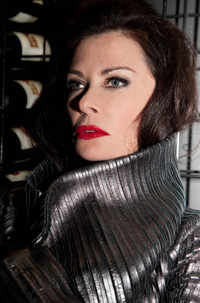 Jane Badler's new song & video Stuck On You will be released soon. Catch a sneak peak here!  Follow Jane: @JaneBadler
You started out as a singer before you were a professional actress.  What type of music did you sing at that time?
I have been singing since I was very young.  I always sang as a child in all the school productions and I played guitar and sang in school assemblies.  I started singing professionally at 18 years old in cover bands and did my first professional gig in NYC at the playboy club.
In your early career, did you ever get paid for singing gigs?  How did you find your gigs?
Yes, I was always paid for my singing gigs.  They were amazing.  I did all the popular covers at the time and I played in all kinds of bars and clubs.  Some packed and some with only a few drunks.  It was hard but a time of real growth.
What were the steps you took to book your first commercial?  Tell us about the experience.
When I arrived in NYC at the age of 21, I had just graduated from Northwestern University and didn't know a soul in NYC.  I took out my little casting book and literally pounded the pavement knocking on doors.  I'll never forget the first time someone said yes and didn't slam the door in my face.  Her name was Ilene and I think the agency was Ilene Fields.  She started to send me out and I got my first national commercial a month after I arrived in NYC. It was for American Airlines and I played a stewardess.
Why did you delve into acting?
Who knows why one explores acting.  I always did it just as I always sung.  I went to acting camps and studied acting on weekends as a child.  I did plays in school and was a theatre major at University so it was always what I did.
Your character, Melinda Cramer, on the soap opera One Life to Live, became very popular.  How did you hear about the audition?
My agent sent me on the audition about 6 months after I got to NYC.  It was a huge job to get right out of school.  I was very lucky as I definitely didn't know what I was doing.  Baptism by fire.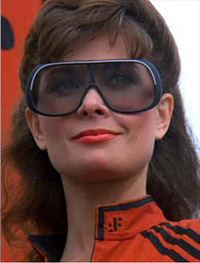 Jane Badler is best known for her role as the evil Diana in television's V.  Visit her website at http://www.janebadler.com
During these years of acting, did you continue your music career?  How so?
It was hard to continue singing.  I continued to take singing lessons and occasionally did musicals but mostly pursued TV from this point on.
In the past 12 years, you've been re-energizing your singing career with a taste of Jazz, Cabaret, Indie and now writing your own lyrics.  How is the current music you're working on different from the last couple of albums? Example: Are you more creatively involved?  How so?
It has all been a huge learning curve.  I have always been a singer but never a recording artist until I was approached by Jesse Shepherd to front his band and record his songs.  It was a great honor and the beginning of my recording career.  The first two albums were mostly written by Jesse Shepherd but I am a stubborn girl and got in my mind that I needed more control.  So I taught myself to play piano and then spent a year writing lyrics and song ideas and melodies.  I met two wonderful writers who collaborated with me and now I am finishing up my third album.
What are your current plans, musically and theatrically?
I just finished up in Los Angeles to do a role in a very funny feature directed and written by Chad Darnell called 'The Birthday Cake' where I play a strange version of myself.  I am now back in  Australia to rehearse for a show I am doing at the Wonderland Spiegeltent on March 21.  Then off to Buenos Aires for a sci-fi convention and hopefully back to Europe to perform in August.
Maria Howell is currently filming The Hunger Games: Catching Fire, NBC's Revolution and working on Lifetime's Devious Maids.  Follow Maria: @MariaSingsActs
When did you become interested in acting and singing?  What's the earliest memories you have that led you to where you are now?
I became interested in acting and singing at about age 6.  I don't recall what really influenced me, but I do remember looking in the mirror into my own eyes, saying…'I wanna grow up and be a singer and actor.'  I never really questioned it ever.
Have you ever taken acting and singing classes?  If yes, is there anything you learned from class that stuck with you over the years?
Yes, I've taken acting classes and had some coaching.  My best singing coaches were in this order, my mom, church choir director, high school teacher and college professor…and life…LOL!
Did you grow up in Georgia?  Is Georgia still your homebase?  If yes, how do you handle auditions outside of GA?  If you fly out, does the production pay for your airfare or is it out of pocket? 
I grew up in North Carolina and I'm bi-coastal, Atlanta and Los Angeles.  I handle auditions two ways, preferably in person wherever that may be, but sometimes I self-tape, with the assistance of my acting coach.  It depends on the production company as to whether or not the actor has to pay their own airfare. In most cases, the expense falls on the actor when they are auditioning.
Which are you more passionate about and why?  Acting or singing?
I get asked that question more times than I can count.  I am passionate about them equally, as well as doing voice overs.  I love being creative and all three afford me that luxury.  I want to one day do Broadway musicals, so the singing and acting come in handy.  I love watching cartoons, so voiceovers have been a passion for me.
Do you also compose music?  If yes, please tell us about that process.
Yes, I do compose music without formally knowing how to play an external instrument (vocals are my internal instrument.)  When I write, my process is singing it, recording it, sketching out a few chords and giving to one of my pianists…quickly.  LOL!  We collaborate on how to arrange it.  I later add other instruments as I see fit.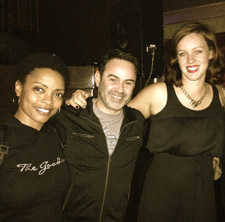 Maria Howell with co-stars Nelson Ascencio and Brooke Bundy from The Hunger Games.
Please tell us about your auditions for: "The Hunger Games," the television series "Revolution" and the 1985 movie version of "The Color Purple."
Every time I audition, I humbly and boldly approach the situation.  I don't really get too nervous anymore, because being prepared alleviates most of that for me.  When I auditioned for 'The Color Purple' 27 years ago, heck yeah, I was new in the game and very nervous, but growing in the craft and growing up in life, gave me more confidence going into things.  So by the time 'Revolution' and 'The Hunger Games: Catching Fire' happened, I was not as nervous. Auditioning is part of the job, and I like to do my job to the best of my ability.
Do you have different representation for your acting and singing careers?  How did you obtain your representation?
I have representation for the acting side of my career and I am independent on the singing side.  I obtained representation for acting by referral, fortunately based on my integrity, work ethic and great relationships.
Do you sing in the shower?

LOL!  Yes, I still sing in the shower occasionally, because there is no better reverberation than bathroom tile.  LOL!  It helps you hear the subtle nuances in your vocals, not to mention the steam to open you up when warming up.
Singing on stage for an audience is totally different than acting on film / TV without an audience.  Explain the different feelings for both.
Singing on stage is exhilarating, provided the audience is feeling what you're doing.  LOL!  I absolutely love live performances, instant gratification.  And I get to storytell through song…I definitely feed off of the audience.  Now by the same token, I love variety, so with acting I can do it over a few times, if need be to get that 'money shot.'  Much like in recording studios for singing or voice over work, you can try different things.  Live is live and once it's done…it's done.  LOL!
Do you practice any one type of acting? (Method, Meisner, Stanislavsky, etc.)  Or do you just go with the flow?
Honestly, I have used several.  I tend to use whatever will take me there for whatever role I am portraying.  I have also lived enough life now, whereas I have quite a bit to draw from.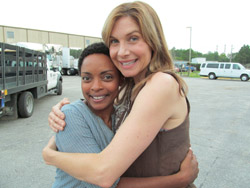 Maria Howell and co-star Elizabeth Mitchell take a quick break between scenes on NBC's Revolution.  Maria's website is http://www.mariahowell.com
Anything else you'd like to add?
I like where I am in life at this point…very much.  I do what I love and I'm able to create my own works through my production company, along with my business partners. It's called 'On The Grind Films.'   I'm also involved with a wonderful charity called 'Students Without Mothers.'  I'd love for people to visit my website to learn more about some of the things I care about.  Life is so short and I want to live it; waking up every day is another opportunity to do some good in this world…be it a random act of kindness or just a simple smile.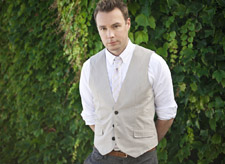 Mark Hildreth's new CD Signs of Life can be downloaded on iTunes. Follow Mark: @HildrethMark
From a young age, you knew you wanted to be involved in the arts.  Why did you decide to learn the piano on your own as opposed to taking lessons?
I did take a few lessons, when I was about 10 years old.  And I would recommend to anyone who wants to learn that lessons are really important.  I play for love, I played for many years every day just for the love of playing.  I think if you find that through lessons or by ear, it's the best reason to play!
How did you professionally become involved in television and film?  Describe how you landed your first paying TV/Film job.
When I was five years old I was in the car with my Dad and an ad came over the radio, an open casting call for five to 10-year-old blond haired boys to play the son of Pinkerton and Butterfly in the opera Madame Butterfly at the Queen Elizabeth Theatre in Vancouver.  I told my Dad I wanted to go, and ended up booking the job.  There is a hilarious news clip of my Dad in full handlebar mustache being interviewed by a reporter about what it was like to have a son doing opera.  You can hear me in the background, swinging on the railing of the theatre stairwell, singing 'I'm rich, I'm rich!  I've got a $100 in the bank!'
During your childhood, were you ever a part of a band?
I was never in a band as a kid.  I started my first band when I was 22.  I did sing with people, and did some musicals.  But I was a late band-bloomer.
What is the meaning behind your new CD's title, "Signs of Life?"
I feel like I'm growing up, and I'm really going through this very uncomfortable transition from being a boy to a man.  And by that I mean, finding the person I really am and stopping trying to be someone I'm not.  'Signs Of Life' is all about how this is happening, through the experience of what's really important in life – family, love, life and death.  I feel like I'm starting to see myself emerge from the fog of childhood, and there are signs of life in there.
Please describe the process you went through to raise the funds to produce "Signs of Life."
I self-funded most of 'Signs Of Life' – the development and recording phases.  Then I used a wonderful public funding platform called Indiegogo, where fans from all over the world graciously contributed to the finishing of the album, helping me to raise almost $10,000. It was an incredibly moving experience to see all the support from people for what I am trying to do in the world – represent and promote joy and integrity in music.  I feel like those things are tiny flowers struggling to grow through the concrete jungle of hatred, anger and apathy in our current musical landscape.  The fact that so many people were a part of that gives me such a passion to keep working!
Do you have a favorite song on the "Signs of Life" CD?  Which one and why?
The Title track means a lot to me, because it's all about my Mom and Dad and how I feel about them.
Being in the entertainment field means you might work a lot of hours.  How does this affect your personal life?
What personal life?  Just kidding, it is very tough.  I fill my days with many, many things.  I have music, and then there's acting which is a full time job.  I also work with a beautiful humanitarian company from New York which I am very passionate about.  And there's many people I work with and help through that.  Then there are two scripts I'm developing, and a few other things!  So it's very challenging to maintain my relationships on top of all that, but relationships are really important to me and so I try to work on them as much as possible.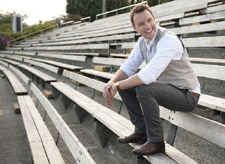 You might recognize Mark's voice on several children's Barbie movies!  Mark's website is http://www.mark-hildreth.com
Which do you prefer: Being on a music tour or doing an acting gig?  Why?
Honestly, I've never really done a proper tour, where you play many gigs in a row.  I've been so busy with other things, it's been hard to find that time.   And I LOVE working on a film set. Or in the theatre, which is such a love of mine too.
What's most important to you in life?
What a great question. Being a good person.
How did you receive your agent / manager representation?
I have been represented in Canada for over 25 years, and that helped me to secure representation in Los Angeles when I chose to start trying to work here.  I would recommend to actors to put together the BEST possible tape of their work as they can, as this will help you get in the door.  Make sure it is SHORT – like 2-3 minutes ideally!  You don't need to put every little scene you love that shows all your facets and abilities.  Even just one scene (your best one) is better than a ton of mediocre ones.
When you're in a stage, film or TV role, what preparations do you make to turn into your character?
When I know I'm going to play a character, he is with me from the moment I read the material – even for an audition.  Acting is a full time job, whether you're getting paid at the time or not. I do like to do as complete as possible a character bio – you have to know exactly where and when your character came from and is going.  But this is a whole mind, body and soul exercise.  I walk, eat and sleep my characters. I once played Richard III and my girlfriend at the time told me in the morning that she woke up in the middle of the night to find me lying on my side, one arm curled underneath me, just staring at her.  When she asked me if I was okay, I just turned my back on her!  Of course I don't remember this, but you need to get a character in your psyche, not just in your head, so it's sort of a feel thing too.
If you have a scene partner that's not particularly good at acting, what do you do as not to jeopardize your own acting?
Help them.  But don't direct them.  Find the most important thing they need (sometimes this is just a supportive partner!) and help them get it.  The most important thing about working with a scene partner is to work with a human being – if you help them be the best person they can be through the experience of working with you, you will help do what acting is really meant to do – help people learn about themselves.
Anything else you want to add?
Acting is a noble profession.  Actors are, in their highest form, noble conveyors of truth!  Find the truth in you that you've never seen, and express it like you never have, and you WILL change the world!  Thank you for the interview.