Actors, today you'll read how to get on a Casting Director's radar. Four prominent Casting Directors; four different perspectives on casting.
We interviewed four CDs who work with different types of people and companies looking to book and protect clients.
You will gain insight to what makes a CD tick and what they are looking for, or not looking for, when booking productions.
From child actors, voiceovers to stunts to workshops and auditions, please meet, in no particular order, Casting Directors Steve Garrin, Susan Johnston, Terry Berland and Nancy McBride!
Steve Garrin
Founder of the highly acclaimed VoiceWorks® voiceover workshop.
How and when did you become a Casting Director?
I'm a producer who became a casting director out of necessity while working on a project with a casting director that didn't see the vision of the writer, director, or myself. That was in 2000. I
decided to cast the project myself instead of hiring a new casting director to work with us. That's what began my journey as a casting director.
You're known for casting voiceover work. Do CD's mind if you do a VO audition at home on the cell phone vs. going into a professional studio for the audition? What tips do you have for actors who audition from home?
I started my career aspiring to be a stand-up comedian. Then I discovered voiceovers.
Voiceovers are a rewarding and lucrative field. They're also a terrific source of income for actors of both stage and film. The definition of a voiceover is "anything where you hear the person speaking but you don't see them".
Auditioning from home is one method casting directors obtain voice sample submissions without holding a formal casting session. These self tape auditions are becoming more common today. When doing a self tape audition the actor needs to adhere stringently to the breakdown that comes with the sides, since there is no one there physically to direct their performance. When doing a self tape audition using your phone, you need to find a quiet place where you can concentrate and record a few takes to submit to the casting director.
There is inexpensive software and even freeware that you can download and use to convert your audition to an MP3 or other formats required in the specs. These formats compress the recording to sizes compatible for uploading or email submissions.
When creating your home studio, the biggest investment you should concentrate on is a high-quality microphone. Inexpensive microphones that hook directly into your computer (USB) usually create "noise", such as hissing or white noise (static).
A good microphone should cost around $1000. You should also get a mixer with an A/D (analogue to digital) converter to plug the microphone into with an interface that would connect to your computer. This would ensure a high-quality audio recording.
What is ADR? Is there a difference between voicing a television / radio commercial vs. doing an animated film?
ADR, automated or additional dialogue replacement, is necessary for productions where the audio recording of the spoken word is distorted or the quality is not high enough for the final production, caused by noise from wind, crowds of onlookers, generators, passing trucks or horns blowing in traffic. This type of recording is done in a studio usually with the video of the scene where the dialogue is being replaced being played as a reference for the actor recording the voice over. This type of voiceover recording is different then other types of voiceover recordings because you need to match the lips of the actor on screen with your read.
Timing, rhythm and breath control play a part here as well as in other voice over sessions, but these types of recordings are much more precise in their accuracy.
Audio books, narrations and commercial voice overs all have techniques and characteristics of their own.
What projects are you currently working on?
Before the Covid-19 pandemic, I was in the process of producing a video podcast from the legendary Patsy's Restaurant, here in NYC, titled "Upstairs at Patsy's". We were scheduled to tape our inaugural episode this past March 23.
Once restrictions are lifted, we will resume our taping schedule. The program (will be taped in the Frank Sinatra room upstairs at Patsy's Restaurant), and will have top Broadway actors, Recording Artists, film and television personalities as guests in an informal atmosphere without a live audience. It will be a series of enjoyable non-pretentious entertaining, weekly episodes (it's not a cooking show) hosted by Chef/Owner Sal Scognamillo.
How does an actor get on your radar so they can audition for you?
Actors can "get on our radar" by sending us their materials via email. Voiceover demos of work they've actually done, headshots and resumes. I also do group private Skype or Zoom VoiceOver coaching. There are a number of actors who study with me, who credit me for their successes by saying they "blame their careers on me". I'm happy to be able to help.
Recently one of my private students, just booked his first union job, a voiceover for the FDA on non-smoking, targeted at teenaged youths. He has been studying with me for about three years, has over 18 audiobooks to his credit and receives royalties every month from Amazon
It was his first union job and he made over $1200 for 15 minutes worth of voiceover recording from his home studio, being directed over his iPhone.
He told me "It was more money than he made in a week and a half from his day job".
Anything else you'd like to say?
I love hearing Actor's success stories.
You can view Steve Garrin's socials on Facebook and LinkedIn.
-=-=-=-=-=-=-=-=-=-=-=-=-=-=-=-=-=-=-=-=-=-=-=-=-=-=-=-=-=-=
How and when did you become a Casting Director?
I arrived in Hollywood after driving across country with just a few things in my trunk in 2000. My goal was to continue acting after working on top films back East in non lead roles. The challenge was, there was a strike and no work order from the Guild. So, I reached out to my friends back East and asked them if they could introduce me to people they knew that lived here. At the very least, I would make new friends. Well, one of them was a casting director — we met, and when I left I said, if you need anything, let me know, whatever time, I have a pager (yup those things), cell and landline. At midnight she called, asked me to go to set, I troubleshot the 100+ background and things grew from there.
What is the best and worst part of being a CD?
The best is when someone is the role, they just are, no BS, just a character come to life in the person in front of me. The worst is when you ask how someone is and they don't share how they are, they share what they did or are doing. Example, "Oh, I just had a call back for so and so" instead of, "I'm doing great thanks, just got back from visiting an exhibit." That would tell me more about who you are. Read answer to question #1, I asked to meet people and an entire career came out of that without me asking — I offered help, not to work, help.
What are the latest projects you're working on?
Currently I'm consulting on a new series for talent, taking into consideration who is already cast, who is above and below the line and finding the right fit. For a long time I was known as a rescue casting director / producer. It is when talent backed out (yes they do that, even Guild members, or something changed or someone got charmed and a talent was hired but they could not deliver on what they created in the process up to this point.
So, I get referred, ask detailed questions and make sure it is something that is right to do.
How does an actor get on your radar so they can audition for you?
Fill in the Register for Casting Notices FORM on my website – that's it! Casting notices are sent via that email and then posted on many sites including DirectSubmit NYCastings!
How do you accept auditions?
The casting notices I send out are very clear and simple. It usually says No Phone Calls Please, submit via form and then I either tell you to email me with some info (I want to see if you can follow directions at the same time) or submit via the platform you found the notice on.
Must the actor have an agent / manager that you work closely with and sent to you via agent / manager?
I'm really open to discovering new talent. I've been very proud of talent that has gotten discovered by coming to an audition.
Do you accept blind submissions? If so, how do they get their pic and resume to you?
99.9% of what I do is electronic and when I'm casting I need a current picture so nothing is kept anymore. There was a time when I would have boxes of talent in the trunk of my car separated by under 30 over 30 union and non. I literally would pull over on the side of the road and help a producer who needed someone "now".
Do you have the ultimate say if an actor is cast?
If it is my own project, yes. If it is not, my job is to find the best talent that brings that character to life, is that role and fits well with all other things in place up to that point.
Anything else you'd like to say?
It has been an honor and a privilege to meet so many amazing talent over the years, of all ages and cultures, to see them in content that I'm judging, whether for the SAG Awards, The EMMY's or New Media Film Festival Awards. Thank you.
You can visit Susan Johnston at:
Website
Take Classes
Facebook
Twitter
LinkedIn
-=-=-=-=-=-=-=-=-=-=-=-=-=-=-=-=-=-=-=-=-=-=-=-=-=-=-=-=-=-=
How and when did you become a Casting Director?
I started out as an assistant over 25 years ago when commercials were cast out of Ad Agencies on Madison Avenue, NYC. There were no freelance commercial casting directors (or internet, or computers for personal use) at the time. I worked my way up, until I was hired as a full casting director. Eventually, I became Head Of Casting for BBDO/NY.
You have a strong philosophy to protect your clients from unexpected complications. Some of your clients consist of actors flying from wires, NASCAR racing, fisherman, truck drivers, as well as def poetry jam, models who can act, and seasoned actors with Broadway, film and TV backgrounds.
Give us some examples of complicated situations that arose that you helped navigate.
Actually, actors are not my clients. I do not represent talent and do not take any commission from talent. My clients are the ad agencies and production companies who produce the commercial spots. I protect both talent and my commercial clients by ironing out all the terms of agreement before the actor accepts working on a spot both monetarily and safety-wise. If all details are not clear and spelled out before the shoot, production could be a very messy situation at the time of signing the agreement. In addition, if safety measures were not spelled out, or payment agreed to for anything other than normal activities, the actor could be taken advantage of or put in a potential dangerous situation.
You offer workshops for people who want to educate themselves on getting more callbacks and booking more commercials and voiceovers. What do your workshops offer that differ from other workshops?
For on camera training, I approach a commercial as one might create a theatrical (film and television) short scene. There are similarities and differences. Anyone who acts theatrically will learn how to translate their acting to commercials. Anyone who does not have prior acting experience will be introduced to a basic acting approach. The people who book commercials can very quickly let out who they are and how they feel, in an honest way, unique to their own personality. I work with what empowers each person as part of the process. After the first session training with me, the actor will be able to create a short scene performance that is bookable, with only six words.
The length of time of the workshop training varies. My website lists all workshops. Also, follow Berland Casting on Instagram for IG lives and acting tips. We then also will be able to see what you are up to.
As we are always up-to-date, all our workshops during Covid-19 are on-line via Zoom. I have people from all over the country (and the world) now able to join and train. However, I do keep the workshops small. It's better for the talent and more enjoyable for me.
I also have Voiceover workshops. The goal to understand how to analyze a piece of copy and how to apply your voice to the branding of the spot. I put people through processes which unfolds from understanding to a comfort level on mic.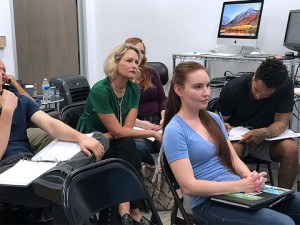 People can purchase your book Breaking into Commercials: The Complete Guide to Marketing Yourself, Auditioning to Win, And Getting the Job here: https://amzn.to/37g9QG6.
Yes, the book is offered on Amazon.
What projects are you currently working on?
I am not allowed to talk about any specifics of my projects. Right now, it's just on-camera commercials and voice-overs reflecting what's now trending. I cast a lot of Independent films, but at the moment they are not in preparation for production.
How does an actor get on your radar so they can audition for you?
The best way to get an audition on any of my projects is to watch out for any breakdowns that I put out directly to actors. An actor can send picture post cards, email me (email appears on website) or appear on Instagram. Postcards are better for me than email. When things are normal, letting me know when you are in any theatre that I can go and see and creating your own projects that you let me know about via email or post card.
Anything else you'd like to say?
We are a community. Casting Directors need good actors. It is my intention through my workshops to keep actors working. You can visit Terry Berland's Website and Workshop Site.
-=-=-=-=-=-=-=-=-=-=-=-=-=-=-=-=-=-=-=-=-=-=-=-=-=-=-=-=-=-=
How and when did you become a Casting Director?
I started off in the Industry as a mom looking for Answers and How To's of the Industry. Like most parents, I fell into a lot of traps and scams. I realized if I had tons of questions then other parents must have questions too. I started a forum for parents to ask questions and share casting notices, from there we grew to the largest parent network of child talent. (This was before Social Media became popular). All of the sudden NY and LA started calling me for child talent. I ran the forum for many years and helped families.. Finally I was basically casting jobs for people and decided to take the title.
Tell us about your term as President of the Women in Film and Television for the United States and State of Florida. What does the organization do? What items do you oversee? Why would one want to join?
I have been the President of Women in Film and Television for the State of Florida for almost five years now. I have been with the organization for over 10 years. This is a volunteer position that helps empower women and men through education, networking and job leads. Florida is a state organization, which currently has seven branches throughout the state. As President I make sure our finances, and organizations are in compliance with 501c3 regulations, and we maintain our mission statement. Our goal is to help our members get to the next level in their careers and keep us together as a community. Women in Film and Television is not only National but International Organization! 
I also started a support group for President's of the US because I personally needed to learn what other chapters were doing to better their membership experience and growth. This support group helped other New and Seasoned Presidents on how to run their organizations through peer to peer learning. Over the last four years we have become a National Brand. Our Goal on the US level it to bring our members together nationally. We have just launched a national crew list and email list, and soon we will have a job database. Eventually we will raise funds for scholarships and grants as well!
Joining WIFT is amazing not only for your personal growth but your career growth as well!!
You've worked with and casted many child actors. What's it like working with underage performers?
There are two things in the production world are the most difficult, children and animals! I have worked with many kids over my years of Casting. During the Casting process we not only watch the children's behavior but the parents as well. That way my assistants will know who is easy to work with and who is to avoid on set. My assistant will text me prior to a child coming in if they are a "NO Go" and we will hurry them through the audition and send them on their way. If a parent talks nasty to my assistant or their child, they are a no go as well. We have to protect our producers and directors from not only stage parents but children who are not well behaved.
What projects are you currently working on?
We are currently putting together five movie deals with my finance team, which I will be producing over the next few years, which I am really excited about!
Since we are currently in lock down we are at a stand still on Casting. We have multiple movie projects and commercial projects on the slate just nothing has launched at this time. Hopefully soon!!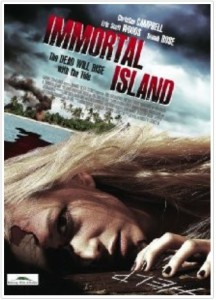 How does an actor get on your radar so they can audition for you?
I work with both independent talent and represented talent. There are some jobs that are low scale so I have to have my own database with talent who want to make quick cash. Talent can sign up for my newsletter on my Website. Keep in mind, I am a national casting director but a ton of my jobs are Florida based and our local jobs don't pay travel and hotel. Talent need not to apply for these jobs unless they are currently locally placed in Florida.
To get on my radar is to be dependable, reliable and respectable while working for my company. If you say you are going to be there, show up! Anyone who calls out or is a no show is put on the bottom of my list to call. I do have talent, I just pick up the phone and call them and say I need you tomorrow and send them – this is the reliability I need! I am very easy to work for as long as you make my job easy and I can depend on you and you keep your skills sharp!
Anything else you'd like to say?
I love this industry for everything it has to offer! I love networking with new companies and talent!! We are a National Casting Company and can help you and your production needs anywhere in the United States!!!
Check out Nancy McBride at:
WIFTUS – Director
President OF WOMEN IN FILM AND TELEVISION FLORIDA