You know actor RJ Mitte as Walt White Jr., a character with cerebral palsy, on AMC Network's Breaking Bad which ran from 2008 – 2013.
Seven years after the finale, RJ Mitte is still being recognized and talked about as if the show was still on the air.
That's because RJ takes his acting craft seriously and has proven, time and time again, that people with disabilities can be successful in show business.
RJ Mitte's latest film, Triumph, is set to release hopefully this year and co-stars Empire's Terrence Howard, Colton Haynes and Jonathan Schaech. Triumph is about a bright and determined teen who has mild cerebral palsy strives to be a wrestler on his high school's team and goes to humorous lengths to win over the heart of a classmate, the girl of his dreams. RJ is the lead character named Mike.
RJ was mid filming another movie, the thriller Isaac, which co-stars Dove Cameron. It still has a few weeks of production left to finish once the COVID-19 quarantine lifts.
NYCastings is proud to bring you this interview with actor RJ Mitte!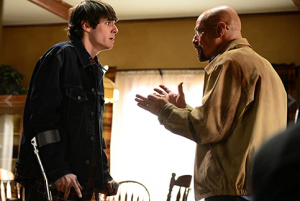 You play Walt White Jr., a series regular, and character with cerebral palsy on AMC Network's Breaking Bad. How has that role changed your life?
It changed my life drastically. It gave me a platform. It gave me the tools and skills I needed to develop my career and continue to be able to push forward, so I owe a lot to what the show stands for in the industry and for who I am today.
Tell us about your audition for Breaking Bad.
I auditioned five times for Breaking Bad over the course of six months. Sharon Bialy was the casting director. I did four auditions in California and one audition in New Mexico. I did a chemistry test the same day I did my final audition, and I was hired soon after. I think my reaction was that it was crazy. I didn't know what I was getting into but I'm very happy it took me on the journey it did.
Is it crazy that all these years later people are still talking about your character and Breaking Bad? Why was it important that Walt Jr. had cerebral palsy?
It's amazing to be a part of such an impactful show and so crazy that the show has had such longevity and is still relevant today. I love that it lives on through Better Call Saul and the El Camino film. I think the importance of Walt Jr. was that he was a normal character that just happened to have cerebral palsy. I believe that for television this is something that is really important to highlight, as individuals, not just because of a disability but because of their experiences and demographics.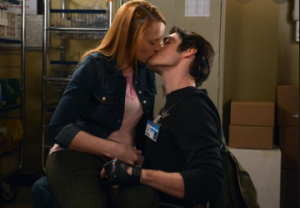 You played Campbell Bingman in Switched at Birth. What was it like coming into a series in the third season where everyone already knew each other?
Joining Switched at Birth was such a pleasure and they were so welcoming. I work with a group called I am PWD which stands for "I am Performers With Disabilities," and we work with SAG-AFTRA, so I had met many of the cast from working with organizations in the industry and so I knew quite a few people coming onto the set.
Early in your career, you were cast on Disney's Hannah Montana which starred Miley Cyrus. As a fairly new actor at the time, what did you learn on that set?
I learned a lot working on Hannah Montana. I was an extra for a few shows at that time but had more episodes as a featured extra on Hannah Montana as well. It was a well run show that worked so seamlessly. There was a good camaraderie on set and I really enjoyed my time there.
How do you learn your lines?
I learn my lines through repetition and practice. I like understanding the motive of my character and what needs to happen outside of my lines. Everyone messes up their lines and it's not the end of the world, but at the same time, it is very important to be aware and act professional of what you're doing as a professional. I am a firm believer that you should always come prepared. When it comes to sides, I prefer paper versus digital, but I use both. In the end, it's whatever works best for you. But it is important that you are always ready in the event that technology is not available.
You've won numerous awards including Screen Actors Guild Awards, Gasparilla International Film Festival and you're nominated for the Ruderman Family Foundation Seal of Authentic Representation for the film Triumph. What were you feeling when you won the awards? Did you go to any ceremonies?
I think it depends on each and every event. You know ahead of time that some are bigger events and some are smaller events but at the end of the day I treat all of them with respect, as it takes a lot of work and a major group effort to make these events happen and I am honored to be recognized. I'm one person adding to a much bigger puzzle. Overall, I am very excited for the upcoming release of Triumph. I did my best to make myself and everyone around me happy while we worked on it and create presentable projects; I hope to continue to do so with Triumph.
What do you think it's going to be like on sets after COVID-19 restrictions relax and actors can go back to work?
I think like any problem there are solutions. Taking precautions and keeping sets clean is going to be very important so that we have a safe work environment. I think from this point forward we will have to establish a new standard of health and a new standard of clean so that we can get back to our new "normal." I think when it comes to the film industry, we do have the ability to have closed sets and offer more private spaces so that we can protect the people working and ease people's minds.
How important is it for someone to have an acting coach?
I think it's very important to be able to bounce ideas off of others and help break down scripts. I think it's up to each individual actor to figure out their best method with a teacher, a coach, a friend or loved one to help you hone in on your craft. It's not so much one size fits all, so you have to work to find your own individual niche that works for you when developing your craft.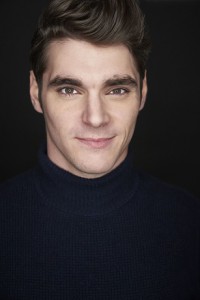 Let's talk about cars and all things fast. Which vehicles do you WANT?
Love cars! I love many models of cars. I think my dream car would probably be a '49 Buick Roadmaster. I very much enjoy the mechanics and how they run. I currently own an old bus and I have a '69 Cougar. I just really enjoy the cars I have and causing trouble with them.
You're just a big goofball, aren't you? What makes you laugh?
I think many things make me laugh, but it all depends on the situation. I find that I mostly laugh at life because it makes it easier to roll with the hurdles that come our way.
What advice do you have for actors with disabilities? What advice do you have for people with disabilities who want to go into the entertainment field?
My advice for actors with disabilities is the same advice I give to any actor. You need to follow your passion and believe in what you do. Work towards a goal you want to achieve and develop the characters you want to become.
Anything else you'd like to say?
Keep an eye out later this year for a film I worked on called "Triumph." It's a motivational movie with a great cast and an even better message. We're hoping to have this out later this year, and hope you enjoy it. Thank you to my fans that support my work. Be safe out there and practice healthy habits!
BIOGRAPHY:
In 2006 R.J. Mitte moved to Hollywood, California, with his family to support the foray of his sister, actress Lacianne Carriere, into print and commercial work. For fun, Mitte began training with Los Angeles talent manager Addison K. Witt in Sherman Oaks, Cal. And though many of the actors in the studio were working actors, Mitte was using acting as a means to build friendship with kids his own age while living in a new city. At the encouragement of Witt and talent agent Debra Manners of the Daniel Hoff Agency, Mitte began auditioning for commercials and TV shows like Grey's Anatomy. Mitte tried his hand at background roles and became a regular student on the popular Disney show Hannah Montana.
Mitte was cast as Walt White Jr., a series regular, and character with cerebral palsy on AMC Network's Breaking Bad. And though Mitte has a mild case of the same condition, he had to do what all actors do: research the character and even relearn many of the challenges he had endured as a child in order to convey a more pronounced version of CP. The Daily Advertiser, a Lafayette, La., newspaper learned of Mitte's work in Hollywood and featured him in an article, noting that R.J. was homegrown, and off to a great start in Hollywood.