We all wish we could get inside the head of a Casting Director. Perhaps there's some magical little spell that will give us the guidance to win an audition with the Director / Producer. Casting Directors are on OUR side, so if they ask you to do the scene a different way, it's because they want to see if we can take direction.
We, as actors, must remember that CD's sometimes conduct hundreds of auditions per day and like us, they're human and get tired. It's up to US to be prepared and make the CD remember us. There are plenty of tales where an actor went up for a role but booked a different role instead! What exactly do Casting Directors look for?
Check out the chats below with the following Casting Directors: Kimberly Graham of Judy Henderson & Associates Casting (Homeland), Caitlin Jones of Liz Lewis Casting Partners (commercials aired during Superbowl and Grammy's), Christina Cotronis of One Girl Productions (casting for beauty, cosmetics and apparel such as Maybelline), Lauren and Jordan Bass of bass/casting (Spartacus: Blood and Sand) and Duncan Stewart of Duncan Stewart and Company (Tony Award winning Broadway revival of Pippin).
Kimberly Graham of Judy Henderson & Associates Casting works on the Showtime original Homeland currently in its third season. Kimberly is also known for her casting on the film Avatar and video games such as Grand Theft Auto.
What's the difference between a casting director and a casting associate?
The casting director and the casting associate do essentially the same duties, selecting talent, running sessions, making deals, etc. Casting Directors may do more on the side of contractual agreements, deals, and of course have the final say on selecting talent to move forward to creatives.
In what capacity do you cast for Showtime's "Homeland?"
Homeland's pilot was cast by another casting director and when it was picked up to go to series, Judy and I were hired to cast Guest Stars and recurring roles as well as any new series regulars. We work with another casting company in North Carolina that does all the local casting (mostly co-stars) and there is another company that does the extras. As you can see "it takes a village".
What's the difference between casting a theater musical vs. television / film?
Each project is different in terms of what specifically are you looking for. Obviously for musicals, you need folks that have musical theater training and can sing. As far as TV/film, you are going for good training also. I would always take someone with theater training over someone who doesn't when it comes to TV/film. The craft to me is essential. It comes down to scale size of performance. Theater is about the words and projection of behavior. TV/Film are visual mediums. We come into your world, you don't go out to ours, so to speak.
"Homeland" is shot in North Carolina. What's it like casting for an out of state show?
Shooting out of town shows is becoming more common than ever. Our show is unique in that our creatives are based in LA, we are based in NYC and the production shoots in North Carolina. Part of the decision to use NY Casting Directors was purely about money. It's cheaper to fly an actor from NY to NC than from L.A. Having said that, we cover everywhere from NY, LA , Canada and Europe if we need to.
You cast actors who have or who can do accents. If you put out a call for an accent, how do you verify that the actor is properly doing the accent?
Good question. I will say by the end of this series I will have learned the basics of Farsi. I can't specifically tell you if what they are saying is correct, but we have a nice pool of actors that do speak these languages, so I would know pretty quickly if I heard one person say it different that they were probably doing another language such as Arabic. We also have writers that have consultants as well. In fact, one actor who learned Farsi for a line was no longer being considered because our show creator couldn't get past the Indian accent. So there you go…
What's it like casting video games / motion capture actors?
We were really at the beginnings of casting voices for video games with The Grand Theft Auto series. Gamers started to demand a more cinematic experience and as these games became more interactive, the voices had to feel authentic. Often we were not privy to what games we were casting for so we often had a working title. Scripts/Sides were often written on the fly for the audition and in some cases, old movie scripts were used if it lent itself to what particular type of character they were looking for. In the beginning we would cast the voice and motion capture separately, and then the producers wanted the same actor to do both, but that had its problems as you couldn't always match both the voice and the physicality of the character.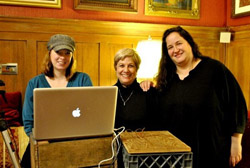 Kimberly's website is http://www.kimberlygraham.net and
Twitter: @iocanto1
How do you deal with actors who are not prepared for their audition?
I'm pretty patient in the room when I'm taping actors' auditions, but if someone clearly is not prepared, I will kindly dismiss them and make a note for myself for future reference. Each actor is my resume, so it's important we are all prepared as best we can. If they aren't prepared I won't even present them. Plain and simple.
What was your initial reaction when you and Judy Henderson won Emmy and Artios Awards for Outstanding Casting for the Drama Series Homeland?
I really can't remember when/where I was when we found out we were nominated but obviously it was exciting! I do remember though, electing not to attend the Emmy's (Judy went) because I really felt we weren't going to win since we had such stiff competition and I felt an ensemble show like Game of Thrones or Downton Abby would have a better shot. And frankly I didn't want to spend all that money going there, getting a dress and coming back with nothing. Having said that, the night of the creative Emmy's (which is a week before the ones that are aired) I was coming back from a Broadway show with my boyfriend, hopped on Facebook on my phone to find folks congratulating us on winning. I turned to my boyfriend and said "Um, I think we just won the Emmy". It was surreal.
Who makes the final choice as to who is cast? How do you get them to take a chance on a fresh face vs. someone who is already known for their great acting ability?
Our showrunner and creator, Alex Gansa, decides which actor will be presented to our producers and network, after conferring with his writers and director. We have been very blessed to have Alex's trust in our taste, so if there is someone he is not familiar with and we feel strongly about that actor, he really listens to us. When we cast Marin Ireland in season one, no one outside of the theater world knew who she was, and we felt so strongly about her that Alex went with her. It paid off big time and he liked her so much, he finished her story line in season two.
How do "chemistry reads" work?
Funny, we don't really do chemistry reads for our show. I know some do, and I think it depends on the creators whether or not to do one. I think sometimes we worry we will "waste" an actor on a role that doesn't come back and then in a future episode we say "Hey! Wouldn't so and so have been great in THIS role?" But, you can't know what is coming next so it's really a crap shoot.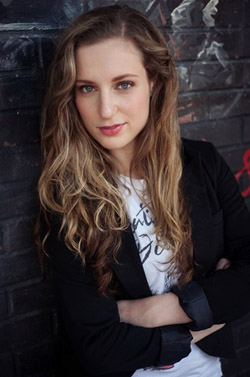 Caitlin Jones of Liz Lewis Casting Partners http://www.lizlewis.com has cast numerous commercials including America's Got Talent and T-Mobile.
Why did you get into casting and how did you feel during your job interview for Liz Lewis Casting Partners?
My relationship with LLCP started while I was in college. The Musical Theatre degree program at Nazareth College required an internship to graduate. Instead of painting sets and collecting ticket stubs at a regional theatre like most of my classmates, I wanted to learn about my future career from the ground floor. Following this logic, it made perfect sense to learn everything I possibly could about auditioning by working at a casting office. I was right! I did have an internship interview that I flew down from Rochester for (because Skype wasn't invented yet) and I was the only intern to be hired on the spot. So, I guess you could say, I felt confident! My enthusiasm was quickly noticed, even as an intern at 19 years old. As soon as I graduated, LLCP called me frequently to freelance as a casting assistant and after two years of being on speed dial for them and a couple of other CD's, LLCP offered me a full-time position. It was actually kind of a shock, because I was on set filming something when I got the call – but like most major life decisions, I went with my gut and said yes on the spot. We actually pride ourselves in promoting within quite a bit. It's something I keep my eye open for as an internship coordinator.
How do you get the best performances out of actors? When they're auditioning for you, do you do several takes? Are you made aware in advance from the production on how the character is to be played so you can coach the actor toward that direction?
Coming full circle, I'm currently the internship coordinator at LLCP. I like to explain the process of casting (I focus primarily on commercials and independent film) to the interns like ordering a pizza. Someone at either an advertising agency or production company contacts a casting director. They then order a large pie, hold the cheese, extra sauce, the works, well-done, non union… and they want it in 30 minutes or less! More specifically, they give us what we refer to as "specs" or specifications of everything down to what they want this character to wear (and even sometimes go as far as to say what color– HELLO, "BEST BUY BLUE SHIRTS". So yes, when directing actors, I usually suggest scenarios (may not even be the one that's in the particular commercial) that will evoke a reaction that will make the best pizza aka get them booked! I typically do two takes in commercials but will do more if I see that the person is capable of "getting there" but just needed a more tailored direction, or if I'm familiar with a particular actor's work and know they can really nail it (if they haven't yet).
My BIGGEST pet peeve in the world is when actors don't take direction; the only reason I give direction is so that the actor can give the performance that will get them the job and
when they don't follow that, it's frustrating. I am only as good as the actors I call in, so I want you to do well.
How have you grown as a CD over the years?
Something that you can only learn through experience is that there never is a shortage of places to find new, untapped, talent — no matter how off the beaten path the breakdown may be. Thinking outside the box and going beyond just contacting agents and putting out a breakdown is something that not everyone does right away. From taking improv classes myself, going to that off-off Broadway show downtown or teaching classes on technique are ways to find someone who's perfect for a role I'm casting.
What was the most difficult role you ever had to cast?
The hardest role ever was a "Voodoo Magic type man" who matched a picture sent by the client of a specific ethnicity, and could literally BREATHE FIRE up to 9 ft. and sustain that for 60 second intervals for production to get the shots they needed. It was also non-union. This was a very specific skill set and since most people who are able to do this become union very quickly, the choices were extremely slim locally. It ended up taking about a month to find someone (usually promos and commercial castings take about a week) and we ended up finding the performer because I started scouring pyrotechnic and circus act Facebook groups.
What's it like working with kids?
I LOVE working with kids and have jokingly referred to myself as "the child whisperer" on occasions. Patience is a given in casting, period. Whether you're casting adults or children alike because you're repeating the same initial scene description information about 100 times in one day. I really enjoy working with kids because unlike working with adults, they are not afraid to trust their instincts in the room — in some cases (like casting two to three year-olds) they have nothing else to go off of anyway. What separates kids in the single digits usually is natural ability. Sometimes training too much, too young can come off a little canned and contrived in the room but kids who have that "it" factor whereas the infectious personalities, the flair for copy, natural comedic timing, the early readers, will leave an impression that will force me to put that headshot on the "wall of fame" above my desk as soon as I get back to the office. That being said, everyone needs to remember these are kids, and sometimes being an actor is not number one on their list of priorities. Parents need to accept that and not try to force something the child is not comfortable with and not apply pressure for something that is still an "extra curricular" at this point.
With adult actors, have you ever suggested someone who normally would NOT be right for the role but for some reason, you saw something in them that could work?
Absolutely! I always like to have a 3-5% "Wild Card" quota on everything I cast. Which usually consists of actors whose work I know intimately enough that despite the fact that may not be 110% right for what my client ordered, I am confident their interpretation of the role would work. This happens a lot when I bring in actors direct (without being submitted by an agent) and they're some of my favorite bookings to call out. I once cast a fast food promo and five out of the seven actors booked were ones that fell into this category.
What's the best way for an actor to get your attention?
Submit on a project I'm currently casting and use the "submission notes" section — I'm always curious to hear about what actors are working on, ESPECIALLY if they're "making their own work". I love to hear about improvisors who started their own team or created a webseries. Filmed a short recently that went to festival? I want to hear all about it! Those little note sections are perfect for this because it's in context of something you're applying for OR if not submitting for a project, a postcard update with your exciting news is always appreciated!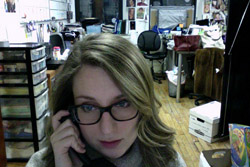 Caitlin's website is http://www.caitlindjones.com and
Twitter: @caitlindjones
Have you seen different "trends" in headshots over the years?
Black and white to color was a huge one that was in the middle of happening when I first got started. I always feel like borders are a must but now they're much simpler (all white or all black as opposed to patterns). Name on the front vs. no name. Outdoor shots in NY are super hot right now whereas a lot of the LA shots are indoors. Personally, whatever catches the actor being most "themselves" is what I think is most important and can make a shot that's timeless enough to last as long as it can (granting their overall "look/age/type" hasn't changed).
What process do you go through when holding auditions? For one role, how many actors do you see? Do you only work with specific agents and managers? Is there a protocol you use or it's different every time regarding number of actors called in?
How many actors I see for a role really depends on the budget production has for casting, so it varies every time. Typically in a day I can see as many as 30-70 actors for a commercial (depending on the amount of sides/copy). The number per role is dictated by the client budget and number of characters.
As far as agents and managers go, I work first with who submits on the breakdowns and then will email the breakdown to some of the larger agencies who do not submit via websites. As a personal policy I don't have a set number of appointments that I give to each agency — I give the appointments to the talent who I feel are best suited for the role. If that means I give seven appointments to one agency and two to another, then so be it. With the variety of projects I work on, it all evens out in the long run — one agent may only get a few appointments for one project, and a lot for the next.
What advice would you give to actors who are asked to come in for a callback? Should they wear cologne/perfume?
Best advice for called back actors: do as much as what you did at your initial audition as possible (unless told otherwise). This goes for reading, if you did go loose on the script the first time — stick with that, what you wore, and how much you "looked like the part". If we need something more specific than what you did originally, we'll let you know before you get in the room. Also, ALWAYS TAKE DIRECTION IN A CALLBACK EVEN IF IT IS TOTALLY DIFFERENT THAN WHAT YOU ORIGINALLY DID OR WHAT IS ON THE PAGE. Usually direction in a callback is given from the ACTUAL DIRECTOR of the project and a lot of times they're giving you direction for the sheer sake of seeing what you're like to work with and if you'd be easy to direct on set. Saying things like "that's not what I did in the initial audition" is not informing anyone of information they don't already know and only makes you look resistant. Taking direction well is a lot of times the decision making factor of what actor the director will get behind and "push" to the creatives and higher ups that ultimately have to all weigh in on the final booking.
As far as smelly stuff goes, I'd veer away from cologne and perfume. More and more people are allergic to it these days. It doesn't bother me personally but with an upwards of 7-10 folks in addition to me in the room for a callback, it would be silly to take a chance like that… especially since casting studio cameras can't record smell! More important than how you smell is knowing how to "read the room" since you're making an introduction with a lot of people who could prospectively employ you. Some are overly friendly when things are tense, but some don't accept friendly overtures because they are nervous, too. I think a lot of good actors get in their own way with this.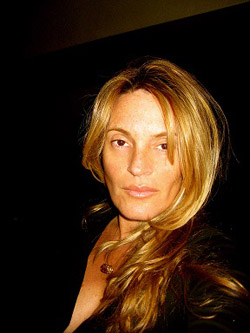 Christina Cotronis of One Girl Productions http://www.onegirlproductions.com casts models for beauty products such as Garnier Fructis and L'Oreal.
What made you want to go into casting? Why'd you make the switch from television agent to beauty casting?
In 2000 I was working as a TV agent at an agency and there was a SAG strike so my contract was suspended. My sister had twin girls and she needed help so I wanted to help her until the SAG strike ended. Unfortunately, the strike lasted longer than I anticipated. I knew at some point I was going to need get back into our industry but I did not want to go back to being an agent. I did not want to sell the talent; I wanted to buy the talent and I knew that casting would be a perfect transition to the other side – and that is how it all started.
How did you build, and continue to build, your clientele?
I was an agent so I knew I had to maximize on who and what I knew. I made a list of all the projects I worked on and contacted the ad agencies and fellow colleagues and told them I was starting my own production company specializing in beauty. One of my former clients knew I had all the knowledge with model rates and knowing the talent and decided to give me a shot and it all started from there. My business continues to grow with promotional material and doing GREAT work for clients.
When a client with a product approaches you to find a model, what steps do you take to find that model?
I contact agencies by phoning and emailing the agents all of the information. It depends on how many models they need and we work with a budget in order to find the client exactly what they need. There is always a time period that is considered in the budget as well.
Have you ever had to have a model replaced?
Yes, I have needed to replace a model with a back-up model.
How do you choose the selection of models for a particular product? Does the production give you specifics like height, age, hair color?
Yes, the client always provides me with specs and a story board in order to fulfill their search. I then proceed to contact the agencies who I feel will have the talent I am looking for.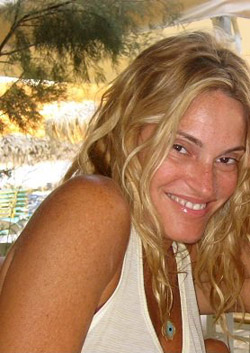 Visit One Girl Productions at http://www.onegirlproductions.com to see more information on where to send your headshots.
What's involved when negotiating a talent contract?
Every contract is different because every project is different, i.e., product, number of shoot days, usage, territories.
Do you accept fresh faces? How are people made aware of you?
Yes, always love fresh new faces! People have found me on models.com or they Google the project which can lead them to my website. I always work with agents and if I find a new fresh face I will introduce them to an agency as well.
Are there different steps / precautions taken when working with child vs. adult models?
Yes, when you work with children or babies you always need back-ups because they can only work for a certain amount of hours and you never know how the day is going to unfold. Every child / baby is different.
What advice do you have for people who want to become models?
The best advice I can give anyone who would like to be in this business is treat it like a business and be prepared to sell yourself. Always be professional, take care of your mind, health and body, find BALANCE! You must believe in yourself and persevere. Remember things do not happen overnight; be patient and it will happen. More importantly, you must love this business and it needs to make you happy.
Brother/Sister team Lauren & Jordan Bass formed the bi-coastal casting company bass/casting in 2006. They've worked on projects for horror creator Eli Roth as well as the U.S. casting for James Cameron's Sanctum.
What inspired you both to team up as brother/sister and create bass/casting?
Since we were kids, we always talked about wanting to work together – though neither of us necessarily understood what that entailed – but the idea was always in the back of our heads.
JB: I was still performing and Lauren was working out in LA in casting working for Mali Finn. When Mali retired, Lauren decided to branch out on her own. I had just moved to LA and she asked if I could 'help' out in the office. I immediately said 'No!'. Not that I didn't want to help, but I didn't know anything about casting and wasn't sure that is what I wanted to be doing. I still wanted to dance.
LB: I told him that it wasn't a permanent career choice, but just temporary. I needed an extra pair of hands to help out. He was free to leave whenever something else came up.
JB: Well….that was eight years ago 😉
Why is there a / in your business name?
The only reason there is a '/' in our company name is from a design perspective. 'bass/casting' was more aesthetically pleasing than 'bass casting'. It's also the reason our company name contains no capital letters.
How do you operate a bi-coastal business?
We are both bi-coastal. We go where we are needed. Primarily we are based in LA, as that is where most of our business is. But we are from NY. So no matter where we live, we will both always maintain roots and a sense of 'home' on the East Coast. We have done casting in NY, LA, New Orleans, Dallas, Orlando, Chicago, Atlanta and many other cities – the process doesn't really change. We have one job: for each role, we are tasked to find the best actor to complete the puzzle that is the ensemble. When you travel, it's just the locale that changes…not the work.
What's the difference between casting for an animated film vs. a film where the actors are actually IN the movie?
We've never actually cast for an animated film. That is often done by casting directors who specialize in 'voice casting.' We have, however, worked on projects – features like Avatar (with Mali Finn), and video games like Devil May Cry and Splinter Cell – that were performance capture where state of the art technology is used to capture an actor's physical movement, facial expressions and speech and then that captured performance is overlayed with animation. But the process for us still remains exactly the same as casting a film.
Visit the bass/casting website at http://www.basscasting.com
What's it like working on an overseas production such as "Spartacus: Blood and Sand" ("War of the Damned")? Did you go to New Zealand? How do you work when there is such a time difference?
We so wish we could have gone to New Zealand! But, you know, budget and all. So, we did everything from LA. Technology and video submissions helped a lot. But we also worked closely with the awesome casting team in New Zealand/Australia. For Spartacus, we were only allowed to fly certain roles from the US and the remainder of the cast were locals.
As for the time difference – yeah, anytime either of us is working outside of where the other is based (or in the case of Spartacus, where other team members were based), it's always an adjustment. Lately as much of our work has had one of us in NY and the other in LA, we find ourselves working at all hours of the night due to the time difference between the coasts. Working on an overseas project like Spartacus or Eloise in Paris simply meant longer hours or middle of the night (for us) conference calls. But ultimately, it comes down to the needs of each project. And we adjust accordingly.
Define "new media" and how you came to work in that direction?
Technically speaking, new media is considered anything that falls outside of the jurisdiction of traditional TV or Film. These days it also seems to be synonymous with web series or content produced for internet-only distribution. Our first new media venture was working with our fabulous producers from Boogeyman 2 on a new project they had going with Ghost House and FearNet called 30 Days of Night. It was the web series companion to the graphic novels and the feature film. We wound up working with those guys on several more new media projects, including Suit Up for DirecTV.
From a casting perspective, new media is no different than traditional media. It's our job to find the best actors to complete the ensemble – whether that ensemble is for a four minute webisode or for a tentpole motion picture – our job doesn't change.
Describe your most memorable GOOD and BAD casting experiences throughout your career?
The beauty of what we do is that each project offers a new experience. That is what also keeps it fresh.
One super fun project was doing the nation-wide search to find the new boy band members for what would eventually be Nickelodeon's Big Time Rush. We got to travel all across the country holding open auditions looking for awesome triple-threats (boys who could sing/dance/act). Getting to see so much talent across the country was amazing. It was like our own personal American Idol meets So You Think You Can Dance!
Another project that was fascinating was working on The Last Exorcism. The conceit of the film (for those who haven't seen it) was that it was a cinema-verite esque documentary. Daniel Stamm (the director) wanted everything to be as real as possible. Also because of the 'secret' nature of genre films, we weren't allowed to release a script – just a two sentence logline. Rather than have actors come in and 'audition' with traditional sides, we instead held interviews. It was amazing to see how actors responded to this type of non-traditional audition experience.
We can't say that we've ever had a bad casting experience. The reason we love what we do is that each project presents a new set of challenges – new problems, new solutions, and mostly an opportunity to discover new actors. We are lucky!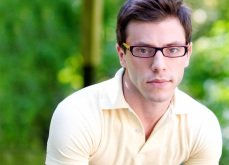 bass/casting Twitter: @basscasting
Do you see a trend with more actors self-taping auditions rather than coming in person? If an actor is not local, who pays for the transportation and lodging of these chosen actors?
As technology has advanced, casting has adapted to those changes. It used to be that if you weren't able to physically attend an audition, then you missed an opportunity. But these days, many auditions take place on camera anyhow, and in some cases roles are even cast directly from tape (without the director or producer having ever been in a room with the actor). So whether the actor is physically in the room or is able to self-tape, it works both ways. It is certainly helpful to have the actor be able to be in the room, but self-taping allows us to be able to consider actors who might currently be on location working or simply out of town – actors who are available for the project, but just not available for the audition. In fact recently we had a situation where the actors were in Los Angeles, but the director was on location in a different state. So we had the actors come to us, and had the director on Skype on the iPad watching and giving direction. Kinda cool.
As far as traveling actors who are non-locals, that is determined on a per project basis depending on the budget level and the needs of the film.
Have you ever auditioned an actor that just didn't care?
Everyone has a bad day. Life throws you obstacles and sometimes an audition falls smack in the middle of said obstacle. If we discounted every actor that had a 'bad day' during an audition, we wouldn't have many actors left 😉 That said, we can usually tell the difference between a 'bad day' and an ill-prepared actor. But the bottom line is that sometimes even the most prepared actor just isn't right for the role. And other times an actor just walks right in and IS the role – no preparation needed. Welcome to our business – ha!
How do actors stay fresh in your memory?
There are certainly famous urban tales about actors who have 'been memorable' in a room – Barbra Streisand placing gum under the chair, etc. We don't usually advocate actors doing something simply to 'be remembered' or 'to make an impression'. Because while that may work 1% of the time, chances are stunts like that backfire more. We are much bigger fans of actors coming in and giving the best they can 100% of the time. If you are prepared and do well in the room – even if you don't book the job – we'll remember you. Good work does not go unrecognized.
Anything else you'd like to say?
Being a part of the entertainment industry – in any capacity, but especially as an actor – is tough. Sometimes painful, sometimes exhilarating, sometimes enthralling, hateful, amazing, awful, incredible, disastrous or even life-changing. It can have the highest highs and the lowest lows. But above all else, remember it is something you chose. For all of those reasons. And that's why we all do what we do – we cannot imagine any other business in which we'd like to play a part.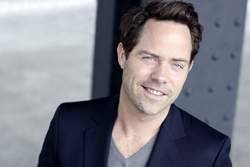 Duncan Stewart and Company casts for Broadway, Off-Broadway as well as TV/film. They've put numerous stars into theatrical productions including Michelle Williams, Scott Bakula and Mary Louise Parker.
What made you want to start your own casting company? At what point did you hire Benton Whitley? Did you have any fear about not being able to make a living? What do you love about being a CD?
Over the years I had worked for other people and organizations – and spent nearly six years working as an in-house Casting Director for a large Broadway producing company (National Artists Management Company/NAMCO). While I loved my time at these organizations (and really appreciated the first-hand knowledge/skill-set you acquire when working directly for producers) I was itching to make the move to opening my own office. I wanted my own four walls and quite frankly, wanted to run 'my' business 'my' way. I came to the realization that I didn't leave Canada, spend thousands of dollars on a green card and go through the duress/stress of living daily in the tough (but wonderful) world of NYC to work for someone else. Thus, Duncan Stewart and Company was realized.
I had hired Benton Whitley as an Associate at NAMCO to help me on LA CAGE, which was on Broadway at that point in time. As I've said before, it was a match made in heaven, and when I started to get notions of leaving to open up my own shingle, Benton was the only person I could imagine being the other half of Duncan Stewart and Company. We share ownership. We are opposite types in so many ways, and yet our differences are what make us such a strong business team. As Benton says quite a bit, we both start at A and get to Z, but how we get there are two very different paths. I like to add that our philosophies, goals and most importantly, our principles are aligned. We see and act very eye-to-eye and are passionate about our profession and our company.
I have never ever feared that I was not going to be able to make a living. Over the course of my life, this has never (thank god) been my cross to bare. I worry about other things of course, but not about making a living. I'm very resourceful and completely unafraid of hard work/determination. For me, success is a systematic process of putting one's goals/dreams into action. It's all about action. When I act, things happen. I'm very thankful for this.
There are many things I love about being a CD, but to choose one example here, I'd have to say that creating a room (the audition room) that enables success for the actor, is pretty damn high on my list. I respect the art of acting. I respect actors. I respect the fact that they come into the room on a daily basis, lay down their 'creative' life on the line (as it were) and share their thoughts/souls/craft to us. As such, I do everything in my power to make sure that the audition room environment is conducive to the blossoming of creativity.
Why do you choose to cast in New York over CA or other locations?
I'm Canadian and originally from Victoria, British Columbia. I've always wanted to work on Broadway (thought it was going to be as an actor, but 'life' had other plans for me) and of course, Broadway is in the heart of NYC. So for me, NYC has always been the goal and even now, (after almost 10 years here) it's still not lost it's lustre. I grew up going to the theater and loved seeing both plays and musicals. More so than TV/Film, live theater has always had a strong influence over me.
Describe what it was like casting the Broadway play Pippin knowing that the show was a success 40 years ago.
My approach to the casting of PIPPIN was akin to starting off on a long hike up a big mountain. You cannot worry about then climb or how arduous the journey may be. You cannot psyche yourself out with thoughts of cliffs, or how others in the past may have made the ascent. All you can do is put one foot in front of the other and walk. Step by step. The casting of PIPPIN (thanks to working alongside the consummate visionary, Diane Paulus and team), was very organic – built step by step. The pieces of the casting puzzle were carefully fit together, so that upon completion, it just felt like an organic whole. This may sound flaky, but it's true. I think for anyone that sees our production of PIPPIN, you can get a sense that we still honor the tradition of the show, but at the same time, we tell things (about the story, about the characters) in our own creative way. The casting reflects this as well. It is very specific and very much different that how the show was originally assembled.
In terms of how makes the final decision on casting – well it's most definitely the Director. The Director and the Producers.
How and when did you obtain your CSA title (The Casting Society of America)? What does the CSA offer you that you feel it's worth maintaining your membership?
I am proud to be a member of CSA. Casting Directors are incredibly generous folk and the job we do for shows (TV/FILM/THEATER) is both imperative and important. CSA gives us both a community to belong to and a strong backbone/foundation to all of us who are members.
Have you noticed an influx of British actors coming over to the American market?
The UK has great actors. Always have and always will. Plus – I think we here in America find their accents are 'cool'. 😉
Do you read resumes? What helps you decide on which actors to see?
I read resumes and see head shots on a daily basis. Most of this is now done via online viewing in the form of agent/manager submissions, but of course we look through a lot of open submissions as well. Aside from 'the look' of an actor (and whether I consider whether he/she is the right type for the specific role), I put a high emphasis on good training.
How exactly do you put out a casting call?
For every show we cast, we put out a breakdown (with descriptions on all roles) on Breakdown Services. This gets posted online for agents/managers to read and then submit their actors. This is the standard process. In some other instances (i.e. the acrobats in PIPPIN, say) we have to find new approaches as acrobats are not usually represented. In the case of our acrobats we relied heavily on Facebook to research and track these top-tier men and women down. A bit unconventional, but it's working!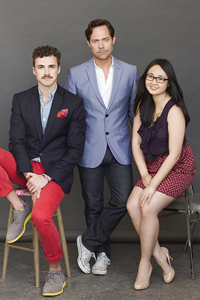 Visit Duncan Stewart and Company's website at http://www.dstewartco.com and
Twitter: @DuncanStewart1. They are also on Facebook.
For a Broadway show, is it easier to cast an actor who is already a member of AEA rather than a non-union actor?
For a Broadway show it's all about casting the right actor. Most of these actors will be a member of AEA and some will not – but of course, upon hiring, these actors must then join AEA. The important thing here to keep in mind is that, producing a Broadway show is extremely expensive. Broadway producers don't want to take too much of a gamble on 'untried' talent – especially for principal/supporting roles. If they are going to put their money into a show, they understandably want to feel comfortable in the fact that the cast can deliver a consistent product eight times a week. Actors who have proven themselves (being in other Broadway productions or of similar pedigree) are generally those who have been within the ranks of AEA. Professionals belong in a professional union. This does not mean that there are amazingly talented actors out there who are not part of the union, because there definitely are.
What mistakes have you seen actors make in the audition room?
The biggest mistake I see in the room, time and time again, are actors who come in and play it safe – with little in the way of interesting choices. I've always said, be right or be wrong – but don't give me vanilla. Adjustments can be given to an actor who may come in with odd/different choices, but if there are no choices presented, (and therefore the panel is not engaged in any deep way) then quite often all you get in the way of a response is a polite "thank you" upon your exit.
At what point do you know an actor is right for the part?
It's different for every show. Sometime a role takes months to cast and sometimes an actor walks into the room, 'nails it' and the role is his/hers. Whenever possible, it's best to have first/second and even third choices, because actors do pull out or become unavailable for a variety of reasons.
Have you ever cast minors in a play or TV/Film? What's that like vs. casting adults?
We cast children in PIPPIN (role of Theo) and also for Radio City Musical Hall. It's very similar to casting adults (although the hallways outside the audition room are a little more unruly!) but we always try to be super-sensitive when speaking to or letting young actors enter/exit the room. Considering their young age, we want to make sure that no feelings are hurt and that all (even those who don't get the job) are treated with respect and care.