Career building Acting Advice from Betsy Capes of Capes Coaching
Auditions, call backs, booking gigs… will all come if you build a commitment to the acting business.
Talent is only half the equation, says Betsy Capes of Capes Coaching.That's why we at Capes Coaching provide the practical tools and tangible support actors need to make their career vision a reality.
Betsy Capes founded Capes Coaching in April 2004 with the mission to help New York artists translate the passion they have for their craft to the way they run their business. She has spearheaded the creation of a variety of career-focused services for artists, trained multiple coaches and instructors, and helped over 1,500 actors, artists, and creative professionals, sustain successful careers in the entertainment industry.
Beyond Capes Coaching, Betsy has been a guest speaker at Brown University, The New School, NYU, Pace University, The Atlantic Theater School, Upright Citizen's Brigade (UCB), The Learning Annex, One on One Productions, and Carnegie Hall.
Betsy understands that actors need more thanjust a day-to-day activity list.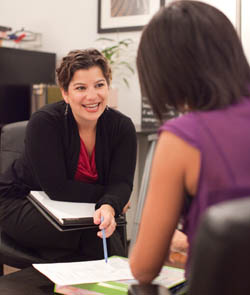 We believe that everyactor is unique and faces challenges unique to his or her situation, Betsy Capes says.So we start by getting to know you and identifying what you truly want, then work backward to fill in the blanks. We help you ask the right questions, redirect your energy, narrow your goals, and take action in a way that's authentic to who you are and what you want.
To help more actors get what they want, NYCastings took a sneak peak into Betsy's coaching toolkit.
Career architecture 101 begins with…
The Blue Prints
Q: As a foundation, what class / tool would you recommend first for actors?
Definitely our Path Class. I believe that in order for you to navigate your way through this industry, it's essential to not only know what you want, but have a fully flushed out plan for how to go after it in a way that's 100% in your control. I created The Path Class because I saw so many actors and artists working in a reactive state. When they were getting calls from their agents or going on auditions and booking work, things were great and they could call themselves actors, but when things were slow, they would question their value and their worth as an actor. It is essential to have a proactive plan so that regardless of what's being thrown at you, you know how to go after what you want in a way that's in your control.
Q: How many levels do you see in an actor's career and how do you help them through the entire process?
I think the levels are endless. I've seen many actors go through various stages of their careers and the challenges never cease to exist. This is an incredibly inconsistent industry, so I help actors create consistency in their lives, regardless of what stage they are in. I stand behind the fact that no matter what level you are at in your career, it is important to know what you want and have a plan in place to achieve it. I always say, the map is not the terrain – live never goes according to plan, but nonetheless, it's important to have that blueprint in place so you're not just sitting around waiting for things to happen. Because guess what? While you're sitting around, someone else is standing in line working tirelessly to take your spot.
Q: Many factors can shake up an actor's confidence, how does your system help install support beams?
Great question. I think it's the inconsistency of the business and the lack of support out there for actors. No one teaches this stuff. You get trained on your craft, but no one gives you the life and business skills to actually get your craft out into the world. That's where we come in – our services are designed to support actors in bringing the passion that they naturally have for their craft to the way that they run their business.
Q: All of your classes provide a lot of overhead structure. Why is it so important to put goals in a tangible format and do you have examples of why/how this has worked for someone?
So much of what we see in this industry is people throwing spaghetti on the wall and hoping something sticks. You're so much more likely to hit the target if you can articulate what the target is and aim in that direction.
Lennon Parham is a perfect example of someone who is constantly working on her career and has seen it pay off tremendously.Working with Lennon, and having sat with her in the coaching room for years, she is clearly so committed to her coaching work. She is someone I always knew had the talent and skill but I was continuously blown away by her dedication to investing in her business, especially when there wasn't much going on for her. Those are the times when I see artists get frustrated and feel stuck and discouraged. But that was when Lennon did some of her greatest work, because she was dedicated to creating it herself, and making it happen. All of the success that she has achieved up to this point is just remarkable. She is now in L.A. starring in the sitcom "Accidentally On Purpose" with Jenna Elfman- she plays her sister- and that's great and wonderful, because it is definitely a success story.
But what is really amazing to see is when she comes in and we check in with where she is. No matter where she is on the success meter, she knows that the work doesn't end there. In fact, it presents new struggles and challenges, which she so eagerly works on just as consistently as she did when she was first starting out. Her ability to stay true to who she is just blows me away, and it's such an honor to work with her. And the best part is that I've got hundreds of other stories like her.
There is so much dedication and heart that goes into coaching and working on this side of one's career, and there is a lot of vulnerability around it. So to see people invest their time and money and energy into working on enjoying their business is just remarkable. It's a gift for me to be able to work with all these amazing artists.
Building Materials
Q: Should goals be set in concrete or something malleable?
I believe that you should absolutely set concrete goals, but once they are put into action they should absolutely be malleable. Like I said before, the map is not the terrain. Life happens and the worst thing you can do is say, well I didn't reach my goal or I can't reach my goal so I'm just going to stop. I always tell my path students in the last class, you owe it to yourself and all of the work you've done to adjust your goals when things shift in your life. The most important part of this process is to go after something and when you feel confined to sticking with a goal that no longer feels relevant or achievable or exciting, than you're wasting your time and everyone else's time.
Q: Do you see the process of career planning as a steady flight or a spiral staircase?
I love your questions – such great images. I would say it's more of a spiral staircase, because there's a lot of learning and evaluation that takes place, so it's important to always go back and assess what you learned while maintaining forward movement.
Q: The PATH class helps actors to focus on a few specific goals. Why shouldn't an actor put up too many windows or doors at once?
Well, we have a term that we coined here at Capes Coaching called Multi-goal Syndrome. MGS is when you are putting your energy into all these different areas without a real tangible plan for moving forward in any of them. I see actors fall into this trap all of the time and I really don't fault them for it. It's often because actors are skilled writers, directors, musicians, and designers, that they are torn in all of these directions. Even being focused on theatre, television, commercials and film all at once can throw you into a tailspin. That's why I like to ask, what is the next month, 3 months, 6 months, or year about for you? Let's prioritize a bit here. It doesn't mean that you have to give up everything you want, it just means that you need to focus a bit more so that you can actually see forward movement in one area.
Q: How does Capes Coaching help raise the roof in an actor's life?
We're here to support actors in defining what they want and help them to achieve it in a way that's authentic and true for them. We're not their agents, their peers, their mom, dad, partner, or spouse. We have no agenda except to help them to get clear on theirs. And we're trained to do so. I think what separates us from other places and organizations is that not only have I been behind the table as a casting director and know the industry, but I am also a trained and certified coach. I know how to ask the right questions and steer actors in the right direction to get their needs met. We at Capes Coaching, provide ego free, agenda free guidance. It's really about our clients and helping them get what they need in an industry as competitive as this one. I think that absolutely raises the roof in an actor's life.
Interior Decorating
Q: On an emotional level, what aspects should an actor place in the center of their lives and how do your classes help them on this personal level?
I think it's essential to have balance. And that's different for each person. For some people they need to meditate every morning. Other people need regular social outings with friends or need to constantly be inspired on an artistic level. What I do know is that it's really important for each person to know what it is they need to keep them balanced when life knocks them down, because it will. And, it's not necessarily about not getting knocked down. It's more about knowing what tools you have in place to help you get back up. At Capes Coaching, we help actors identify what those tools are for them—what will help them get back up and what will keep them balanced on a more consistent basis. And we build these tools into the Paths they create because life and work go hand and hand. When something's going on in your personal life, it absolutely affects your work.
Q: Do you recommend actors start with fresh, blank walls or do you have them splash as much paint/color as possible from their past and who they are?
I think it's a balancing act. Coaching assumes that you have everything you need to get what you want and, if you don't, that the resources exist for you to get there. I like for actors to see the blank walls so that they don't limit the possibilities going forward, while also taking into account their past and everything that's made them the person they are today.
Q: How do you help actors stay organized beyond the classroom?
We currently have a few different options beyond the classroom to stay organized. We have private coaching where someone can come in and get coaching around whatever their specific issue is. And we have a new program that we just launched called Artists In Action. Artists In Action is an online career planning membership program, where, depending on the membership level you're at, you get various tools to support you with your career. Some of the basic components include downloadable audio lectures from me on marketing, networking, life/career balance, time management and more, as well as inspirational interviews with high-profile members of the industry (last week I interviewed Suzan Bymel, who is Keifer Sutherland's and Anne Hathaway's personal manager), and monthly tools and assignments.
The two higher levels are exclusive to graduates of our Path Class and include specific tools to support the work they did in class. We're really excited about this new program because we've always wanted to make our services more accessible and affordable and we believe that the various levels of the Artists In Action program do just that.
Q: If you were to place one picture on a student's wall as inspiration – what would it be and why?
I would actually give that student the assignment to find the one picture that speaks to him or her and put it on his or her wall. We don't have a one-size-fits-all plan here and, although I think some images or, even, quotes are amazing and inspiring, they just may not speak to someone else. So I would challenge them to find what truly excites and inspires them and put it somewhere they can look at everyday. That's why I have Path students decorate their Path books. It's got to feel like theirs and be personal to them.
Moving In
Q: How does Capes Coaching become part of the air actor's breathe?
I think we really help actors shift their perspectives about the industry. Our mission has always been to help actors and artists translate the passion they have for their crafts to the way that they run their businesses, so that they can actually get their craft more out into the world and make a living off of it. I think the work that actors do with us becomes part of the air they breathe because it essentially comes from them—they do the work, we just provide the structure and accountability. We always say, if we simply gave you the answers, it wouldn't be your career.
Q: Once an actor takes a class, how do you help keep them moving on the right path?
We have a variety of options for actors once they finish the class based on what their specific needs are. One thing to note is that in class six of The Path Class, we really look at what obstacles might come up for you and create a plan of action for maintenance. But just like any new business venture, you really don't know what the results will be like until you experience it. So we now have an online monthly program that is low cost and provides specific tools for path maintenance called, Path In Action. Also, a lot of folks do private coaching with me when they need it. But like I said, we really try to provide our students with as many tools as possible so they aren't dependent on our services long term.
Q: Capes Coaching now comes in a virtual version for 24 hour access. What benefit do these online services have for actors and how does it differ from your physical classes?
Artists In Action is a comprehensive online career-based planning tool designed for actors, artists and creative professionals. We have audio lectures, special guest interviews, career planning tools and exclusive resources that are delivered weekly to your email inbox. Members get coaching on a new topic every month. Our first month is called "Being In Your Business," and I talk about the four main "artist traps" that I see artists struggle with as they work on staying committed to the business long-term. We have courses on time management, networking, life/career balance, marketing and all areas of the business that are essential to maintain but can feel overwhelming to many artists. So we're giving customized support to create successful careers on your own time and budget. That is the most exciting part of this project- that it is the most affordable service we've ever been able to offer, and that's just awesome. For only $17.00 a month you get this whole package of tools that are customized to help you stay on your own path. And the first month is free, so you can try it out with no commitment and see if it's right for you.
Q: At the end of the day, what is the number one thing (advice, info, insight, etc) you hope actors will take home with them?
That there's no one way to have success in this industry, so it's up to you to really define what you want and go after it in a powerful and authentic way.
One more thing…I think there is an inherent sense of faith that anyone has if they are courageous enough to pursue a career as an actor. Not just as a hobby, but to really go for it. I want encourage actors to find the support and resources that are available to them so they can continue to nurture their creative spirits and the sense of faith that got them into this business in the first place.
To learn more about Capes Coaching visit http://www.capesco.com/or call the office (212.777.2270).
They've got a team that's always happy to chat with you about your current career and the various ways they can support you in moving forward.