Embrace your curves, and have fun with it shares Lindsey and Kate E. who work with Anthony Higgins at MSA Models.
NYCastings spoke with Anthony Higgins, Director of MSA Models, in Part One of this story. To get the full scoop on the plus sized experience, we also spoke with two of MSA's plus sized models.
Here is what Lindsey and Kate E. have to say about having curves and learning to love them…
From Lindsey's inspirational perspective:
Height: 5'10 – Bust 38D – Waist 36 – Hips 44 – Dress 14/16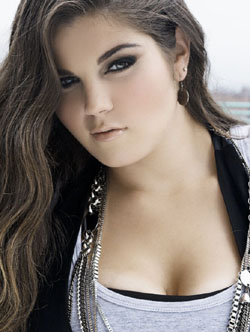 The average sized woman is a size 14 or 16, says Lindsey, and it's so nice to go out there and show these women that we are beautiful and we love our curves. That it's not just about Victoria Secret models anymore.
Lindsey grew up as a thick girl and people would always comment, but she learned to appreciate everything about herself.
I think when people have to make fun of other people's personal appearances, they have issues with themselves, shares Lindsey. But, it was hard growing up being heavy. I have been on a diet my entire life. It has always been a struggle.
Getting older, and working with Anthony and the other MSA models, helped Lindsey embrace her body.
When you can be around other beautiful, thick girls who are proud of their body you can be like whoa, I've got the same thing going on,' shares Lindsey.
We should be proud of our bodies.
One moment that helped Lindsey become proud of her body was when someone asked her to model for them.
I was a senior in high school and started to become more fashionable and being asked to model gave me that push to be like, you know what I am pretty,' says Lindsey. I do have beautiful curves and men like me.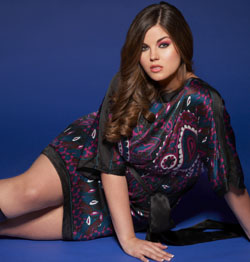 That was the hardest thing. I used to think that men wouldn't like me even though men love curvy women. It took me a long time to realize that.
Often, people will tell Lindsey that she has such a pretty face. People say that to me everyday, shares Lindsey, and sometimes, if I am in a feisty mood, I will say, Thanks. And I have such a curvy body too.'
Embracing her curves, Lindsey applied to me a model when she graduated from college.
To become a plus sized model, the best thing to do is to send out your pictures, shares Lindsey. Don't send professional ones because that is a waste of your money. Take some Polaroid's with light make up, a tank top and jeans. Do full length, quarter and close up. Send them to agencies. Call agencies and see if they have open castings. I know MSA Models has open calls. I love this agency, they are amazing.
Even without a modeling career, Lindsey feels that all women can feel picture perfect.
It's all about confidence, says Lindsey. If you walk into a room, regardless if you are a secretary or a model, as long as you have confidence people are going to notice that. If you think you are gorgeous and have beautiful curves, other people will think that too.
Kate E. also believes that beauty comes from within…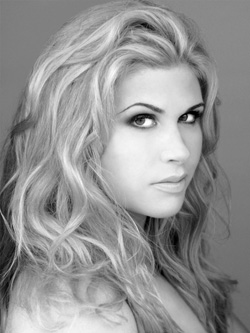 I am proud of being a plus sized model, says Kate E.
Height: 5'10 – Bust 36C – Waist 32 – Hips 42 – Dress 10/12
I eat well and work out and this body got me a swimming scholarship to Penn State. This body has done so many great things for me and has been healthy and so I embrace it.
When it comes to making the most of her curves, I use it as a plus, says Kate E. Plus is plus.
For me, I look at it as – what other choice do I have? What I am going to do, be negative about my body? Even of I starved myself for a month I would never be a 2 or 4.
Accepting your size comes with, knowing your body type, says Kate E. My father is a 6'6 basketball player and I am built like my father. I have an athletic body and I was given this body because swimming was my life for 20 years. I feel blessed that I am tall. I feel strong and confident. If someone doesn't like it, male or female, that has something to do with them not feeling comfortable in their size or body and has nothing to do with me.
Kate E. got started in the plus sized business by doing a lot of research.
I re-invented myself when I moved to New York, says Kate E. I am a very creative person, not a sit at the desk 9-5 kinda gal, and you hear about plus sized models in the media. For the fist time ever, there was an all plus sized model show at Fashion Week. I feel like my type of body is embraced now. And I feel like I have good teeth and skin and hair and know how to work the camera. So I figured I would try it. I went to a few open calls and specifically researched Model Service Agency and liked the people.
I said, what do I have to lose' and put it out there. This is an exciting new adventure for me, shares Kate E. I feel like sky is the limit.
Many people think that, Modeling is waif, size zeros. But there is definitely a place for people like me in the modeling industry and I a happy to take that place.
I see myself as a beautiful, voluptuous woman who has curves and eats and doesn't feel the need to look like a twelve year old. I feel very womanly and I am proud of my body. I can go to the gym and lift and do great things. I would rather have my body everyday over someone who is skinny but out of shape or someone who doesn't like their body. As long as I am healthy and go to the doctor and all my tests come out ok, I feel great.
To help other zaftig women embrace their curves, Kate E recommends that women adjust their mindset.
When you look in the mirror, start with one thing you like about your body, says Kate E. For me, I feel blessed to have full lips. I love my hair, really curvy thighs and hips.
Look at Marilyn Monroe, to this day she is still considered the sexiest woman ever and she was a size 14. People love that.
It's not every day you are going to feel beautiful or think, my body looks hot,' shares Kate E. I look in the mirror and sometimes know I have to lose weight, but I will think my calves look great.' Always find something about your body to feel great about because if you love it, those guys or those girls out there will love it too.
Start with one thing you like about yourself or go for a walk, or to the gym, and come home and feel stronger. Appreciate your body. Every day your body gets you out of bed. Your body takes you to work or to school or to your friend's house. You have to respect it and take care of it.
Just like a car, you have to put gas in it. For your body, it's not just about eating well or working out – it is looking in the mirror and being thankful that you have all your limbs and are alive. For your body, you have to love it.
Certainly, NYCastings loved speaking with the inspirational team at MSA Models. Hopefully the words of wisdom will help all curvy women appreciate their hour glass figures!!
For more information on MSA Models visit http://www.msamodels.com/